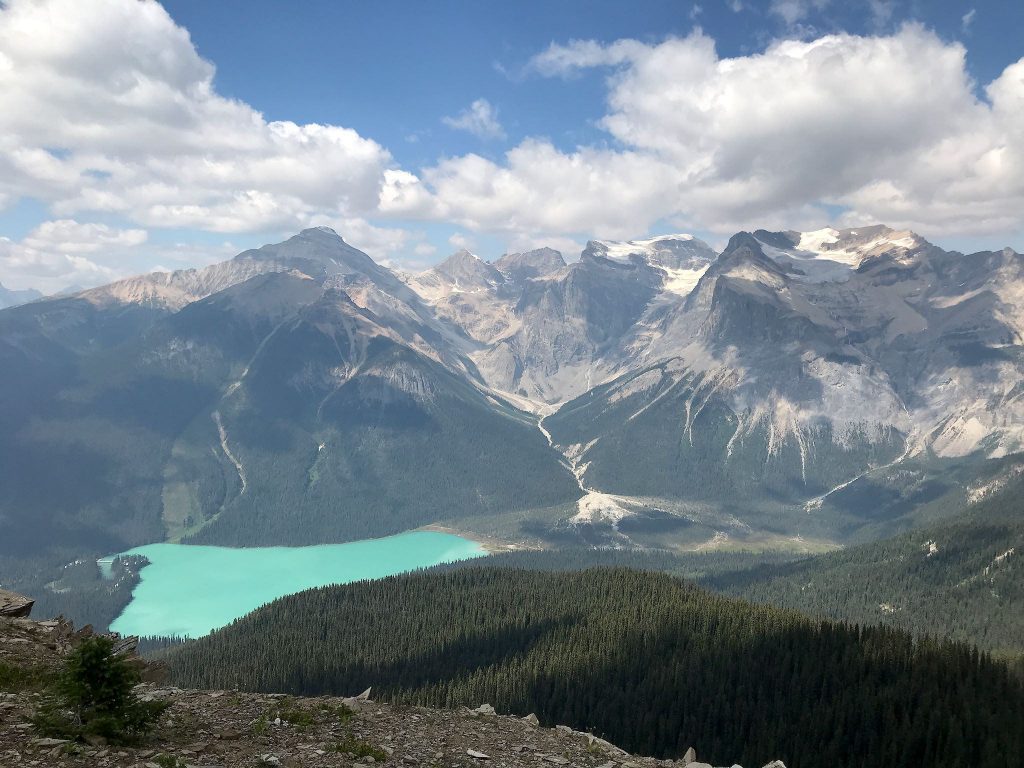 Though it doesn't appear so at first, after being here for a week we realize that Yoho National Park, Canada's second oldest park, has a split personality.
The discovery of Kicking Horse Pass, the first pass across the Canadian Rockies deemed 'safe' for the railroad in the 1850's, put Yoho on the map. This discovery allowed Canadian Pacific Railway (CPR) to complete the transcontinental railroad. After numerous catastrophic train crashes, CPR reduced the grade through Kicking Horse Pass (aka 'The Big Mountain') with the use of the spiral tunnels, completed 1909. CPR also built the famed Canadian Pacific Hotels – beautiful lodges in gorgeous, remote places marketed to elite travelers in order to encourage more rail travel. Although no longer owned by the railroad, Emerald Lake, Yoho Valley, and Lake O'Hara Lodges in the park continue to provide luxurious accommodations in 'we-are-but-specks-on-this-planet' nature. (Italics from their brochures. And they really nail it.) Of course, where goes the CPR, now also goes the Trans-Canada Highway.
Away from the railroad, the highway, and the Kicking Horse Valley, Yoho is a hiker's paradise. There are three super-steep, super-deep valleys in the park with towering, nearly vertical rocks walls, hidden glacial lakes and countless waterfalls. Accessible by paved roads, the end points of the valleys include lodging, tourist vistas and trailheads. Those end points are where the two Yoho personalities cross paths. Not far from these points, hikers leave the resort guests and tourist crowds on the shorter paved trails and head out for some of the best hiking we've experienced anywhere in our travels of North America. Thank you CPR.