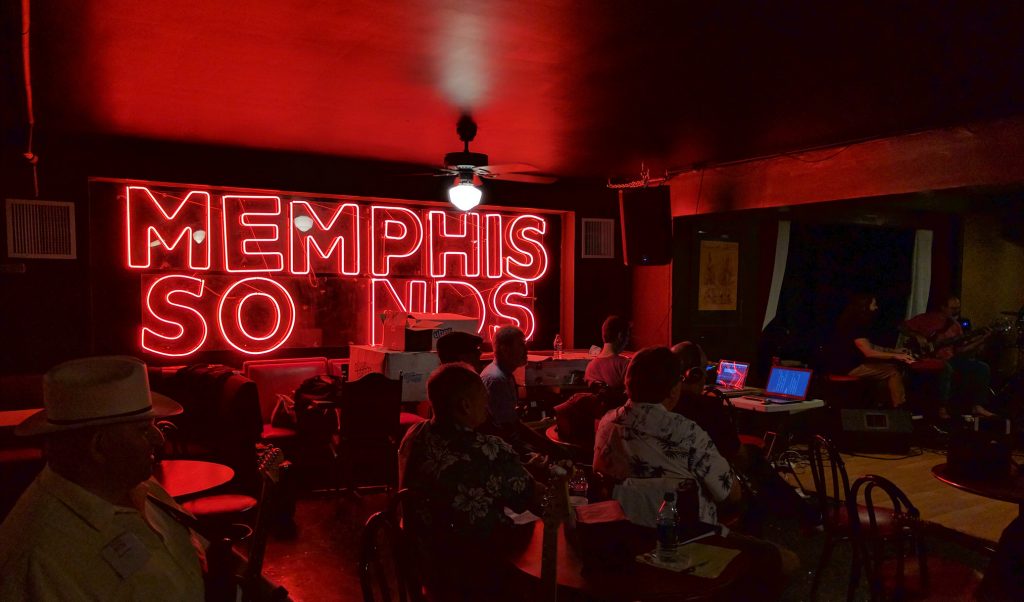 We just spent three days in a basement in Memphis, TN. Had a great time.
The occasion was BGU Live 2016, the annual signature live-in-person event for the online blues guitar school where I've been studying for the past several years – Griff Hamlin's Blues Guitar Unleashed. The venue was the downstairs club at the Bon Ton Cafe, an historic Memphis establishment that was a favorite hangout of Elvis, among others.
About 48 of us BGU students got to strut our stuff on the stage backed by professionals – the Griff Hamlin Band's drummer Chris Atchley, keyboardist Ty Bailie, and bass guitarist Mark Smith. Groups of three us guitarists each played two songs in front of an audience of our peers and a number of spouses and friends. We sang, we 'comped, and we traded off playing solos. Each group got to do this four times over the three days. It was a wonderful, authentic, and safe environment to see what it's like to be onstage, to play loud, to make mistakes, to make real music, to feel the audience's applause.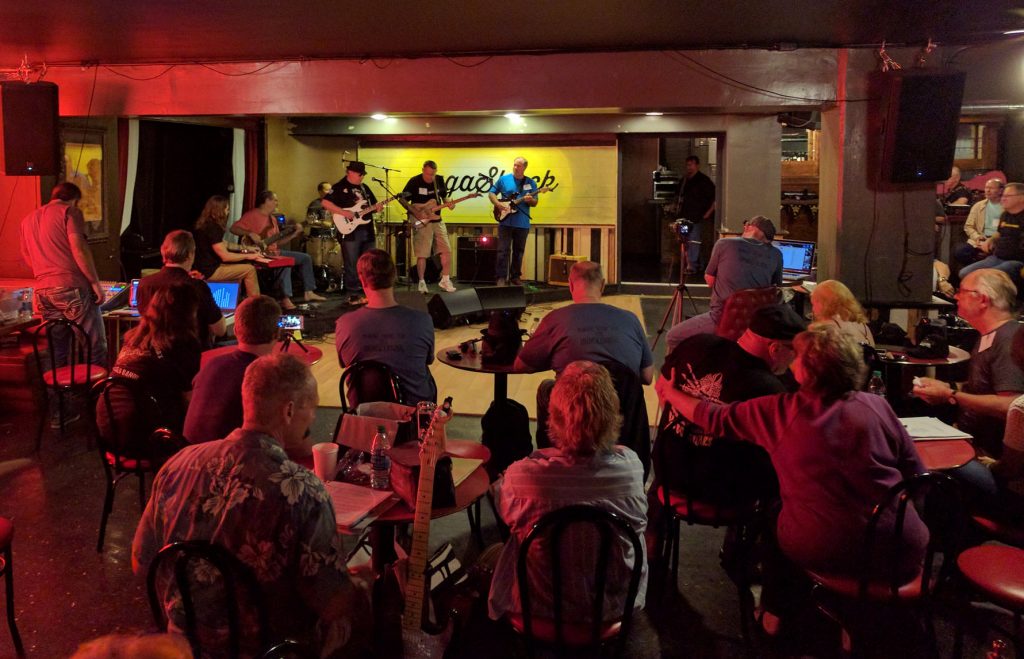 This event has previously been held in southern California in late winter or early spring, which has kept it out of reach for this Vermont-based ski instructor. This year's plan for October in Memphis was just reaching the rumor stages when we left home back in May, so we laid out our itinerary to include Memphis around Columbus Day – nearly the only firm date in our plan. Things were a little bit up in the air, but there'd be lots we could do in Memphis on our own if the event didn't fly, and I decided I'd go to watch the event even if I didn't get in as a participant. We gave a little sigh of relief in late June when the announcement came out that Memphis was a "go," then we did a little more itinerary tweaking to make absolutely sure we'd be somewhere with a rock-solid internet connection when the online registration opened (Friday, July 15 at 5pm EDT), and it paid off – I clicked the link as soon as it appeared on the website, filled out the form, clicked "submit," got my confirmation email, and within five minutes the 48 available slots had sold out. Woohoo!
I was assigned to Group I ("Aye") comprised of my old friend Tom from Kalamazoo (aka tommytubetone), my new friend Terry from Saskatchewan (aka TerryB, though I'm lobbying for a change to Terry-eh?), and me. Over a series of extended email conversations, we got ourselves prepared to play ten or a dozen songs from a list of suggestions that Griff sent to everyone plus several we chose that were not on the list. For our first set, we played I'm Tore Down and Going Down, followed later that afternoon by Flip, Flop and Fly (off-list) and I'll Play The Blues For You. On day two we performed T-Bone Shuffle (off-list) and Stormy Monday. By day three, we'd all heard Key to the Highway, Thrill is Gone, and Sweet Home Chicago a number of times – and that number was pretty large – so we decided that in addition to Nobody Knows You, the last off-list tune we had, we would reprise Flip, Flop and Fly, which folks seemed to appreciate.
What else to say about this? You couldn't ask for a greater group of people to play music with, to perform music for, and to hang out with. As a group, we're mostly (but not exclusively) older guys who wish we'd learned to play guitar but for one reason or another never got around to it, or had to put it aside, or never thought we could do it. (True, some of us are not old, some are women, some learned to play guitar a long time ago, have always played very well, and still do – but, on average, I stand by my characterization.) We found this set of online lessons and a lively online forum where we could ask questions, answer questions, have conversations, and make friends with people from all over the country and around the world – mostly (but not exclusively) old guys like me who want to play blues guitar. I've been to two regional events in addition to this national one, so I have now met a lot of my fellow students in person. It's amazing to walk into the room and meet in real life people I've been interacting with online, listening to recordings of their guitar playing on the forum, and maybe even watching them on youtube. It's like having a head start into friendship.
A couple of times there were informal gatherings on the roof of one of the hotels where people were staying, and – this might surprise you – people brought out their guitars and their amplifiers and people were playing the blues. Sue's RV drum kit even came out for one of these sessions.
The grand finale of BGU Live Memphis 2016 was a concert by the Griff Hamlin Band, with special guest Laura Hamlin (from the Circle City Horns) on saxophone. An amazing show by a great band, it was an excellent way for our teacher to show us how it's done. These folks have so much fun playing music that it's impossible not to want to do that, too!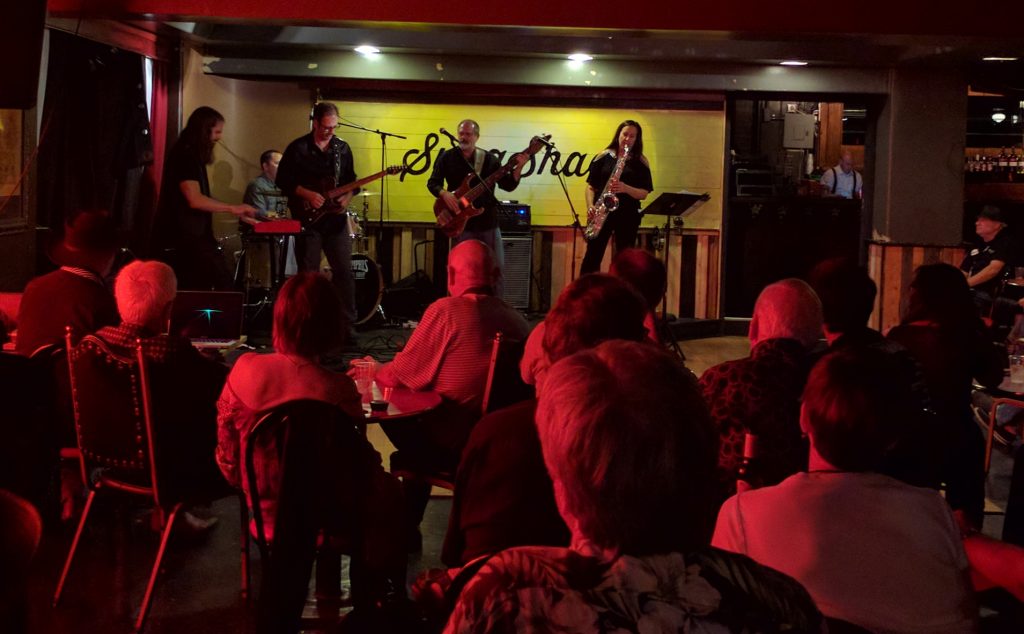 More BGU Live photos (flickr album)