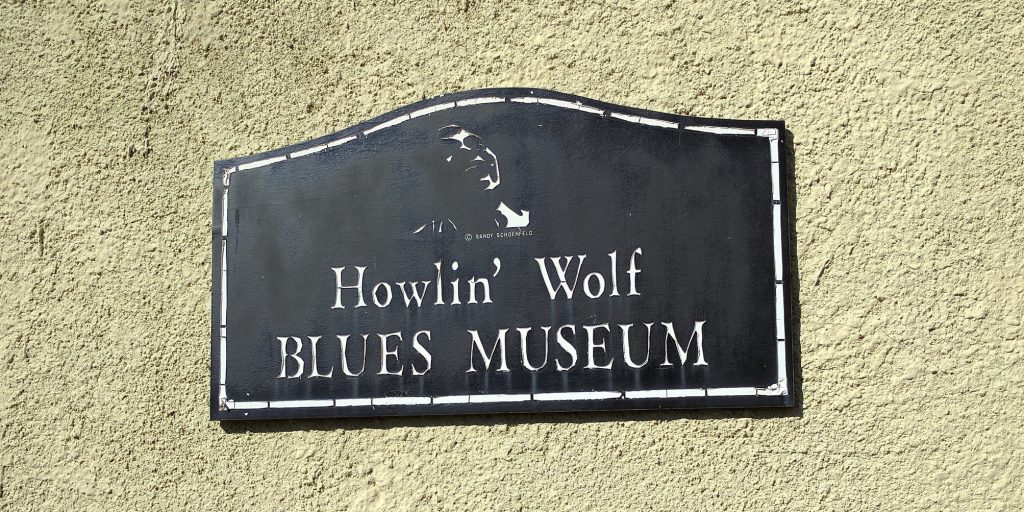 With Memphis in the rear view mirror, we knew we'd have to pick up the pace a bit to visit a few people and get back to VT before the snow flies. Although up to this point neither of us had ever stepped on Mississippi or Alabama soil, we had to resign ourselves to visiting these states as more or less a drive-by, and make plans to visit again in the future.
We had exactly one day to spend in Mississippi and we're glad we decided to see the Howlin' Wolf Blues Museum. With his booming voice and larger-than-life personality, Howlin' Wolf, also known as Chester Burnett, hailing from just outside of West Point, MS, was a key figure in the history of the blues and a major connection between the Delta and Chicago blues styles. Early in his career, he played with the likes of Charlie Patton, Blind Lemon Jefferson and Sonny Boy Williamson II. Howlin' Wolf recorded at Sun Studio in Memphis, where Sam Phillips was recording the newest sounds, including high-energy, electric blues. When he arrived in Chicago, Wolf surrounded himself with exceptional musicians – partly by earning a reputation for paying well and on time – including Hubert Sumlin, Buddy Guy and many, many others. Later in his career he toured with The Rolling Stones and Eric Clapton, whose forays into the blues were influenced by his own music.
The museum is tiny, but, oh, what a vibe! The collection includes photos, paintings, posters, and records of this blues legend, as well as guitars and costumes from bandmembers and contemporaries, as well as artifacts from Chester Burnett's boyhood home along with a history of his life and music. Jeremy, the museum's volunteer curator, is always ready to add a story or answer questions. A short walk from the exhibit, we found the Howlin' Wolf Monument (corner of E Broadway and East Streets) and an inspiring mural with an autograph wall for messages to the Wolf (corner of E Main and High Streets).
For anyone interested in visiting, Jeremy looks forward to opening the doors to anyone who contacts him:
Howlin' Wolf Museum
307 West Westbrook St, West Point, MS
Contact Jeremy Klutts at tel:662-295-8361
jklutts@wpnet.org
The sign at the border said 'Welcome to Mississippi, birthplace of America's Music.' Thanks! We'll be back and stay a bit longer, next time.
A few more photos