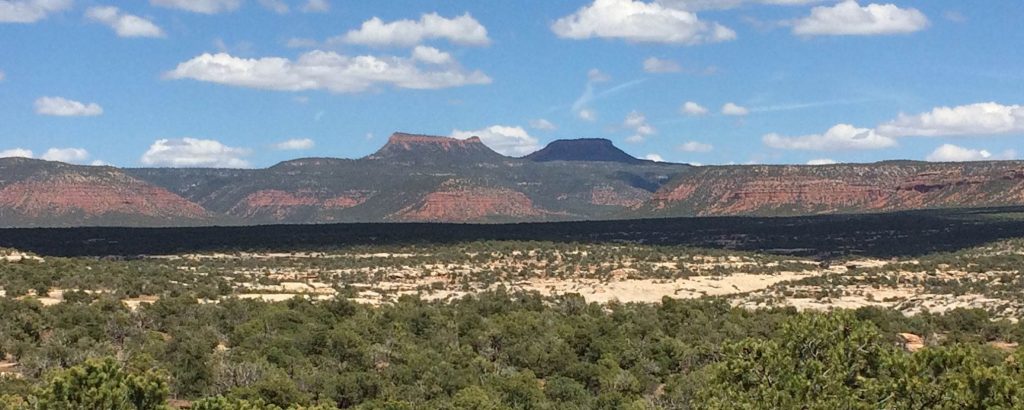 One of our goals was to explore the space between – between the National Parks. Toward that end, we stopped by a Bureau of Land Management (BLM) office and made one ranger's day. We asked about maps, roads and campsites in the area between the NPs, mostly managed by the BLM. She was beaming! She went on to tell us all of her favorite places, potential road closures, and where campsites are plentiful or scarce.
Our first experience with BLM camping was a humongous success. Instructions were to 'take a right on the unmarked Temple Mountain Road, 20 miles from Hanksville, then drive 5.5 miles until you see some open campsites.' We found the road (there aren't many) found a cluster of sites with 5 other RVs and a killer view, and joined them, totally satisfied with our campsite for the night. We walked around a bit and found 2 trailheads and several other individual and cluster sites, including one with a direct view of Temple Mountain. So far, excellent…
Fortunate to get a weekend site at Needles and, not wanting to retrace our steps, we headed east through what appeared to be a nearly uninhabited part of Utah. It was. And it was gorgeous. There are only 2 places to cross the Colorado River. We opted to cross at Hite. Hite became a ghost town after the construction of the Glen Canyon Dam. Twice. The first time, the small mining town was flooded by Lake Powell. More recently, a small marina was flourishing and the population growing when the level of Lake Powell was lowered to better serve irrigation needs downstream. The green areas in the photos were previously underwater. The marina shut down. Current population is 5, 1 in the winter.
The area east of Hite is known as the Cedar Mesa. At first glance, it's an endless sea of rolling hills covered with cedar shrubs. (Note to our younger tech friends: there's a need for e-scratch and sniff applications.) Every once in a while, we'd get a glimpse of the White River Canyon. We followed signs for Natural Bridges National Monument and found ourselves amazed at what the White River Canyon has to offer, and its special contents.
Glad there's more space between to be explored…
For anyone who's interested, more pix of Hite and Natural Bridges National Monument.