Doug and I lived in the Albany area when we were first married, 30 years ago. We were quite active with the cycling community back then. As we drove out of Albany, we had a rush of memories as we recognized familiar roads we'd biked so many times, so many years ago. We both suddenly remembered that the greater Albany area was simply awesome for bicycling.
While in the Capital District, I also attended Sage Graduate School. Evelyn – my mentor and favorite study partner – and I have stayed in touch since, but we had not connected live in 26 years. We finally fixed that last week with a delightful lunch. Neither one of us has changed a bit! Glad to hear Evelyn still making generous use of her trademark laughter. After graduation, she launched a new career with the State of NY while I relaunched with The Travelers.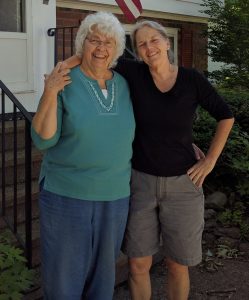 Joe fired me from The Travelers 10 years later and helped me start my own consulting firm. We've been friends with Joe and his wife Deb ever since! We were so glad to get to visit them at their new home in Skaneateles in the NY Finger Lakes. As usual, we went on a delightful bike ride with Joe. Deb gave us a grand tour of Skaneateles Lake. Just beautiful! And a hearty congratulations on their daughter's upcoming wedding!
We mentioned in an earlier post that we don't really have a plan or itinerary for this trip. We have, however, set an intention to see more of the Great Lakes. Today, we got our first glimpse of the Great Lake Ontario! More to follow…