Recall from a previous post, we put friends' recommendations for places to visit in MI on a map and tried to visit most of them. Jula, a friend from VT, suggested several, including 3 in NW MI – amazingly varied, totally cool places to visit. Thanks Jula, you nailed it!
Sleeping Bear is the mother of all sand dunes, covering 35 miles of the east coast of Lake Michigan. There are many places to hike throughout the dunes and we opted for a 1.5 mile hike to the shore of Lake Michigan – kinda like walking on the beach only vertical.  And with the beautiful, soft, calf-deep sand under our bare toes, and 9 climbs (think ripples in the dunes), the 3 mile round trip took nearly 3 hours! Well worth the time to experience such a unique part of the country and put our toes once again in the cold, clear waters of Lake Michigan.
Off to… well, in a separate post, we'll tell you about our success in dealing with the challenge of camping (or parking an RV – even a relatively small one like ours) in this part of MI in the busy tourist season.
Next was a visit to Traverse City for a bike ride on a perfect 70-something degree bright, sunny day. From the shores of Grand Traverse Bay, we picked up on a rail-trail that took us through downtown Traverse City, along the shore for a bit dotted with marinas, beaches and parks, then through the center of the Leelanau Peninsula to Suttons Bay. Like most multi-use paths, the crowds were all near the trailheads. We loved the long, shaded, lightly traveled sections in between, surrounded by small farms and cherry orchards.
The next day was quite rainy, so we opted for a drive to the Old Mission Peninsula for breakfast. Cherry orchards, vineyards and lavender were everywhere! We once again found ourselves on a point, surrounded by water – Grand Traverse Bay – on 3 sides with a lighthouse museum. Although tiny, the museum had a fascinating exhibit showing the history of changes in water levels in the Great Lakes and contributing factors. The water level of Lake Michigan/Huron (it's really one lake – didn't know that before visiting) is down 2 feet in the past 5 years primarily due to warmer winters leading to smaller surface areas freezing which causes the water to warm earlier in the spring enabling more evaporation from the sun.
In the midst of a downpour, we moved to Interlochen, home of the Interlochen Center for the Arts – an arts-focused boarding school and summer camp for gifted kids and the Kresge Auditorium – conveniently located less than a quarter mile from Interlochen State Park Campground. The skies cleared late afternoon allowing us to walk to the World Youth Symphony Orchestra performance where a highly selected group of kids performed classical and modern orchestral pieces brilliantly. We were greeted by a near full moon peeking through the clouds on the walk back.
The next night, Peter Frampton opened for Gregg Allman. Frampton performed all of his hits and closed with a ripping version of 'While My Guitar Gently Weeps.' Despite the end of the Allman Brothers Band, Gregg Allman continues to tour with his new band. Although a different sound from the Allman Brothers – more horns, less percussion, different guitar – Gregg put on a great show and continues to showcase his powerful vocals. Allman closed with a fabulous, high energy version of One Way Out.
We're exhausted – so many beautiful things to see and fun things to do in a short period of time! We need time to let them all absorb into our souls. Since the Interlochen park is quite nice, we extended our stay.  Do nothing for a day.
We're trying…  Eventually, we'll get to the UP.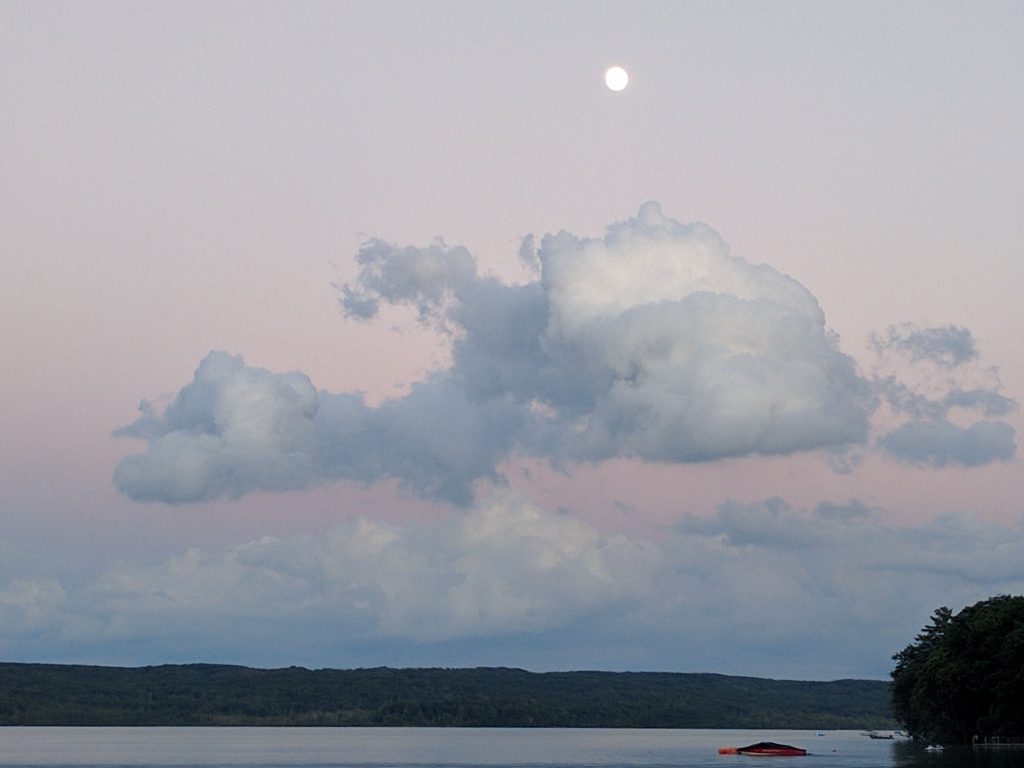 More photos from Jula's corner.