The 'Simply Superior, part 1' title for the earlier post started out as a joke – I saw it on a roadway sign and thought it sounded cool. Yet, there is decidedly an eastern and a western UP – we're not sure where the line is. We clearly crossed the line somewhere between Munising and Marquette, MI. Both halves share the beauty of Lake Superior and its shoreline, a penchant for winter sports (the locals talk wistfully about snowmobiling and ice fishing all summer), and the highest average daily spotting of tourists driving around in RVs since we started this adventure. The Hiawatha National Forest with its endless views of flat terrain, scrub pines and wetlands dominates the eastern half and most of the towns cater to tourists whether lake or snow related. The western half is all about mining (and evidence of its related current or former prosperity) and higher education. The terrain becomes hilly and the forests more deciduous. Hard to explain, but palpable…
We heard about a 'sculpture garden' somewhere near Marquette. As we approached – WTF?! – there was no doubt we had found it. Tom Lakenen, a long-time iron worker, was inspired to create the sculptures as a diversion from beer drinking. His private, free sculpture garden – Lakenenland – features 80 sculptures (to date), some funny, some with a message and some that just make you (and even Doug!) want to dance. Situated between the main road and a major snowmobile/ORV trail, Lakenenland has become a destination rest stop for recreational travelers of all kinds. Here's more info on Lakenenland for the curious.
More Lakenenland photos…
Home to Northern Michigan University, Marquette had that college town vibe. In addition to mining (iron ore), shipping and 60 miles of Lake Superior shoreline with public beaches EVERYWHERE, the UP's largest city had a liveliness that was palpable – and that was Sunday morning… There were 6 microbreweries/brew pubs serving up food on interesting porches and decks tucked into corners all over town, most with views of the lake. We wandered the city parks and found two art festivals underway showcasing MI artisans. We also wandered the amazing trails of (the other) Presque Isle, Marquette's most famous park.
OMG! Remember those lakers we've been seeing on the horizon all through Great Lakes? Then we saw one going through the locks at Sault Ste Marie. Here, we saw one live and up close loading up at the Marquette Upper Harbor Ore Dock! Once full, the 1,000-foot vessel turned on a dime and headed out into Lake Superior, on its way to the steel mills in Ohio, via the Great Lakes… It certainly closed the loop for us on the shipping in this part of the country.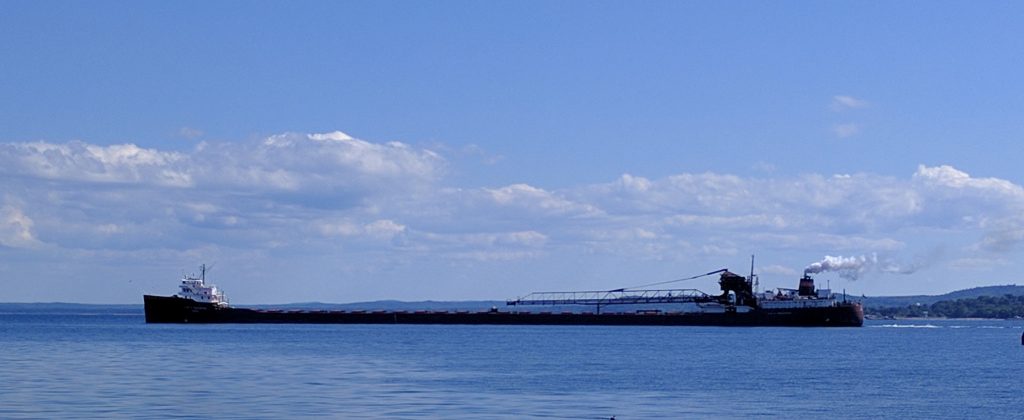 We visit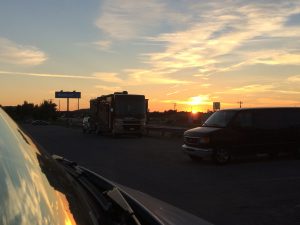 ed Marquette on a weekend, which can only mean one thing – alternative camping. The WalMart, 10 minutes from downtown, was a fabulous and totally convenient boondocking spot. We stayed both Saturday and Sunday, taking advantage of ample free parking in Marquette during the day while we explored the city. Just in case you're wondering… We haven't have a bad campsite, yet – well, ok there's one least favorite. We're not posting campsite pix as there would be just too many of them!
More Marquette and WalMart photos…
Who knew the US Skiing and Snowboarding Hall of Fame was in MI? Well, Doug did. It's in Ishpeming, MI, right outside of Marquette. We had to stop! The museum nicely presented the history of skiing from functional (in Norway) to recreational (in the US) and its evolution from nordic to alpine. The intro video on the history included a very brief mention of Berlin, NH (my home town) as an early Nordic hub. The exhibits included an old Sugarbush gondola, and a Mount Cranmore skimobile. The Hall of Fame members photo exhibit included an impressive number with VT/New England roots, including The Valley's very own Doug Lewis. Very fun stop in August!
Photos of the US Skiing and Snowboarding Hall of Fame…
Remember the gold rush of '49? Lesser known (at least to us, before this trip) was the great copper rush of '44 which put the MI Keweenaw Peninsula on the map. Wanting to learn more, and being drawn to the tip, top, northern end of of MI (and the eastern time zone…) we head to Copper Harbor.
Since there's only one bridge (bridge!) across the Portage River/Lake, all Keweenaw visitors must pass through Houghton/Hancock. Since our friend Tracy attended Michigan Tech in Houghton, we also wanted to stop there for lunch and get a quick photo. Driving the RV down a narrow paved road that kept getting narrower (and fearing for dirt or double track and keeping an eye out for ORVs), we were amazed when the road dropped down a hill and a view opened to a compact, bustling urban area on a big river! Beyond the middle of nowhere, Houghton and Hancock occupy each side of the river, having survived the end of the copper mining as commercial, shipping and trading centers, and college towns. Combined population: 15,000 full time residents, 10,000 college students. Yup, college vibe.
Copper Harbor showed signs of faring less well after the copper boom. When copper was first discovered in 1844, the US government build Fort Wilkins to keep peace among rowdy miners and the Native Americans. The northernmost copper mines produced less than anticipated, the boom kind of fizzled, and the no-longer-needed fort closed in 1846. It was reconstructed during the depression as Works Project Administration (WPA) assignment and is fully restored demonstrating and interpreting the era's history. Other, more productive copper mines throughout the Keweenaw peaked at the end of the 1800's, eventually closing in the 1960's.
Today, Copper Harbor has a year-round population of 150, annual snowfall of over 200 inches (with a record of 392!) and barely a hint of cell coverage. It's the start of Route 41, running from the tip of the peninsula to Miami, FL. It's a north-south eastern equivalent to Route 66.
We met Jerry, another touring bicyclist, at our campground in Copper Harbor. A retired graphic artist, he's touring around, going from one cool place to another, in no one specific direction. A man after our hearts! We parted ways, half-suspecting we'll meet up again, somewhere else, so it was fun to run into Jerry again at our next campground!
More Keweenaw photos…
We meandered back south slowly, realizing that our nearly 6 weeks in MI were coming to an end.  There's only one bridge (!), so we're back in Houghton/Hancock, taking a few days off from sightseeing, catching up on sleep and photos and blog posts, and thinking a bit about where to go next. We've really enjoyed our time in this gorgeous state, surrounded by 4 of the 5 Great Lakes.
'Is there a force field around Michigan?' our friend Dave had asked.  Not sure.  There could be…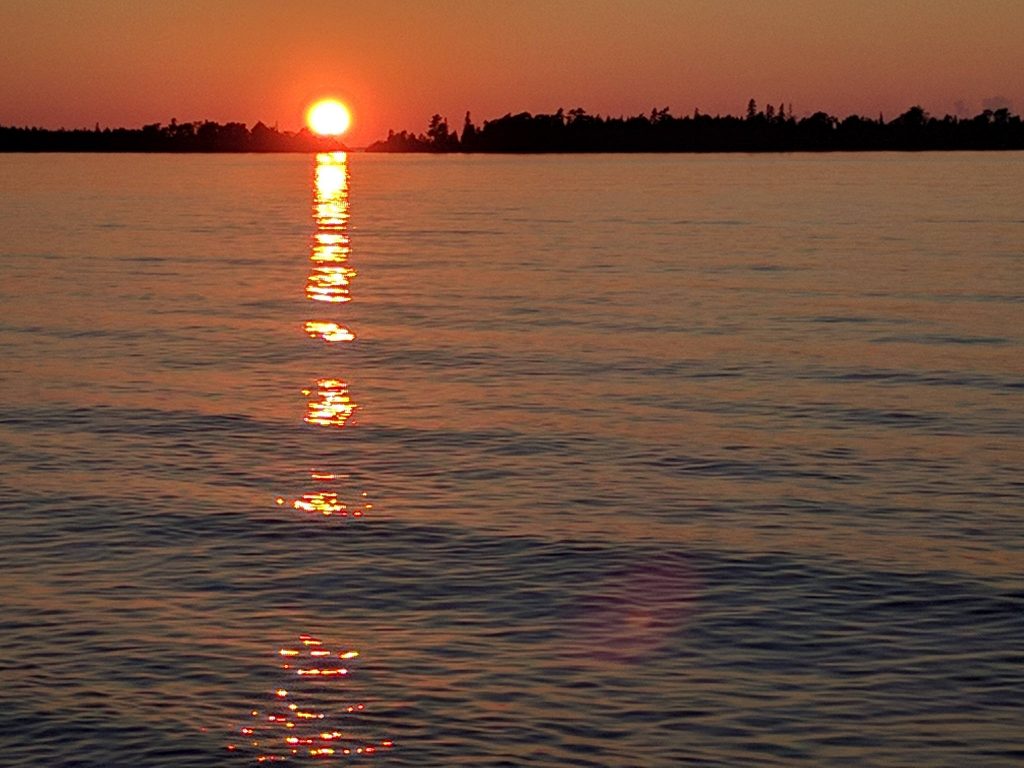 Sunset at Copper Harbor