Tough morning…
And, yes, we do realize how fortunate we are to have these days.
Those of you who know Doug know about his, shall we say, covert emotive displays. He definitely doesn't squeal. He may have been squealing on the inside though within minutes of arriving at the Badlands in Theodore Roosevelt National Park in ND. Within the first 24 hours, he said Wow (no exclamation point) 74 times and Cool (no exclamation point) 62 times. (I didn't get a count of Wow, that's Cool, but these, too were numerous.)
According to Theodore Roosevelt, who owned a ranch and spent several years in the ND: "The Badlands grade all the way from those that are almost rolling in character to those that are so fantastically broken in form and so bizarre in color as to seem hardly properly to belong to this earth." A brilliant description, as we questioned several times whether we might be on an alien planet. If you've never seen the Badlands, put them on your list. Our phone photos don't do them justice, although hopefully they'll whet your appetite.

So why are these awe inspiring places, turned into National Parks by the US government and visited by a million people every year, called BADlands? We questioned it, too. Apparently, Badlands is a rough translation of the Indian word 'makosika' which roughly means 'land too crappy to farm.' That it is.
The highlight of our visit to TRNP was biking the 36-mile scenic loop through the park. It took all day! At every turn, there's yet another gorgeous view of formations of different shapes, sizes, colors, and of course, a photo op. Some form ridges off in the distance while others are stand alone, unique structures nearby, extracting the aforementioned Wow or Cool. Some are so close you can touch them! As the road winds through the valley floor and over ridges, it occasionally climbs a shoulder revealing the view from the top down. The day was hot, humid and windy, filling the air with the fabulous scent of sagebrush which is ever present throughout the park.
Wildlife is a large part of TRNP. Bison, feral horses, elk, big horn sheep, antelope and prairie dogs are residents (we're guests) and found wandering about the park. Nothing can prepare you for coming around a corner on a bicycle and seeing a herd of bison grazing across both sides of the road. They are majestic creatures! Most hazardous, however, are the prairie dogs – they're addictive! You could spend days watching these busy little creatures running around their prairie dog towns, barking their familiar warnings about approaching picture-takers, building tunnels and generally being playful with their millions of prairie dog buds. We're still waiting for elk and big horn sheep…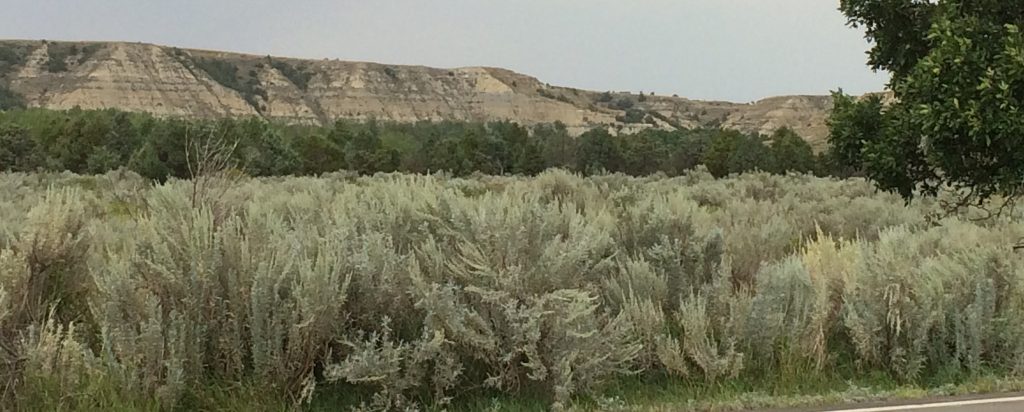 The surprise of our visit was… Medora, ND, the town at the entrance to TRNP. With a year-round population of 112, it's a 2-hour drive to the closest grocery store of any significant size and the home of the 2,900 seat Burning Hills outdoor amphitheater where the Medora Musical performs nightly – imagine a mash-up of Broadway and the Grand Ole Opry, with a hint of classic Lawrence Welk. The show included song and dance, a live band, fireworks, and horses walking on stage and on a trail in a spotlight on a Badland formation lit up behind the stage. The show was excellent fun and we're so glad we got to see this little slice of ND.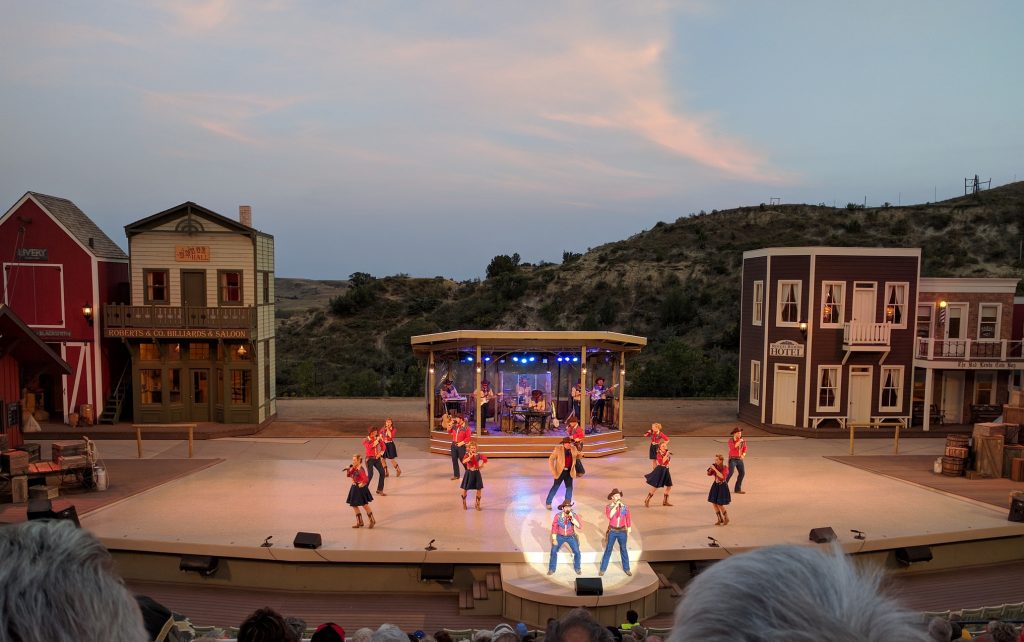 Theodore Roosevelt was a champion of conversation and we're thankful for his foresight in extending and strengthening the National Park Service.
More TRNP photos – North Unit and South Unit and Medora – if you're interested…