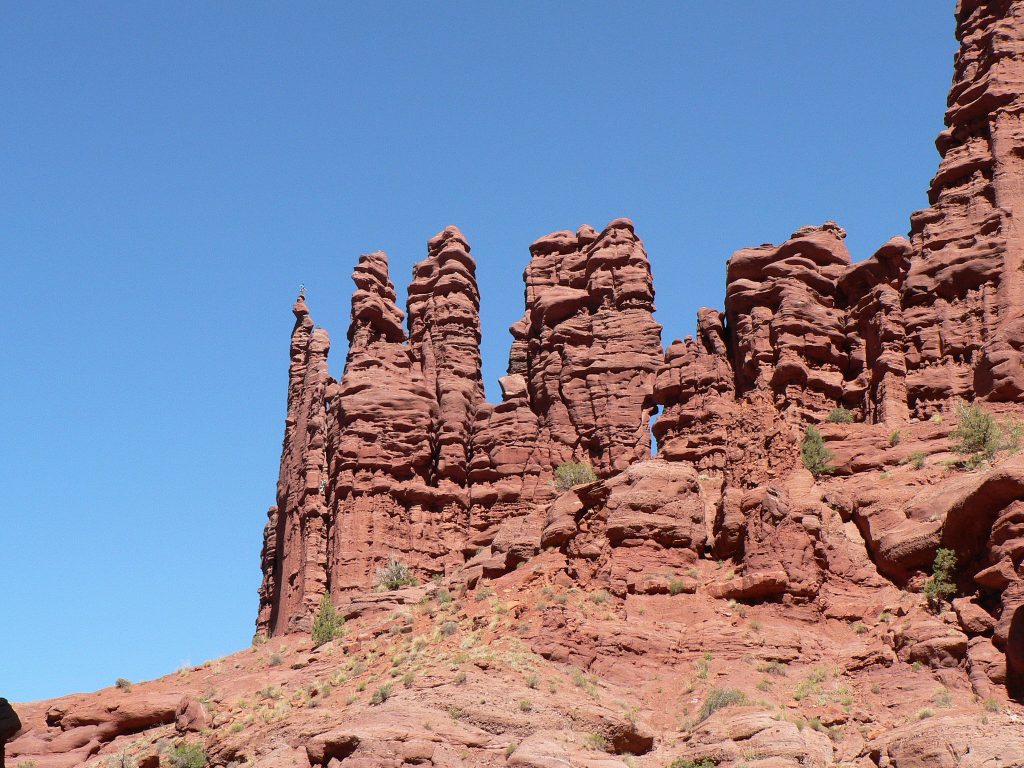 This is our first visit to Utah canyon country, and likely not our last. It's magical! And we've only just begun…
Everywhere you look, there are huge walls and cliffs of red rock, spires towering to the sky, wedding cakes, cathedrals and temples made of different layers of colored rock. Walk around a bit and you're likely to end up on the edge of a deep canyon exposing layers and layers of colors. Sunrise, sunset and cloud cover creates a show lighting up and altering the colors of mesas and rock formations in the distance. Suddenly, the snow-covered peaks of a distant mountain range appear out of nowhere, and disappear just as quickly. There are no photos or brilliant blog post descriptions that can do justice to the beauty of this area. If you haven't been already, plan to visit.
We spent our first Southern Utah week in Moab, which has an incredible vibe. Drive down Main Street and it's immediately apparent that people here take playing very seriously. About 80% of vehicles have toy racks – road bikes, mountain bikes, boats – or else the vehicle is the featured toy – customized jeeps, off-road vehicles, dirt bikes. A common grocery store sighting is small groups of 20-somethings pushing around a couple of large grocery carts, preparing for their adventure tour – river rafts or mountain bikes. Look up or down any street and no doubt you'll see small RVs and converted vans parked there, seeing the town, re-stocking supplies and, yes, hauling toys. As a result of hugely successful collaborations between the National Park Service, Bureau of Land Management, State of Utah and the City of Moab, thousands of miles of trails leave within a short drive from downtown, with separate or combined uses based on trail conditions. Jeepers (yes, that's what they're called) get along with bicyclists, equestrians get along with dirt bikers, and river rafters camp along with mountain bikers in the backcountry.
We were fortunate to spend a bunch of time with our friends Michael and Kat who graciously hosted us in Moab. Michael spends his free time playing guitar (and now also bass guitar!), cooking, and volunteering for Grand County Search and Rescue. So yes, we jammed daily, traded excellent dinners and thankfully never needed SAR services. Kat works for the National Park Service and loves her work! Both have intimate knowledge of the area. They joined us on a few adventures and suggested a few others. Along with Teuf the hiking dog, we did fun and gorgeous hikes in Moab, including the Mill Creek (aka Moab Beach) and Salt Flats areas and and took in the unbelievable views from Dead Horse Point.

Just outside of Moab and away from the National Parks, we hiked the Fisher Towers area where we got the most fun and highest quantity of pix per hiked mile. Crazy! We had to stop several times en route to the trailhead to take photos from the road, and the view from the trailhead was so impressive, it could have been the destination. Nonetheless, we opted to hike, taking pix every 10 steps. Look at that tower! And that one! And the other one! What's on top of the next one? What! A climber! OMG!
We really enjoyed Moab and will be back.
More pix for anyone who's interested: Moab, Mill Creek, Dead Horse Point, Fisher Towers.