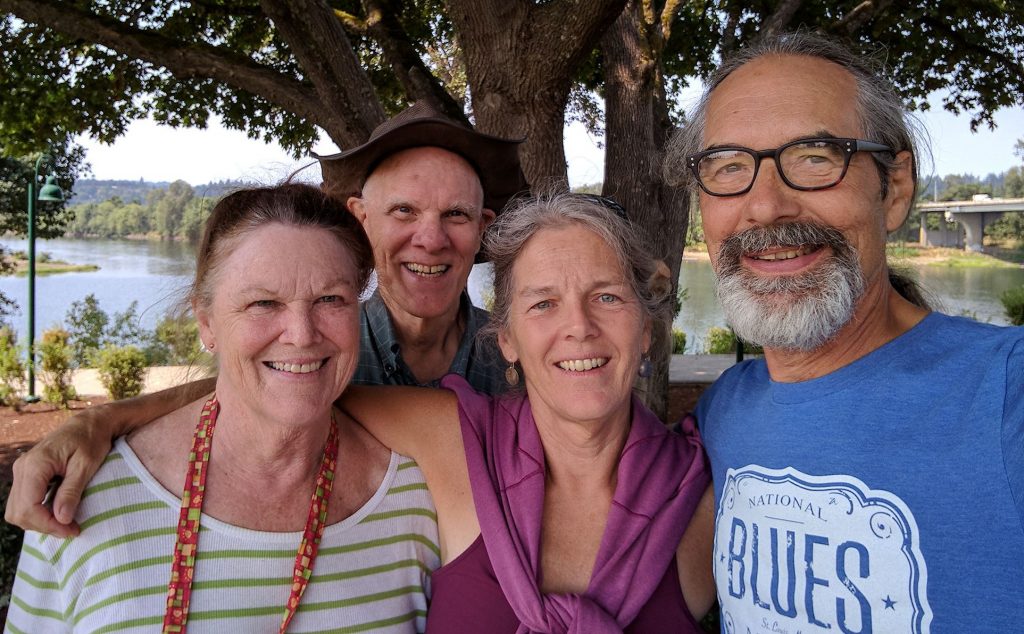 One of my favorite aspects of retirement is the freedom of time, and not having to plan how to cram fun into little boxes. However, when an incredible opportunity arises, we still know how…
We intended to visit Doug's family friends Pete and Sue when we got to California. They're adventurous RVers as well and enjoy long trips, and we've been tracking each other via social media, sharing tips and adventures and following along with each other's blogs, since last year. While en route to Portland, we got a message from them. They noticed from our blog that we were in Oregon. They would be in Corvallis for the eclipse and Eugene the next day for RV repairs, then off to tour the Canadian Rockies in their RV. We'd miss them in California, but we might be able to connect in Oregon, somewhere between Portland and Eugene. Absolutely!
We found two promising looking parks in downtown Salem for a meet up. We hadn't seen each other in 10 years, so we hiked around the first park, chatting and getting caught up, then we moved to the second park and shared RV travel stories. Since we've focused on different parts of the country to tour, we exchanged ideas on places to visit and stay. We were awed by experiences and stories of their trips to Alaska, which has started some wheels a-spinning. Over a very nice lunch in a funky downtown Salem eatery, we had still more time to talk some more before returning to our respective adventures.
Though our visit was short, it was a good one and we're glad we got to meet up!
For those who are interested, here's Sue and Pete's blog…