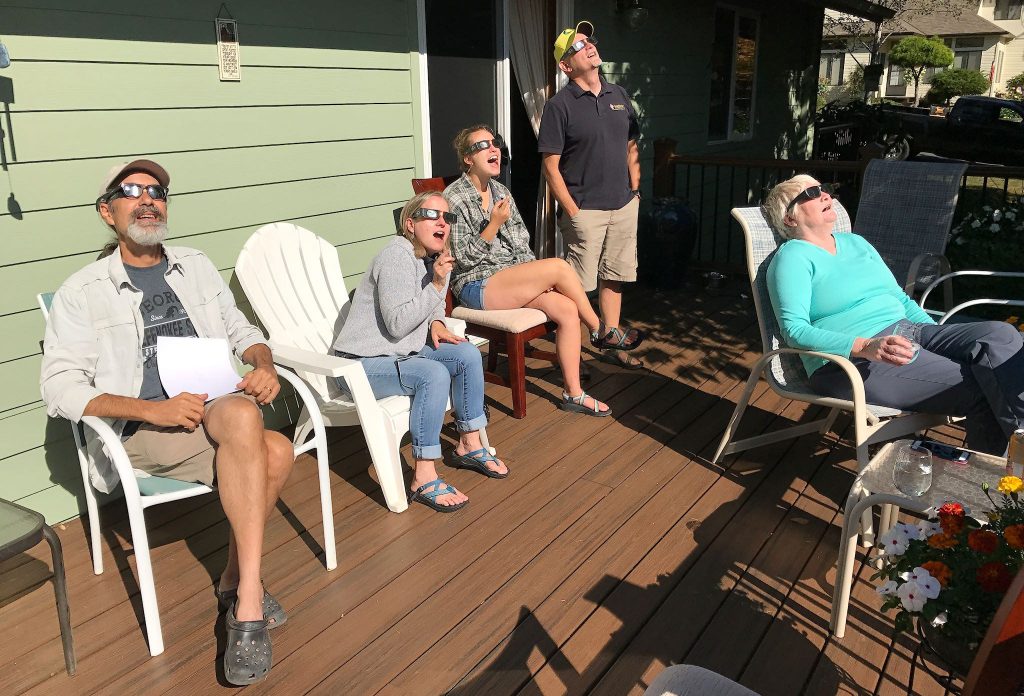 Patty and I graduated from St Anselm College together. We stayed connected through mountain biking, skiing and hiking adventures for about 7 years after graduation as we settled into and unsettled our careers (as recovering nurses) and moved around the northeast. And although we've stayed in touch since Patty moved to Seattle in 1989, and later to Portland, we hadn't connected live. Time to change that. It was just a coincidence that we'd be in Portland, not far from the eclipse path of totality, the day before the eclipse. We checked in with Patty and after almost 30 years, her response was 'Come on over, we're having an eclipse party!'
Thirty years of getting caught up is a tough job, and we were up to the task. Our lives have followed remarkably parallel paths. We both loved how our careers eventually resettled – Patty excelled as a PhD researcher in health sciences while I moved into healthcare management. Unbeknownst to us, we both worked with the same client at the same time on the same project from very different perspectives. Patty has done more than anyone I know on truly improving health care services. We've both recovered from near sports ending injuries, mostly returning to our beloved outdoor activities (ok, slightly modified), never losing the sense of adventure. Patty continues to hike the high peaks of the northwest and recently summited  Mount Hood, northern Oregon's iconic, 11,250 foot volcanic peak. Way to go! Patty's sense of humor, spirited laughter and passion for life added to the fun of the visit.
It's not often that parties start at 9am. Of course, you need to when a 99.2% eclipse appears over your house. With a group that included Patty's neighbors, pets Leah (canine), Suiri and Aidan (feline), and the landscape workers installing a new walkway, we alternated marveling at the sun through stylish eclipse glasses with grazing a buffet of goodies including sticky buns, berries, and the fabulous french toast casserole.  Just add coffee and smiles. We all agreed we'd connect again for the next eclipse, aiming for the path of totality. Fortunately, it'll be over our home in Vermont in 2024. Party plans are already underway.
For those who are interested, more Portland and Columbia Gorge pix…