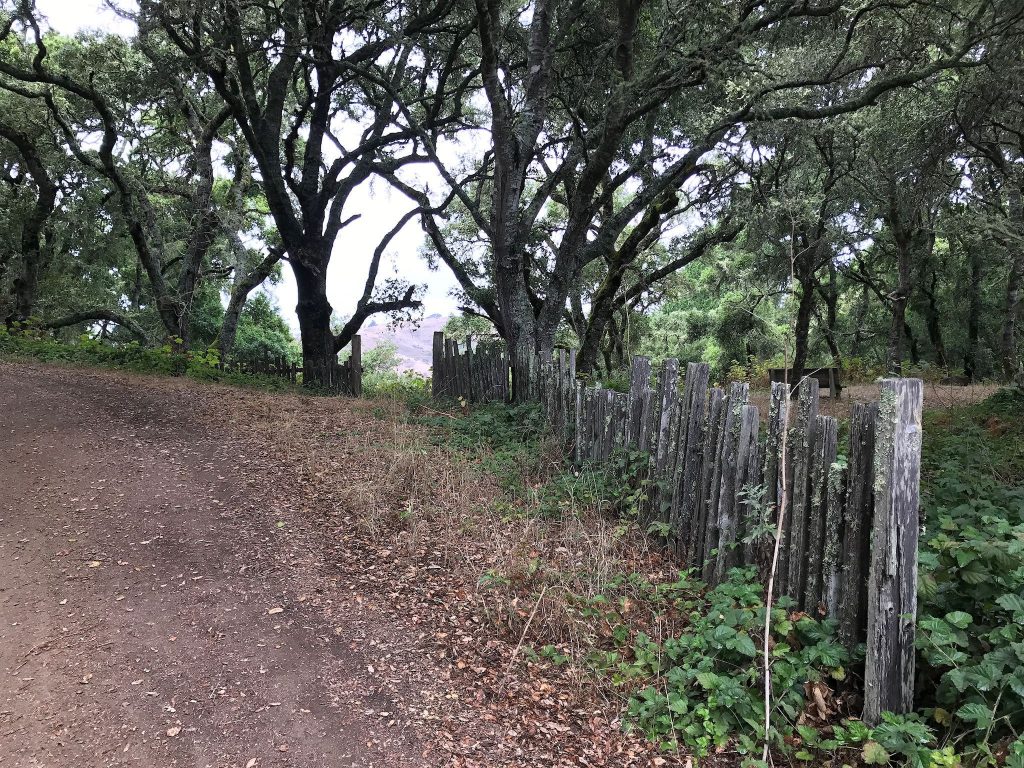 In the early 1940s my grandparents bought a cattle ranch on the San Francisco peninsula, in the Santa Cruz mountains west of Palo Alto, off of the California 35, which is also known as the Skyline Boulevard. My mom and her sisters and brother moved to the ranch at relatively young ages and did most of their growing up there. Eventually my grandfather left the ranch to pursue other ventures, while my grandmother decided to stay put and established on the ranch a nursery specializing in California native plants.
By that time, my mom and dad had gotten married, started our family and moved "back east" where I and my brothers grew up and still live. My mom's younger sister Gerdi had also married, and moved to Oregon. Their youngest sister Ami married as well but stayed closer by, moving down the hill to Palo Alto. Eventually, pieces of the ranch were parceled up and sold off. Aunt Ami and Uncle Dick established their homestead on one of these parcels and still live there; the rest were sold outside the family. The original farmhouse and the nursery were kept together and my grandmother continued to live there and run that business until she was well into her 90s, though it's since changed hands a couple of times.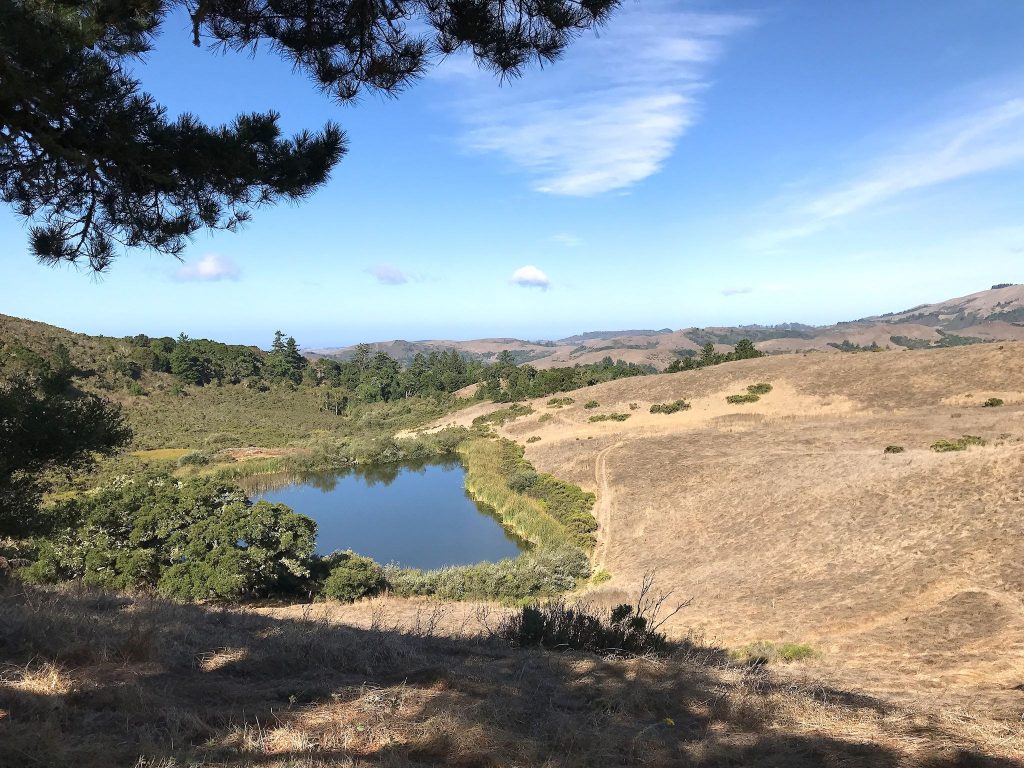 I spent much of the first three years of my life at the Isenberg Ranch, later the Yerba Buena Nursery. I've continued to visit regularly as often as possible over the subsequent 60 years. As a child, my family's semi-annual summer trips to "Granny's Ranch," where my brothers, my cousins and I would spend a month together cavorting, playing, building things, and exploring, are some of the strongest and most pleasant memories I have. Given the memories this place holds for me, the family history, and my aunt and uncle who are still there, this visit was one of the major goals on our 2017 tour.
The approach to the ranch is via a 3-mile, winding and hilly dirt road. Though it has changed some over the years, the look and feel is unmistakably the same and the feeling as we negotiated the first few turns was a bittersweet, nostalgic feeling of "coming home."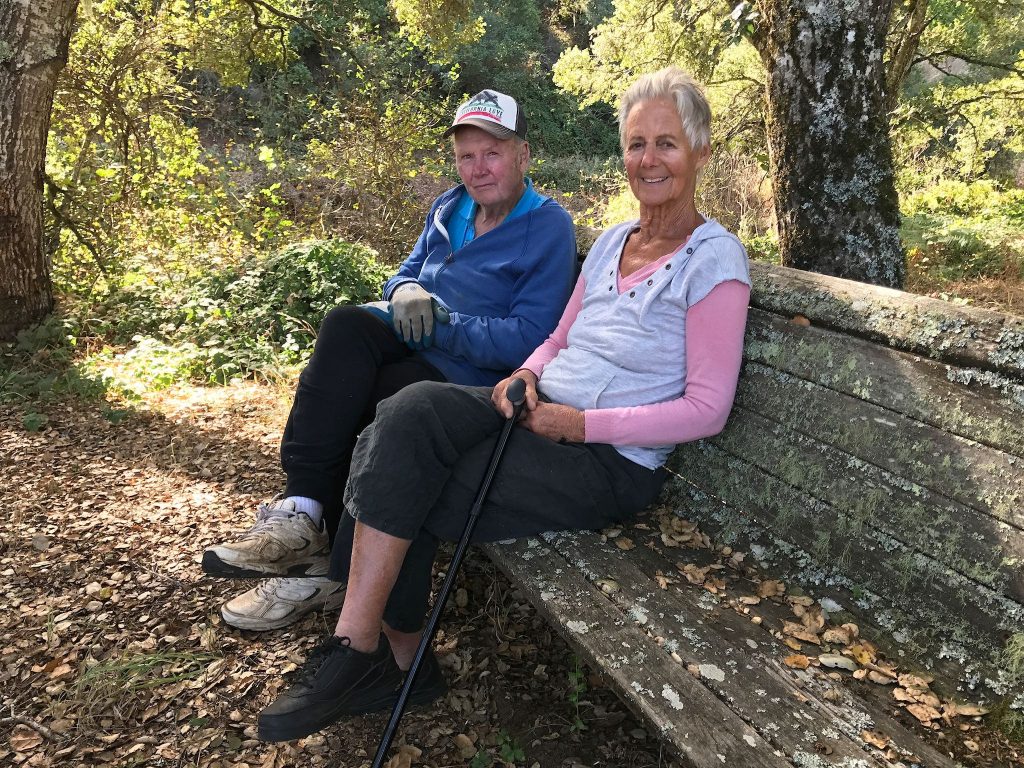 Aunt Ami and Uncle Dick are parents to my late cousin Wendy and cousins Aaron, Paul, Daniel, and Rebeka. Aaron lives in Palo Alto, Paul and Daniel have been featured in this blog before, and Rebeka now lives in France.
What we did – reading, walking, talking and reminiscing, feeding chickens, picking pears, swimming in the pond – are the things we've always done when we've come here, a familiar and comforting routine. One evening Ami, Dick, Sue and I had dinner with Wendy's daughter Yvonne, who lives nearby, and Aaron, who came up from town, in Ami and Dick's living room, which is modeled after and inspired by architecture of the Ahwanee Hotel at Yosemite. After dinner there was music featuring Aaron and… the Destinators. There was even a little dancing, but sadly no photos of that.
We also somehow did not get a photo of Yvonne, who took the dinner photos above – and did a good bit of the dancing – however, we were joined every day by her dog Zippy, who each morning would make his way up to the house after Yvonne left for work. Here is Zippy: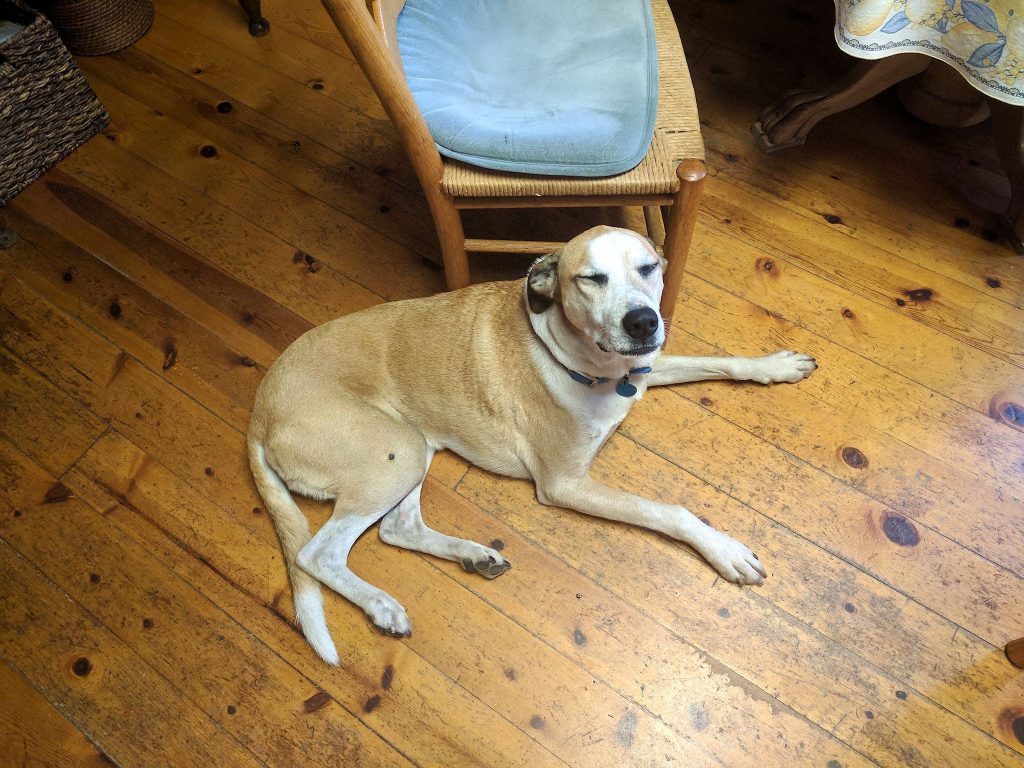 We also squeezed in a visit to Palo Alto, past the Stanford University Hospital where I was born, through the on-campus cactus garden, to the Anderson and University museums, which feature everything from Jackson Pollack abstracts to Rodin sculptures to early Chinese artifacts, and finishing the day with an excellent Chinese dinner near University Avenue with Aaron and his sons Edwin and Augie.