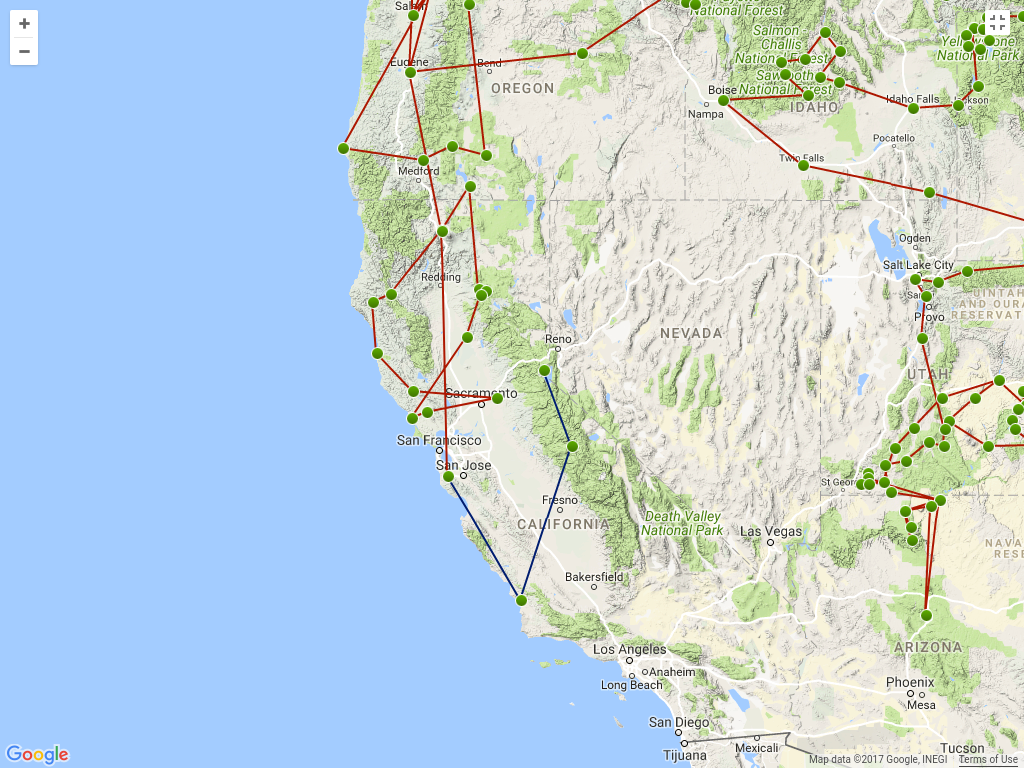 For those of you who read most of our posts or periodically peek at our map, you're likely thinking, 'If they're going from Oregon to California, why are they heading north?' Hmmm…
We consider ourselves fortunate that our location made it possible for us to attend a celebration of Doug's Aunt Gerdi's life held on September 17 in Klamath Falls, Oregon. As usual, we'd entered California with not much of a plan beyond a list of people to visit. We could visit them all and attend the celebration if we, well, planned 2 loops through California – one north and one south of San Francisco – and spent some time on interstates.
Visiting family was our first priority, however we'd pick up our usual pace a bit and sneak in a few adventures whenever we could. For example, we explored Humboldt County and California's northern coast en route to visiting Daniel in Orangevale. We took the long way from Katy's in Santa Rosa to Dave and Trudy's in Chico which enabled us to see more of the north California coast, hike the Bodega Dunes, and mitigate the heat of the Central Valley.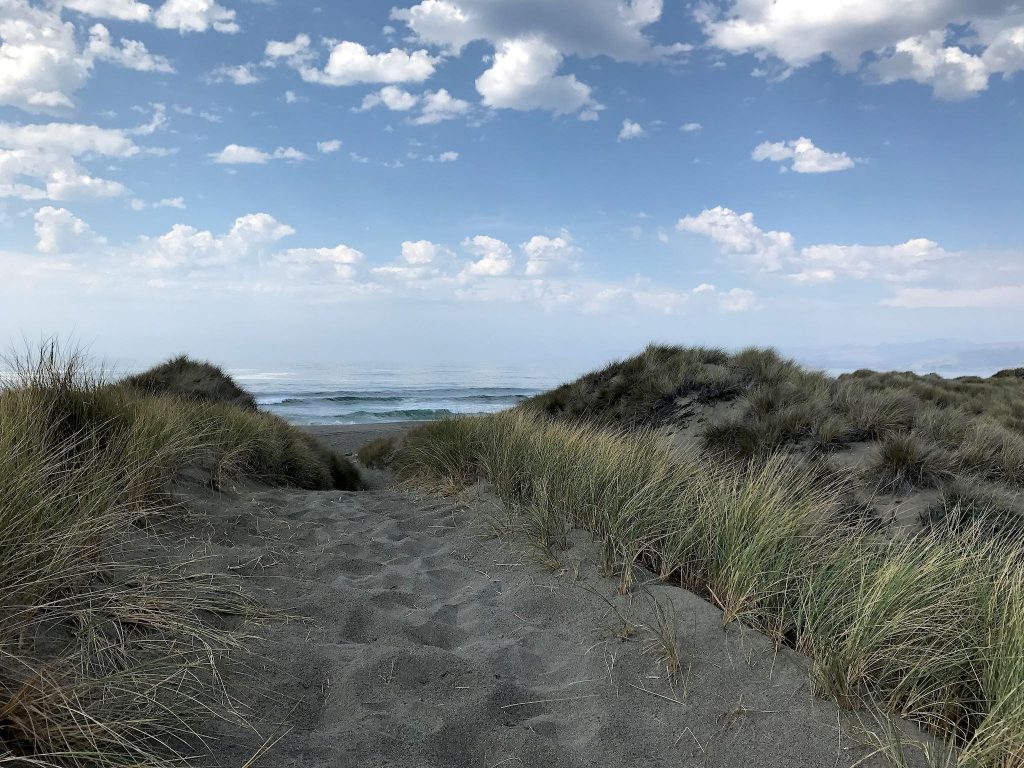 Heading north to Klamath Falls from Chico, we had an extra day for adventure and we opted to visit Lassen Volcanic National Park, another geological gem. There are 4 kinds of volcanos in the US. Lassen has trails to an example of each within the park. We opted to hike Brokeoff Mountain (because the rest of it broke off when the volcano erupted…). This hike wound through interesting pine and fir forest, then through giant manzanita and wildflower covered meadows which opened to an open scree shoulder near the summit. The summit allowed 360 degree views, including spectacular near eye-level views of Lassen Peak. The high clouds impacted our pix just a bit and blocked the much anticipated views of Mount Shasta, however they kept the temps relatively cool.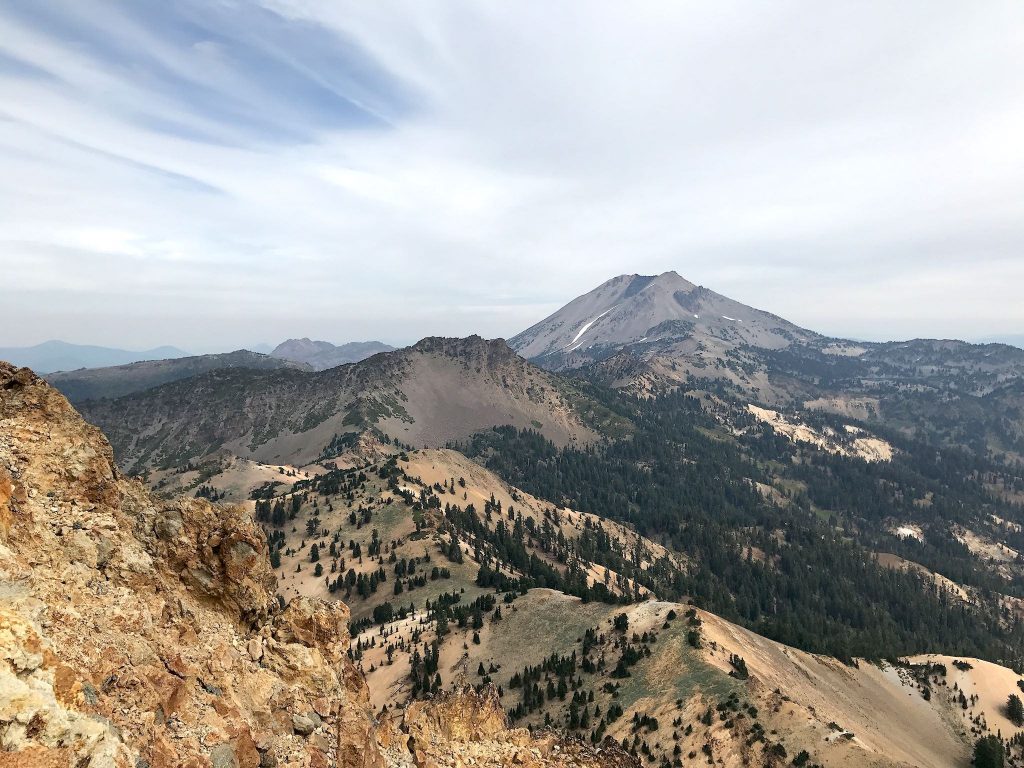 While having lunch on the summit, the sun came out above us. And for less than 5 minutes, the snowfields on the summit of Mount Shasta poked out of the clouds, 75 miles away as the crow flies, evoking a squeal of delight. The camera couldn't quite capture it, but I could. Perhaps Aunt Gerdi was smiling upon us.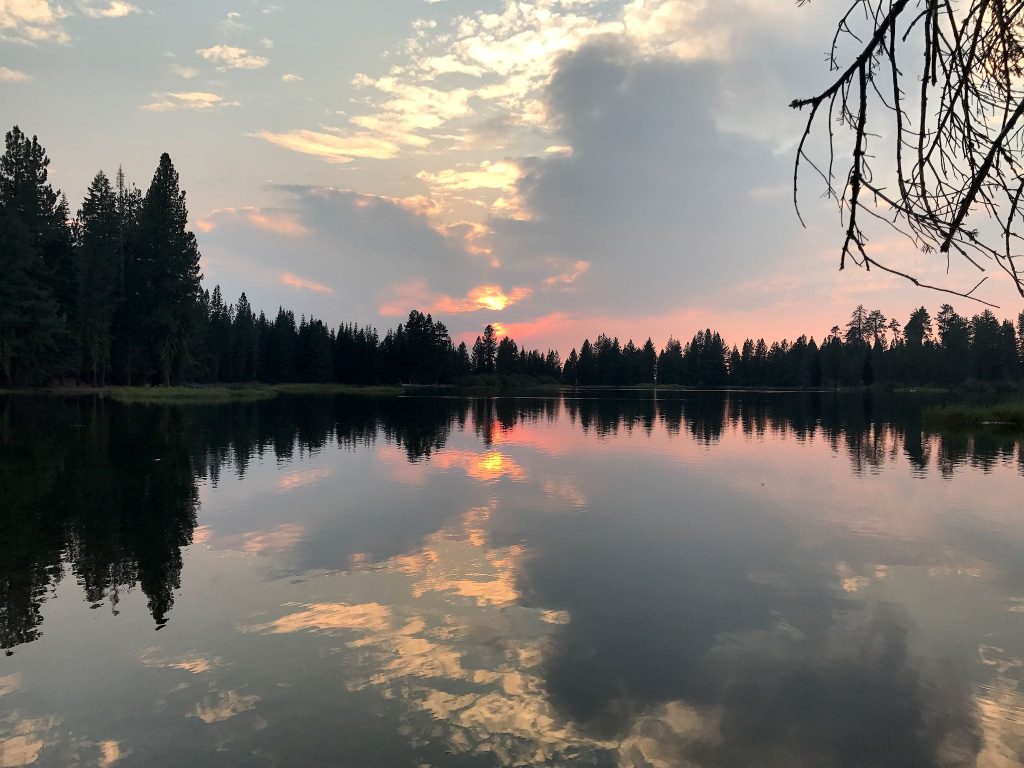 For anyone interested, more Bodega Dunes camp, Bodega Dunes hike, Bodega Bay, Lassen Volcanic National Park, Brokeoff Mountain hike pix…