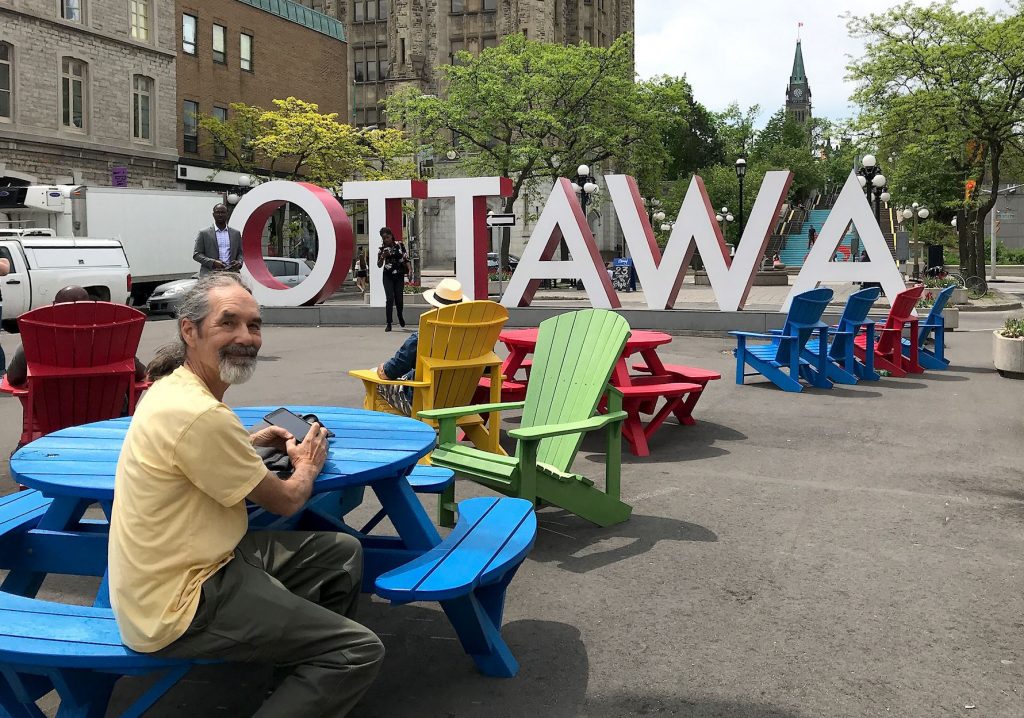 We've shied away from visiting large cities in the past. However, when we noticed that the Wesley-Clover Park Campground was within the city limits of Ottawa (pop 1 million), receiving 5-star ratings and boasting of easy access to downtown via bike trails and public transportation, we decided to visit Ottawa, Canada's capital city.
Ottawa is fun and overwhelming and already on our list of places to visit again!

We checked into the Wesley-Clover campground and received a 69-page brochure of things to see and do in Ottawa, as well as a map of the Capital Pathway (a shared-use-yet-mostly-used-by-cyclists path) and schedule for the bus service. We immediately extended our stay (to have time to read the brochure!). We picked out 4 museums we'd like to see, 2 neighborhoods, and a few points of interest promising displays of tulips just days after the annual tulip festival.
Just 1 kilometer (about a half-mile*) from the campground was an entrance to the Pathway, a network of over 800 km (500  miles) of paths in and around Ottawa. The mostly paved, well marked and well used paths took us along the beautiful Ottawa River, alongside urban parks, past several outdoor art installations, and safely over bridges across the river into Gatineau, Ottowa's twin city in Quebec. We arrived at our first stop, the Canadian Museum of History, awed by views of Parliament Hill across the river.
After a fine lunch on the outside patio, we spent most of the afternoon inside the museum. The layout and exhibits were extraordinary. Early Canadian history is different from the early European explorations and settlement of the US (although we share some of the shameful displacement of the native population) as the French and British sought access to resources (beaver pelts, lumber) to import to Europe. In the early 1900's, history started to more closely realign, including the Great Depression and its economic implications, suffrage, civil rights and the cultural revolution known as the 60's. We loved the museum! It was a fitting visit early in our trip to provide an overview of Canadian history and set the stage for future sights as we head west.
Once again outside the museum, the warm sun convinced us to make our next exploration outdoors instead of inside another museum. Our friend George, who grew up in Ottawa, suggested we check out the Pathway along the Rideau Canal. From the museum, we made our way back across the river to downtown Ottawa, through several parks, past the locks on the canal to the entrance to the Rideau portion of the path. Always along the canal, the path took us through interesting Ottawa neighborhoods and to Dows Lake, dotted with lakeside eateries and boat rental docks. One more section of the Pathway would take us around the south side of the city and reconnect with our original route back to camp. An exceptional day of urban biking!
We woke to another warm and sunny day with a short list of errands and a desire to see more of Ottawa. Like any other large city, there are big box stores in the suburbs. We passed them by, opting to do our errands downtown which would force us to walk around and perhaps experience lesser touristy places. We drove in and yes, found street parking for our 8-meter (25-foot) RV. From there we re-provisioned some organic food from a shop in the ByWard Market area, found a Canadian road atlas and a detailed Ontario map in Rideau, and shopped for some bike parts in Rideau and Centretown. In between, we walked around Parliament Hill with its Gothic revival architecture, neighborhoods with pleasant, well used outdoor restaurants, through parks with statues and many more art installations, and tulips, tulips, tulips. We interacted with local vendors in English, French and a mix of the two.
What about the 3 other museums, and all the other things we want to see? We'll be back. Although it took us 3 days to get to Ottawa by RV, poking around and visiting family, we can get here in less than 5 hours by car from home…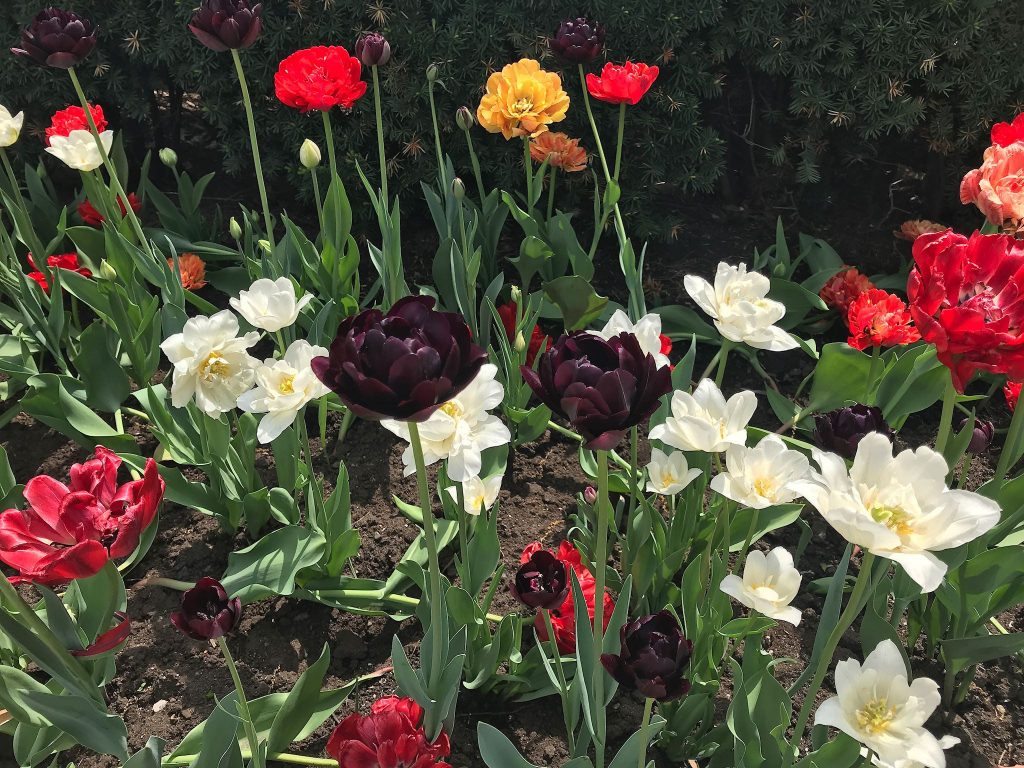 For anyone who's interested, more Wesley-Clover Camp, bicycling adventure and walking adventure pix…
____
* They use these in Canada. One can think of a kilometer as about half a mile, though it's a little more than that – 0.62 mi. For the time being we're getting used to doing quick conversions in our head, but we're also becoming accustomed to thinking in km, kph, etc.