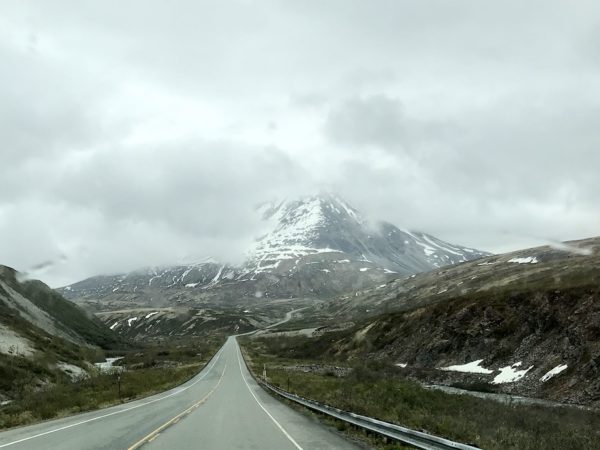 When people think of Alaska, a lot of us think first of the Interior – that huge landmass that includes Fairbanks and Denali, just south of the polar bears. There's also southeastern Alaska, also called the Inland Waterway or the Inside Passage or the Alaska panhandle. It's a bunch of beautiful islands and peninsulas, featuring rain forests in close proximity to glaciated mountains. Our friend Gail who previously lived in Haines loved it and recommended a visit.
Fascinating and beautiful it is, but travel in southeast Alaska is primarily via the Alaska Marine Highway (aka ferries), cruise boats, and airplanes. It's tough to visit southeast Alaska driving an RV! There are but two roads, for a total of 246 paved miles. One connects Whitehorse (which we'd just departed en route to Haines Junction, YT) with Skagway, AK, 100 miles to the south. The other 146 miles make up the Haines Highway which connects Haines Junction, YT (where we just happened to be) with Haines AK.
Here was our best opportunity to visit southeast Alaska! So, we set a course for Haines, AK. Well, ok, we didn't really need to set the course – there's only one road.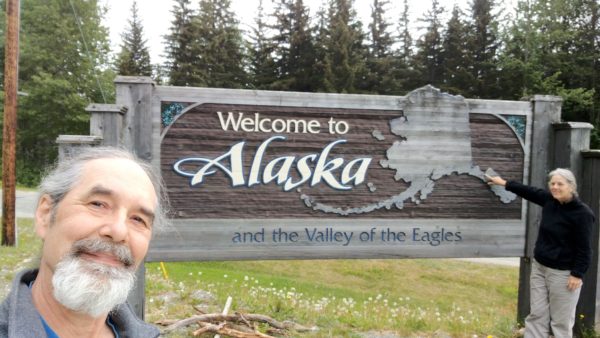 This was kind of a side trip for us, taking us on a brief out-and-back to the south off our primary route up the Alaska Highway, but it would also be our first-ever entry into the 49th State. That's a pretty big deal, so we had to commemorate it with the photo above. (Our regular readers should be forewarned, though, that there's another one coming.)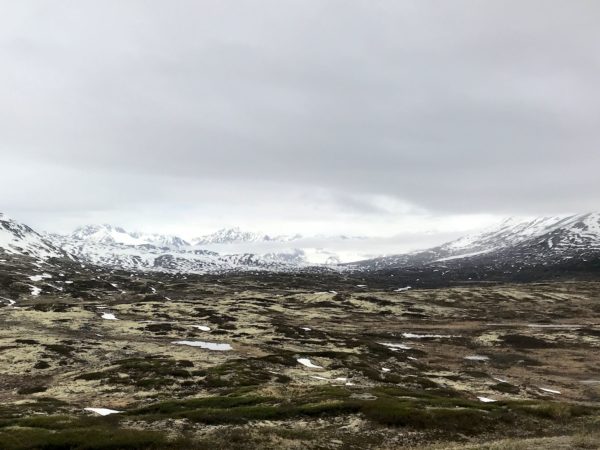 Although the weather was cold and wet, the ever-moving, low-hanging clouds with occasional breaks presented a tease of what the views on the Haines Highway could be. With eyes on the horizon, we could see lovely, wide, snow-dotted alpine valleys and what were likely tall peaks. On occasion, eyes quite a bit above that horizon could catch a glimpse of the tip of a tall peak, leaving our imaginations to fill in the blanks.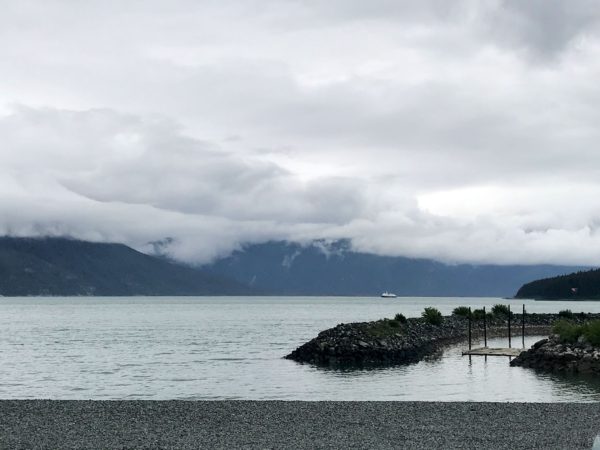 Haines is beautifully situated on a peninsula between the Chilkoot and Chilkat Inlets from the Pacific Ocean. It's surrounded by tall, snow-covered peaks on 3 sides – and we saw hints of that. Commercial fishing, tourism and the arts are the major economic drivers of the town at this point it its history. Although it is popular among outdoor enthusiasts, our timing (or perhaps it was the weather) was off a bit. Not enough snow to ski and, at 7 degrees C (45 F) and raining, too cold (at least for us) to hike or bike. We watched, with NO envy whatsoever, as a group set out on a raft trip down the glacier-fed Chilkat River. Brrrr!
We did enjoy our walks through town. The streets through the original Fort Seward included interpretive signs providing a historical perspective of the integration of the native Chilkat Tlingits, early missionaries and military personnel in the early 1900's. Several small shops sold art by locals and other Alaskans. We treated ourselves to dinner in a restaurant in continuous operation since 1960, in a building that's over 100 years old, overlooking the marina and inlet.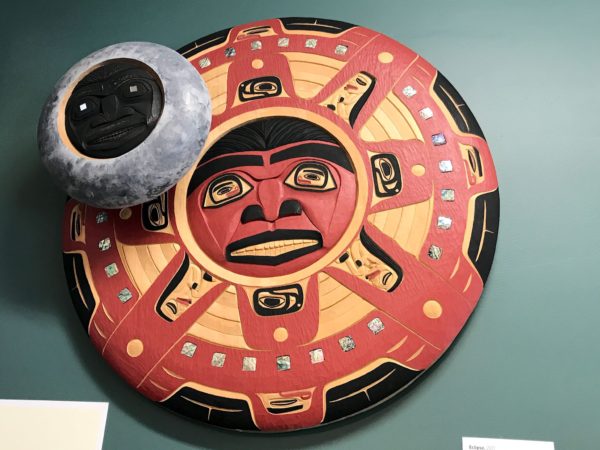 Our favorite stop was the Haines Sheldon Museum, presenting a powerful history of the coastal Tlingit communities. Due to the abundance of food – salmon and other fish from the ocean and moose, bear, and more from the forests – and other resources like copper, these natives were exceptionally good at trading and very wealthy. Able to control the narrow pass to the mainland, they were able to protect their trading interests. Not having to continuously migrate to follow food supplies, they had time to dedicate to the arts and became well known for their art, particularly their totem poles and exquisite blankets. The museum also included a brilliant exhibit called 'Perspectives,' a comparison of cultural viewpoints of the Tlingit (whose history in the region goes back 10,000 years) versus those of the Russian, European, Canadian, and American settlers (who began arriving in the late 1700s) on key topics.
We skipped an opportunity to take a boat tour in the pouring rain. There'll be other potential boat tours once we reach south central Alaska. We're glad we visited. Thanks, Gail, for the recommendation! For now: back to the Alaska Highway!
For anyone who's interested, more Haines Highway, Haines, Sheldon Museum, pix…