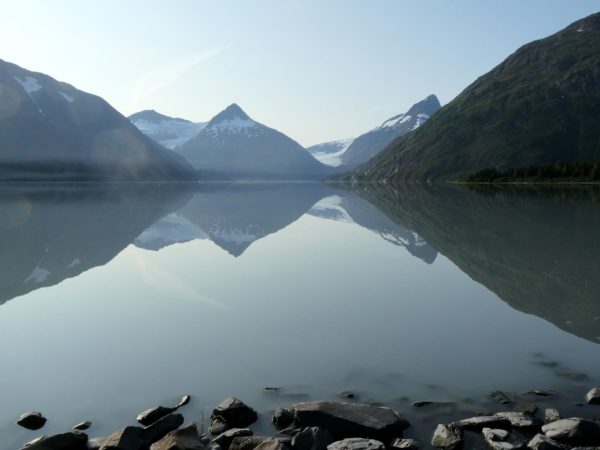 We went to Whittier, AK for only one reason – and a really good one. Stan and Cyndee's daughter Carolyn and her husband Jay named their son Whit. As the story goes, the couple first met in Whittier and thought it was one of the prettiest places they'd ever seen. Wouldn't you check it out, too?
Knowing how much Carolyn and Jay love to hike, we knew better than to just drive into town. We planned to hike the town's signature trail – Portage Pass.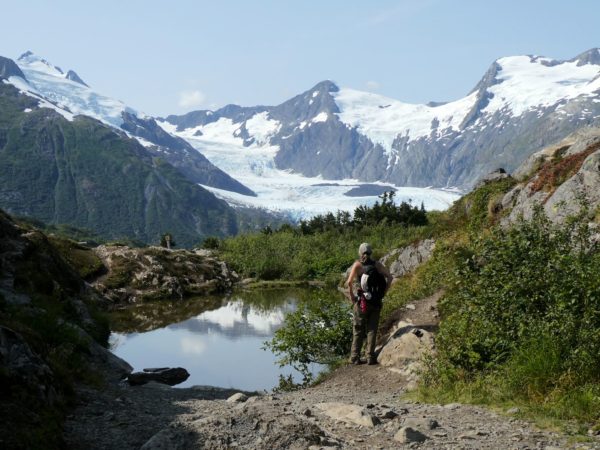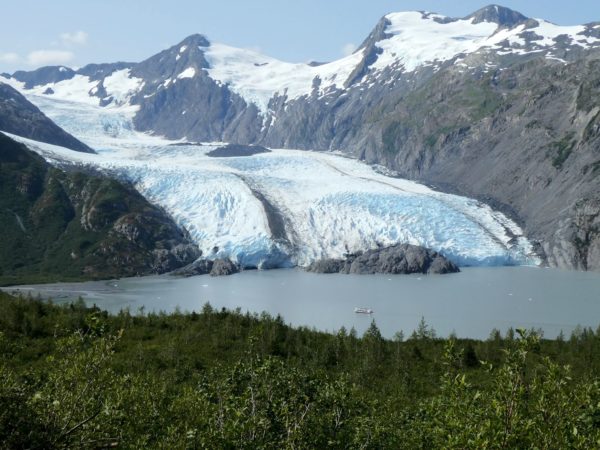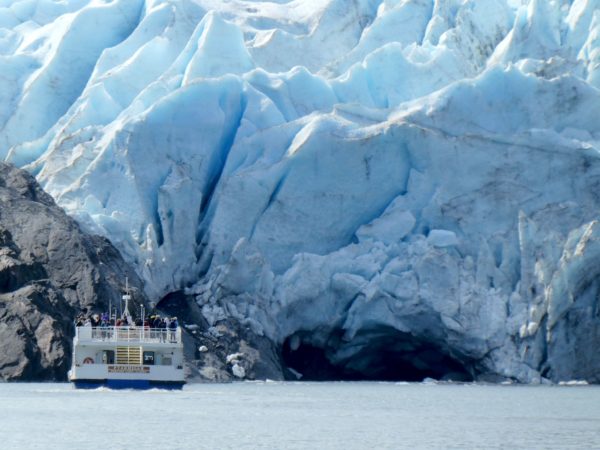 It took forever to get to the trailhead! And not because it was far (it wasn't) or on the other side of a tunnel (which it was – more on that below). The surrounding glaciers and glacial lakes – Portage Lake in particular – were creating a dangerous distracted driving situation so we had to keep stopping (but not in the tunnel). Once we left the trailhead, it only took 3/4 mile to get to the pass where the view stopped us in our boots – Portage Glacier and its 10-story-tall face above Portage Lake. Of course, the trail continued to the lake where you could touch the icy, blue-tinged water. There we sat on the gravel beach taking in the sounds of the glacier as it released its water stores steadily in streams and waterfalls – and occasionally in binges, as it released giant chunks of ice into the lake with a crack and thunderous roar. This process is known as 'calving.' As we marveled at Carolyn and Jay's brilliant approach to naming their son, a tiny chunk of ice (a product of a recent calving) floated by in the lake, like a mini, personal iceberg. We called it Calvi…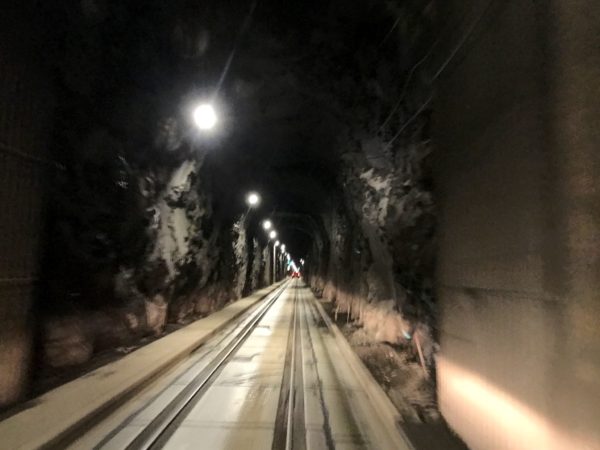 After the hike we drove from the trailhead into town. That took 2 minutes. The tiny town is situated in a stunning location – at the base of a giant glacier hovering 3500 feet above the town, releasing its water in two giant waterfalls that are always in sight. (It's a tiny town…) Historically, Whittier began as a secret military base. At the far end of a year-round-ice-free, narrow, deep-water bay, in a location hidden by clouds most days of the year, surrounded by mountains and inaccessible by land, it would be a difficult place for the bad guys to attack. In 1943, a 2.5-mile railroad tunnel (the longest in North America) was drilled through Maynard Mountain. After significant improvements, the tunnel was opened to the public in 2000 as a dual-use tunnel – cars and trains use the same single narrow lane in a process coordinated with help from a sophisticated computer to keep things from crashing into each other.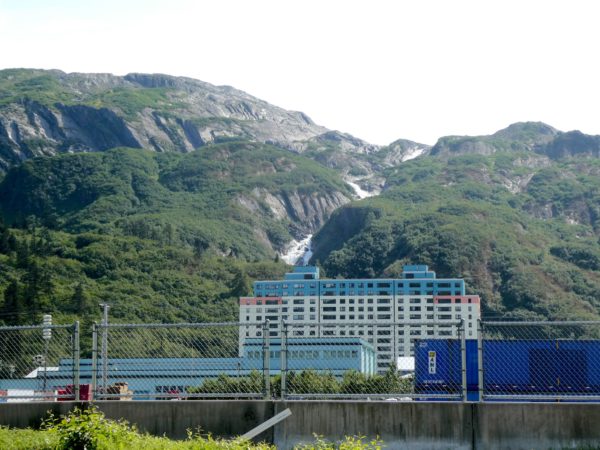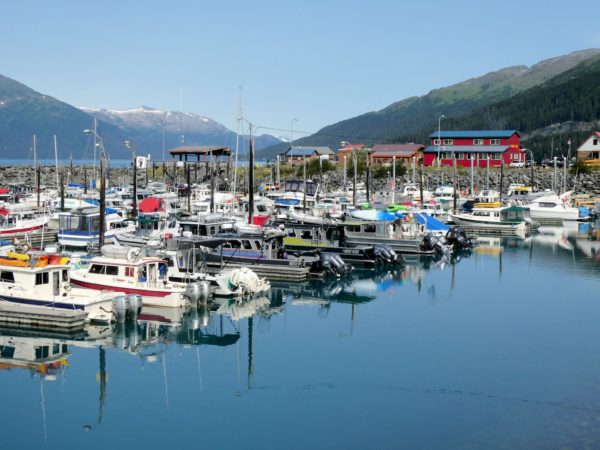 Today, Whittier, pop 220, is primarily a commercial fishing and shipping port as well as a tourist destination with a busy small boat harbor. It boasts one particular award worthy of note: the Weirdest Small Town in the US. Everybody in Whittier lives in one 14-story condo building, a refurbished military building known as the Begich Towers. It's connected to the local school by an underground tunnel so kids have no excuse to miss a day of school when there're 20 feet of snow on the ground and it's below freezing with 100-mph winds and it's dark almost all day… The other large structure in town is also a former military building, designed to be bomb proof, though it sustained just enough damage in the 1964 Good Friday earthquake to make it unusable without a good bit of work. It's been abandoned and standing empty since.
The location is stunning and the town, unique. I wanted to know more and found this article which presents a fascinating history on the town along with incredible photos – really worth a look. I know, a blog post linking to a blog post… but I can't make this up, and can't make it any better.
Thanks Carolyn and Jay for the driving motivation to visit this unique place!
For anyone who's interested, more Portage Lake, Portage Pass hike, Whittier, Whittier tunnel pix…