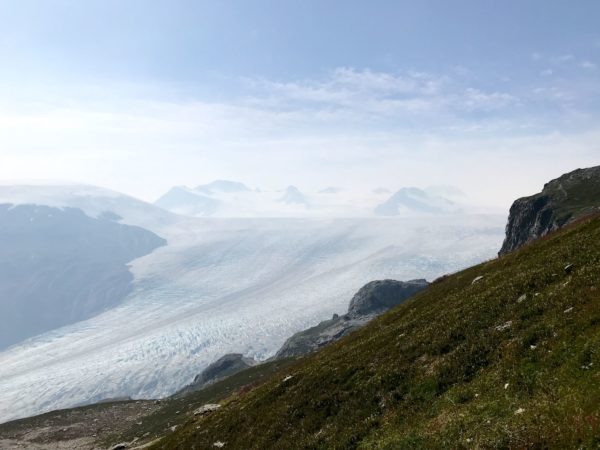 Seward is a small, picturesque city on Resurrection Bay at the base of Marathon Mountain at yet another Alaskan road's end. It's totally surrounded by tall, steep mountains wearing a shawl of glaciers that make up Kenai Fjords National Park. Seward is predominantly a commercial fishing town, also a destination and embarkation point for tourists in the summer. It's the northern terminus of many cruise ship lines as well as the southern terminus (aka Mile 0) of the Seward Highway to Anchorage, the Alaska Railroad to Fairbanks, and the original Iditarod dog sled trail to Nome. Heavily damaged by the 1964 earthquake, the rail yards and fish processing plants directly on the bay were not rebuilt where they'd stood; the land was instead converted to parks with hundreds of campsites, enabling travelers to soak in the views and get to the mountains.
Ready for more? First, a rendezvous…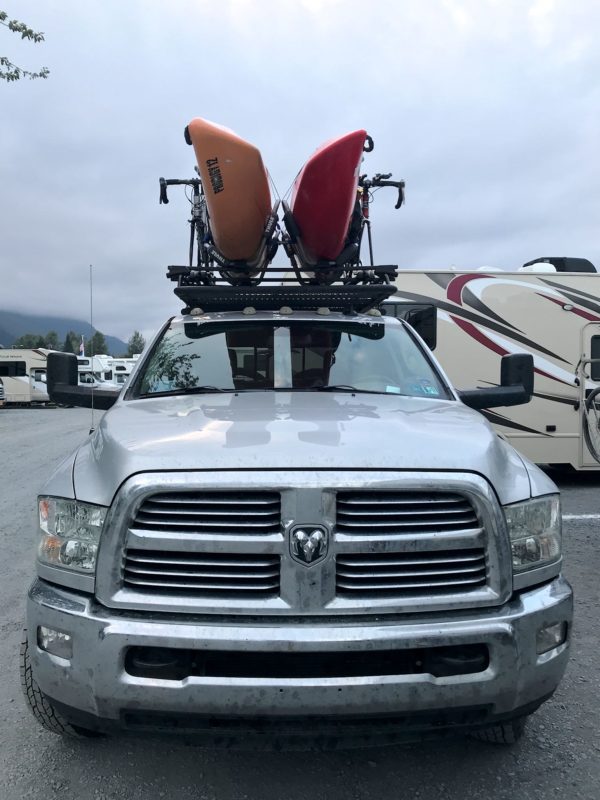 Some weeks ago, we first saw the truck – big, silver Dodge with a rack holding 2 kayaks, 2 road bikes and 2 mountain bikes, outfitted to tow a fifth wheel trailer – parked at the Ermine Hill trailhead in Denali State Park. We looked at each other. Gotta meet these people! As we reached the top of the pass early in the day, we ran into a couple who were backpacking and grinning ear to ear obviously having just woken up with amazing views of Denali. Them: 'Hi!' Us (ok, me): 'Hey, is that your truck at the trailhead?' It was. We chatted a bit about hiking/backpacking and the joys of traveling full time with toys. Fast forward 2 weeks, we saw the truck set up a couple of sites over from our site at Eagle River Campground. We walked over, introduced ourselves to Dean and Dawn and chatted a bit about how Alaska is a huge state with just a few roads and it was only a matter of time before we ran into each other again. We traded contact info and went our different ways. Two days later, we saw the truck on the highway. Me texting Dawn: 'Did we just pass you?' Dawn texting me: 'Yup.' Two weeks later, I got a text from Dawn: 'We're in Seward.' Me: 'We're on our way to Seward. Dinner?'*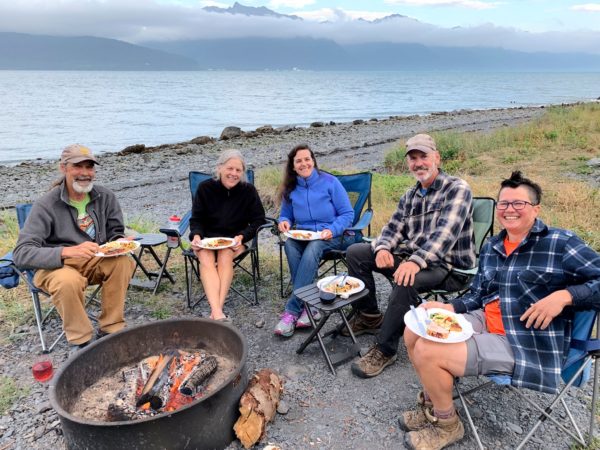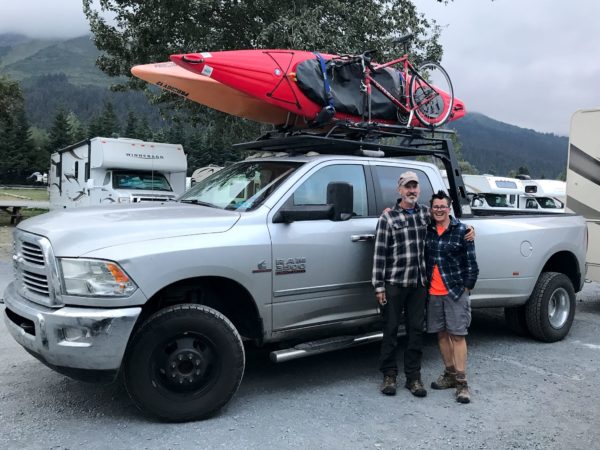 Dinner with Dean and Dawn was a delightful, casual, collaborative affair at a bayside and fireside campsite filled with conversation and stories. With Dean as grill master, our tofu was in good hands, nicely nestled on the grill next to their pork loin, grilled to perfection. Most recently hailing from Pennsylvania, they both retired from the military and had planned to travel in their RV (towed by the truck) in search of adventures for about a year. Two years later, they're still at it, with no end in sight. We read a few of each other's blog posts (here's theirs) and the similarities are remarkable – same hikes, same images, same warped humor. (Warning: We're thinking we may swap a post and see if any of our faithful readers notice.) They were accompanied by a friend, Anela, who's homeless. She retired from the military less than a month ago and was spending time visiting family and friends with RVs in interesting places before deciding where to live. We're hoping the exchange of stories about life on the road enticed her to join the ranks (pun intended). We all parted with visions of a future rendezvous…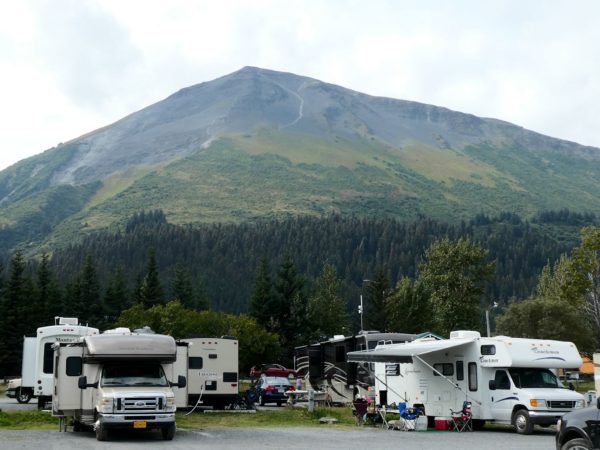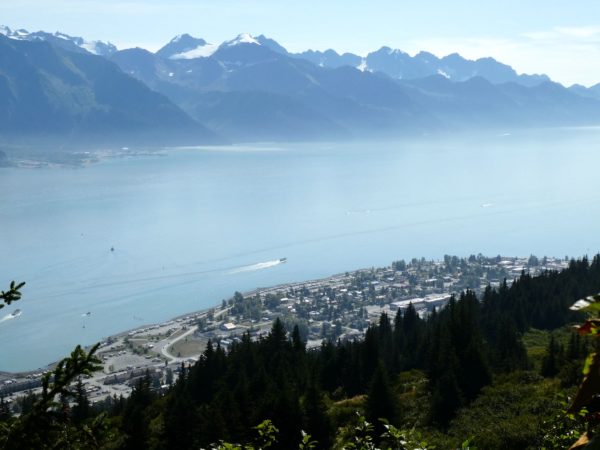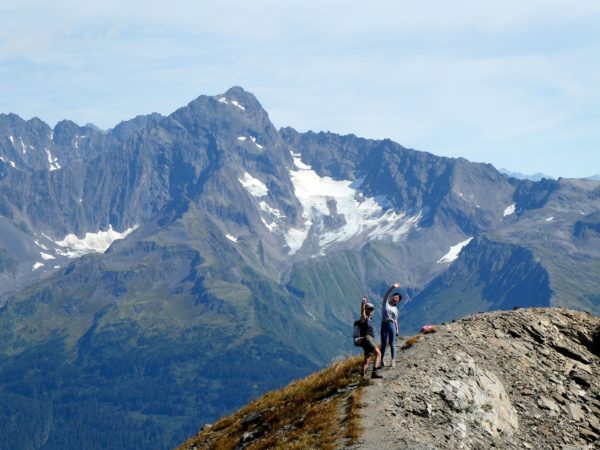 A town at the base of Mount Marathon naturally would call us to hike Mount Marathon. Hike, NOT race! Annual Fourth of July festivities in Seward include a 3-mile race straight up AND DOWN the mountain which the winners typically finish in less than 45 minutes. More than 1000 racers typically sign up (and it's not clear how many actually finish). Wow! We took a longer, non-race route to the summit (8 miles round-trip), spending 5 hours on that, most of it above tree line with unobstructed views over and across Resurrection Bay, the City of Seward, islands in the Gulf of Alaska, and the peaks and bowls and peaks and glaciers and peaks in the Kenai Mountains.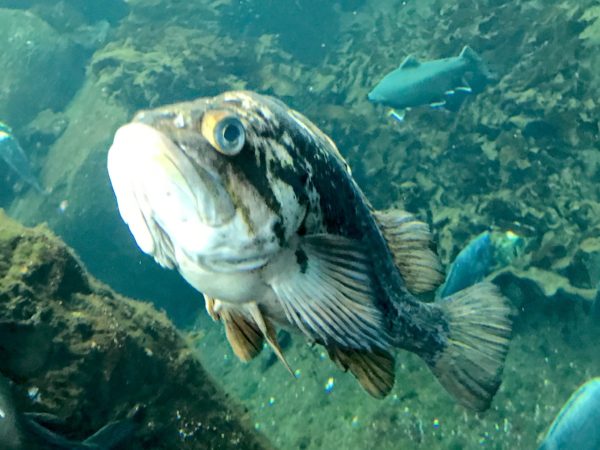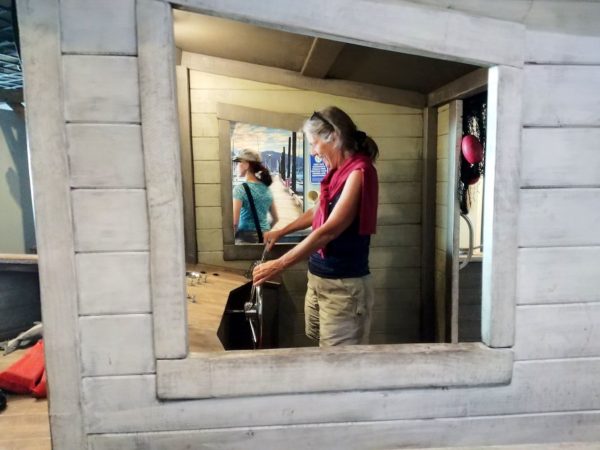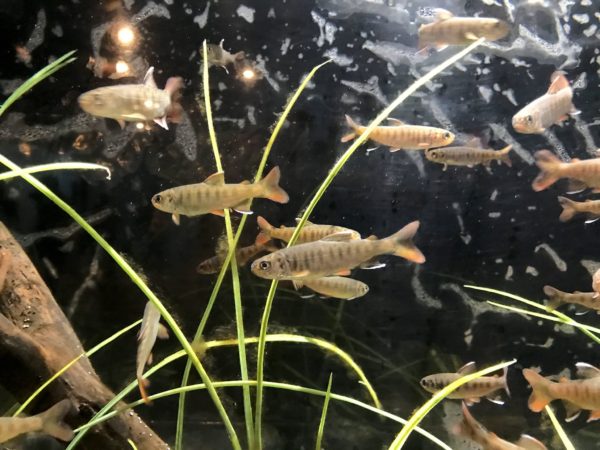 Our rest-day activity was a moderately exhaustive stroll about town. Seward is the home of Alaska SeaLife Center – an aquarium and marine mammal rehabilitation facility – and Sandy's sea otter. During our famous brainstorming session at Nick's house in Fairbanks, Sandy had mentioned having rescued an injured otter that was brought to ASLC for care. Unable to be released back into the wild, the otter lives at the center until it's ready for its forever home at a residential aquarium. We stopped in to say hello, enjoy the exhibits and talks, and observe the antics of the resident sea otters, seals and sea lions.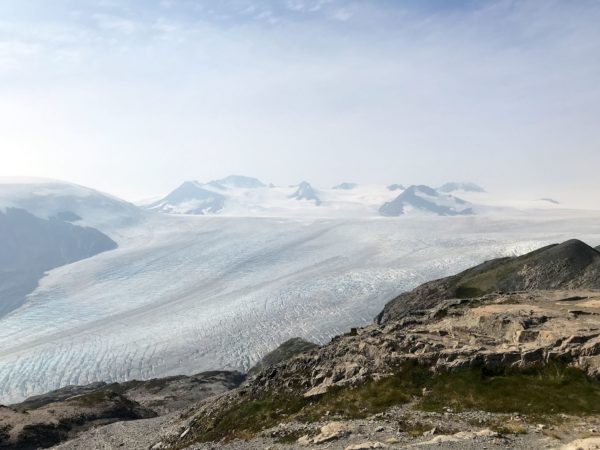 An icefield is like a huge, expansive momma glacier sitting over the tops of mountains and spawning (pun intended, we're in Alaska after all…) lots of glacier offspring wherever the terrain gives gravity the opportunity to pull them downward. There are several icefields in North America, the largest spanning the Alaska/Yukon/BC borders. The most visited icefield in North America is the Columbia Icefield in the Canadian Rockies where one can drive to the base of a glacier (we did), then ride a specially made, big-wheeled bus to the base of the icefield (we didn't). There's only one icefield accessible by day hike – the Harding Icefield in Kenai Fjords National Park just outside of Seward. Color us there.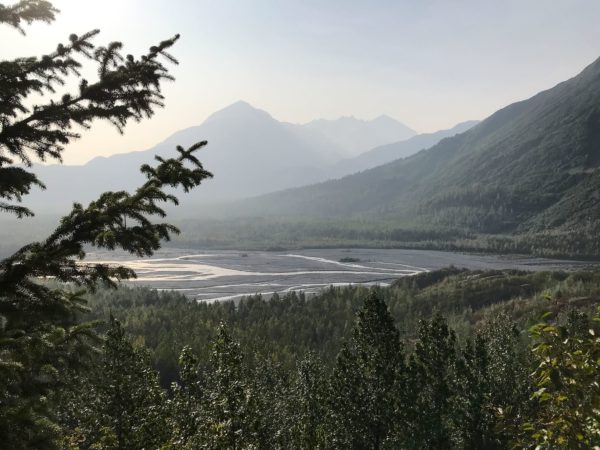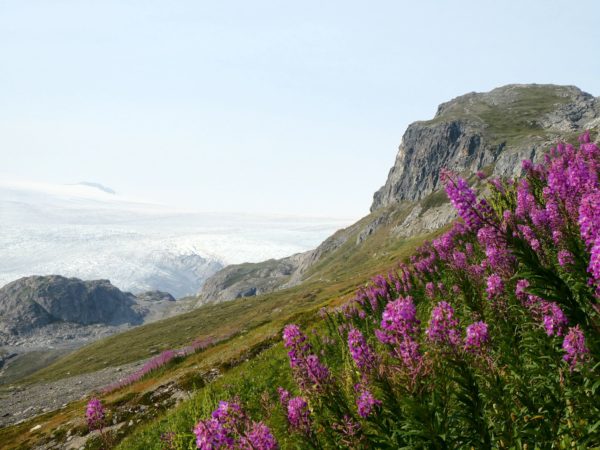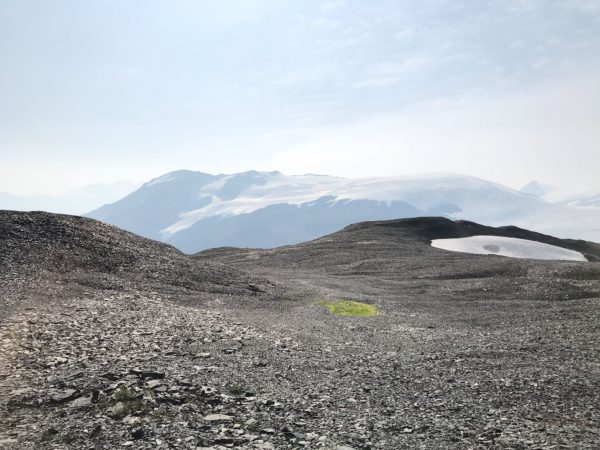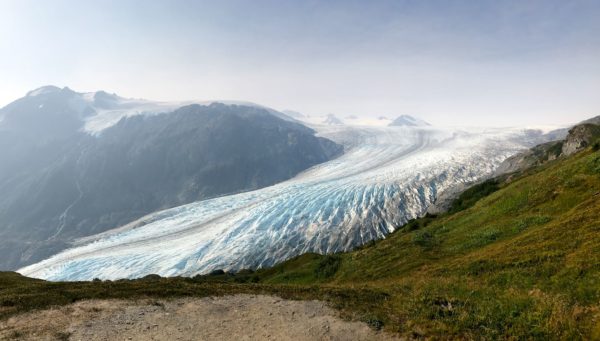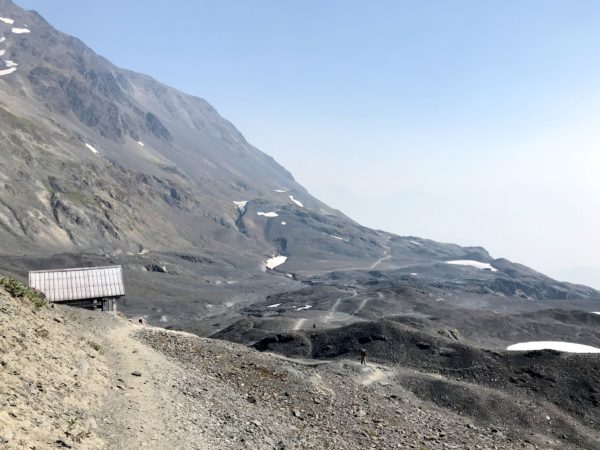 As we got ready for our hike to the Harding Icefield, the forecast called for sunny skies all day. Glee! However, the Swan Lake fire a bit north of Seward, which reignited while we were in the Kenai River Valley, was likely to slowly fill the area with smoke. Part glee and part determination, we started the hike early to try to beat the smoke. The trail starts with a series of switchbacks quickly providing elevation through a forest and alongside Exit Glacier leading to an enormous meadow. Filled with late season wildflowers at the base of a mountain range, the trail through the meadow almost allowed us to forget we were climbing alongside a giant glacier just below an icefield. The meadow eventually gave way to alpine terrain where small patches of green moss and tiny alpine plants dot the otherwise bare rocky landscape, with only minor distractions from the views of the icefield improving with every step.
Approaching the end of the trail, the terrain turns to bare rock and scree too recently scoured by glaciers to support plant life. There, we got to the edge of the Harding Icefield, a sea of ice covering all but the tallest peaks stretching out to the horizon. Yet another 'we are but a speck in the universe' moment.
We mostly beat the incoming smoke to the icefield. Returning to Seward, we found the town enveloped in smoke. We learned the Swan Lake fire had reignited with a vengeance. The Sterling Highway, Skilak trails, Russian River trails and camp, all the places we'd visited in the Kenai River Valley a few days ago, were closed due to the increased fire activity.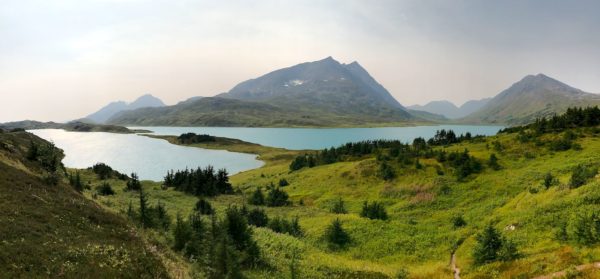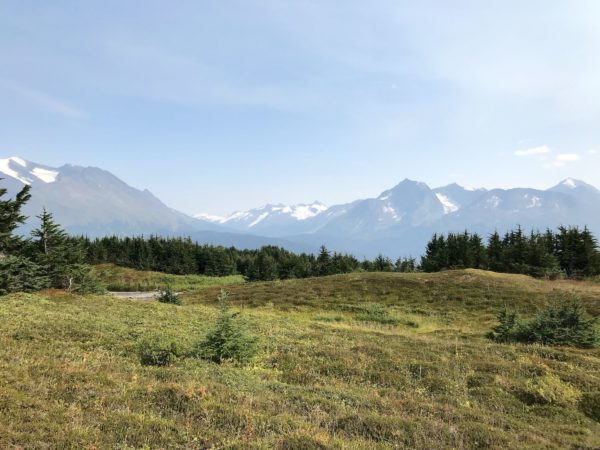 Lost Lake is accessible via two trails – Lost Lake Trail from the south, and Primrose Trail from the north. Also, there's a National Forest campground at the north trailhead. That's cool – we could hike through from one trailhead to the other instead of out to the lake and back (we've done a fair number of out-and-backs, if you've been following along…). We'd bike to the southern trailhead, stash the bikes, hike to the lake and on to our RV at the northern trailhead, then drive down and pick up the bikes. Despite the ongoing fire, the forecast was for less smoke in our area due to wind direction and another sunny day. So we set camp, got the bikes all cleaned up and ready to go, and went to sleep in time for an early start.
Despite all this good news and our excellent plan, the Universe said: 'Um, no.' We woke to temps around 35 °F – uncomfortably cold for the 12-mile bike ride, more than half of which would be downhill. We waited a while and saw the temperature rise only a few degrees. After considering options and affirming that we still needed to find Lost Lake, we decided we'd hike out and back from our campsite at the northern trailhead.
Good decision! The Primrose Trail starts in a deep green mossy forest with a gentle incline to a low ridge. Above the ridge, the trail traverses a huge alpine meadow with hints of the wildflowers that were at their prime two weeks ago and views of mountains all around us. Finding Lost Lake just beyond a bluff, we sat under some lightly smoky skies pondering our good fortune to be able to admire this gem.
We chatted with another couple we ran into at Lost Lake. Turns out they were from the Berkshires in Massachusetts, and they knew Lloyd and Suzanne (and Nick). Their oldest son was a nordic skier with Nick's sister, Kate. Another tiny planet moment. (I'd still hate to paint it.)
And thanks again Nick for the hiking suggestions!
For anyone who's interested, more YOFO Destinator rendezvous, Mount Marathon hike, Alaska SeaLife Center, Exit Glacier camp, Harding Icefield hike, Primrose Landing camp, Lost Lake hike, Seward pix…
*Conversations, live and via text, edited slightly for brevity.