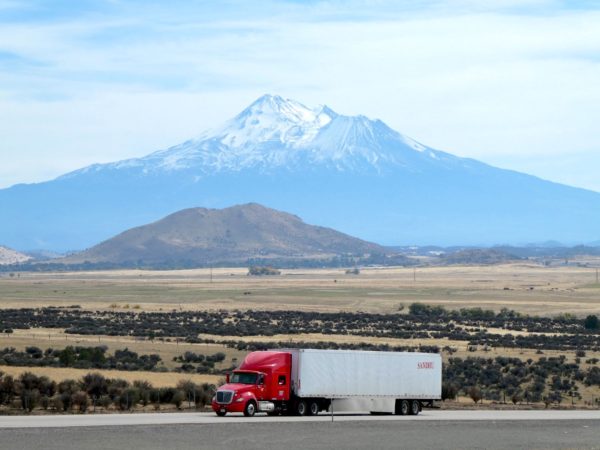 Alaskans and Canadians have it all over the lower 48 with highway names…
As we adjusted our route back to Vermont from BC to include a stop near San Francisco (more on that in an upcoming post), we had an opportunity for a few visits along the beautiful (but unimaginatively named) I-5 corridor.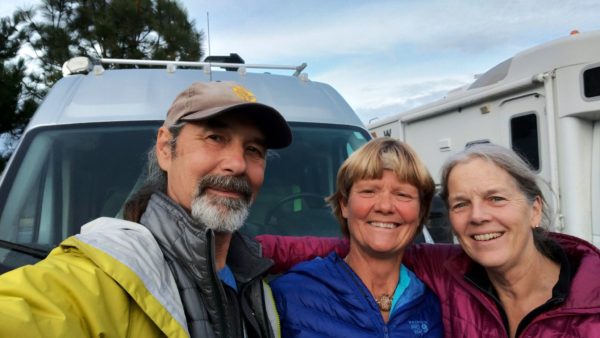 We first met Gail in Capitol Reef National Park in 2017. We ran into each other in a campground, and again on a hiking trail. Over happy hour afterwards we recognized that we had very similar traveling styles. We've stayed in touch since, trading travel, hiking and boondocking tips, so we knew she'd be rolling through the Seattle area in early October. Still, we were amazed when we heard from her while on the ferry to Port Angeles that she was on her way to Chehalis, WA. So were we!
No surprise then that we wanderers ('not all those who wander are lost!') met up in a big-box parking lot just off the highway. After hugs and happy hour and getting caught up, we walked over to a nearby restaurant for dinner and more catching up. Gail continues her full-time RV adventures, seeking out great hikes and nordic skiing spots, and adding a few pauses in travel to work on Habitat for Humanity projects. Gail is from coastal Alaska. She is planning an interior trip there in the next year or two, so we had plenty of tips to share. It was so fun to cross paths with Gail again!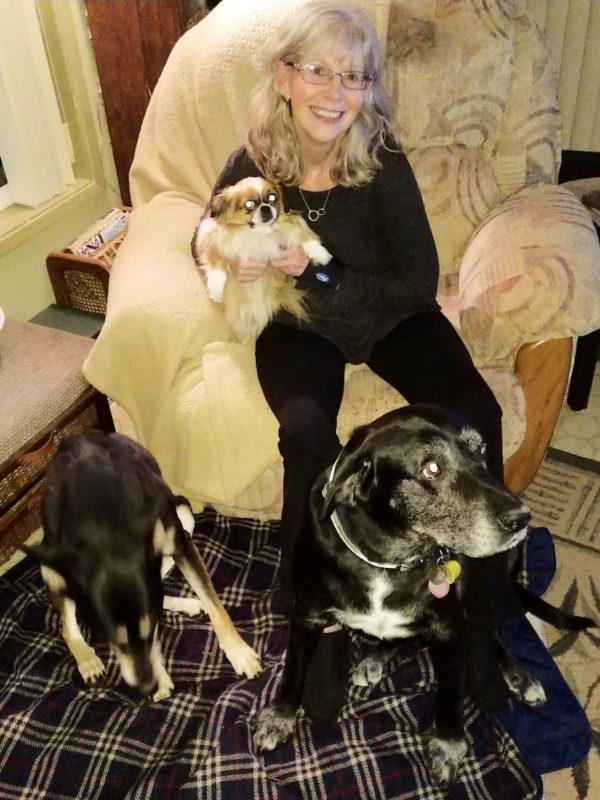 Visiting John and Sharon in Oregon City, OR is always like coming home. Since I lived with them in the early 80's, we've stayed in touch and visited several times. Whenever we get together, we just continue the conversation.
This visit was no different. Ok, maybe it was… John was away on a business trip, but Sharon had stayed at home to dog sit for not one but two neighbors for the weekend. We're so glad those good dogs – Tucker and Kiwi along with Mandy, the resident dog – enabled us to visit! We all just hung out for a bit, catching up, doing regular stuff and managing the schedules of three dogs who don't usually spend time together. Our photo session – trying to get three dogs to smile (or at least face the camera) at the same time – had us rolling on the floor laughing!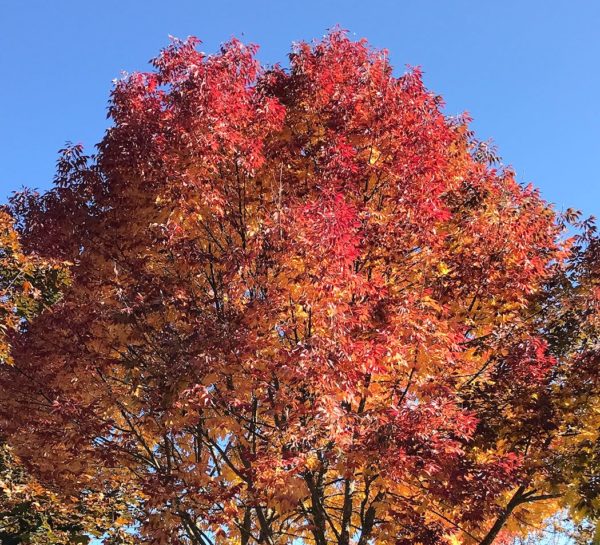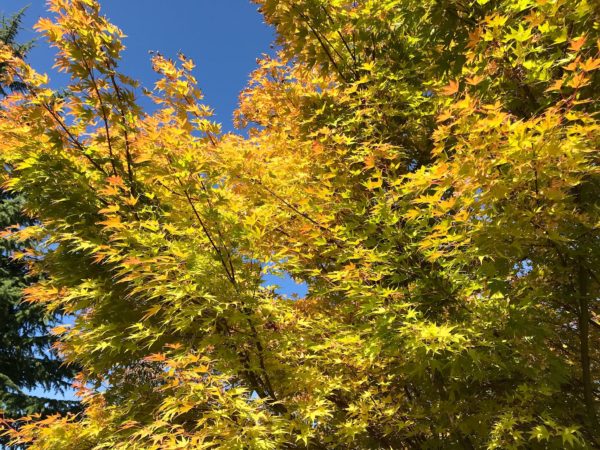 Next, we headed down the road to Eugene. It's hard to believe we've known Nancy and David for just two years. We met while traveling in 2017, introduced by mutual friends Mark and Linda. We've been been lucky to connect live four times – twice while traveling in our respective RVs and twice at their home base in Eugene, OR. Each time we get together, we just settle into comfortable conversation and fun story telling. Must be that former life thing…
Nancy and David have been to Alaska a few times, so there was no shortage of travel adventures to be exchanged over gourmet grilled cheese/pesto sandwiches and homemade broccoli soup. They had recently returned from an RV trip east to the Boundary Waters Wilderness in Minnesota, enjoying the travel, canoeing and fishing and meeting up again with Mark and Linda. Their upcoming travel plans include one more RV trip as well as a meet-up in Mexico with Mark and Linda and a few months in Palm Springs during the colder months. Considering their active travel schedule, we're lucky (and happy) they were home while we were passing through Eugene!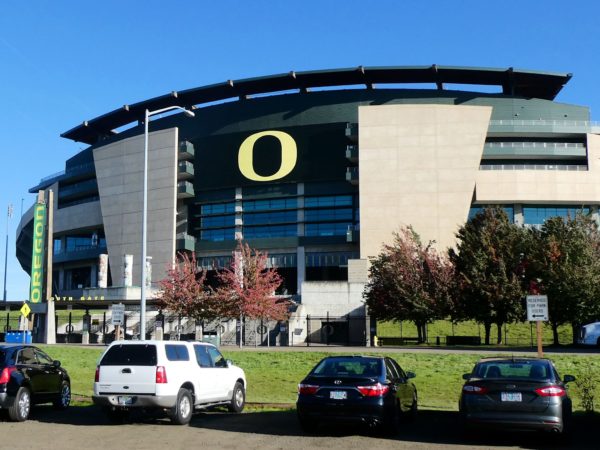 Dana and Muffin also live in Eugene. They and Doug go way back to their college days at Bates. They, too, travel extensively in their RV and we've met up on the road a couple times in the past few years, most recently in Tok, AK, in July, and it was good to get together again on their home turf. Dana has been easing into retirement over the past 5 years and has finally, officially and completely retired.
Among their preferred non-RV adventures are polar cruises. They've visited the Arctic and Antarctic, returning with amazing stories and stunning photographs. Dana has accepted an offer to serve as a Naturalist on the cruise, trading on the experience of his career as a geologist to gain passage on a few additional cruises as part of the crew. He'd just returned from his inaugural trip to Labrador and Newfoundland with awesome pix and stories. Our visit also coincided with Muffin's weekly ladies' power walk. I was glad to join them on a gorgeous day and to get to see more of the beautiful city of Eugene.
After we rolled south, we realized we'd not gotten any photos of any of our friends in Eugene. Our readers will have to be satisfied with the scenery and pix in prior posts.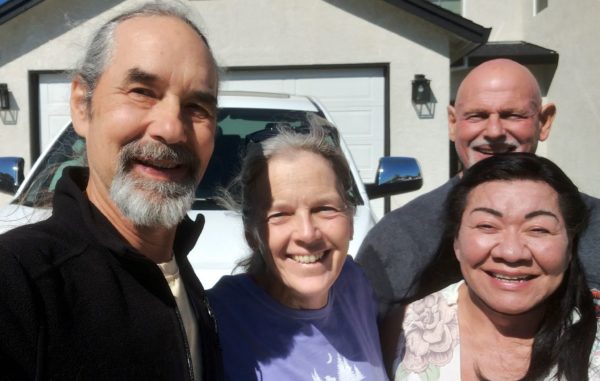 I have 34 first cousins on my mother's side. I've met them all, although I hadn't seen Rick in 56 years! My Uncle Rod and Aunt Olive moved to California when we were quite young and we'd lost touch. Our cousin Gerry found Rick and shared contact info. Rick was now living in Redding, CA. (Funny, we'd been through there a couple of times in the past few years. Who knew?!) Once again, it starts with an email with the subject line: 'I'm your long lost cousin' and leads to 'Stop by for a visit!'
Doug and I introduced ourselves to Rick and his wife Angie, we started talking, and that didn't really stop until late at night. Rick and I filled each other in on cavernous gaps in our lives and family history, me from the east coast and Rick from California perspectives, while scrolling through pix to share on our phones. They are both (mostly) retired from careers with the City of San Jose and the ministry. They continue to operate a highly specialized athletic training program for elite athletes, and they remain very active with their own fitness/bodybuilding, motorcycles, firearms training, and grandkids.
Rick and Angie showed us around Redding and the northern California mountains – spectacular! Sadly, they had lost their home in the Carr fire last year. Fortunately, reconstruction was going well they should be moving in this winter. They gave us the grand tour of the new custom home being built, complete with views of the two local volcanoes, Mount Shasta and Lassen Peak. Before we headed out in the morning, they took us for to a drive to the crystal clear Whiskeytown Lake, a large reservoir in the mountains just outside of Redding. Rick and Angie figured out our passion for mountains and we suspect they were teeing us up for a return visit. It's on the list!
For anyone who's interested, more Eugene fall foliage, Emigrant Lake, Shastamania, Rick and Angie and Lake Solano pix…
Get 3 dogs to smile for the camera? Yeah, right!