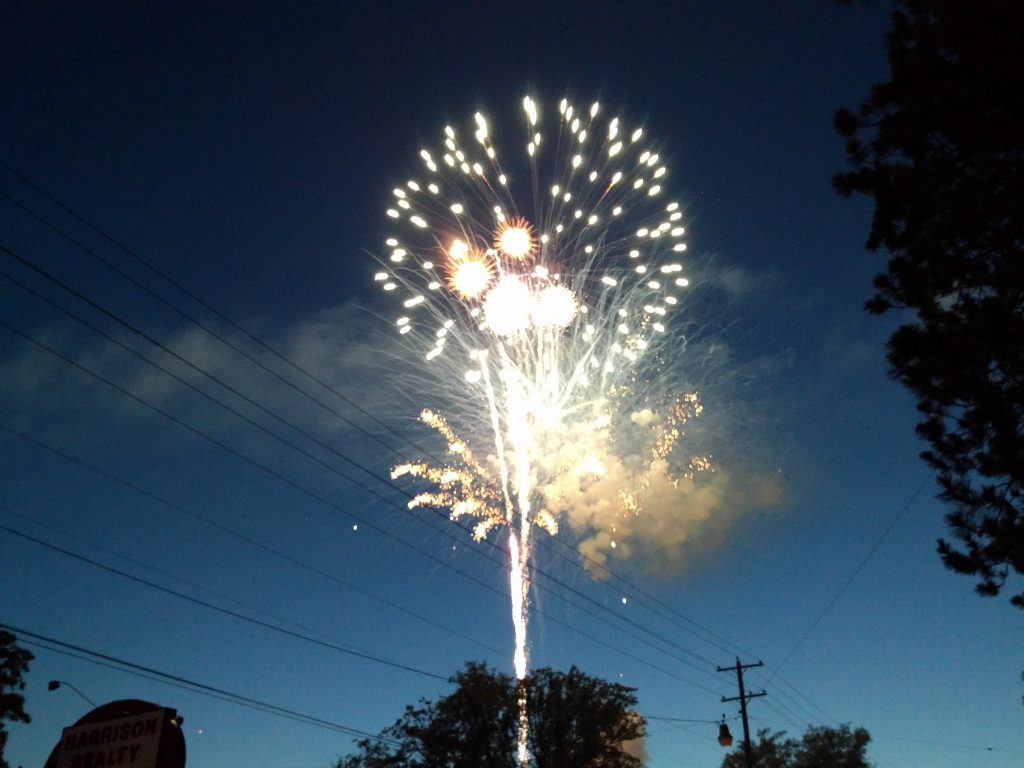 Hailing from Warren, VT – the Fourth of July Capital of the Universe – we're thinking of friends back home today.  Hoping everybody has a great 4th!
Recall from our last post that selecting a place in MI to spend the 4th of July weekend was a bit like throwing a dart.  It (mostly) worked! We're celebrating in Harrison, Michigan, on Budd Lake, right in the middle of the state (or the knuckle at the base of the middle finger, if you're from here).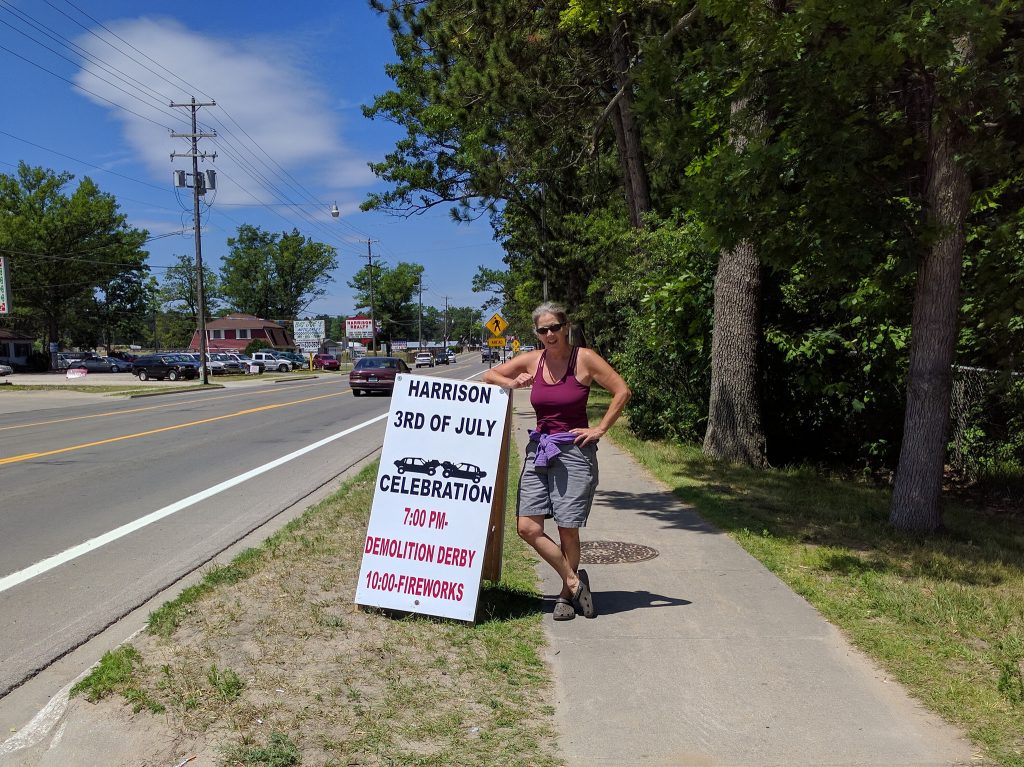 In addition to hosting the county's Independence Day celebrations, Harrison boasts 'twenty lakes in twenty minutes.' But that's by car. So we set out to find some, by bike and on foot. Three lovely lakes – including Budd Lake, the largest -were a fun walk from our campground. We set out a bike route to find another dozen or so. This is where it got interesting…  This part of MI is relatively flat to slightly rolling.  So, lakes are hard to see unless you're on the shore. Many of the lakes are ringed by houses, cottages and camps with little public access – lake views are between houses. Some lakes had public boat launches offering nice views, often at the end of dirt roads.  The soil in this part of MI is quite sandy. During our first stretch of spoke-deep sand, our old off-road skills kicked in from out of the depths of muscle memory. However, at 3 mph, we realized we'd have to reroute and miss those lakes accessible only by dirt roads. So, we did get to see an additional 4 lakes. From the Great Lakes to a great number of small lakes…
Regarding Independence Day, of course we're biased because Warren VT has the greatest 4th of July celebration in the Universe. However, Harrison was great, small-town fun. Last night's fireworks display launched from the county fairgrounds just across the road from our campground, so we jumped the fence and had front row seats to a fine display! And this morning's parade, although missing Warren's outsized political commentary, was every bit as "organized" and every bit as local. Tractors, off-road vehicles (ORV's), anything with an air horn, and kids ruled the morning!
We didn't have Bernie, or any signs about Trump, but we had the demolition derby, so almost the same thing. Happy 4th!
For those who are interested, more:  4th of July