Doug is a member of the Blues Guitar Unleashed (BGU) forum, an on-line guitar community dedicated to learning blues guitar.  Periodically, BGU members host (and we attend) live events in different places around the country, which is where we met our friends Tom and Laurel. For the past few days, they've been our hosts and fun finders extraordinaire and Tom our lead guitar for an incredible blues binge.
As with any BGU meet-up, warm greetings were quickly followed by instruments coming out and an impromptu jam session, this one in Tom's music room on Friday evening. Tom and Doug traded off on rhythm and lead guitar and bass, while I got to accompany them on the RV drum kit 'til way past our bedtimes. There's no better way to start a blues binge!
We'd conveniently planned the meet-up for the weekend of the 23rd annual Kalamazoo Blues Fest which boasts 2 stages, 3 days and 22 blues bands. The binge hit high gear on Saturday when we soaked in 13 straight hours of blues.  (OK, slight exaggeration – they did 5 minute sound checks between bands…) The festival was held at the Arcadia Creek Festival Park in downtown Kalamazoo, a venue specifically designed to optimize music listening for crowds of fans.  Our camp chairs were set up between the 2 stages which had meticulous lighting and sound. We were never more than a few steps away from great local food vendors and ice cold local brews, and a short walk from several downtown eateries and brew pubs.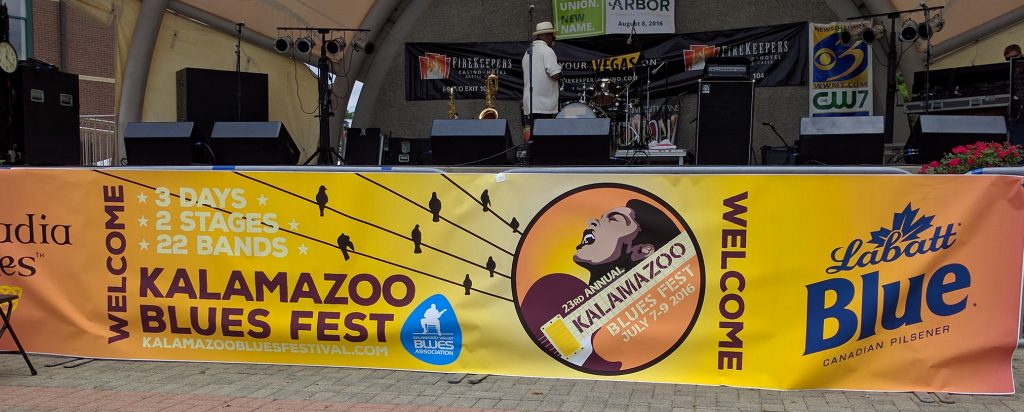 We never did venture any more than those few steps – didn't want to miss a minute… There were no poor or even mediocre performances and there were many highlights – Doug's two picks were Kev Nichols & Blue Tuesday (a four-piece blues band from right nearby with two great guitarists and an amazing rhythm section) and The Jimmys (awesome R&B from Madison WI), and for me the high point was a super-stretched, jammy, reggaeish version of Fire on the Mountain (which I was hoping to hear and did not at last Thursday's Dead & Co. concert) by the Royal Southern Brotherhood.
As a member of the local music scene, Tom provided color commentary on all of the regional bands we heard and introduced us to other musicians who continuously stopped by to say hello. More Blues Fest photos
Tom invited us to join in at one of his favorite weekly jam sessions at the Old Dog Tavern in downtown Kalamazoo on Sunday evening. Sure! Of course, the best way to prepare for a jam session is to jam.  Call in Jeff, another blues guitarist, a new BGU member and a new friend, and we jammed all afternoon.  I alternated drumming for the session and offering to help Laurel as she prepared a feast for the group.
Adding Jeff's wife Patti to the mix, we head to the Old Dog. Musicians like us typically sign up by instrument to join the jam, and the jam leader assigns us each to a set. Jeff got in on the first set, then Eddie Blue (stage name) assigned the rest of us to a set together and joined us as vocalist. Although this is unusual, it afforded us the opportunity to select the songs. Brilliant! We selected the songs we had just practiced and felt like rock stars during our 3-song set! Again, with Tom and Jeff being part of the local music scene, we got to meet quite a few of our fellow jammers. Like real rock stars, we continued the after party at Tom and Laurel's until far, far after bedtime. And discussed the Monday jam…
Fortunately for us, a big, regional blues jam, typically held on the first Monday of the month, was moved to the second Monday due to the 4th of July holiday. Held at the Bohm Theatre, a beautifully restored landmark in Albion MI, Blues at the Bohm attracts jammers from all of southern MI, including Detroit. The caliber of musicianship just went up a few notches.  And the Bohm included professional sound and lighting – for us jammers! Unlike playing in a loud pub where patrons are watching sports or playing pool, the Bohm is a 400 seat theatre, complete with balcony.  Fans pay money to come and watch the jams.
Jeff, Patti, Doug and I head to Albion while Tom headed to his regular Monday night band practice. Fortunately for us (again), we had met "Coach," the jam coordinator, the night before at the Old Dog (he was the bass player in the host band). Coach assigned Jeff and me to the first set where we played along with part of an established band. Many firsts for me… The drum kit was set up on a riser.  Every drum and cymbal was individually mic'd (amplifying all mistakes…) and I had a customized monitor (more bass, please). I was playing with a group that included 3 gigging musicians who were all glad to share tips when our set was done. And, there were 368 people in the audience!
Doug got called up to play bass in a set that included two guitars (one of whom, Mike, we'd seen at the Blues Fest in the band Big Trouble), keys, and drums.  This group hewed closely to the traditional style blues standards. They started off with Freddy King's "I'm Tore Down" (here it is on youtube), then Darrell picked a slow, soulful version of Elmore James' "The Sky is Crying" which Doug did beautifully! The guy sitting next to me in the audience asked if Doug was a professional!
Jake Kershaw was a featured musician at the Bohm.  He's a 15-year old blues prodigy. Think Derek Trucks, Johnnie Lang, Quinn Sullivan….  Jake will no doubt become one of the heroes who'll keep the blues alive.  We'll be able to say we knew him when…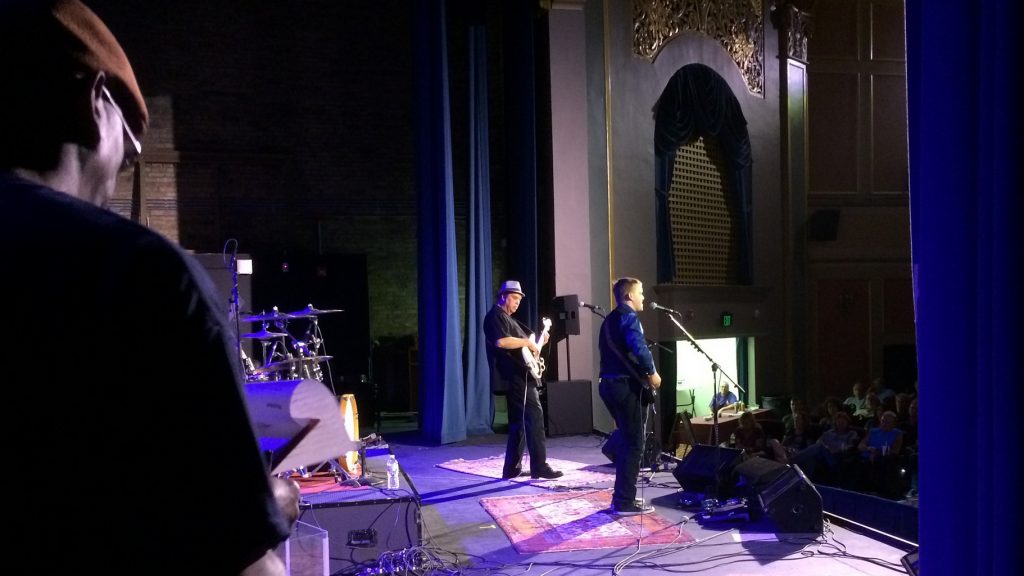 We were tired and beaming as we drove back to Tom and Laurel's, way, way past bedtime, and only slightly surprised to find Tom waiting up for us.  Set by set and photo by photo, we relived the entire Bohm jam while sitting and laughing outside on the patio. With all of us smiling and totally exhausted, the blues binge long weekend came to a satisfying close.
We thank Tom and Laurel for their tremendous generosity and hospitality during our memorable visit.