We left Ann Arbor with a round of hugs and no plan. We wanted to make our way to see Great Lake Michigan and eventually see Sleeping Bear Dunes. So, point the rig northwest and drive.

We arrived at Grand Haven, a waterfront vacation community on Lake Michigan, at about lunchtime – so we stopped. There was a state park on the lake with parking for RVs and a pier/boardwalk calling for us. We're glad we heeded the call. Following the prior evening's storms, we were greeted by 6-8 foot waves. The pier was a great walk and vantage point for photos, however it was periodically inundated with waves about two-thirds of the way out. I didn't feel a need to walk out any further than that.
Heading back toward shore, the pier morphed into a totally fun boardwalk along the Grand Haven River into the center of town. We enjoyed a self-guided tour describing historical sites (many Coast Guard-related), a downtown featuring well-preserved, late 1800's architecture and many funky restaurants. This town gives a clear picture of what a community can do when it comes together to rebuild their town following a period of decline. Once a major shipping port, the Grand Haven of today has a fun vibe!
From Grand Haven, we followed the shoreline of Lake Michigan for awhile, popping in and out of small beach towns. At about 4pm, Doug announced we should plan to stop within an hour. The MI State Park on-line reservation system is great in that we can see which campgrounds have open sites. Based on that intel, we headed for Orchard Beach State Park, conveniently an hour away.
We turn into the campground driveway. I squeal. Doug slams on the brakes. We're greeted to a magnificent view of Lake Michigan. OMG! After we got ourselves parked and plugged in, we wandered along the shore and marveled at the gorgeous views.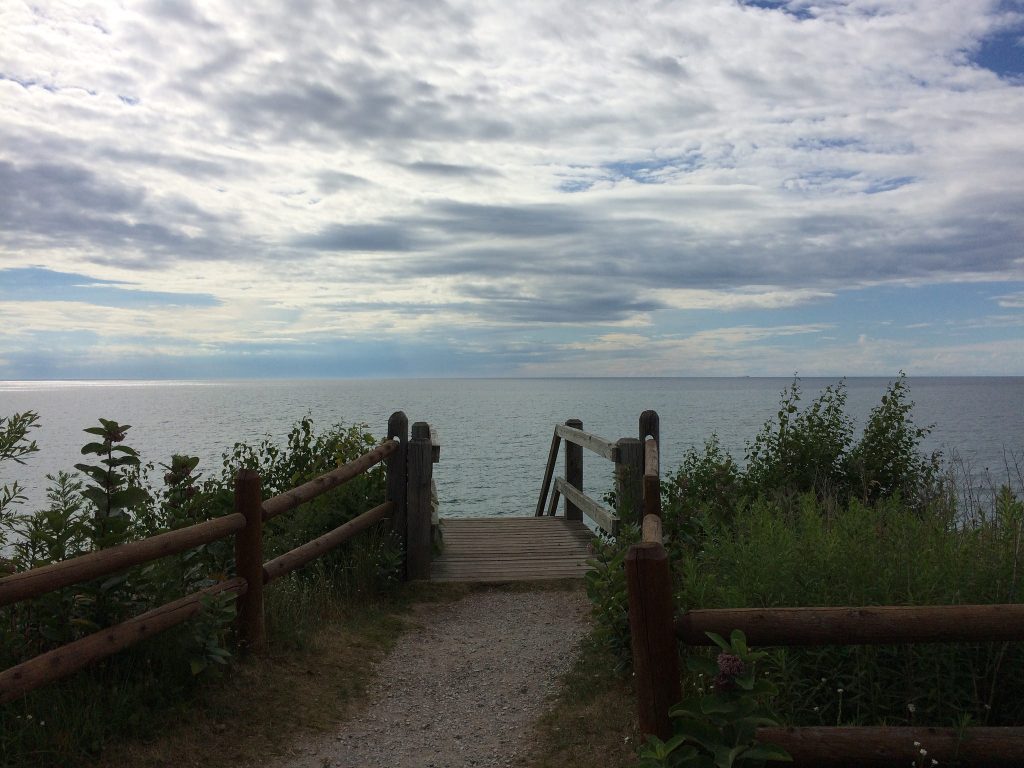 Back at our site, Doug saw him first – a fully loaded touring bike pulled into the campsite right behind us. The typical conversation ensued:
Me: "Where're you headed?"
Tired, fully loaded touring biker (notably, wearing a Rainier Beer jersey): "Maine."
Me: "Cool.  Where did you start?"
T,FLTB: "Seattle."
Me: "Want a beer?"
T,FLTG: "Yes."
Dave retired in April and left on a cross-country bicycling adventure on May 15 (and he, too, has a blog). We all agreed the parallels of our current respective trips were fun, but for Doug and me the memories of our 1983-84 bike trips swelled fondly. About halfway through dinner, another camping couple joined us, wanting to hear more about the bicycling adventure. Jim and Wendy were on a one-week adventure circumnavigating Lake Michigan, when their tandem bike/trailer broke down. They were completing their vacation by car and also happened by Orchard Beach, on their way back to their home in… Grand Haven! That beer, supplemented by a bit of wine, led to dinner and conversation that lasted (not unfamiliarly) way past bed time.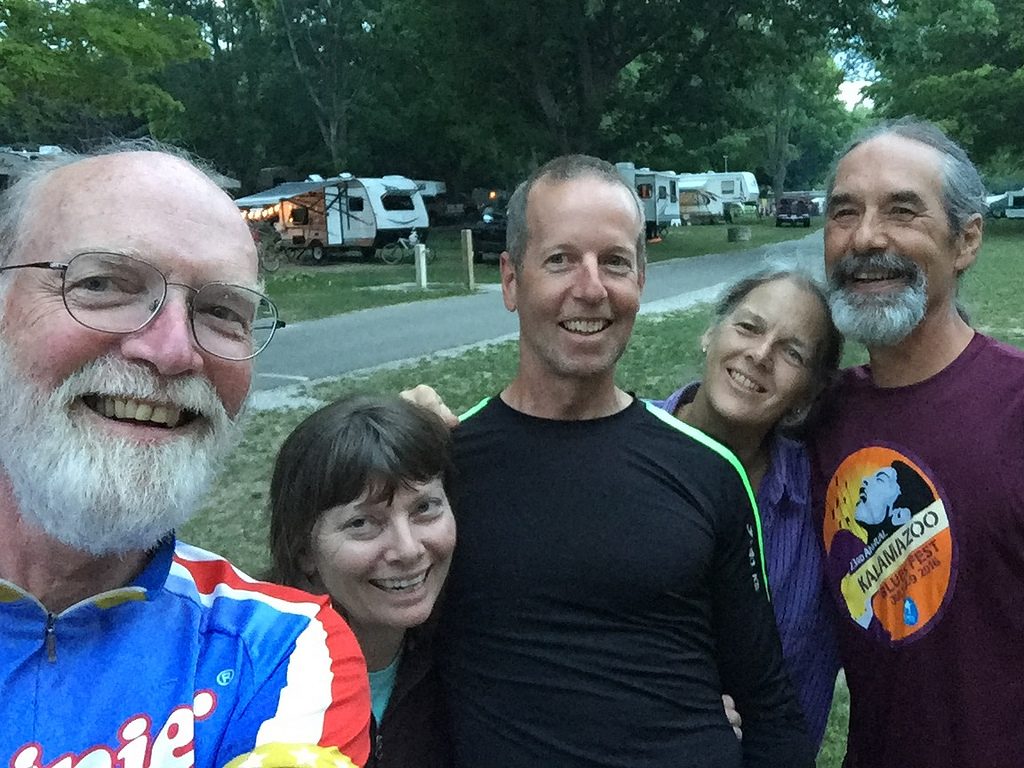 Some serendipitous happenstance had led us all to that one intersecting point. I think we were simply meant to connect and become new friends – the universe is like that.
More photos: First day along Lake Michigan