We pulled into Duluth, MN and I started to squeal. We hadn't even arrived at our destination (details in the next post…) when I saw it! A laker, parked at the marina among a bunch of pleasure boats. You could literally touch it. I did!
The William A Irvin, built in 1938, traveled the Great Lakes for 40 years and was retired in 1978. Turns out, at 610 feet with cargo capacity of 13,000 tons, the Irvin was worth more in its current role as a museum than as a shipping vessel. Newer ships are 1000 feet long, twice as wide as the Irvin, and carry nearly 80,000 tons with a smaller crew. The still seaworthy Irvin had reached the end of its efficiency and therefore its productive life.
The Irvin was the flagship of the US Steel fleet. The flagships included higher-end touches (brass railings, etc.) and a small number of luxury passenger cabins. They were used to entertain corporate executives and to woo investors, in addition to moving ore.
Oh, but that's not all… While near Duluth harbor, the largest, active Great Lakes shipping port in the US, we watched lakers pulling in and out of the harbor, under the famous Duluth Aerial Lift Bridge.
We're here in Duluth for a blues festival. While one great blues band after another plays on the main stage, every now and then we'll notice a laker sneaking silently across the back of the stage, any sound unnoticeable through the music.  In fact, I walked down to the harbor early one morning to pick up more coffee and had it not been for noticing the raised lift bridge, I would've missed the laker sneaking out of town onto Lake Superior. At 'leave no wake' speed, these 1000 foot long vessels are virtually silent. Maybe they could play the radio or something…
These huge ships have been a near constant sight (though not close up) for nearly 8 weeks, now. As we move on from the Great Lakes, we're gonna miss them.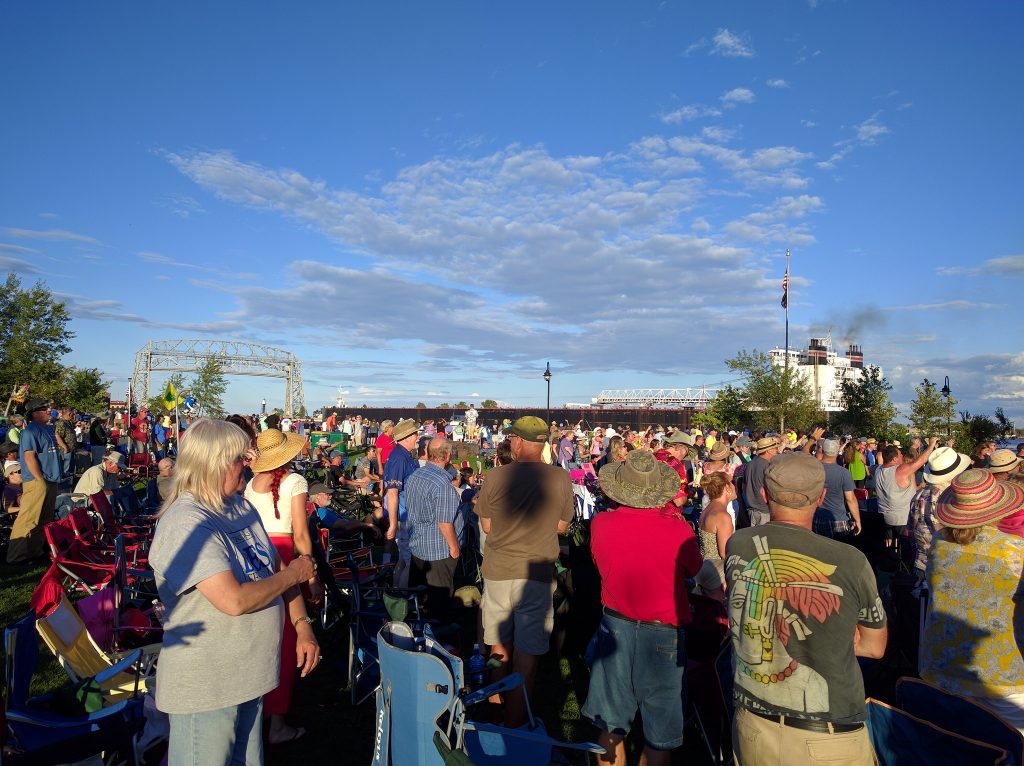 More laker photos…