Our modus operandi has been to make up this adventure as we go along, so we haven't planned much. Occasionally, we make reservations if we'd like to visit a popular area on a weekend. So far, it's worked out, and what we thought could be our first shut-out turned into another high point…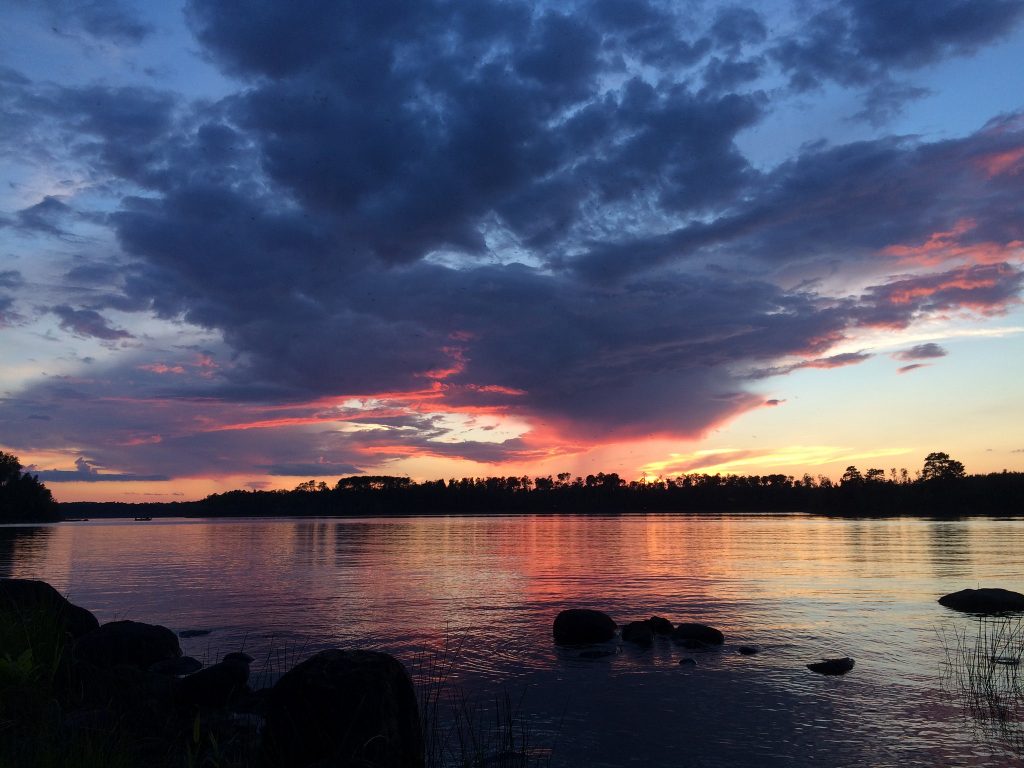 We had hoped to stay one night on Lake Superior's North Coast, known for its many dramatic waterfalls and cliffs with gorgeous views. If you haven't been 'Up North' as they call it here, the highest 'mountain' range in MN is on the coast. There are so many places to hike! And, with any luck, our farewell to the Great Lakes would include a memorable sunrise, perhaps worthy of a photo.
Ha! According to our campground app, of about 20 campgrounds along the North Coast, none had an available reservation until September, and none had walk-in sites. There were no WalMarts, and the Superior National Forest had no legal sites available. So, we said our farewells and headed inland at the last possible westward turn off the coast – MN Route 1. According to our app, there were 3 campgrounds within reach for the night that had a few walk-ins despite no reservable sites.
We pulled into Fall Lake Campground at about 4 pm and got 1 of the 2 walk-in sites left. Chatting with the ranger about our trip at the check-in desk, she suggested we rent a canoe so we could at least say we paddled in the Boundary Waters.  What?!? Where are we? We got to our campsite and I squealed – Doug was beaming… The site was huge, tucked in among the trees and featured a private trail to a private beach. We set up chairs on our private beach, our feet in the Boundary Waters, and finally looked at a map. We were 10 miles north of Ely, MN (population 3,500), the town that does the most canoe outfitting in the world, and about 15 miles from the Canadian border as the crow flies over the many, many interconnected lakes that make up the Boundary Waters Canoe Area Wilderness. We spent the night in one of the most beautiful campsites in one of the most beautiful campgrounds on one of the prettiest (non-Great) lakes we've found so far on this trip.
Unfortunately, we didn't have time to rent a canoe. *SIGH* We had a campsite reserved at Itasca State Park (more below) and had to move on. Without the reservations at Itasca, we might've spent a week at Fall Lake. It's on our list of places to come back and visit on another trip, maybe with a canoe. Pesky reservations…
On our way toward Itasca, we drove narrow back roads deep in the forest lined on both sides with tall red pine trees seemingly standing at attention. We stopped for another one-nighter at Big Falls, MN, population 300. With no grocery store and no restaurants, it had a hardware store where we found a part to fix our awning, and a teensy town park campground right on the Big Falls of the Big Fork River. We were treated to the full moon rising over the falls.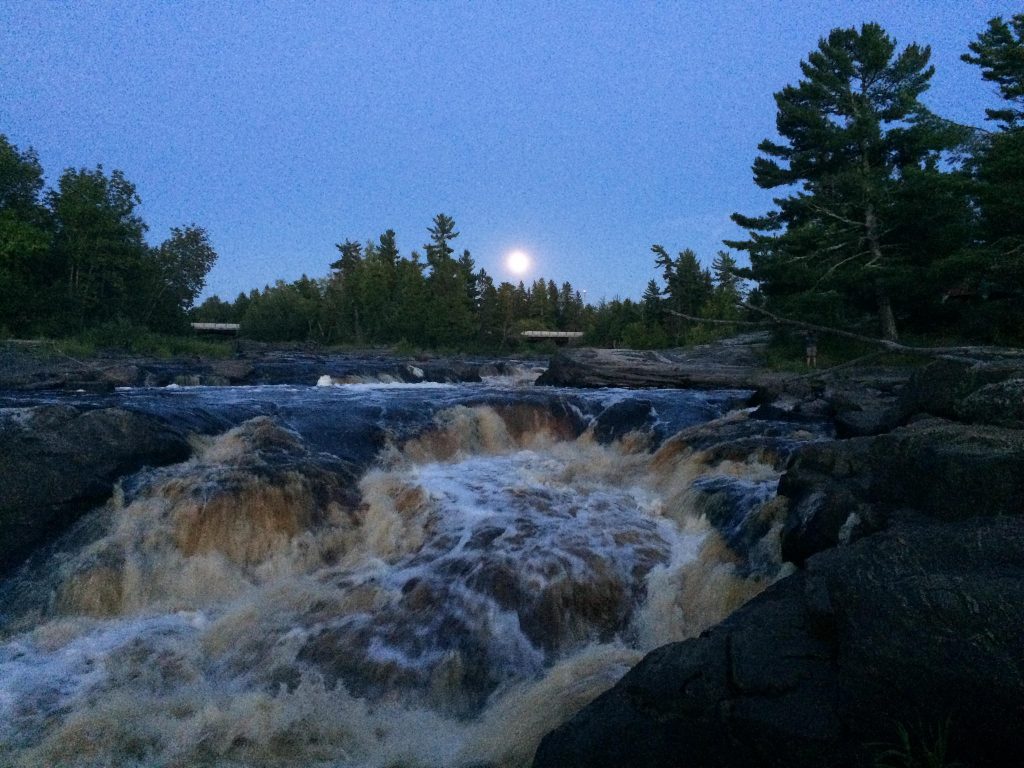 Itasca State Park is MN's most popular park. Protected since 1891, it's one of the few remaining places to see 300-year-old white and red pine trees. Itasca features a 16 mile 'Wilderness Drive' around the perimeter of the park, with a bunch of side trails, two interpretive centers and a historic resort hotel dating back to 1907. Over the course of 2 days, we biked and hiked every inch of the park. My favorite was bicycling the stretch of Wilderness Drive in a mix of clouds and sun where red pines lined both sides of the road giving us the feeling of biking through an ever changing pink-tinged tunnel.
Lake Itasca is also the source of the Mississippi River. Not only is that cool in itself – we walked across the Mississippi River! – we have reservations (have to – Columbus Day weekend) on the shores of the Mississippi in Arkansas in October when we attend a blues jam in Memphis. It's all connected…  Doug really enjoyed being is this hydrologically unique area of the US and the source of the great river. And we're glad we were able to spend time at Itasca. It all works out.
More photos of Fall Lake, Big Falls and Itasca State Park…