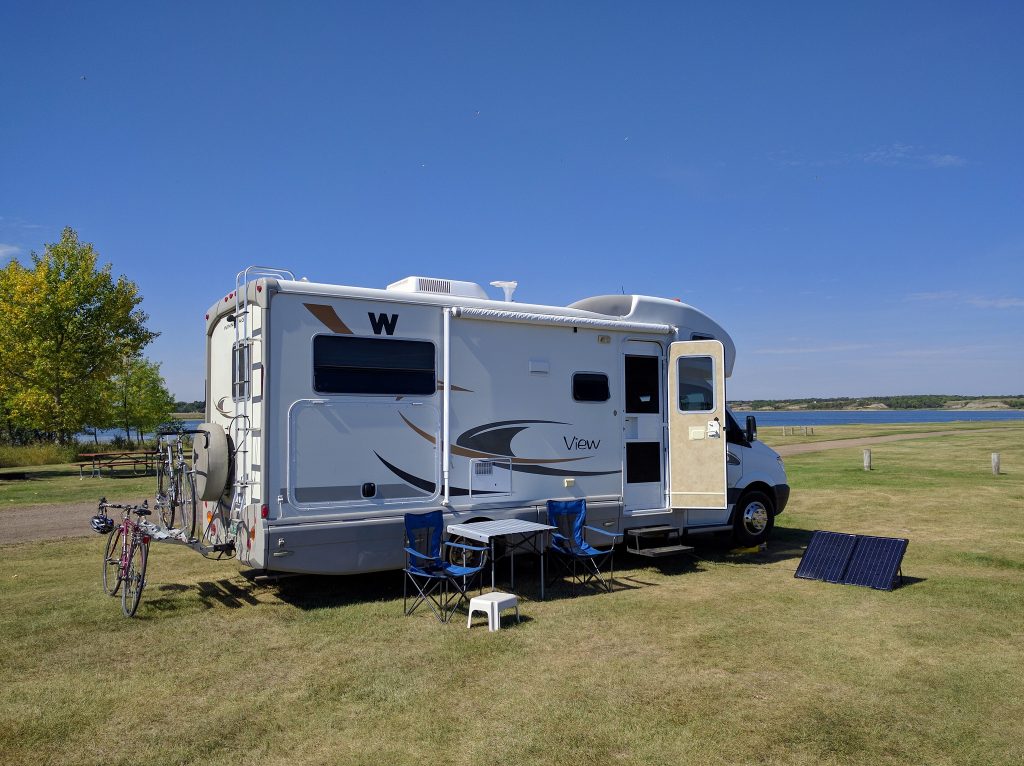 We're trying out our newest technology upgrade – that black rectangle on the lower right in the photo above. Works great! Read on for a few details on how and why we wound up with this system.
We've thought about solar panels for the rig since before we even bought it. Despite the undeniable coolness factor, not to mention the technogeek appeal, we weren't sure we would be able to justify the cost and labor to install a substantial, permanent system, or if we'd even really need solar at all. Since our rig is pretty heavily loaded, the extra weight of the panels is a concern. Extra batteries are out of the question.
Driving the rig charges both the starter battery and the two 12-volt house batteries from the alternator, so on travel days there is no issue. Plugging in to shore power also charges things up through the on-board controller, so no worries when we're at a "modern" campsite or plugged in at a friend's house, either. It's only when we're dry camping and not moving for days in a row that we need to do something about the batteries, which for us has meant running the generator for an hour or so each day to top them off.
In the first half of our travels, we've only been without access to shore power a handful of times for more than a day and the generator approach has worked for those times, albeit noisily. We have on board an Onan 3600-watt, propane generator, which we must run if we need 120VAC for the air conditioner or microwave and we're unplugged, and of course it also charges up the batteries. We have a small (400W), modified sine wave inverter that we can use to recharge things with AC chargers (e.g., the laptops and my electric shaver) when we're off-grid and not running the generator. It won't work to run things with electric motors, like my old-school electric drill, but it's not been a big deal to fire up the generator and drill a few holes.
We do expect to be away from shore power more often during the next month or so, but based on our experience so far it sure looked like all we'd need to keep the batteries charged and avoid running the generator would be a fairly modest, portable system like this 100W Renogy Solar Suitcase – assuming it didn't weigh much and we could find a place to stow it for travel.
With a system like that we'd still need to run the generator for the A/C or the microwave/convection oven. However, in the past three months on the road, which has included plenty of warm weather, we've needed to run the air conditioner exactly once – and we've had abundant shore power. We've been able to keep the rig tolerably habitable with a combination of strategic positioning, judicious use of the window shades, and the OEM roof fan in the bathroom. (If eventually we do need to run the A/C, it's so noisy that we won't hear the generator, anyway!).
We do about 98% of our cooking on the gas cooktop, and we can, without sacrificing much, forego the microwave and boil water the old-fashioned way. We do use the convection oven occasionally to make a batch of granola, and we once baked a couple of loaves of bread, but we can easily plan those events to line up with available shore power. Bottom line: we shouldn't be inconvenienced by (sometimes) not being able to run those appliances.
Coincidentally, when we visited our friends Rod and Tanya last week, we learned that Rod had made some changes to the rooftop PV system in their rig that made redundant the portable panels they'd been using to charge a second set of batteries, and he was looking for a new home for exactly the unit we were thinking of getting. I weighed it (27 lb – check) and found three places in the rig where it would fit (check). We hooked it up for a quick test in their yard, everything worked, and the deal was done.
Today we're at a primitive campsite (no water, no electric) overlooking Lake Sakakawea in North Dakota, so we were able to give the system an initial real-life test. I had the panels out and hooked up from mid-morning to mid-afternoon. After about 4 hours of good sun, the batteries are charged, the computers are also, the fan has been running the whole time, and it's been peacefully quiet all day (except for my testing to see if the guitar amp would run off the inverter – which it does!). So far, so good!