The Xscapers SoCo Convergence was amazing!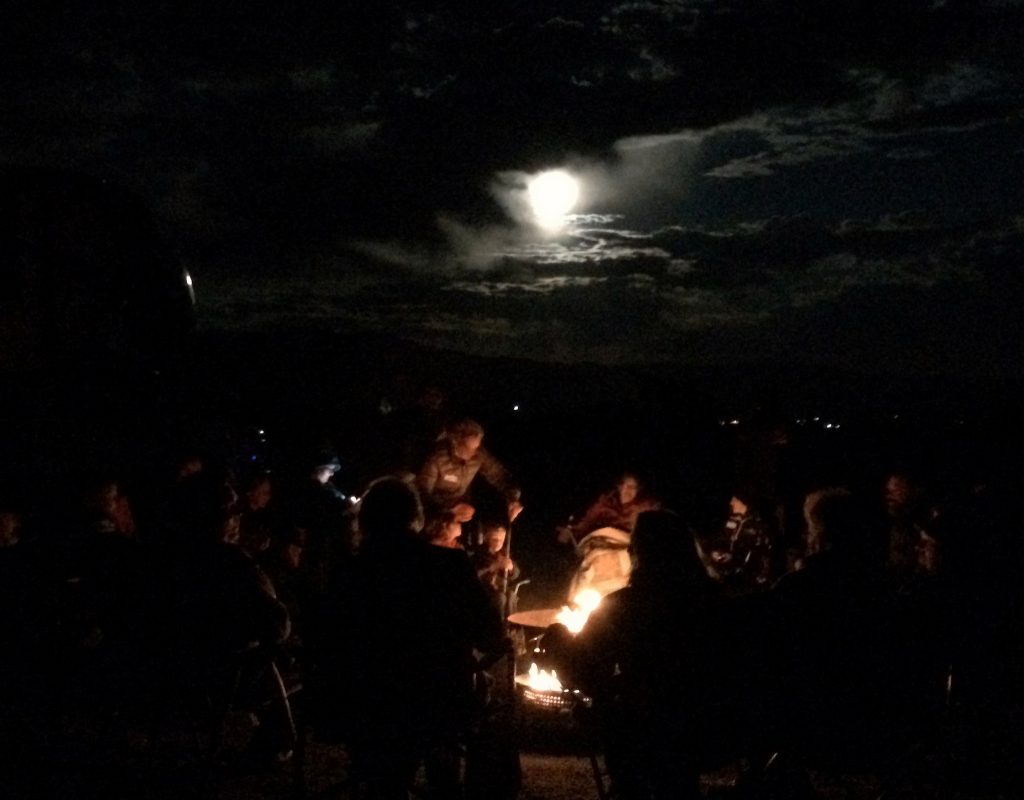 First, a little background…
The Escapees RV Club is a national service organization providing educational, support and advocacy services for RVers, facilitating (and enabling) a community among people who spend their time on the road. Approaching its landmark 40th anniversary, the club serves more than 32,000 members. The Xscapers group is a subset of Escapees with a focus on younger, working RV nomads – individuals and families. (Ha! They let us in!) Toward the goal of community, the club organizes a few 'Convergences' each year where RVers can meet up in some really interesting places.

Although we were aware of Escapees and Xscapers, it was our friends Rod and Tanya (RVDreamTour) who told us about the Southern Colorado (SoCo) Convergence in September, which they were planning to attend. We thought we just might be in about that area at about that time, so we made tentative plans to meet up at the Convergence, joined the club, tweaked the schedule, and made it happen. Without unlimited flexibility, we were able to make it for the first half of the week-long event, and we're so glad we did.
Brian and Christie Scott (SpotTheScotts) organized this Convergence, bringing 20-25 (depending on the day) people together for a fabulous week at the Shavano Wildlife Management Area near Poncha Springs, CO. The Convergence was nicely organized with varied and nicely spaced events, planned to allow lots of free time to chill and chat, work if needed, and just explore Shavano. Highlights for us were the campfire mixers, walks/hikes, a photography seminar, and, of course, hard root beer floats!
We really enjoyed meeting the diverse mix of people at this Convergence. There were singles, couples and families, dog lovers and cat lovers. Some were full-time RVers, seasoned after having been on the road for years while others have recently joined the ranks of full-timers. A few were part-time, enjoying RVing whenever they could. Doug and I consider ourselves to be half-time full-timers, which is similar to Rod and Tanya (for now!), except they travel winters while we travel summers.
And we so enjoyed getting together again with Rod and Tanya. It's likely no surprise that some of our chill time morphed into another jam session – RV Dream Tour back with The Destinators! We played through heat, cold, wind, mice and laughter all in the course of a few hours.
Here's another perspective on SoCo and a jam video, if you're interested…
Shavano was gorgeous, gorgeous, gorgeous, gorgeous. From our campsite, we could see the Sawatch Range to the west, with Mt Shavano and Mt Ourey constantly in view, the Sangre de Cristo mountains to the south, and Mt Evans, the highest peak in the Front Range, to the east. A Ponderosa pine-dotted canyon to the north mixed things up a bit. Aspens were at their peak of color, changing noticeably every day.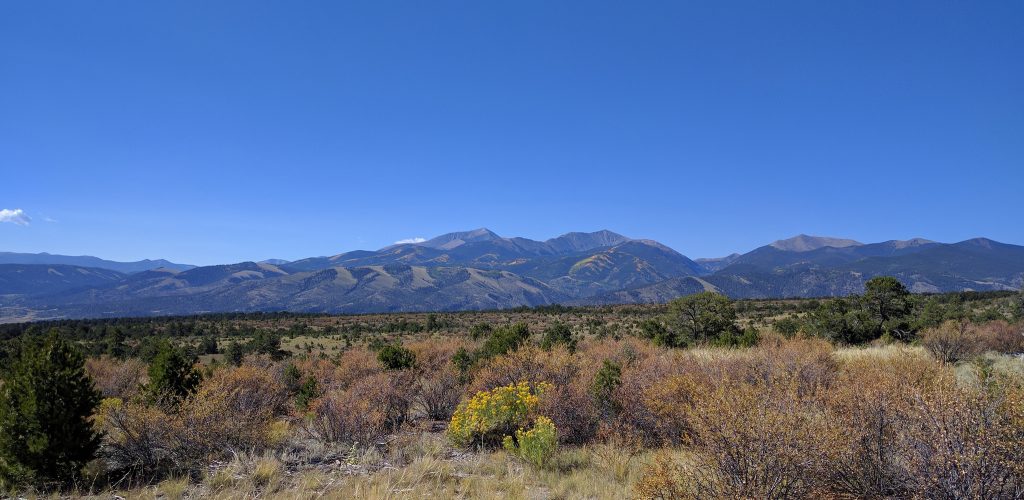 Finally, we said some goodbyes, passed around some warm hugs, and pointed the rig toward Kansas. We didn't realize until we got there that Route 50 east of Salida is the Bighorn Sheep Canyon on the Arkansas River. For nearly 50 miles, we dropped through narrow winding roads surrounded by enormous, steep, pink canyon walls. (Sorry, no pix, did I mention narrow, winding…) As an added bonus to the jaw dropping views, we both suddenly remembered that we biked (downhill!) through this canyon in 1984, and biked Route 50 through most of Kansas. The nostalgia quickly replaced our anticipated response to the change of scenery.
More pix if you're interested: Xscapers Convergence, jamming, Shavano WMA, leaving…