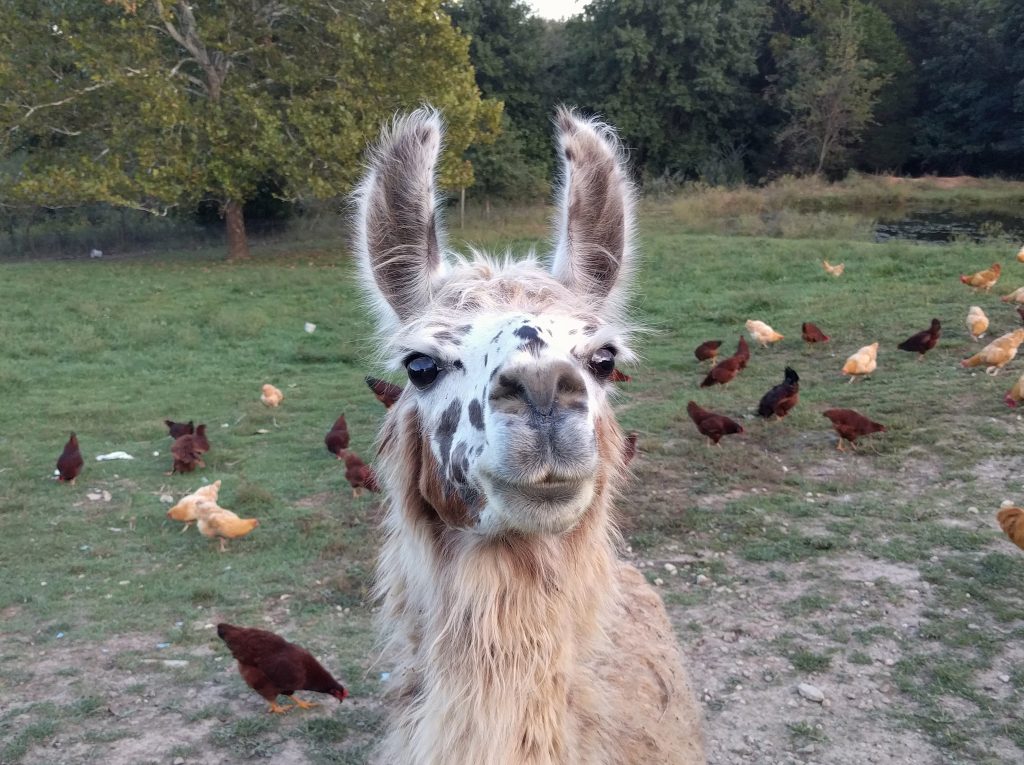 My dad was the fourth oldest of 16 siblings. Although most of the family settled and still live somewhere in the northeast and a few retired to warmer climes, two escaped when they were younger. Both moved around quite a bit, and both eventually made their way to Missouri.
My Uncle Ray has settled in Rocheport, MO, just outside of Columbia. Living with his son Ray and daughter-in-law Cathy, they run a small family farm where they raise goats, hen layers, llamas, and pigeons (popular for practice among duck hunters). My cousin Ray also breeds, trains and tests chocolate Labrador Retrievers certified for duck hunting. Since our last visit, Ray's son Joe (Uncle Ray's grandson), with his wife LeAnna and daughter Martha, have also moved to the farm. It was a treat to see them all, and fun to see 4 generations together.
At 6 years old, Martha is an ever-smiling delight. She took me on a tour of the farm, introducing me to all of the animals by name (if they had one – the eighty or so chickens don't). She narrated the tour with each animal's history, care and role on the farm. At 79 years old, Uncle Ray is proud that his grandchildren now consider him to be too old to be an adult, so he's become an honorary kid. We had a great visit, getting caught up with family goings on which always takes quite awhile…
Further on up the road, in St Louis, we visited with Uncle Jerry and Aunt Suzy and their cats Molly and Turner. Suzy had to work during one day of our visit, but she suggested we tour The City Museum. She couldn't really describe it other than to say that the creator was a 'non-linear thinker.' That he was! We can't describe it either… 'The Roof' was 1/3rd junk art, 2/3rd amusement park, 1/3rd you-can't-make-this-up exhibits and 4/3rd physical shoots and ladders, including a hand-welded, 10-story slide to get you to the first floor faster than using the elevator. Hesitating just a bit, I had no choice but to take the slide after Jerry jumped in and disappeared. On the lower levels, there were caves for visitors of all sizes, each surfacing onto another area stranger than the one before. Basics, like the hallway floor from one room to another, were mosaics, deserving time to admire their intricacy, beauty or silliness. Seats that at first appear to be there so you can simply rest also serve to frame yet another attraction, like maybe a goat made of junk bike parts. We couldn't help but walk around, shaking our heads, staring at the next oddity (what the?) and grinning ear to ear, along with the hundreds of kids of all ages that surrounded us.
Suzy's day off featured brunch in a totally funky restaurant she'd been looking for an excuse to try. Our day also included a grand tour of St Louis and the surrounding areas while helping her get caught up on a few errands. And once again, the great visit included getting caught up with family goings on which always takes quite awhile…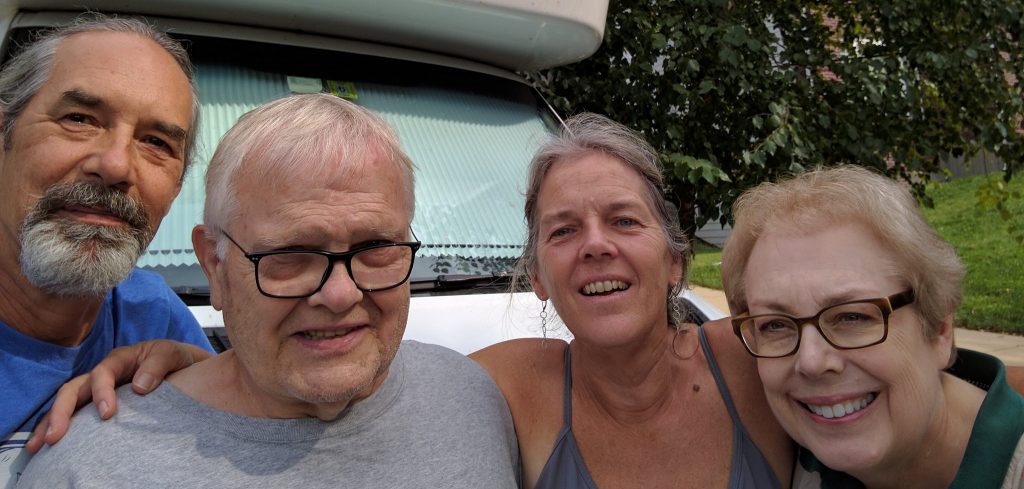 So great to visit with all these folks again! More pix: Rocheport, St Louis, The City Museum…