An interesting phenomenon happens when you drive from Warren, VT to Pittsburgh, PA in 3 days – spring gets compressed. We left home with snow on the ground, noticed budding blossoms upstate NY and found color exploding – Bang! Screaming yellow forsythia! – over every hill crest and around every bend throughout north central PA. By the time we got to OH, the colorful part of spring was behind us, and farmers were busy readying their fields.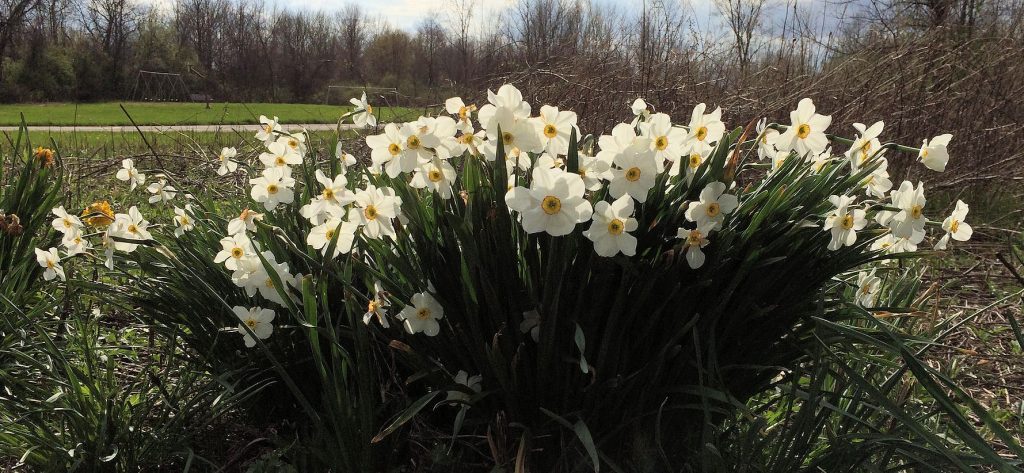 One of our favorite travel practices is meeting up with long time friends and long lost family members as we move around. Our first stop this season was to visit Al who we haven't seen since…  January. Al's got a great spot for the RV and always comes up with a fabulous home-cooked meal. We caught up, oogled over maps of southern UT (which Al explored 20 years ago – the canyons haven't moved) and enjoyed a delightful hike in the local park.
Doug's cousin Nelson was born in Brazil, raised in El Salvador, spent time in LA and Maryland, and moved back to Sao Paulo, Brazil as an adult. Although we'd met, we haven't spent much time with him. We were excited to learn that Nelson, his wife Vera and daughter Amanda moved to Pittsburgh, PA about 18 months ago. After 22 years, lots of high quality catch up time was had. And, we really enjoyed meeting Vera, Amanda and their new 'puppies' Jade and Bernie. So glad we were able to connect!
This update comes to you from Frankfort, IN where the local sports teams are known as – what else? – the Hot Dogs.

And, we're loving the quiet, private, early season camping…