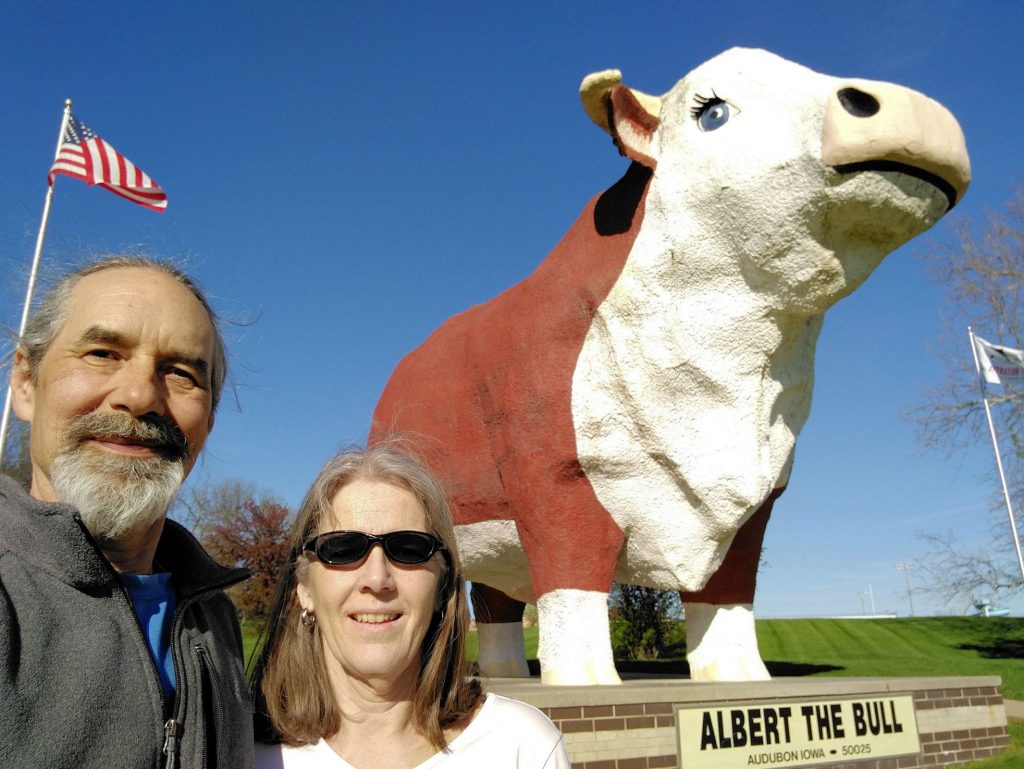 If we ever had any inclination to refer to the midwest as 'flyover states' (we didn't), our travels last summer would have changed that. We thoroughly enjoyed exploring the northern midwest, finding the region surprisingly beautiful. (If you have any doubt, check our blog posts from summer 2016.) We were glad that our 'straight line' to Utah this year would include a different path through the middle of the midwest.
Ohio, Indiana and Illinois were in many was quite similar, at least along our route. The fields, in various stages of spring preparation were laser-guided flat, the better to manage GPS-facilitated tractors operated by big ag. Rather than endless fields of corn, wheat and soybeans, early spring revealed the fields in different stages of preparation – deep, rich brown recently tilled earth, muted gold corn (stalk) fields awaiting spring tilling, and – my favorite – winter 'green manure' crops of clover yet to be tilled, creating acres and acres of purple tinged fields.
There were tractors everywhere – fields, narrow 2 lane roads and small downtowns. Fun! It seems that wherever there's a river confluence, hill, or other disruption in the otherwise flat terrain, a state park was created.  We enjoyed 2 – Delaware State Park in Ohio and Argyle Lake State Park in Illinois.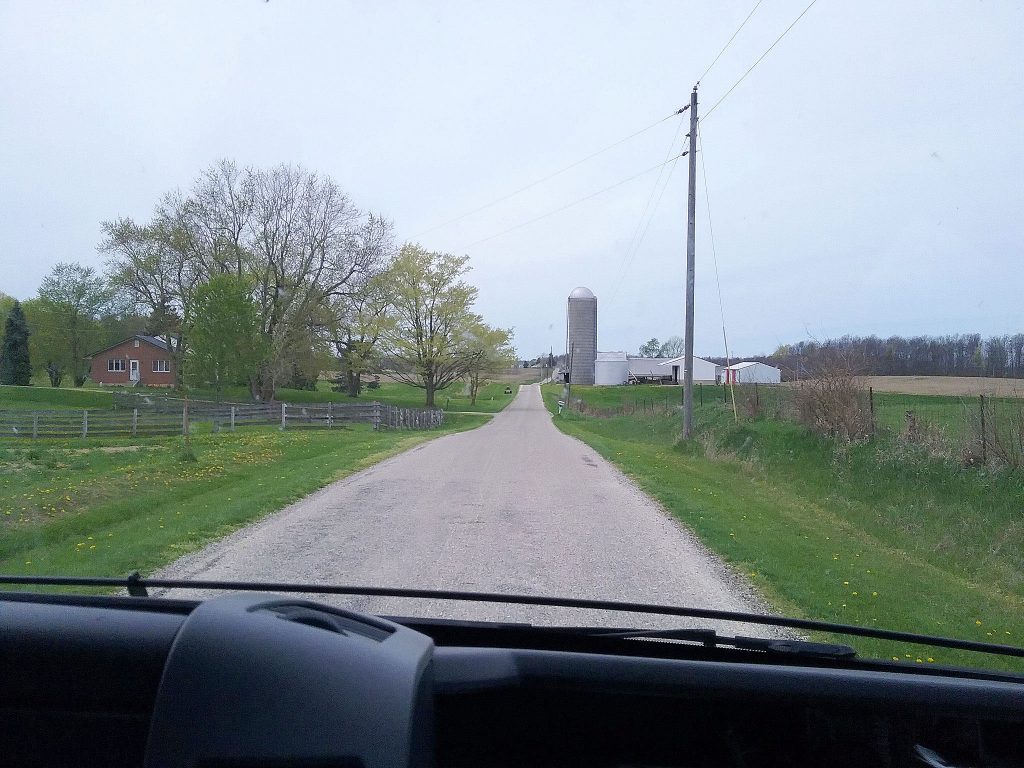 We really enjoyed Iowa. Iowa is not flat! There are large rolling hills through the state with smaller, family-owned farms growing a variety of crops and – the state specialty – swine. Most of the fields were trimmed, hedged or terraced and beautifully manicured. The area between Dubuque and Cedar Rapids, where we passed the aptly named Skyline Drive and Summit Lane, was especially gorgeous.  And we passed 3 ski areas! There were signs of growth – new construction, cranes, etc. – everywhere. My cousin Gary, a transplant to Iowa, loves it. His wife Renee, a life-long resident of greater Des Moines, loves it. There's a palpable pride throughout the state, including…
…in Audubon (pop 2,072), home of Albert the Bull. Albert is a 30-foot-tall, concrete, blue-eyed Hereford weighing 45 tons. Back in 1963, the residents of Audubon sought to put Audubon 'on the map,' hoping to increase tourism and show off their small town.  It appears their ploy has worked. The town estimates Albert attracts 20,000 visitors a year. The town still manages the small park and campground that Albert calls home.
As we drove through Nebraska, the terrain changed from flat to rolling to prairie hills. Sure, we passed some corn fields, however, much of Nebraska along our route featured land wide open for grazing with cattle converting that grass to beef. You've likely guessed there's lots of time for contemplation while driving across the midwest. For example: The North Platte and South Platte Rivers join in south west Nebraska to form the Platte River. The city at the confluence is called North Platte. Why North?
The terrain in Eastern Colorado flattened out once more with wide, expansive farming and grazing lands. The key difference immediately apparent about an hour's drive into Colorado is the view. The Front Range pops up on the horizon! We're spending the night in the least attractive and very most convenient campground we stayed in last year. From the Boulder County Fairgrounds Campground, we can walk to a number of stores, including 2 natural food grocers, to restock everything we might need. If we need it, we can walk to interesting restaurants and RV supply stores. And, it's close by to visit some friends.