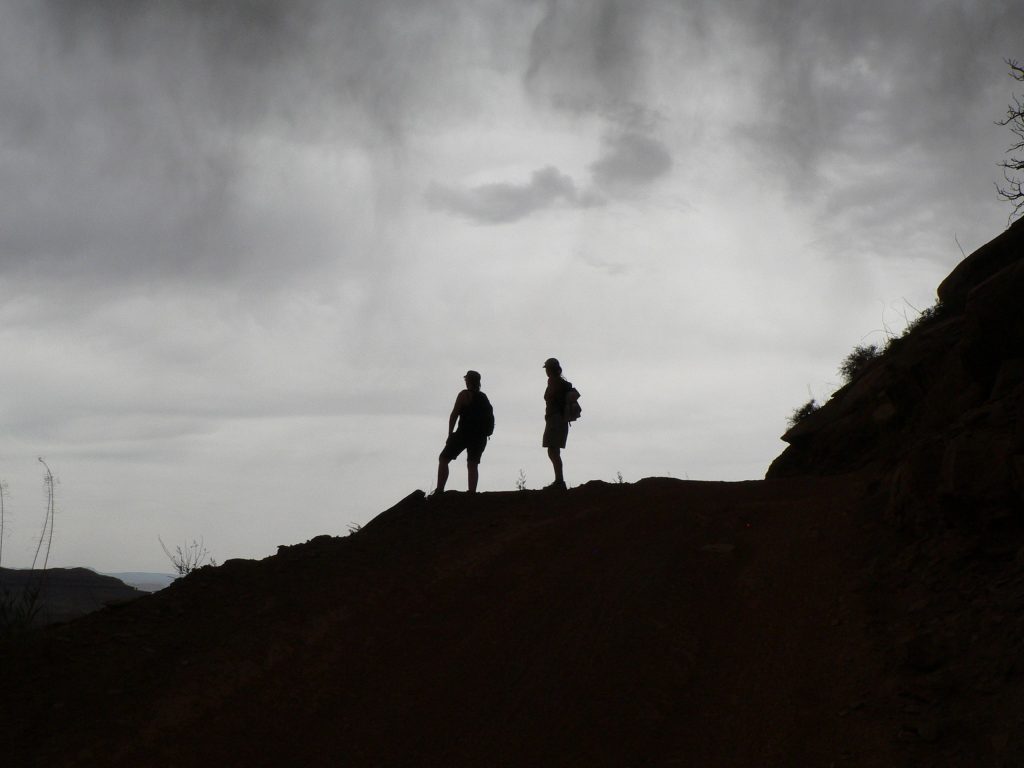 Canyonlands National Park is a vast and quiet place compared to Arches. It's divided into 3 distinct districts: Island in the Sky, Needles, and the Maze. The latter can only be accessed by jeeps and off-road vehicles, so we won't be visiting the Maze. We did visit Island in the Sky during our stay in Moab.
Our most awesome hike in this area was the Murphy Hogback Loop in Island in the Sky (ITS). Kat joined us as we explored this 3-layer, multi-segment adventure. Leaving from the top of the mesa at ITS, we walked across the prairie to the edge of the canyon. A million switchbacks later, we were at the bottom of a 1,500-foot bowl. The trail then followed the wash (canyonspeak for where water flows when it occasionally rains – and all the water from the 1,500-foot cliffs, with nothing blocking the way, has to go somewhere) to the White Rim Trail (WRT) – a 100-mile primitive road circumnavigating ITS. After a mile or so on the WRT, climbing steeply to the top of a mesa, we returned to the trail and followed a narrow flat ridge (the hogback) between 2 white rimmed canyons. We paused during the million switchbacks back up the bowl to admire the lightning storm passing in the distance. We wrapped up a fabulous day of hiking just in time for the storm to catch up with us. Lightning, thunder, wind and rain… Ha! We were safe and warm and hungry in Kat's car.

For those who want more Island in the Sky pix.