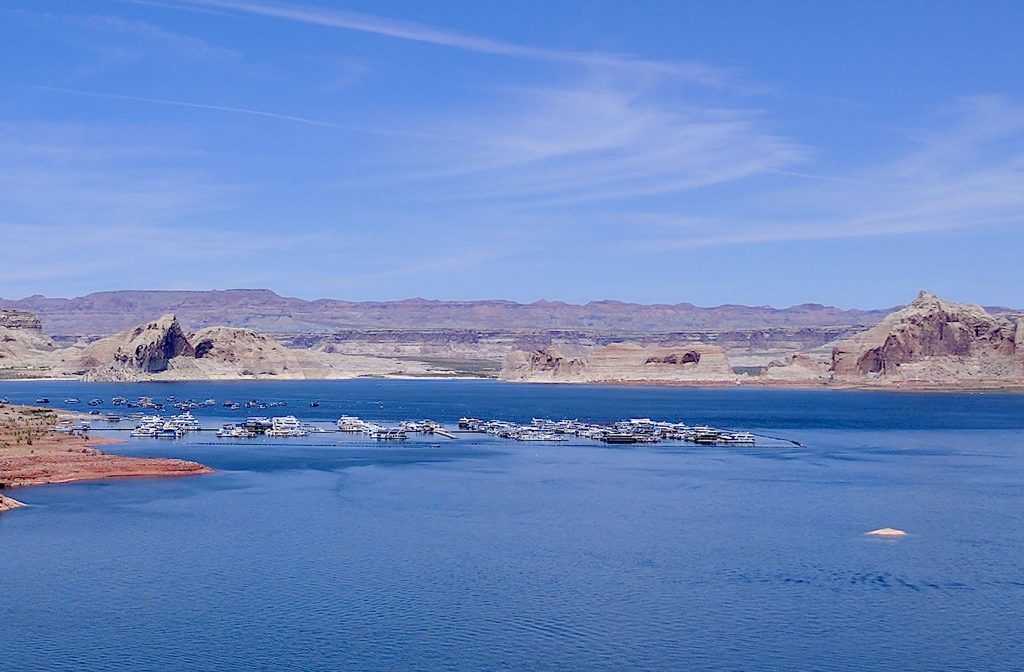 Just when you think you've had enough of red rock photos, we're here for you! We're off to the other end of Lake Powell (recall our first encounter with the lake was 200 miles north in Hite). Although the reservoir level remains relatively low, there's plenty of lake left for the marinas near Page, Arizona to flourish.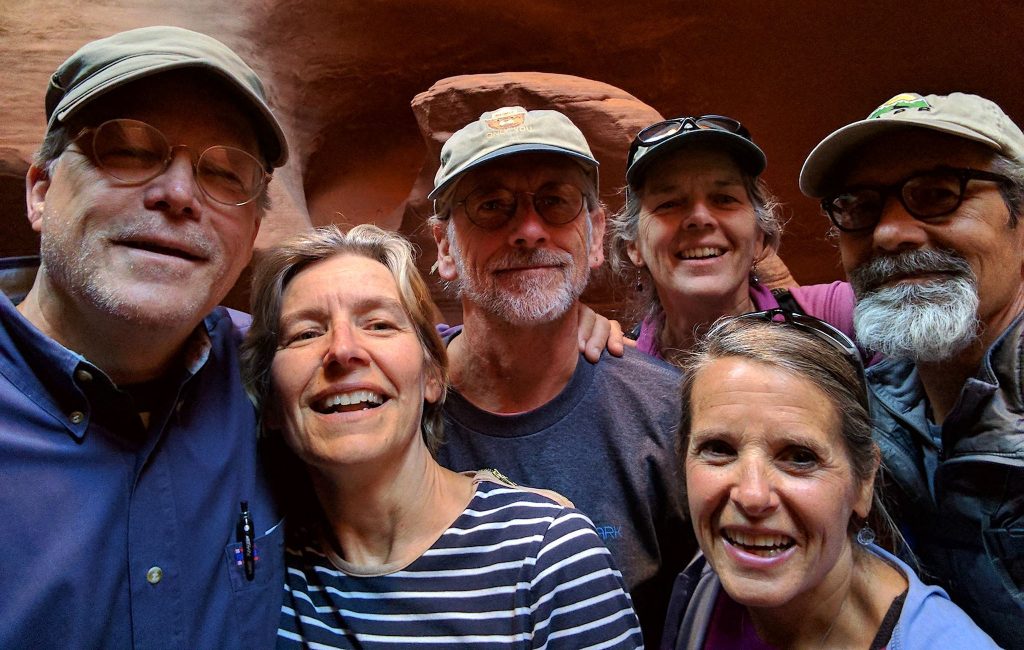 Our visit to Lake Powell was prompted by our friends Mark and Linda from Connecticut, who are also touring in their RV. Our routes intersected last year in Memphis. We had fun, so much that we agreed to make it happen again. Given their plans and our nomadic wanderings in southwestern Utah, Lake Powell turned out to be an advantageous place to meet. Mark and Linda have been traveling with Mark's cousin Nancy and her husband David, from Oregon, so we became a gang of six in our three motorhomes.
We thoroughly enjoyed the change of pace and social nature of this 4-day rendezvous. By the time our first dinner was shared (and before dishes were done), Nancy and David already felt like old friends. Happy hour was a daily occurrence, as was a collaborative dinner and conversation and laughter late into the evening. We enjoyed several of the local attractions together, including Horseshoe Canyon, the Hanging Gardens, and a visit to Lee's Ferry. And then there were the adventures…
The first adventure together was a guided tour through Lower Antelope Canyon. OMG from the first 30 foot ladder down. Lower Antelope is a slot canyon carved by flash floods that create crazy flowing shapes in the rocks. The narrow openings above allow light to enter at different angles to reflect off the shaped canyon walls, adding insane colors and shadows to the mix. Supplementing the experience was the wisdom of our trusted guide, Anthony, who was an amateur photographer. He was showing us tips and tricks for photographing the canyon walls to get different effects. It's his fault we have so many pix!
For adventure number two, the six of us spent a fine morning on a Lake Powell boat tour circumnavigating Antelope Island, viewing Glen Canyon Dam, and steaming up Antelope and Navajo Canyons until the boat couldn't squeeze in any further. Between the narration by the captain and crew and the exibits at the Glen Canyon Dam Visitor Center, we were fascinated to understand the impact of the dam and reservoir on the Colorado River as it flows through Wyoming, Colorado, Utah, Nevada, New Mexico, Arizona and California supplying water, electricity and recreation through the entire southwest.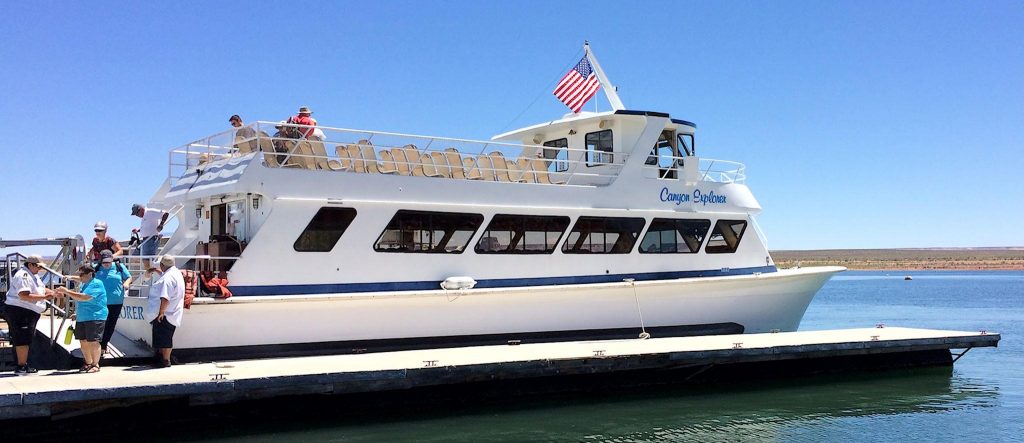 We've moved off in different directions, but somehow, sometime, somewhere on down the road I suspect we'll connect with these folks again…

If you're interested, more pix on sights around Lake Powell, Lower Antelope Canyon – Regular (the story and the people), Lower Antelope Canyon – Expanded (artsy rock shots; Doug says don't skip this one), the Lake Powell cruise, and Lee's Ferry.