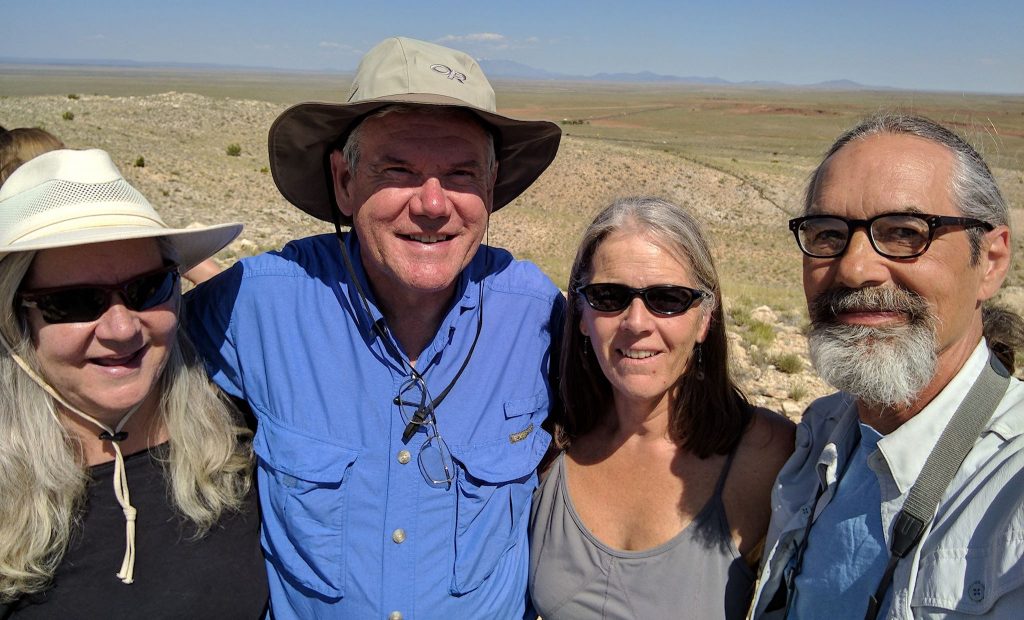 We met Malcolm and Judy while riding tandem bicycles just a few weeks before we got married, so this friendship goes back 31 years. They recently retired to Sedona, Arizona where they're exploring their new southwestern playground and remodeling their new home. From Lake Powell, we were so close that not visiting was not an option. Delightful visit!
Malcolm and Judy love their newly adopted home town, and with good reason. Sedona is a delightful and unique town, deep in the Oak Creek Valley, surrounded by rock outcroppings with names like the Courthouse, the Cathedral, and the Elephants, and numerous opportunities for outdoor adventures. Between adventures, we retreated to their deck to soak in views of the entire valley and the aforementioned rocks.
Malcolm suggested and joined us on the Cowpie-Hangover hike (those are trail names, not descriptions of our condition). Getting to the trailhead, starting from the high-clearance-4WD-only, triple-black-diamond Schnebly Road, was just the start of this adventure (in Malcolm's pink-dusted, black Suburban, not our RV).  The hike started by heading up a creek bed, eventually reaching huge, puffy flattened pink slick rock ledges (the Cowpies) and ultimately went along an overhang circumnavigating a huge rocky red peak (the Hangover). From both saddles, there were wide open views of Oak Creek Canyon and all of Sedona on one side and Munds Mountain on the other. The return trail wound its way on a narrow ledge underneath the massive, eponymous rock overhang, providing some very welcome shade. Ending the hike with just a bit of reserve energy, we continued the rocky drive up Schnebly Hill to a fun scramble around the Merry-Go-Round and onward to the top of the ridge, providing satisfying views of the valley and everything we had hiked below.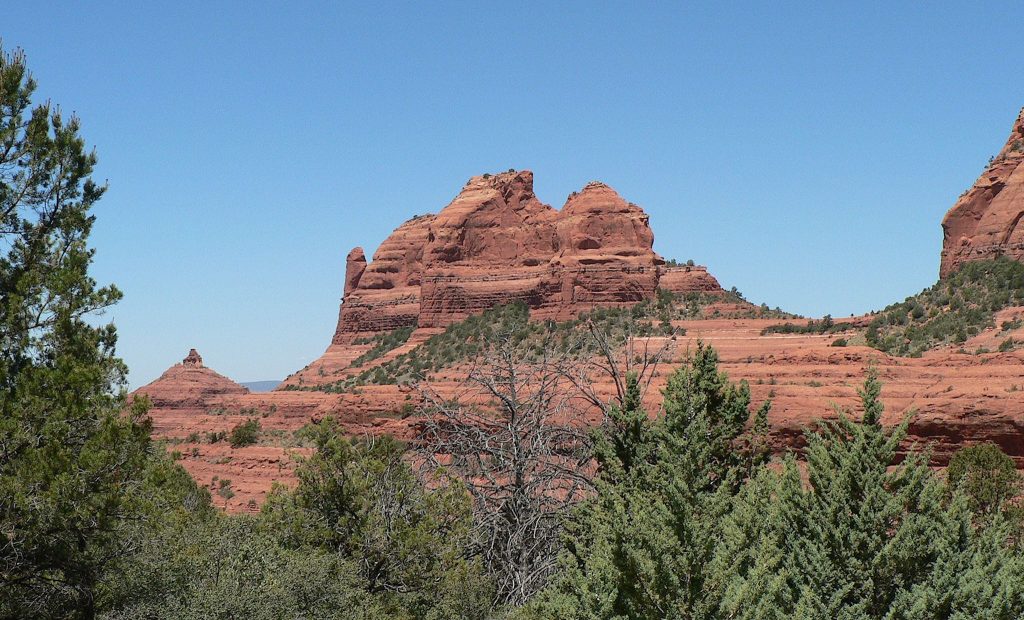 When M & J asked if there was anything specific we'd like to see, I sheepishly mentioned that it might be fun to stand on the corner in (relatively) nearby Winslow, Arizona. Road trip! Who knew Malcolm and Judy were Winslow tour gurus? Leaving Sedona, we drove across Fry Canyon and head east, arriving in town on Route 66 with the stereo cued up and blasting "Take it Easy" at exactly the right time. There was a small crowd of fans milling around 'Standing on the Corner' Park the whole time. We proudly took pix and gave kudos to the town of Winslow.
And that's not all! This road trip also included an elegant lunch in the Turquise Room at the historic La Posada Hotel (reminds me of the Canadian Pacific Hotels with a southwestern twist) as well as a tour of the hotel owner/artist Tina Mion's exhibit featuring off-the-wall-twist on life in all of her paintings.
Just past Winslow we visited the Petrified Forest National Monument, where minerals gradually replaced the organic material in fallen trees buried in mud for millions of years, converting them to colorful quartzlike material. And that's still not all! Right near Winslow is Meteor Crater, the world's first scientifically proven and best preserved meteorite impact site.
Still beaming after our multi-adventure road trip and too late for a siesta, we once again retreated to the deck for happy hour and another of Judy's fabulous dinners. We ate, talked and laughed til way past dark and our bedtimes, planning adventures for our next visit…
For anyone who's interested, more pix on the hike, petrified forest, Winslow and petroglyphs…