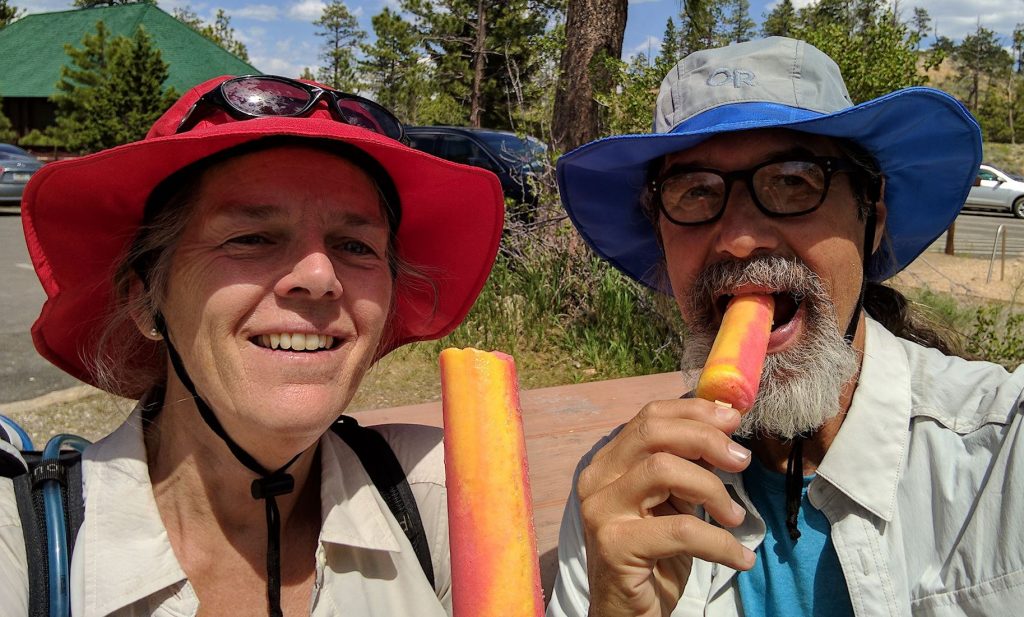 It was clear early on that there would be no time to visit all five of Utah's National Parks before our visit to Arizona. No problem – we can stop at four on the way south, and the hit the last one as we head back north. Ah, but which one? Fearing increasing temperatures in June, we opted for the one at the highest elevation, and we're very happy we did. Bryce is nice!
Bryce Canyon National Park is radically different from all the other NPs we've visited so far. The colors are radically different. OK, there's some red, however the colors reminded us of a creamsicle (must be the heat) – many almost pastel-y shades of orange, pink, off white, and purple. Because of the 9,000-foot elevation, Bryce's canyons and rock formations were not simply carved by water. More so than in the other parks, they were created by freeze/thaw cycles where ice expands and creates cracks in the softer sandstone leaving crazy shapes, lots of hoodoos and piles of sandstone rubble beneath them. Over millions of years, this cycle left a series of amphitheaters carved into the side of a high plateau, stretching for about 20 miles. Unlike Cedar Breaks, where the amphitheater is 2,000 feet deep, Bryce's amphitheaters are about 800 feet deep. Great news for hikers – lots of opportunities to explore the more accessible canyon floors!

We had several hikes to choose from, so our first adventure was to connect 3 loops that took us through different parts of the main Bryce Canyon. The appropriately named Queen's Garden was a gentle trail surrounded by tall, colorful carved castle-like spires, and up close and personal with smaller rock formations we could touch. Using a connector trail, we explored the (again) appropriately named Peek-a-Boo Loop which winds up, down and around tall spires, cliffs and hoodoos with views popping up unexpectedly at every turn. This adventure ended with the relatively short Navajo Trail, where human enhanced switchbacks took us from the bottom of the canyon back up to the rim in half a mile, surrounded by colorful walls and deep shadows.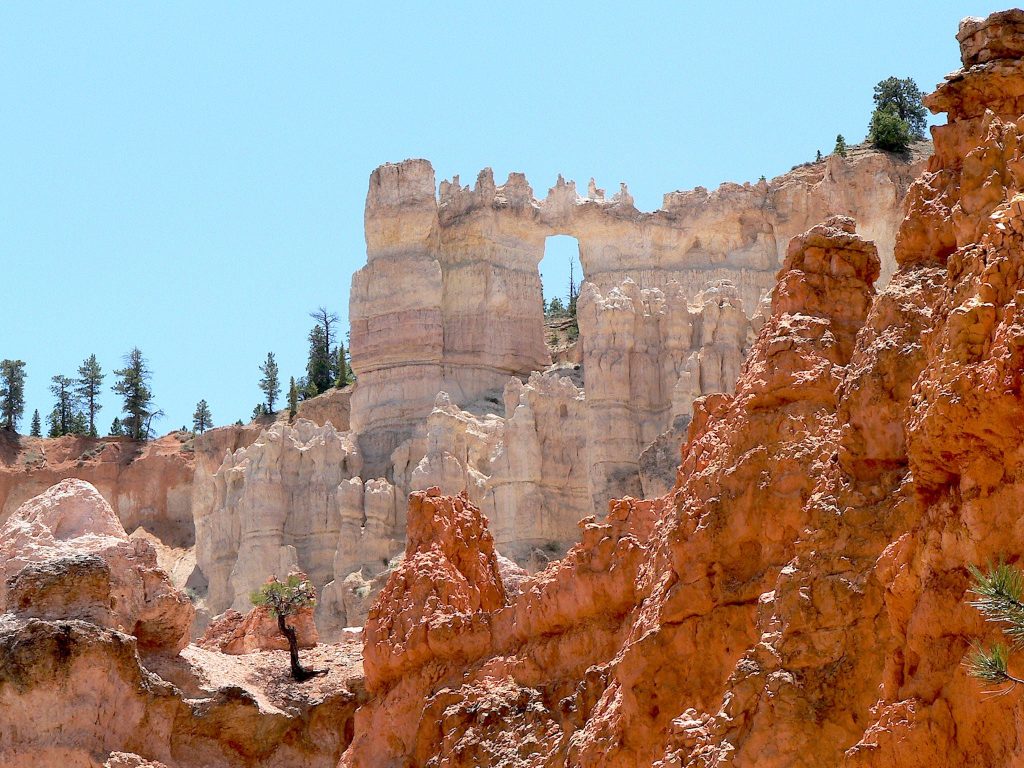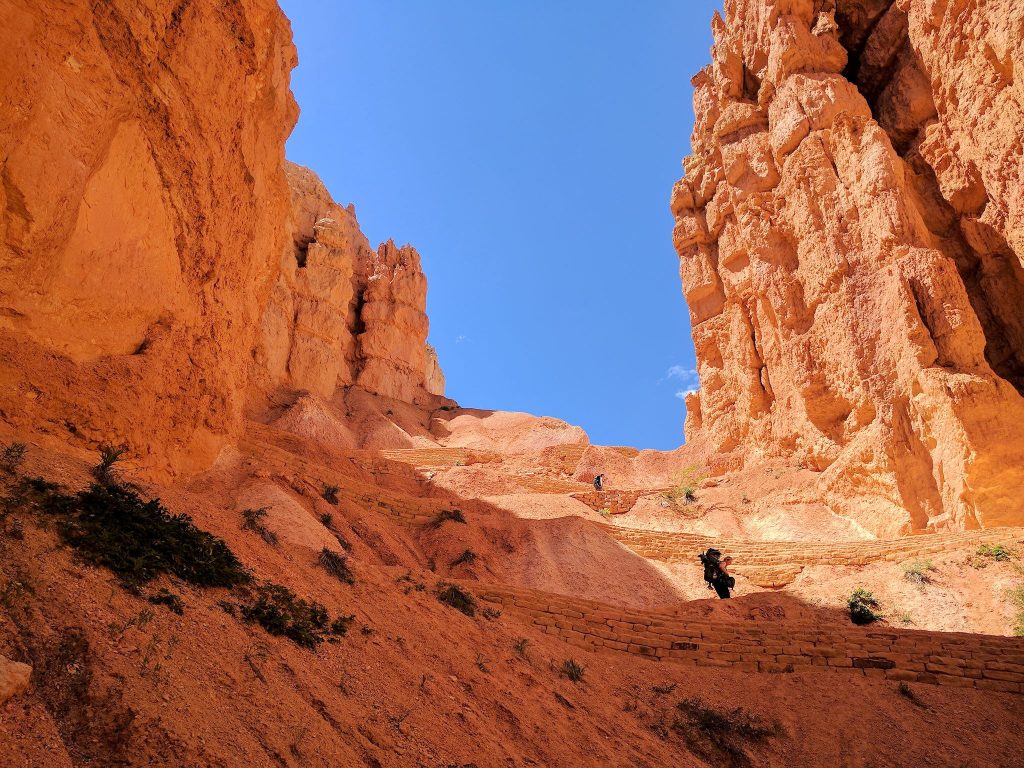 Well, that was fun. Let's do it again! The Fairyland Trail was calling us. The Fairyland Canyon is one of the 'newest' amphitheaters at Bryce. The canyon started forming more recently (in canyon terms – years still measured in the millions…). However, due to slightly softer sandstone, geologists expect Fairyland to 'catch up' to the other Bryce canyons pretty soon (i.e., in only a few more million years…). The implications for us were different textures, rounded rubble formations, and hoodoos everywhere at different levels of maturity.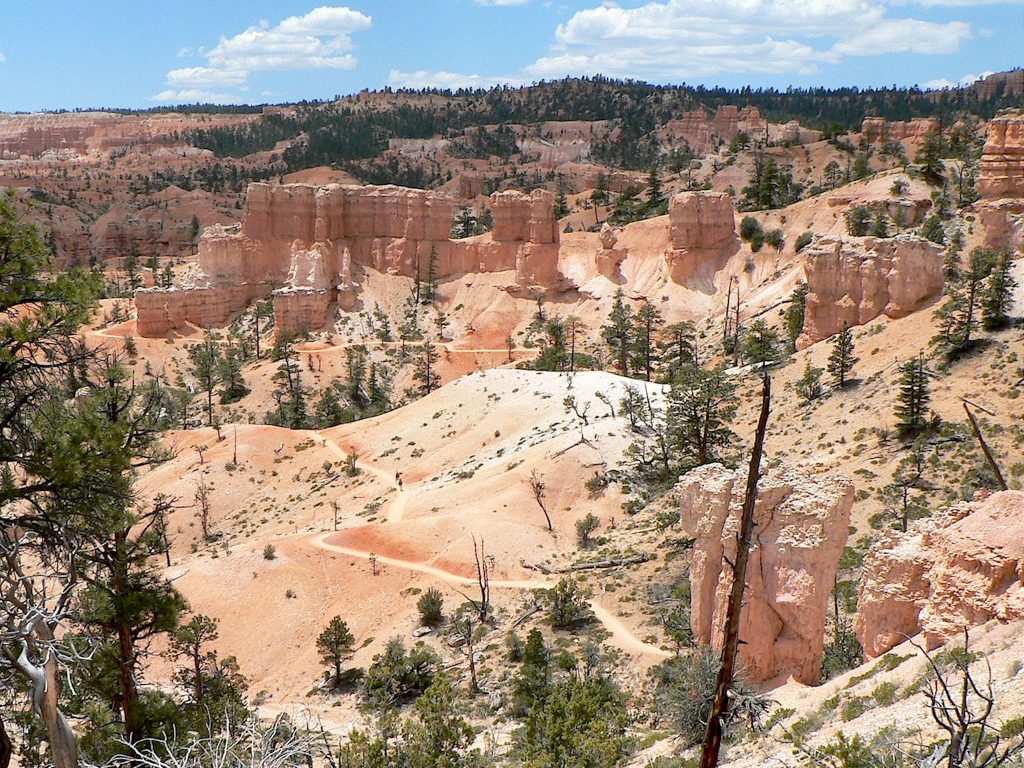 Bryce also treated us to several bicycling options with designated bike paths to the more popular attractions and a couple of (relatively) low traffic roads with mostly decent shoulders to the more remote overlooks. We opted to climb the 18-mile scenic drive to Rainbow Point – elevation 9,115. This road winds its way through the meadows above the canyons and passes along the rim providing gorgeous views of Bryce's southern amphitheaters.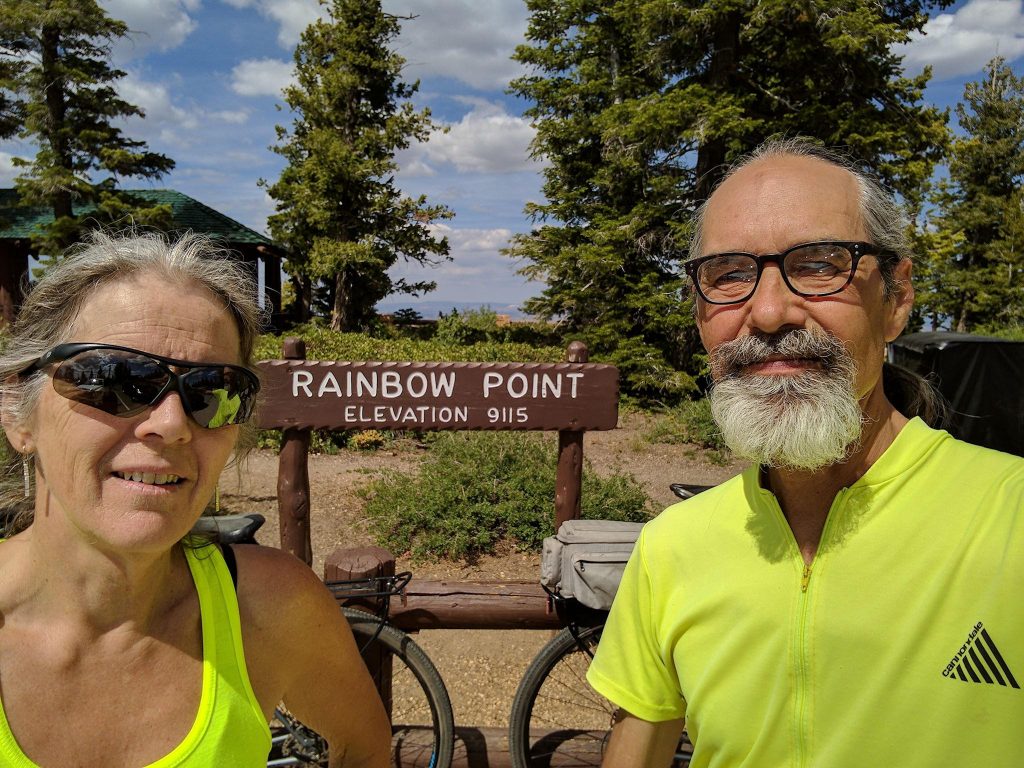 Having settled into THE primo campsite at the North Campground – large, quiet, relatively private, relatively level, lots of shade to keep us cool yet open sunny spots for the solar panels – we extended our stay to take further advantage of Bryce's unique offerings and enjoy a low-key rest day. Our site was a pleasant, less-than-5-minute walk to the Rim Trail. Not only did this (again) appropriately named trail offer fabulous views, it was the primary route for the 10-minute walk to the Bryce General Store, where we stopped for apres-hike (or -bike) popsicles, as well as to the Bryce Canyon Lodge, where we treated ourselves to a most elegant dinner and one final lunch.
Five weeks in red rock canyon country and you'd think we'd be used to the scenery. If the number of photos per day is any indication, we're not. (We've actually had to be super creative to keep our albums to manageable sizes…) Southern Utah is indeed gorgeous. The coming summer heat is sending us north, but we'll be back for more on another trip.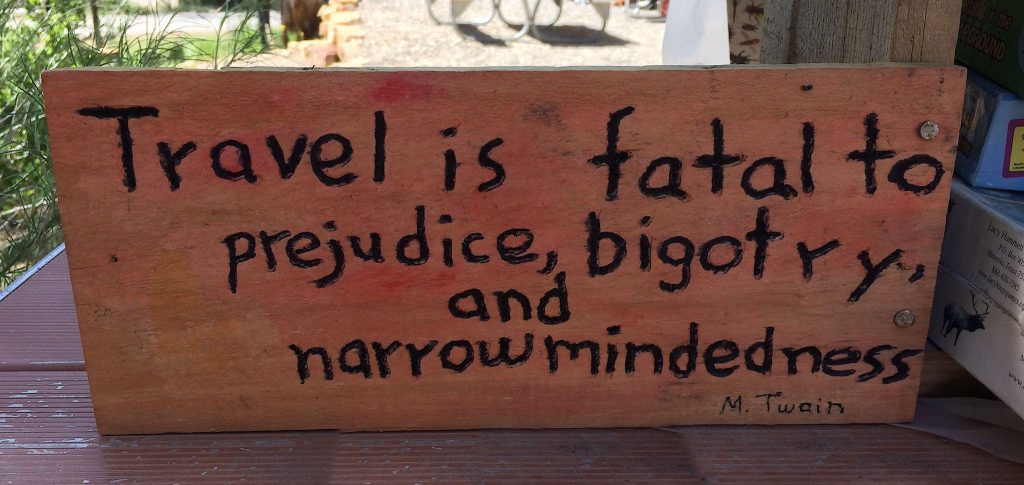 For those who are interested, more Queen's Garden, Peek-a-Boo/Navajo, Fairyland, Rainbow Point, Hoodoo you love, Bryce Canyon Lodge and other Bryce pix…