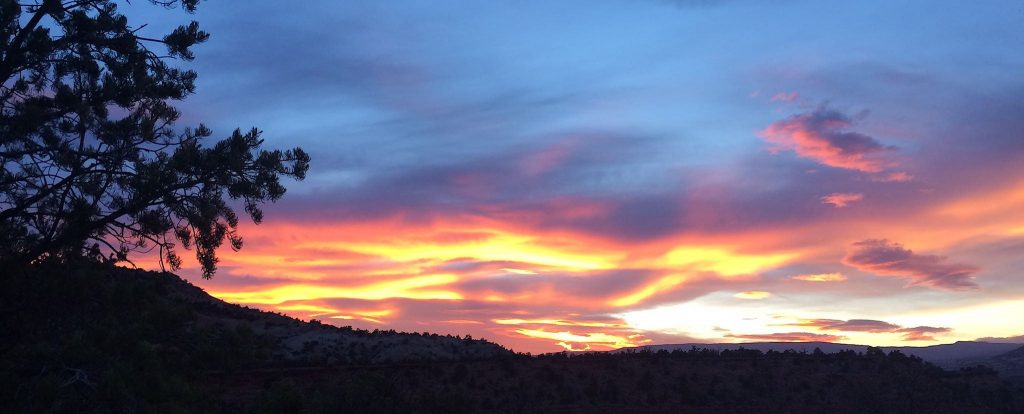 Several people remarked that driving Utah State Route 12 from Bryce to Torrey (a small town near the Capitol Reef NP) was beautiful. It was also the last remaining 'space between' Utah's National Parks we'd yet to visit. So we set a course for SR-12 north, not knowing much about the area and planning to explore a bit over 4 days. Wow! It's the top spot for a return visit on our next trip to Utah.

Our first stop was the Escalante Visitor Center where we stocked up on local area maps and suggestions for camping in Grand Staircase-Escalante National Monument and the Dixie National Forest so we could begin the exploration. The ranger described several places that would be accessible in our RV (most roads in this area are unpaved), then casually mentioned that since the town was expecting record breaking heat (yes, we noticed it was 95 degrees), we might want to head up to Posey Lake campground, which was 2,000 feet higher in elevation, where we'd find cooler air with dirt roads and hiking trails nearby. Brilliant! We took a look at the detailed map of the area and found hundreds of miles of dirt roads and many, many hiking trails. Where to hike?
We decided to hike Lower Calf Creek Falls and en route to the trailhead, we'd check out a 1-mile hike that crosses the Box-Death Hollow Canyon (with a name like that we had to – wouldn't you?). Fortunately, we arrived at the wrong trailhead. Instead of a 1-mile hike, we were looking at an 8-mile trek, each way, up and down the canyon. Rather than retrace our steps to the 'right' trail, we decided just to hike about a mile up the Box-Death Hollow Canyon Trail, turn around, and then head over to our destination for the day. About 3 miles and 174 photos later we finally turned back, agreeing it was the most seductive trail we'd ever hiked. Tall, steep canyon walls – rocky and pink with purple and yellow splotches on the right and whitish and smoother on the left – surrounded us the whole way. The trail kept meandering along and across Pine Creek, leading to an endless series of view points. 'Let's just go to that high point, then turn around… Wait, look at that huge purple rock! Let's just go there then turn around…' And the canyon floor was an absolute delight with huge Ponderosa Pine groves everywhere and fat leafy Cottonwoods along the creek bed.  On our next trip, we'll hike the length of the canyon. And find that trail that goes across…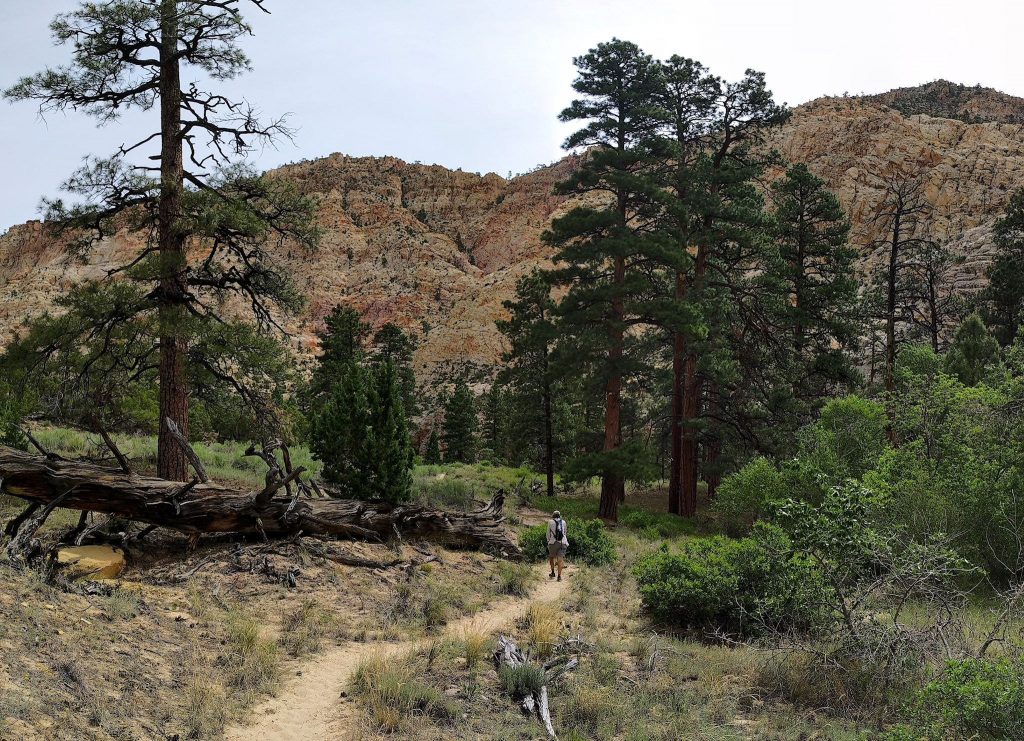 We finally arrived at the Lower Calf Creek Falls trailhead to find a line of cars waiting to get in. The universe was speaking to us – it said, 'hey, go somewhere else.' The next 15 miles of SR-12 is spectacular and caused 98 photos to happen. And we were just driving… It was still relatively hot, so we were aiming for somewhere near Boulder, at a slightly higher elevation, for the night. As we passed the trailhead for the 2-mile Upper Calf Creek Falls, the open parking spaces there called to us and we responded. There we found a mix of slick rock littered with giant, black, round volcanic boulders left behind by some glacier and sandy trails to the bottom of a 50-foot watterfall. It was fun. As we began to hike back, we kept hearing loud squealing voices (not mine) and noticed another trail that could be headed toward the top of the falls. Check it out! It turns out there's a second, smaller waterfall tumbling into a deep pool which was surrounded by boy scouts jumping off the 12-foot wall beside the falls, into the cool water. Fun!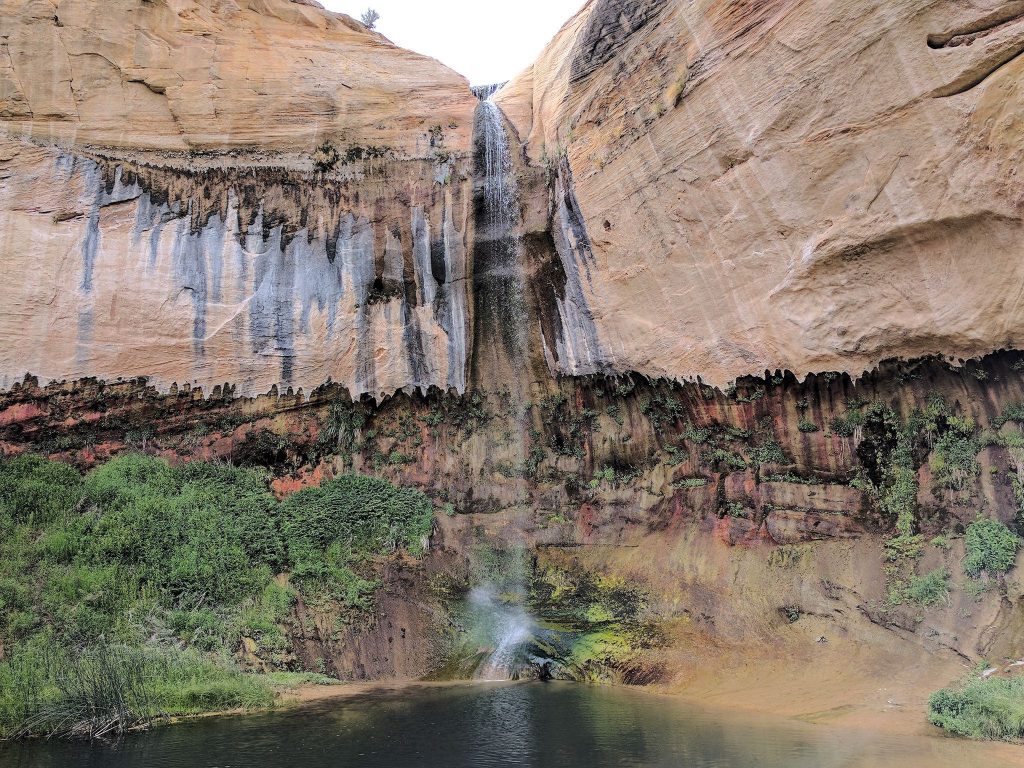 We scored a pretty and quiet campsite along a cliff overlooking The Gulch off Burr Trail Road. Over dinner, we planned a hike on one of the trails around Boulder Mountain for the next day, checking out the 15 minute hike to Long Canyon Slot, just past our campsite, en route. Ha! Half a mile past our campsite, Burr Trail Road dropped dramatically into Long Canyon, surrounding us with the hundred-foot tall screaming red and pink Circle Cliffs. And yes, you can hike the Long Canyon Slot in 15 minutes, but you need to allow an additional half hour for squeals and 62 photos! The universe spoke again and suggested we should continue to explore this road. Burr Trail Road is one of just a few east-west roads in southern Utah. At 37 miles, it ends on a dirt road within Capitol Reef State Park, the final 7 miles of which are probably a bad choice for our RV, and then we'd wind up somewhere we don't really want to be. However, we thoroughly enjoyed the 30 mile out-and-back, finding the ultimate campsite for our next visit. There's easily a week's worth of hiking, biking and views to enjoy.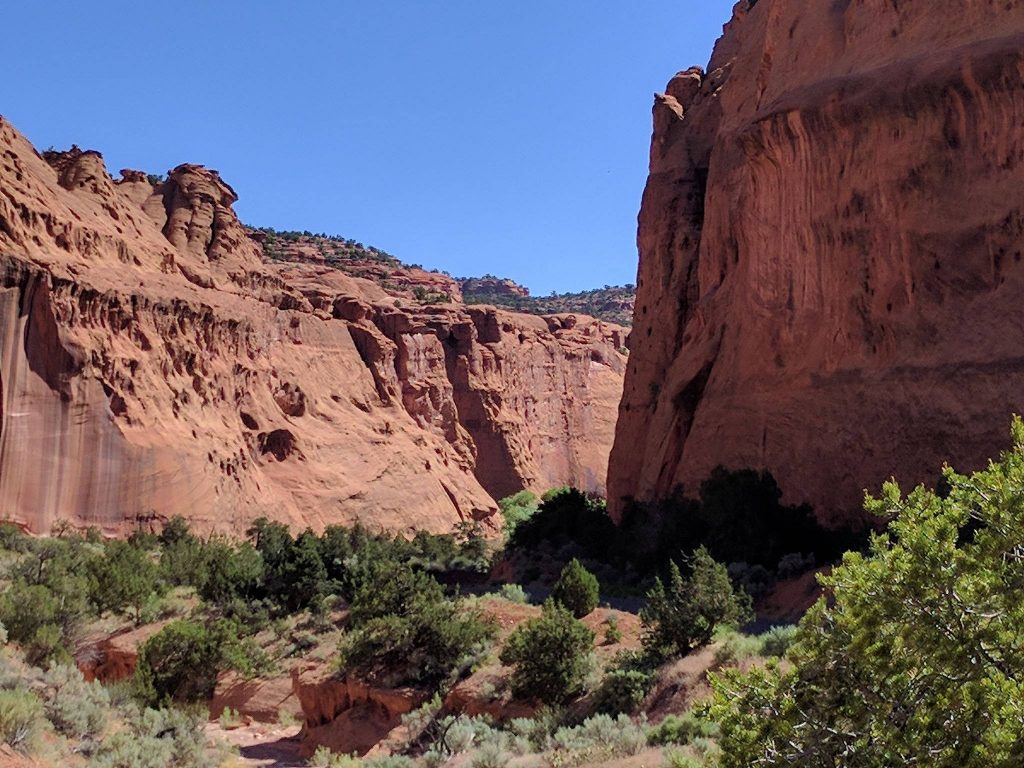 So although we missed hiking around Boulder Mountain, we found a few more remote campsites accessible to our RV, with weeks worth of exploring by foot and bicycle. Although we started not knowing much about the area, we consider our recon a total success.
From Boulder, we continued to the end of SR-12 in Torrey, having thoroughly enjoyed a 4-day, 123-mile drive with exceptional climbing, descents, and views. As we headed further north, the red rocks and canyons gave way to green hills dotted with junipers and sage with an occasional oil field, reminding us of the need to balance our natural resources, and hints of pink rock to soften the transition. We're off to the next set of adventures further north. And we'll be back to southern Utah.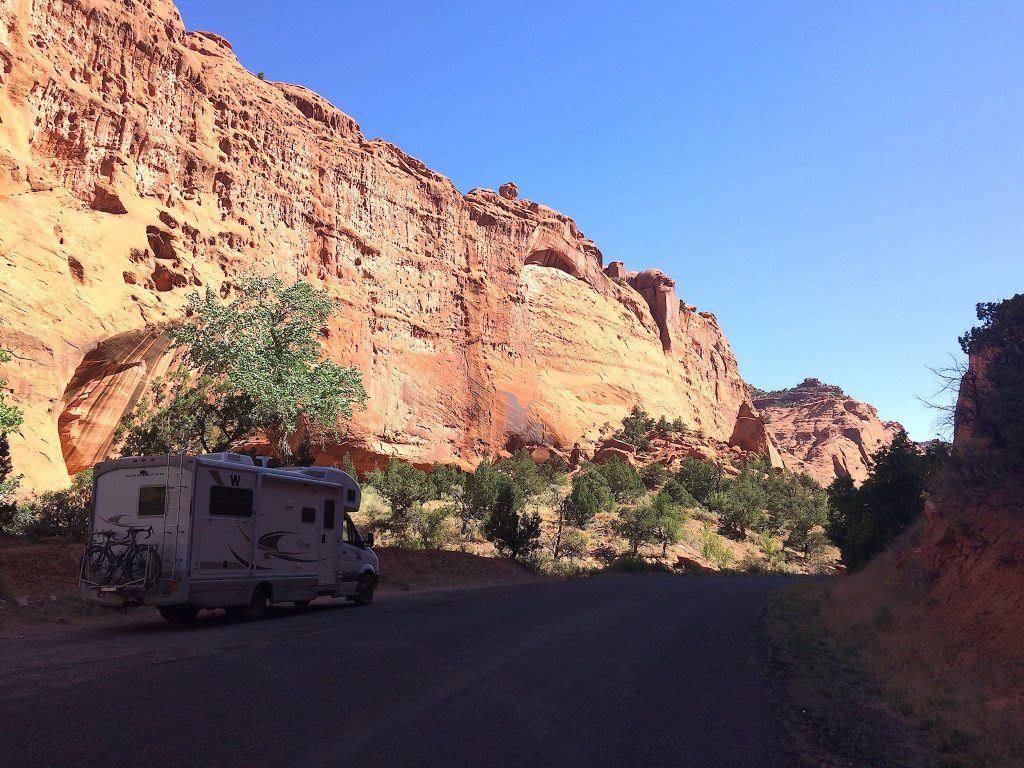 For those who are interested, more Box-Death Hollow, Upper Calf Creek Falls, Burr Trail Road, cool campsite pix.