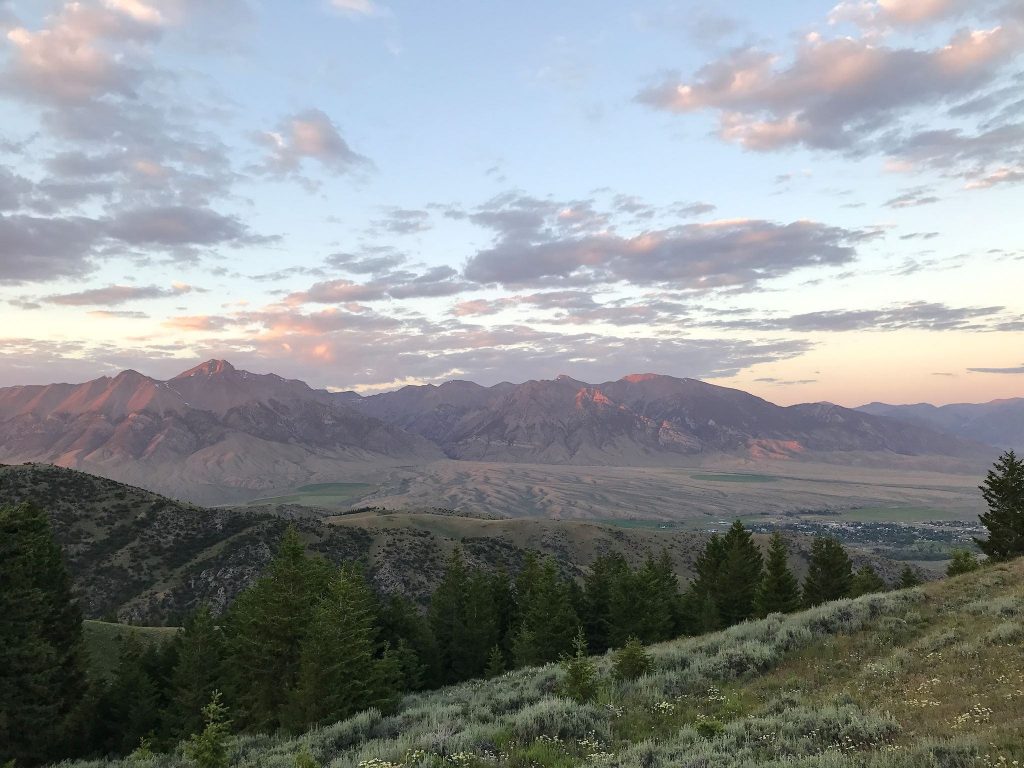 Happy Fourth of July to all from Mackay (rhymes with wacky), ID!
We were enjoying Sun Valley and thought it might be nice to stay a little longer, maybe through the Fourth of July. It was cool, trails were beckoning to be hiked, and we'd see Harry and Karen again as they were coming up to their condo for the weekend. We'd found a totally awesome free campsite, but it had a 3-day limit. We had to move. It was Thursday, and everything around Sun Valley was filled up for the long weekend, including dispersed camping sites, and there was no RV parking anywhere near the condo. The universe was telling us it was time to move on.
We've been loving the cooler mountain air, so we opted to stay in the eastern Idaho mountains and keep heading north. In our youth, we cross-country skied at Galena summit and mountain biked near Stanley. What could be better than to drive down memory lane on roads named Sawtooth Scenic Byway and Salmon River Scenic Byway? With the busy Fourth of July long weekend coming up, we decided to head to what we'd heard was the relatively quiet Lost River* Valley.
The mountains in eastern Idaho are different and their beauty is hard to describe. And playing in these mountains took some figuring out. They build the main roads here along rivers. You're driving either down a beautiful but narrow canyon that's only slightly wider than the river plus the 2-lane road (with an occasional turnout) or alongside a river in the middle of a wide, flat valley surrounded by mountains in the distance, in either case knowing that an excursion in any other direction means climbing a pass (that may or may not be paved) to get to a different valley.
We stopped at several Forest Service and BLM offices for detailed maps of their respective areas and info on hiking or biking. We consistently got the same answer – just drive up a side road and explore. And make sure you drive Doublesprings Pass to see the view. At first it seemed odd that we'd be in the mountains with no hiking trails, but that didn't last.
Following advice we'd received, we continued along the Salmon River until we turned south into the Pahsimeroi Valley. If Montana has big sky, we were looking at gigantic sky here in Idaho. The broad valley itself was super-flat ranch country, with a mostly paved road in the center along the Pahsimeroi River. It was ringed way off in the distance by the Lost River Range, Lehmi Range and Hawley Mountains. We drove along the river for miles until the road turned to mostly dirt and the flat valley gave way to big rolling green hills covered with grasses and sagebrush, where we found an intersection with Doublesprings Pass Road. As promised, the 22-mile unpaved pass was slow but navigable in our RV and offered unbelievable views of the Pioneer Mountains (the back side of our Sun Valley view) and up-close-and-personal views of Borah Peak (at 12,662 feet, the highest point in Idaho).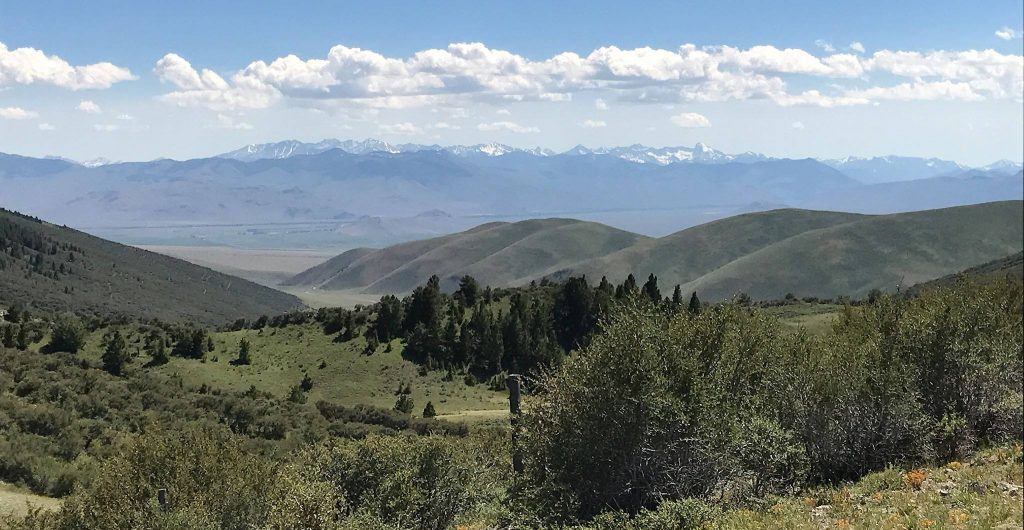 We drove up Trail Creek Road to find camp for the night – a familiar name, and in fact it is the other end of the same road in Sun Valley, the two ends connected by the (unpaved and gnarly) Trail Creek Summit pass where the Sawtooth and Challis National Forests meet. Anyway, we were surprised to be alone in the tiny, free Garden Campground on the Friday of the long weekend.
Across the road from our camp was the nondescript Burnt Creek Road. It was a beautiful, cool, breezy and sunny day so we thought we'd walk up the road for a bit and turn back. Ha! The dirt road quickly turned to double track, climbing over and around the grassy, sage-brushy hills, always within sight of the riparian vegetation indicating Burnt Creek. We took note of a few side trails we might explore if time allowed. We turned a corner to see the cliffs of an un-named (to us) snow capped peak that was clearly the source of our creek. We next crested a small ridge opening up into a huge, green basin or valley or hilly meadow or some other name for gorgeous terrain that we'd never seen before – and a 'trail ends' sign. This can't be the end! It wasn't. We bushwacked to the top of a green hill to look around. From there, we could see the back side of the Pioneer Mountains, the Lost River Range and an ATV trail that looped back to our original trail. Grins all day. And we had cracked the hiking in Idaho code.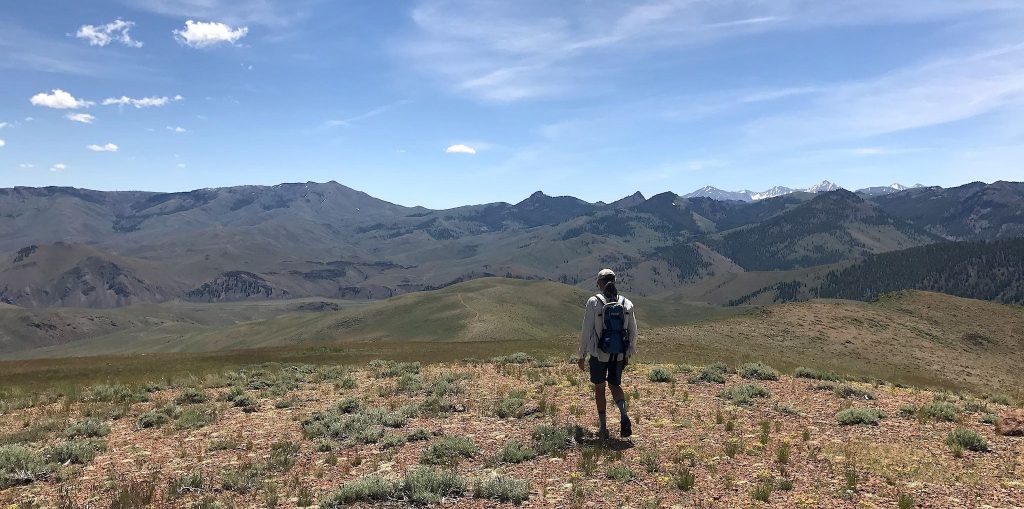 Although there were plenty more side roads to explore off Trail Creek, we wanted to check out more of the Lost River Valley and moved on to Mackay, population 483. According to our maps, there'd be boondocking campsites just west of town. We'd try to find a quiet place and stay put for the Fourth. OMG! We found a site just a little ways off the main dirt road up Mine Hill, with a view of the entire Lost River Range, Lost River Valley and Mackay. Unbeknownst to us, we were quite near the Mackay's Mine Hill Tour – a rugged, self-guided driving loop through mining ruins and artifacts left around the canyon at the base of Mackay Peak (elevation 10,300 feet).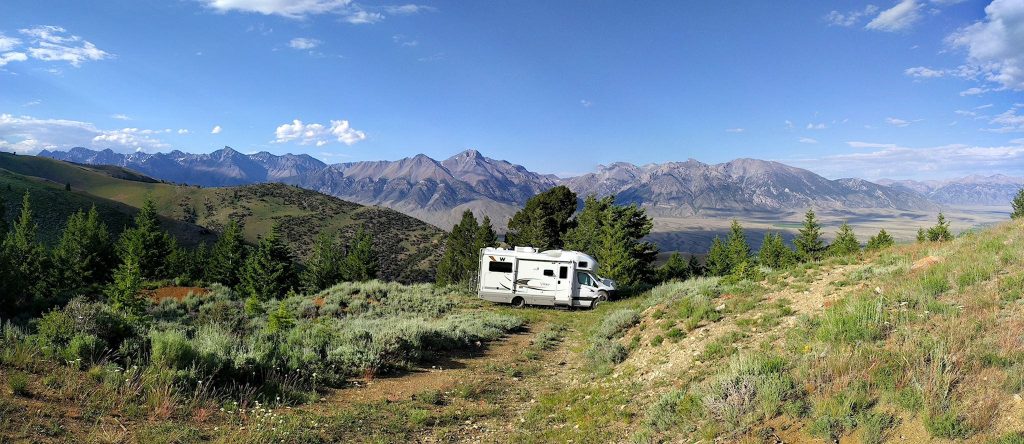 Grab the bikes! We spent the better part of a day riding the loop from camp through 8 sites of mining ruins (there are 11 in all – the first 3 are in town) each with interpretive signs indicating the role played in the mining history of Mackay from roughly 1900 through 1980. While it took us 4 hours to ride to the last site at the top of the Mine Hill (and take pix, and talk to the ATVers – we were the only bikers/hikers that day – and eat lunch, etc.), it took half an hour to return to camp. From the 2 'private' knolls right near our camp, we realized we could see all of the Mine Hill and the extremely cool network of dirt roads that had been our day's excellent adventure.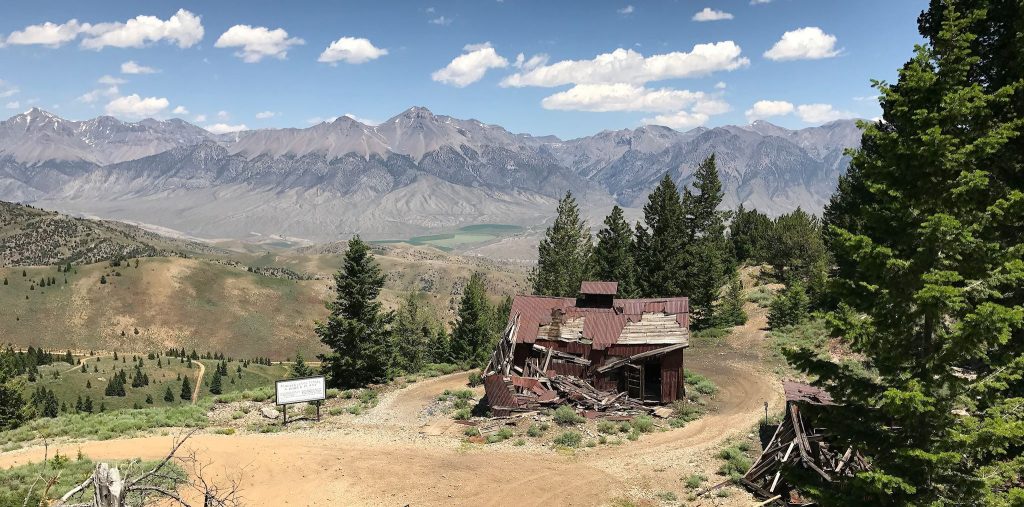 Quiet Fourth, cool air, excellent adventures…  We're glad we chose to explore the Lost River Valley. And listened to the rangers… and the universe.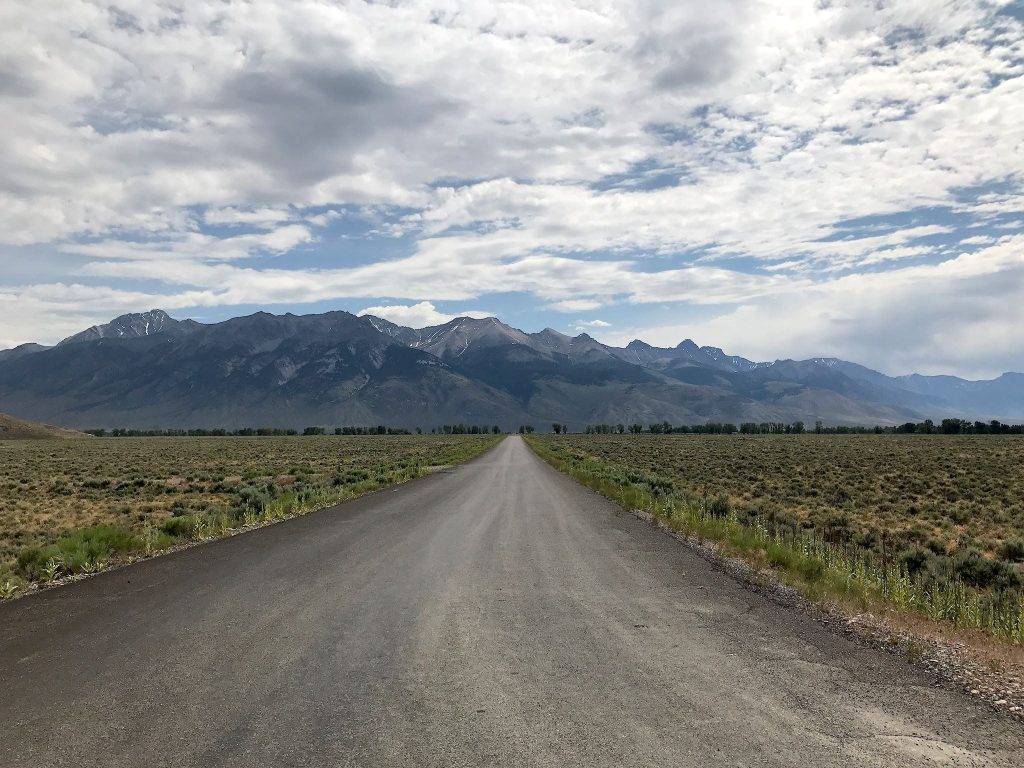 For anyone who's interested, more Sawtooth/Salmon River, Doublesprings Pass, Burnt Creek, Mackay Peak Camp and Mackay's Mine Hill pix…
*The river really does get lost. Technically a tributary of the Snake River, The Lost River doesn't reach it above ground. Instead, the Lost River sinks into a marshland where it eventually makes its way to the Snake underground.