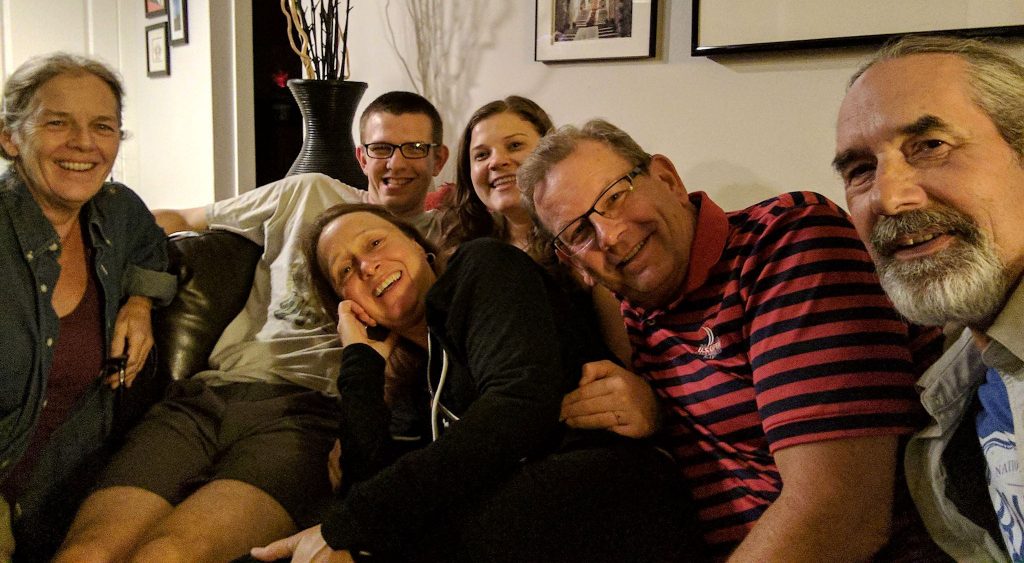 Leanne and I bonded as ski buddies at Sugarbush, a dozen-plus years back in time. About 11 years ago she and the kids up and moved, first to Spokane and then to Tacoma, where we finally caught up with each other. Leanne hasn't changed a bit! The kids, however…
Leanne's youngest daughter Liza, who skied with Doug a few times in the Blazer program at Sugarbush as an 8-year-old just before taking up snowboarding (he swears that wasn't his fault!), is about to move into her own home, also in Tacoma, with her fiance, Caleb, when they get married next month. She is living with Leanne in the meantime, and it was great to get to know her as an adult, and to meet Caleb.
Leanne and her husband Greg (whom we were meeting for the first time, ever) are delightful hosts. Each night out on the deck, overlooking the bridge across the Narrows to the Kitsap Peninsula, we talked and talked and talked, getting ourselves properly caught up, solving a few of the world's problems along the way, and even catching a glimpse of the International Space Station as it passed overhead – one of only a few celestial objects bright enough to shine through the still smoky skies. There was also some discussion of RVs – Greg and Leanne have thoughts of getting an RV when they retire (in less than a year!), and we, being retired people who travel around in an RV, have picked up a few things to share in that regard. During the daytime, Leanne had time in between business calls to show us around Tacoma, where parks abound near the Puget Sound, seeing the sights and treating us to a hike around Point Defiance.
Although the heat wave finally broke, the air remained smoky from the wildfires. From the deck, the suspension towers from the bridge over the Puget Sound would fade in and out of the smoke and in and out of the fog – gorgeous view! It wasn't until we crossed it as we were leaving town that we realized that this is the replacement of the infamous Tacoma Narrows Bridge, well known to science and engineering types (for example, Doug) for being an archetype of engineering disasters. (You can look it up…)
For anyone interested, more Tacoma pix…
*The title is sort of an inside joke that I won't explain except to say that we thought Tacoma was great!