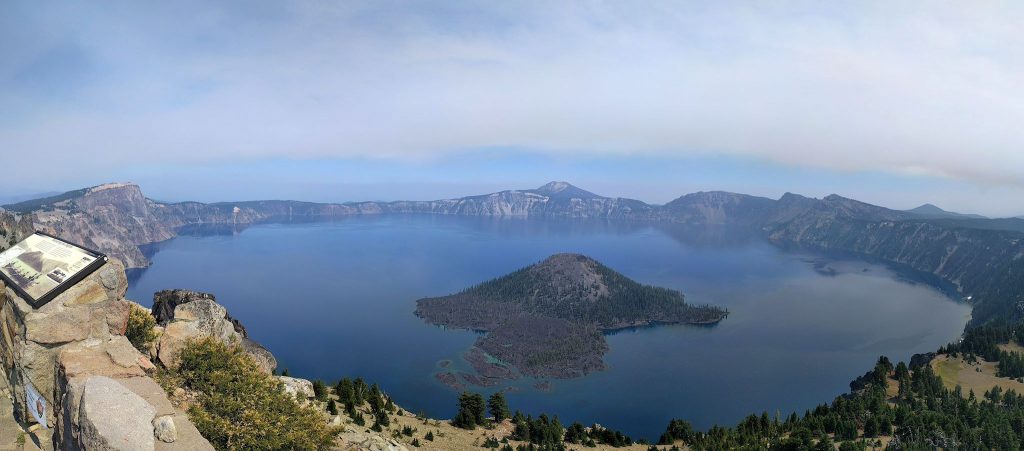 Doug had toured Crater Lake in his youth, and we visited together in 2012. Mo had never been. It's one of those places that's so amazing that you can visit over and over again. Let's go! Except, uh oh, there were several wildfires just west of Crater Lake, impacting air quality and visibility. *Sigh*
We went up anyway. It would be an hour out of our way, we'd see what we could see, and then we'd move on. The skies were certainly smoky as we approached the park entrance and we saw no fewer than 3 fire crews working near the side of the road. We arrived at the first major overlook to see the smoke rising over the rim of the caldera as we looked down on the lake, revealing the deepest blue in the world on the western shore and a smoky profile of the eastern shore. We ate our awesome PB&J sandwiches in the rig, walked around a bit, stopped in at the Visitor Center and peered over the rim one more time to see that, holy cow, the smoke over the lake was lifting and blowing away!
Get your cameras! We're going hiking! From the top of Watchman Overlook, we could clearly see Crater Lake to the east and the 2 wildfires to the west filling the air with smoke. Almost 2 hours later, we were totally satisfied with our hike and maybe 641 pix. (Photophilia? I think so. There were 3 of us and 5 cameras – only one lake.) As we went to leave the park and head for the coast, we found that our planned exit route was closed due to more wildfires and we'd have to retrace our steps. Major reroute! Adventure! As we backtracked through the park, we saw that the Crater Lake caldera by late afternoon had filled in with thick, brown smoke. One could barely see across the lake.
Our timing at Crater Lake was inadvertently perfect!