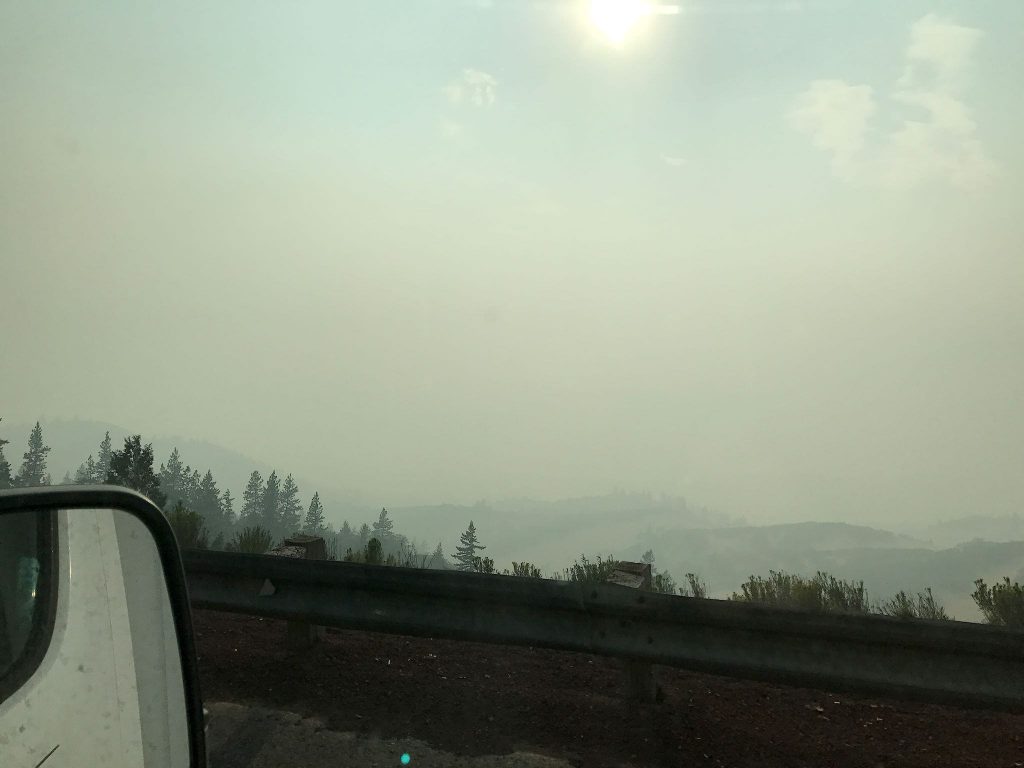 I recently read an article that referred to social media as a way to live 'a perfectly curated life.' Hmmm, is that what we're doing with this blog? Featuring the perfect? Sweeping everything else under the proverbial analog rug?
Not really. We're genuinely having great fun. Some days are outrageous – we climb mountains, see unbelievable views, swim in crystal clear lakes. We do tend to emphasize these in our posts, though some days are ordinary and we do laundry and go grocery shopping, while other days have hiccups like flat tires and roads suggested by GPS that turn into singletrack. It's all part of the great adventure.
Except for wildfires.
This has been a record-breaking year for wildfires in the northwest. Wildfires are part of a natural cycle and ultimately beneficial to healthy forests. They just don't feel like it when they're burning, consuming untold resources to manage them to prevent injury and damage to property and historic sites, leaving charred views where grand forests once stood and spewing thick, heavy smoke into the air. Excepting a few days here and there, we've been in the smoke non-stop since August 1.
As we headed south in Oregon, more and larger fires led to more smoke and hazardous air quality and detours to get around the fires. Although we were ready to stop for the night, breathing in our air conditioned truck was uncomfortable. We couldn't imagine setting up for the night, windows open, and getting any sleep. So, we just kept driving until the smoke cleared. Finally. In Weed, CA. It was a long day. We slept well.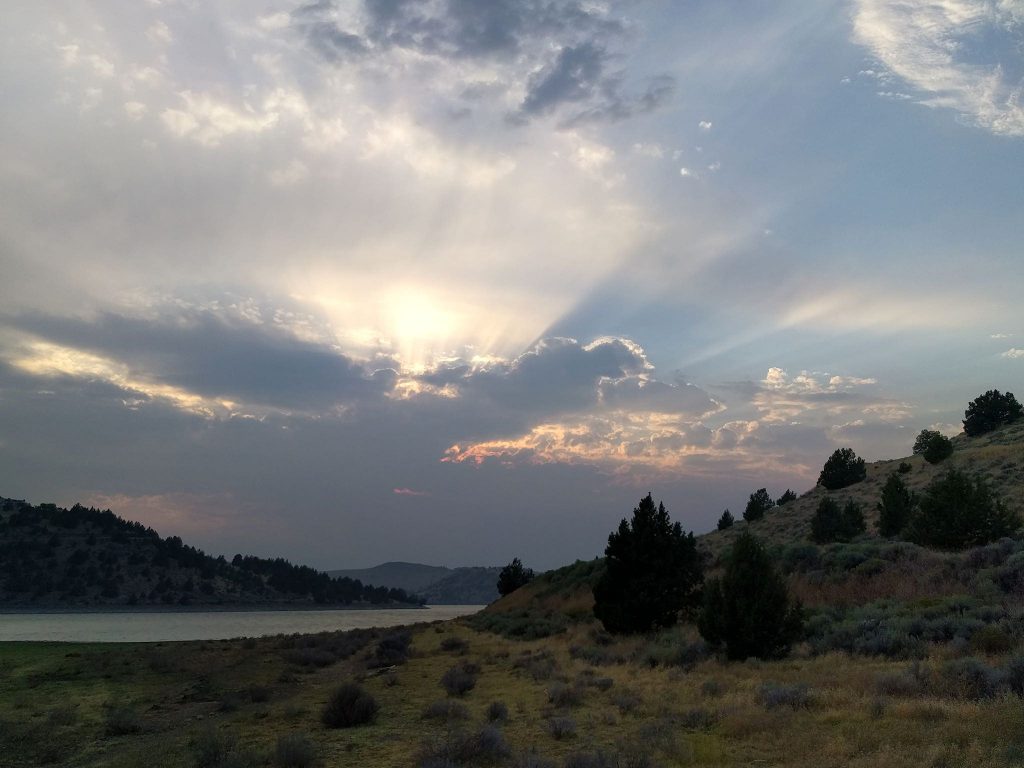 Here's the catch. We were ultimately heading toward Sacramento to meet up with family in 3 days. We had driven so far south, we were only 3 hours away. We didn't want to head back north. We couldn't head east due to more fires. It was too soon to head south, although we could stay put for a few days. Or, we could head southwest toward the coast and see parts of California that we hadn't yet explored. Hmmm, since there are so few roads in Humboldt County (we later learned why), we'd have to drive long days to get to the coast and back to Sacramento in time.
Ok, let's hit the coast! Our GPS suggested a shortcut to get to the one westbound road across the Klamath Mountains. No, it didn't turn to singletrack, completely… Our speed averaged about 25 mph across this gorgeous, continuously switchbacked road, which was at times one lane. The mountainous terrain and switchbacks continued until we were about 20 miles from our destination near the coast when we found the road temporarily closed for construction, with a 120-mile detour. Or we could wait until the road opened for a few hours the next day. We opted for the latter – all part of the adventure. Being forced to stop at the Mad River Campground (for those of you who don't know, we live in the Mad River Valley in Vermont) put a chuckle in the otherwise long day.
We did eventually make our way to the Avenue of the Giants (another highlight suggested by Dana and Muffin) and squealed our way though a ranger-led tour of 375-foot-tall trees (we took her word for it). From there, we headed to the coast from the northern terminus of the famed Highway 1/Pacific Coast Highway. Little did we know, the continuous hills and switchbacks and viewpoints would keep our average speed to 35 mph for another longer-than-expected day. Tired and a little grumpy, we finally pulled over in a dirt parking lot with a cell signal, overlooking the Pacific, determined to find a nearby campground. As it turns out, that dirt parking lot was a well-known free overnight spot for RVs – right on Highway 1, with a million-dollar view. That'll make anyone feel less grumpy.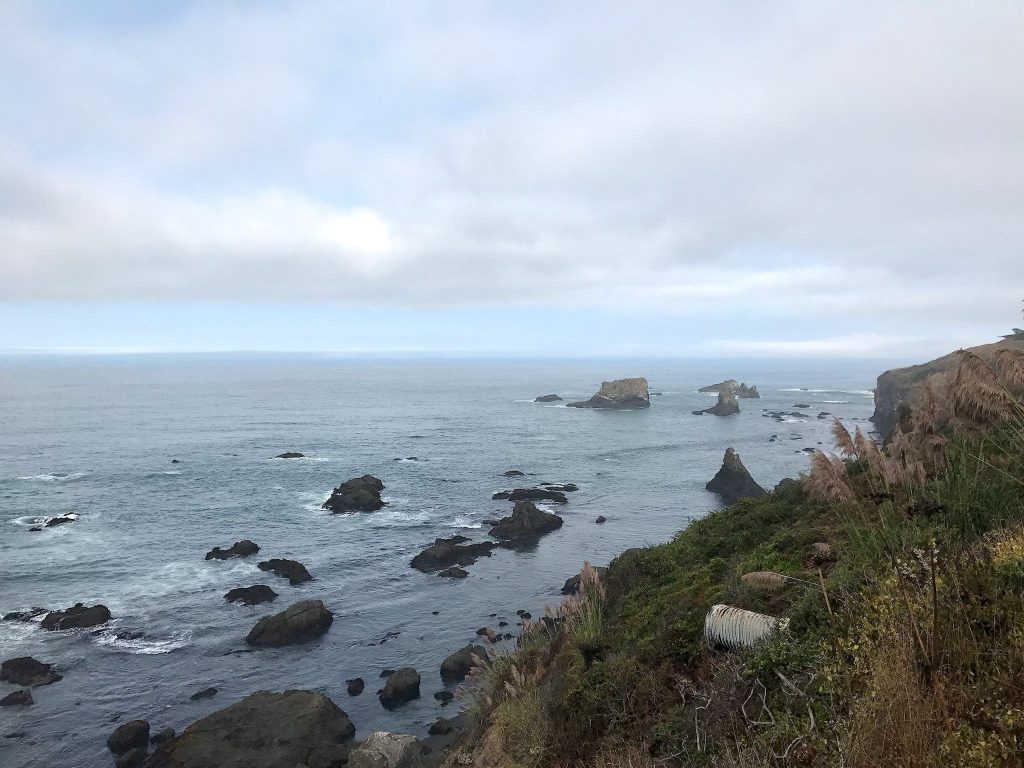 We continued on Highway 1 until the next eastbound road over the Pacific Coast Range, negotiating still more continuous ups and down and switchbacks through giant redwoods and secret canyons until we crested the range to find ourselves in Sonoma County. Giant redwoods gave way to vinyards. Mountains turned grassy and gold. And the continuous switchbacks continued. Eight hours later, tired and again a little grumpy and with fingers crossed, we arrived at a state park campground just outside of Sacramento on a Friday night hoping they'd have a spot for us. Yes! We got the last available campsite.
We were exhausted after driving over 500 miles in 3 days at an average speed of 40 mph. (For our Mad River Valley friends, imagine driving Appalachian Gap 32 times in a row.) Perhaps we should have stayed put in Weed and visited the coast on another visit… Naah.
After another good night's sleep, we thought about all the cool things we'd seen and the fortunate turns each day. Are we presenting our 'perfectly curated life?' Or, are we perfecting an ability to notice and appreciate the fortunate turns?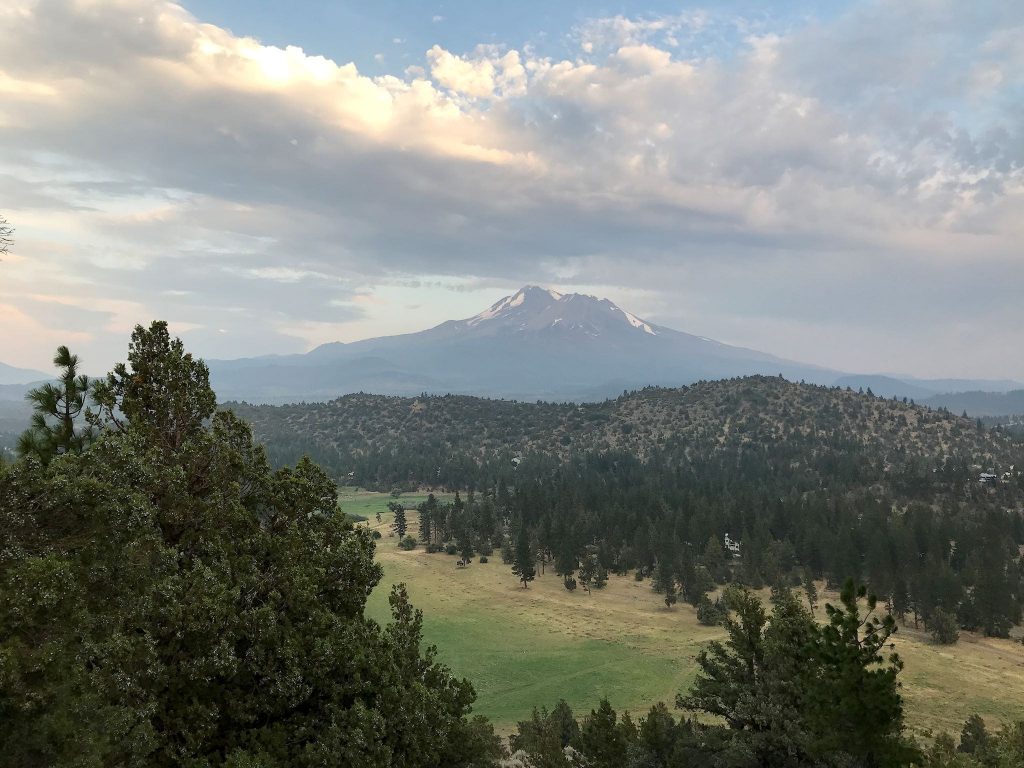 For anyone who's interested, more south Oregon, Weed, Mad River, Avenue of the Giants and Pacific Coast pix…