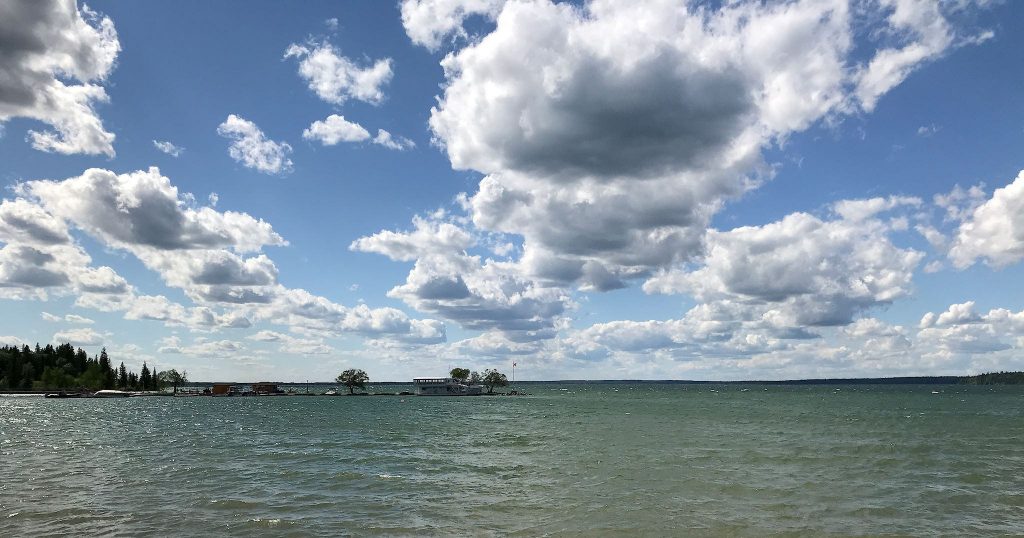 Riding Mountain National Park opened in 1932 and is the oldest national park in Manitoba. It rises 457 meters (1,499 feet) above the pretty flat prairie in all directions. At its center is Clear Lake and the town of Wasagaming. Its most recognizable feature is a line of cliffs along the eastern border formed by the Manitoba escarpment.
We planned to visit. Our new friends from the music festival confirmed it was a must see in Manitoba. We set a course.
We pulled into the campground and realized it was less than a 5 minute walk to town and Clear Lake. Let's check out the town! Yes, there is a town within this National Park's boundaries. Well, it's not quite a real town – most of the full time residents are park employees and there's no hockey and curling arena – but it's very much like one. And in the summer (July and August in this part of Canada), this town swells to 40,000 'cottagers.'
We poked around the lakefront park, got our bearings, noted the funky tourist shops and enjoyed people-watching at the many sidewalk eateries. One of the most historic buildings is the movie theatre, built entirely of logs in 1927, and still in operation.  On our way back to camp, we passed a restaurant that totally, unexpectedly snagged us. Maybe it was the garlic. Anyway, instead of roughing it at the campground, our first night in this national park featured an excellent al fresco Italian dinner in town.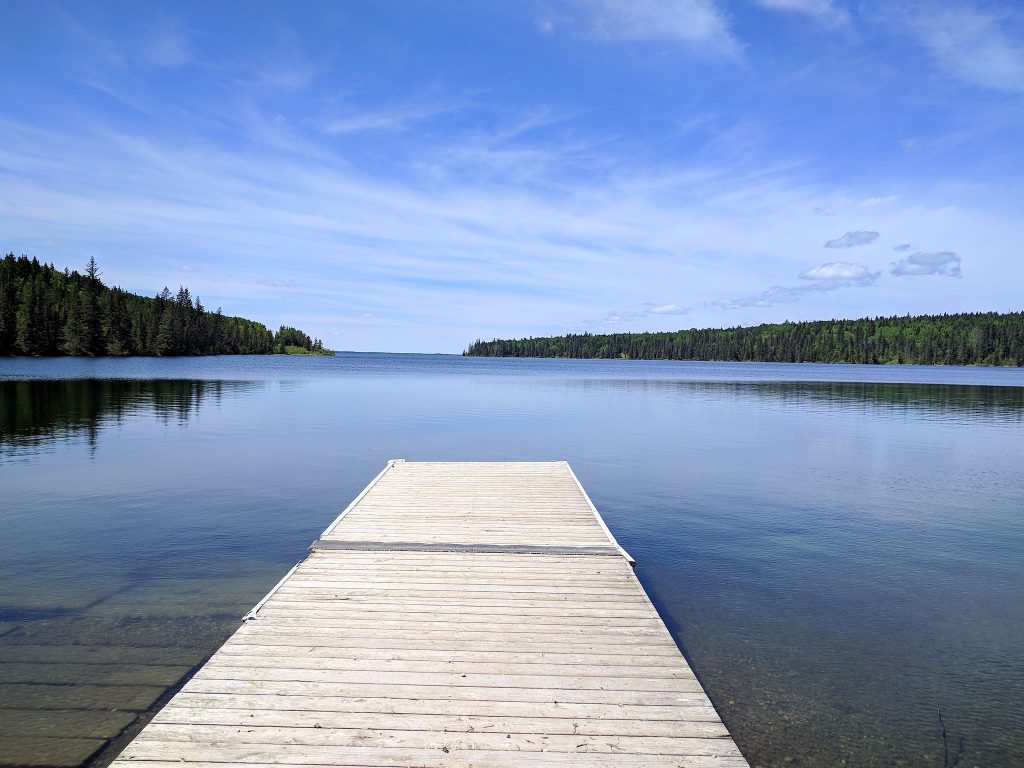 There was something about the town that said: Chill.
There are several trails leaving from town, so we opted to spend our first afternoon hiking the Wasagaming Trail which took us along the south side of the lake to its eastern most end and back.   It was a spectacular, cool, sunny day. The forecast for the next day, not so much. The park is fairly large and spread out with two scenic drives to different highlighted areas. Considering the forecast, we decided to drive to Lake Audy and a nearby bison range where we saw (from a respectable distance) mom and her brand new baby (born in May) calf. We also drove to a relatively high overlook that reminded us that we're on a geological feature surrounded by plains. Oh, and after raining for 10 minutes, it turned out to be a cool, sunny day.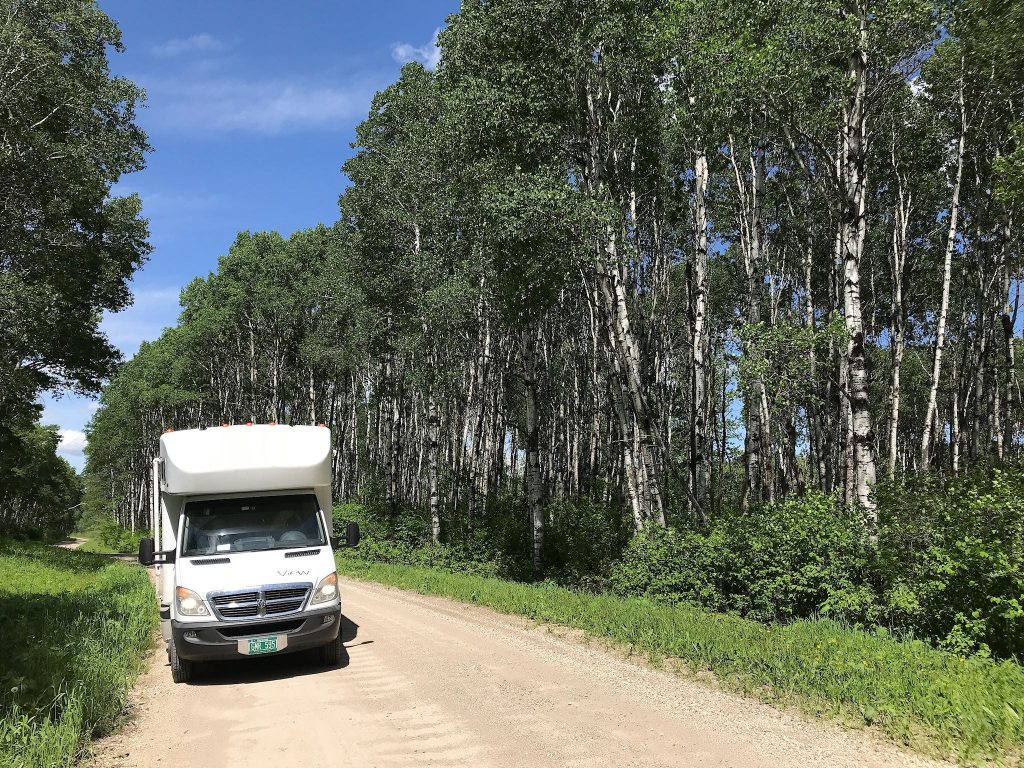 We had heard about the great hiking in the escarpment and had planned to hike on our last day in the park. However, we learned that the main road to the trailhead was not yet open for the season. We could hike there yet would need to travel over an hour each way to the trailhead.
Perhaps the universe was talking to us. Again it said: Chill.
We slept in. Walked into town and sat on the beach. Spent the afternoon playing music.*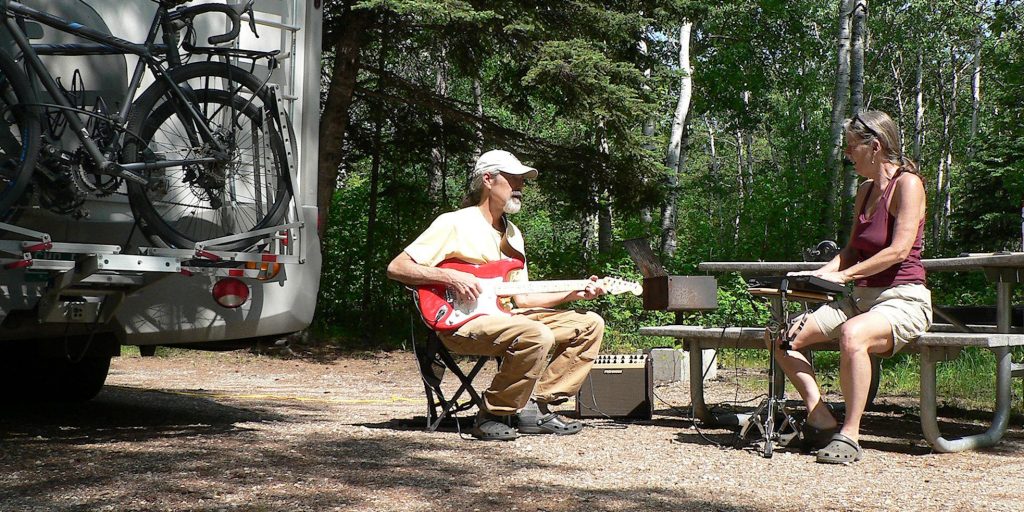 There are advantages and disadvantages to visiting national, state and provincial parks in the early and late season. Roads aren't yet open or are already closed for the season. Staffing is reduced. Visitor centers and other services have limited hours. Yet, we still love early/late season visits. We sat on the beach for an hour, sharing the space with a mom playing in the sand with her 2 kids. Can't imagine this place with 40,000 cottagers…
For anyone who's interested, more Wasagaming, scenic drive, camp jam and repair pix…
*Yes, I am still and will always be a drummer. However, as I recover from a shoulder injury which is aggravated by drumming, I've been learning to play chords on a mini, battery operated, perfect-for-RV-travel keyboard. Doug could play his guitar with a professionally recorded backing track. Or, he could play with me hacking away at chords and occasionally providing kind, gentle barking noises about playing in time. He chooses me!