Living in an RV 6 months at a time is different from taking a vacation in an RV. It's not just that life goes on while we're on the road, our life is on the road! Several times in a 6-month trip, we need to pull in for some major provisioning. Our RV needs maintenance, the pantry is bare, the fridge is empty, the freezer is getting thin and we need a few special items. One such recent stop for us was in Edmonton, AB.
Having spent the past 8 weeks, if not in the middle of nowhere, then certainly on its periphery, and much of that time on unpaved roads in northern boreal forest, our bug- and mud-encrusted RV was in serious need of a wash. And not just a hose in the driveway. Being 11 feet tall, what we need is a truck wash. (We tried a self-service truck wash once before and it was less than 100% successful. We were both soaked after an hour with brushes, spray hoses and different soaps and mostly what we managed to do was spread the dirt around the truck and convert it back into mud, for which we paid by the minute.) So our first stop was at City Truck Wash where their experienced and efficient crew managed to get our rig sparkling clean.
Stops at a conventional grocery and natural food store replenished all of the empty shelves, bins and boxes. Visits to hardware and auto parts stores were also part of the drill to refill the spare parts bin with screws, duct tape, superglue, some tail-light bulbs, and a couple of  quarts of oil. We also made a stop at an old-fashioned, bricks-and-mortar book store. We were heading for the Canadian Rockies during peak season, so a National Park/hiking guidebook was essential to do some planning.
Our trips are a lot longer than the distance between service intervals on our vehicle, so we have to get that done on the road, which requires us to be at the appropriate time in the same town as a trustworthy Mercedes or Freightliner Sprinter shop and schedule an appointment. We were going to be a few hundred miles overdue for our major service at about the same time we'd be swinging by Edmonton on our way down from Yellowknife, and there was a Mercedes Sprinter dealer on the west side of town with good reviews.
Our timing was most excellent. We were in Edmonton during a rare heat wave with temps above 34 C (94 F).  So we spent 5 hours in an air-conditioned, nicely appointed Mercedes-Benz waiting room, complete with complementary beverages and lunch. By the time the truck was ready, the temps has started to temper, and we had researched and picked out 30 or so hikes to consider while in the 7 National Parks we planned to visit in the Canadian Rockies.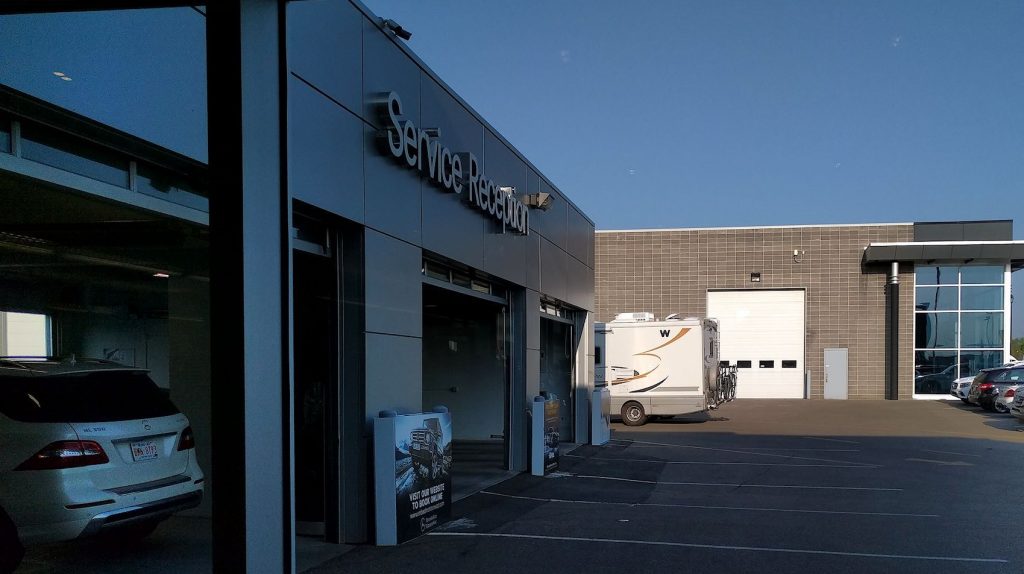 We've got a lot of hiking to do, so gotta head west…