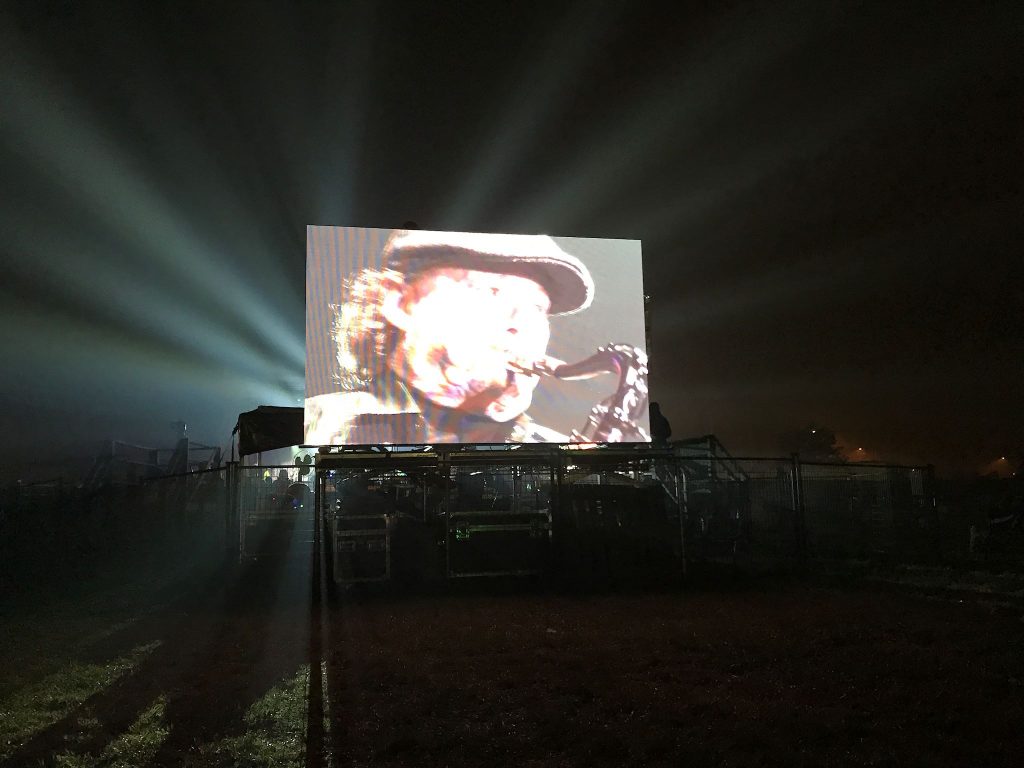 That word Smokin' in the title is an intentional double-entendre. Both potential interpretations are relevant and accurate.
We'd taken an excursion to Penticton for a visit, and part of our intention after that was to spend a little more time away from the national parks in the Canadian Rockies during the prime vacation period. Well, right between Penticton and Revelstoke is this place called Salmon Arm (which you can pronounce like "seminar," except you add an M at the end) where they've been putting on a huge music festival for three days every August for, like, 28 years.
This year's Salmon Arm Roots & Bues Festival was impacted by surrounding wildfires in BC, responsible for the tinted sky and the overall sepia hue in the three photos just below. This might be a new and regular feature of late summer in this part of the world. It's very much like what we experienced across the Pacific Northwest US at the same time last year, and they're back there again, too. I know there've always been wildfires, but they do seem to be getting bigger, more frequent, and more intense. So, anyway, that's one of the two smokin' aspects of the festival. Climate change is real, friends, and we've all got a bit of work to do.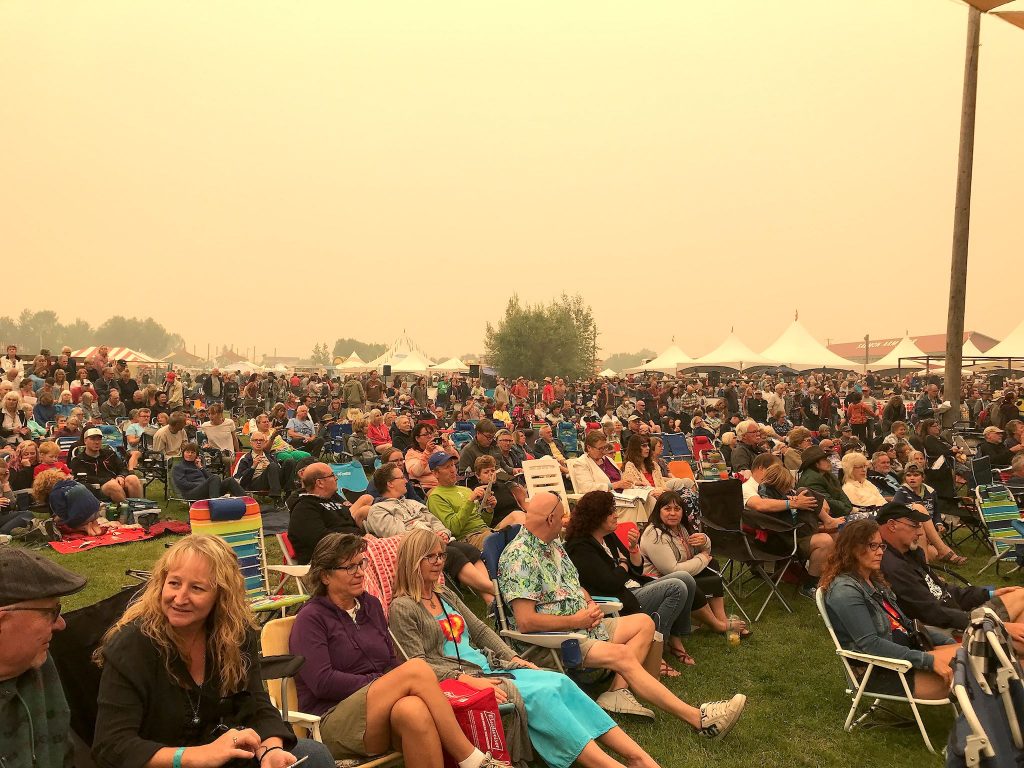 I hope that in the rest of the photos and the remainder of this post we also capture the other kind of smokin', and that you get a feel for that, too.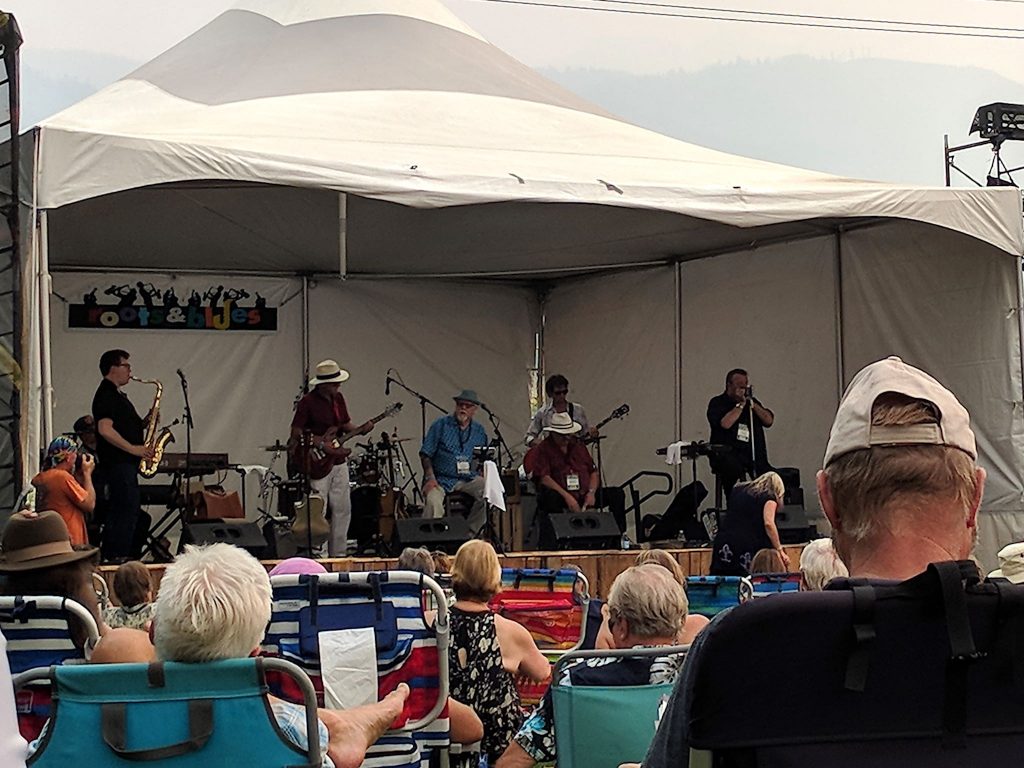 The festival lineup was great. There were names from the US that we knew (Bill Kirchen, Rick Vito, Michael Franti, The Family Stone), also the UK (Martin Simpson), a number of the Canadian artists we've been learning and hearing about this summer (Brent Parkin and the House Band, Harry Manx, Big Dave McLean), and a good number of new-to-us acts that earned permanent spots on our playlist (Lil' Jimmy Reed (US), MonkeyJunk, Paul DesLauriers Band, the Lil Smokies, Steve Dawson, Colin James).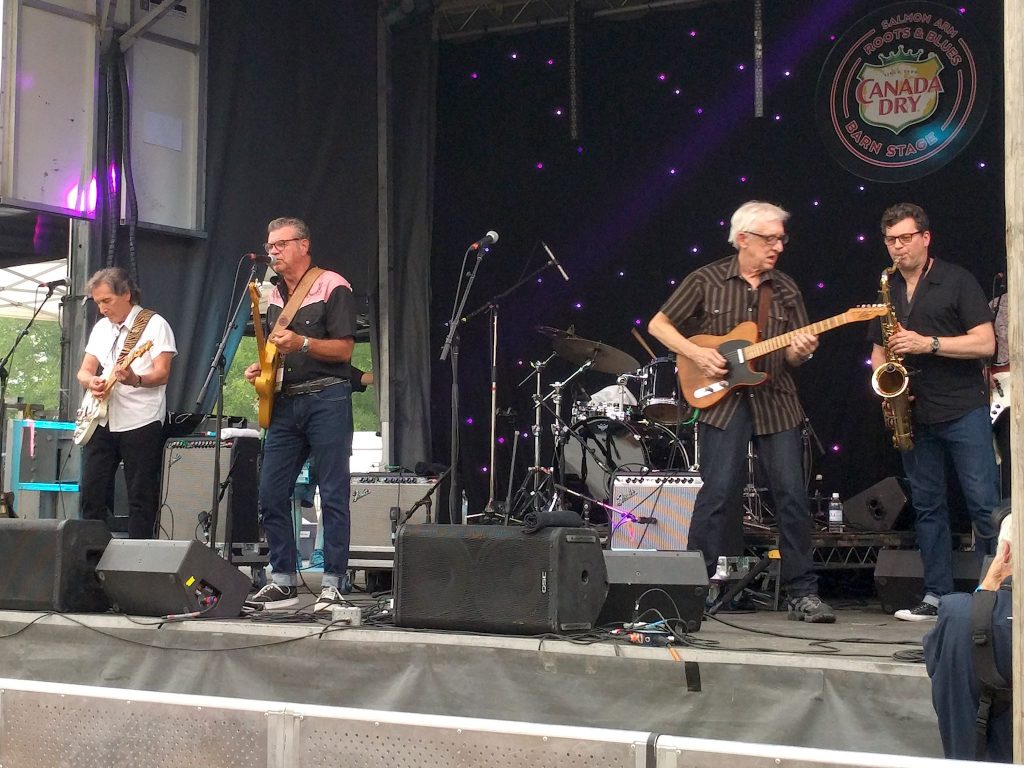 There were a few stages running simultaneously during the day. We spent most of our time at the CBC Blues Stage, with a few dalliances to the Barn and the Shade stages. Most of the sessions were workshops with members from a handful of acts working around a particular topic or theme under the direction of one of them who was the designated "host." The Blues Stage workshops invariably and inevitably became the most awesome blues jams we've ever been to. It was incredibly illuminating (and useful) for us to watch these professionals manage their way through songs they may never have heard before, with 8 other musicians they'd never played with before, and just nail it to the wall every time.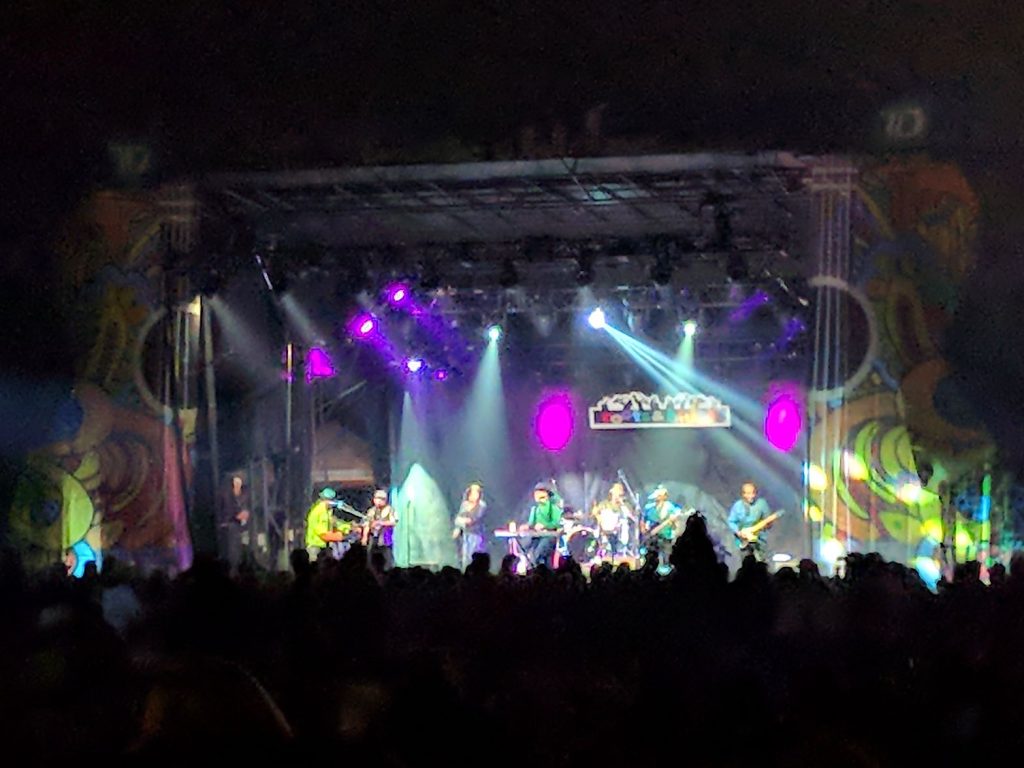 As evening rolled around, the action moved over to the Main Stage. We'd grab ourselves something to eat, take it over to the chairs we'd set out upon our arrival in the morning and settle in. On the first night we saw one of my finger-picking guitar heroes, Martin Simpson. The opening night headliner was American singer/songwriter and social activist Michael Franti who gave a great show. Night two began with Louisiana bluesman Lil' Jimmy Reed, definitely a highlight of the weekend. The closing act was The Family Stone, which includes two of the original band members (saxophonist Jerry Martini and drummer Greg Errico), who were everything one would hope for. This act was especially fun for us since we worked up some Sly and the Family Stone songs with our ensemble, back home last winter in Vermont.
Sunday, the final day of the festival, was huge. The final Blues Stage workshop drew the biggest workshop audience they'd ever had, and the jam group had them all on their feet and dancing. The sky cleared up nicely – not completely, but it looked much more blue than brown – and by evening we could see the moon and a couple of stars! Bill Kirchen and Jimmie Dale Gilmour were our pick of the evening sets on the Main Stage and Bill did his current signature version of "Hot Rod Lincoln" which I will not describe here in case you have a chance to see him do it yourself.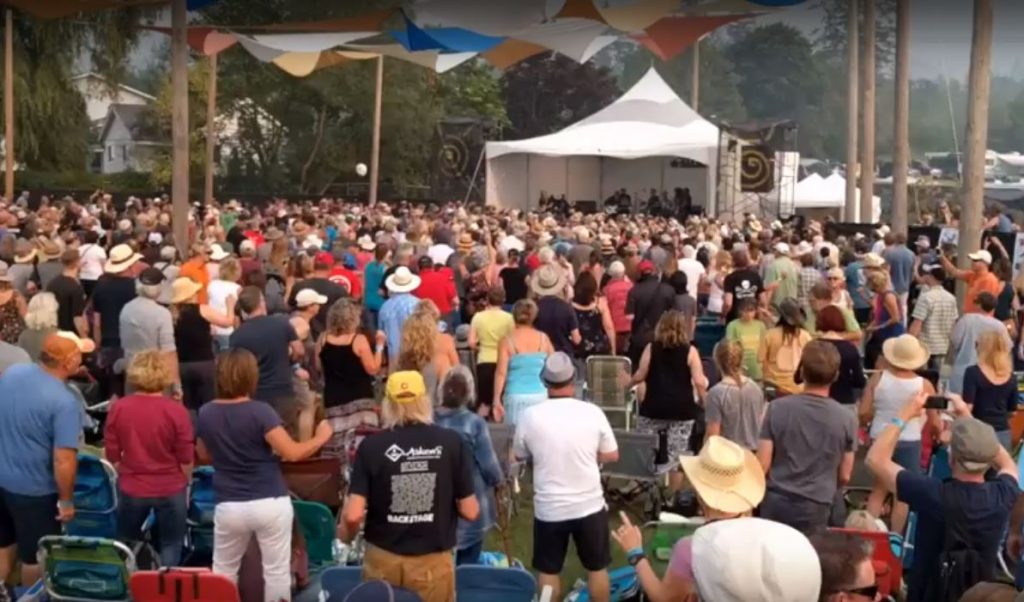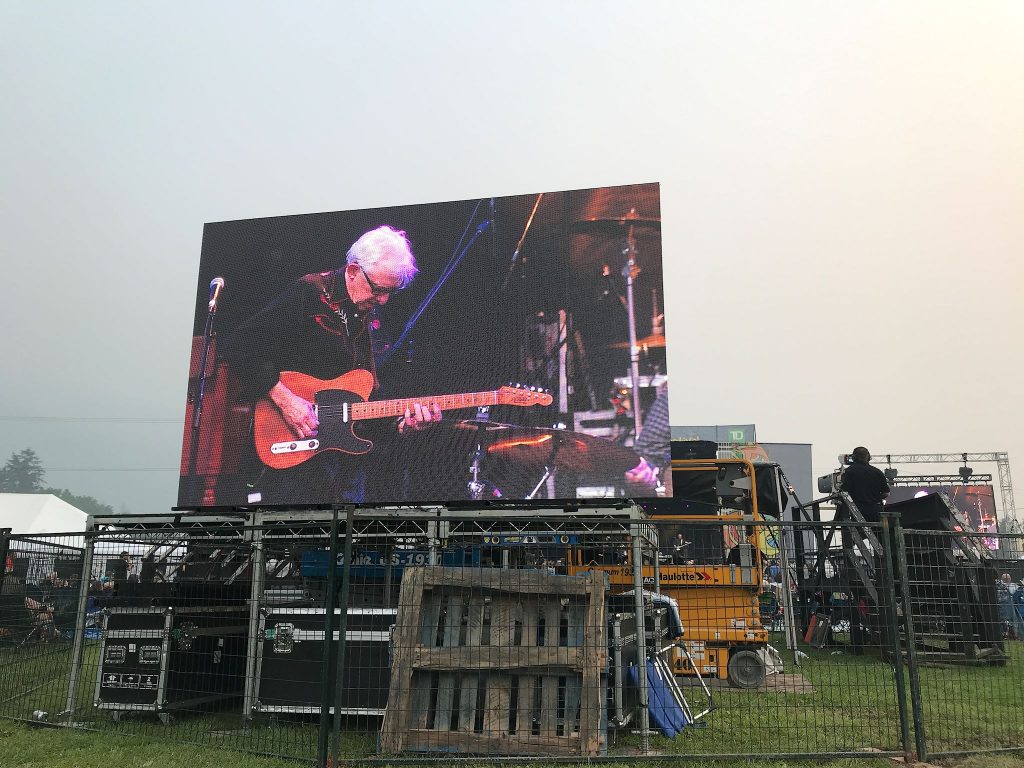 The final act drew the day's huge crowd and kept the energy level high. Colin James is a blues-focused guitarist and singer/songwriter. He and his band toured with Stevie Ray Vaughan back in the '80s as SRV's opening act. Since then he has put out a huge catalog of songs that (it was clear from the audience reaction) are hugely popular here. We were not familiar with his music before the festival, but we'd just seen him work his magic in the World's Most Amazing Blues Workshop jam and we were looking forward to this set. He definitely got our toes a-tappin' and our feet stompin', right along with everybody else's, and I think we were the only ones who didn't know all the words to these great songs.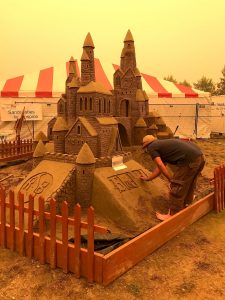 More photos here.