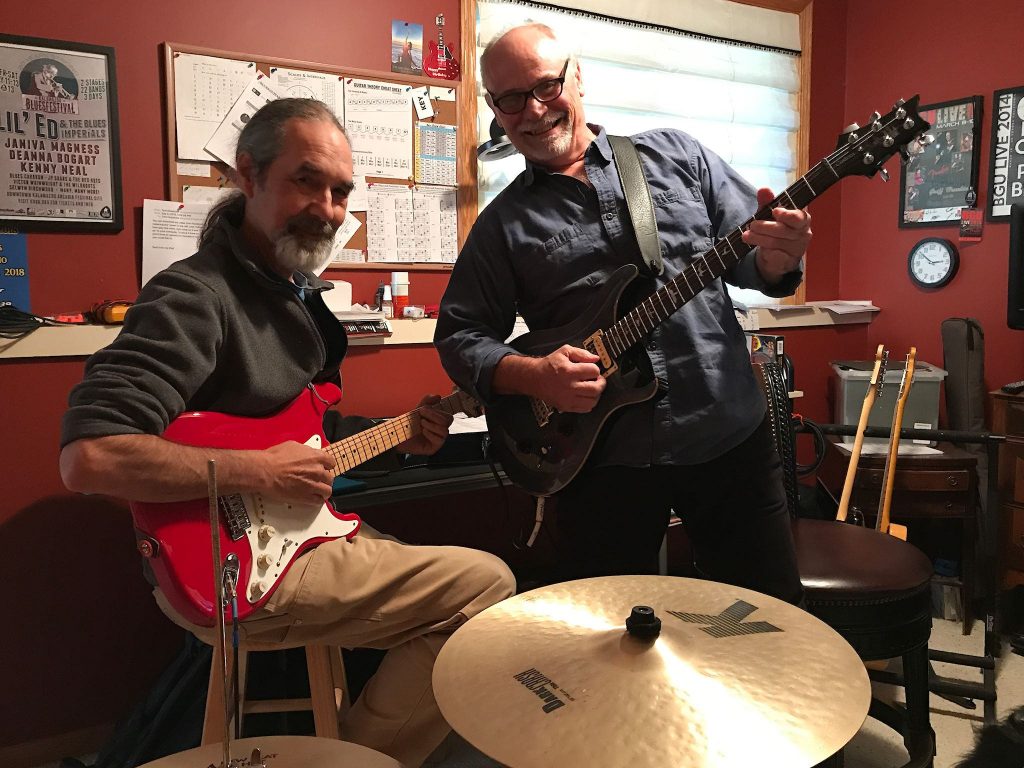 The more we travel, the more places there are that we have been to, and the more likely we are to cross a path we've followed before. Such was the case as we figured how we were going to get from St. Louis to Vermont. Suppose we went up to Michigan, then back into Canada and around the north side of Lake Erie? Well, looky here, that path might go right by Kalamazoo!
In July 2016 we were in Kalamazoo and stayed with my guitar pal Tom and his wife Laurel in nearby Portage, while we all binged out on the blues. On this trip we had time for a just quick visit (almost a fly-by, except we were driving) – still, we managed to squeeze in three jam sessions and a blues show. We missed Laurel, who was traveling herself, though we got to know Archie, who had not yet joined the household when we visited last.
These "jams" were informal and straightforward – two guitars and drums (just the three of us) in Tom's music room, heavy focus on blues standards, split up by a break for dinner and a live music show at a local lounge, then back at it again with another break to catch the end of World Series Game 2 (and get some sleep!), picking up again finally for a few tunes after breakfast the next morning before Sue and I hit the road.
The act Tom took us to see, A.Mays & Blue, are a R&B/funk/blues duo we'd enjoyed at the the Kalamazoo Blues Festival in 2016. Alex Mays' guitar playing was fun for me and Tom to watch up close. Eddie "Blue" Lester, on saxophone, had also hosted the jam at the Old Dog Tavern where we got to play (back in 2016 – all part of the bingeing!). Cool to see them again! Worth a listen, here.