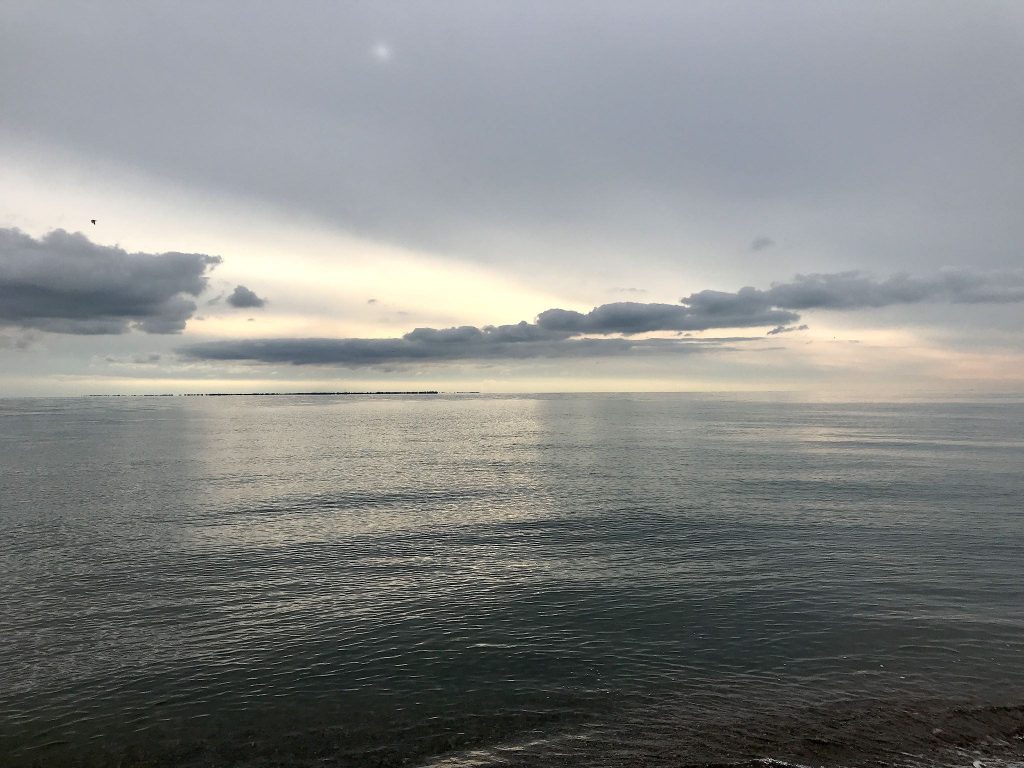 So yes, the most direct route from Kalamazoo to Vermont goes through South Ontario, from Detroit to Buffalo. We'd not yet visited that part of Canada. And we had the time for one more adventure!
Of course, as is our nature, the first thing we did was make the direct route a little less direct… This tiny slice of Ontario touches three of the Great Lakes. We can see them all! And to do so, we used our proven-based-on-vast-experience, late season approach to planning – where can we find places to stay.
We crossed back into Canada at Detroit/Windsor and head toward Point Pelee, the only National Park in South Ontario. The park is literally a sandy point with The Tip sticking out 7 k (4.5 mi) into Lake Erie. It's is predominantly a birdwatchers' paradise hosting nearly 400 different species migrating through its marshes and woodlands.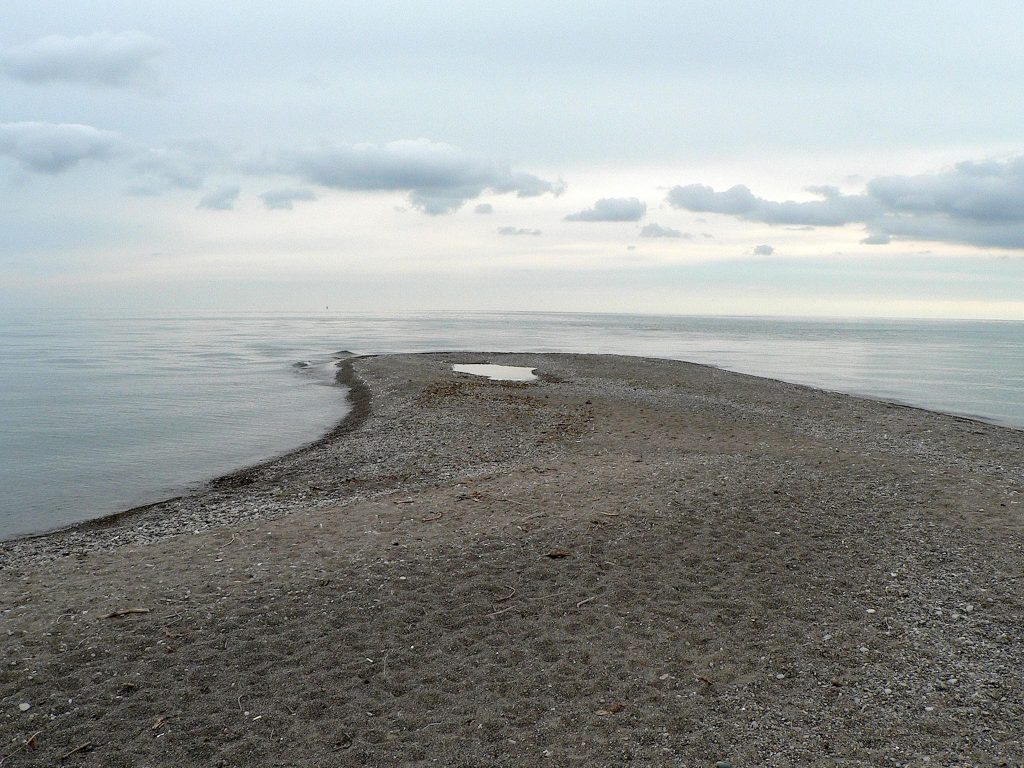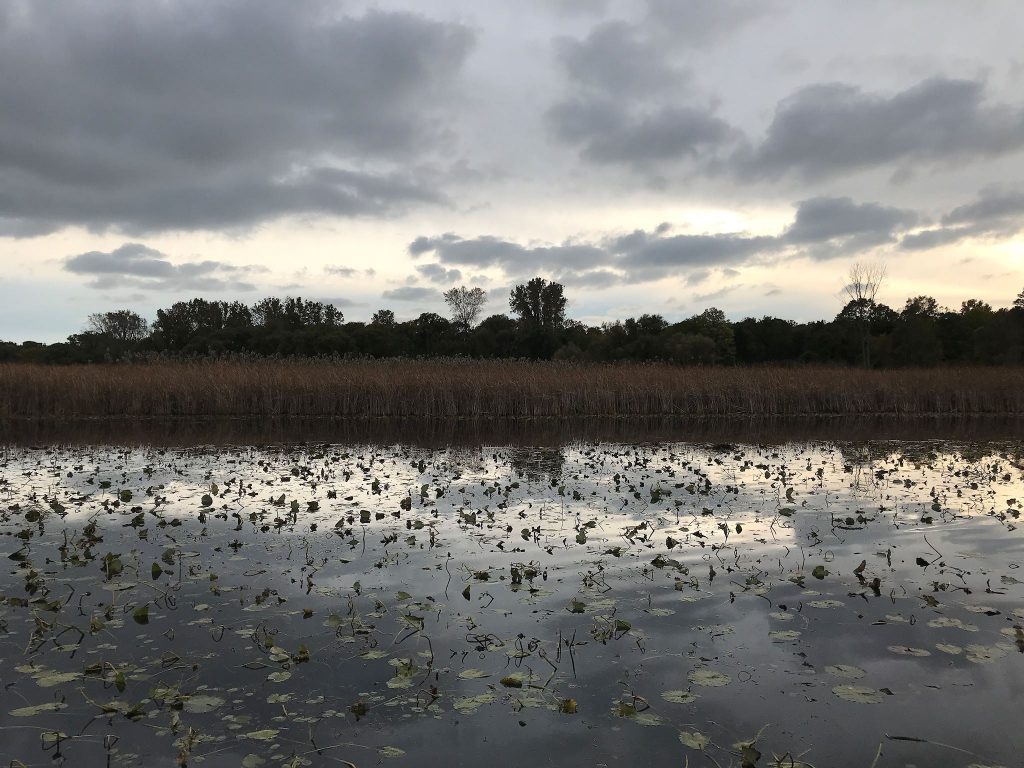 We had a delayed reaction to the historical and personal significance of the Point Pelee as it slowly dawned on us. It is the southernmost National Park in Canada. It is also the southernmost point in mainland Canada (Middle Island in Lake Erie is about 30 k (18 mi) further south) and is directly across the lake from, although not quite in sight of, Kelleys Island in Ohio which we visited in 2016. It's accessed by the southernmost paved road in Canada. Nearby Windsor is the southernmost city in Canada. (We'd recently visited the northernmost city – Yellowknife – via the second most northern paved road.) Point Pelee is south of Boston…
In addition to the 3 Great Lakes, there's one Very Good Lake touched by this part of Ontario. We head a bit north from Point Pelee to Mitchell's Bay, ON where we caught a quick peek at Lake St Clair. Although smaller than the nearby Great Lakes, Lake St Clair is large enough for a water horizon – we looked back toward yet couldn't quite see the shores of suburban Detroit which we had just visited.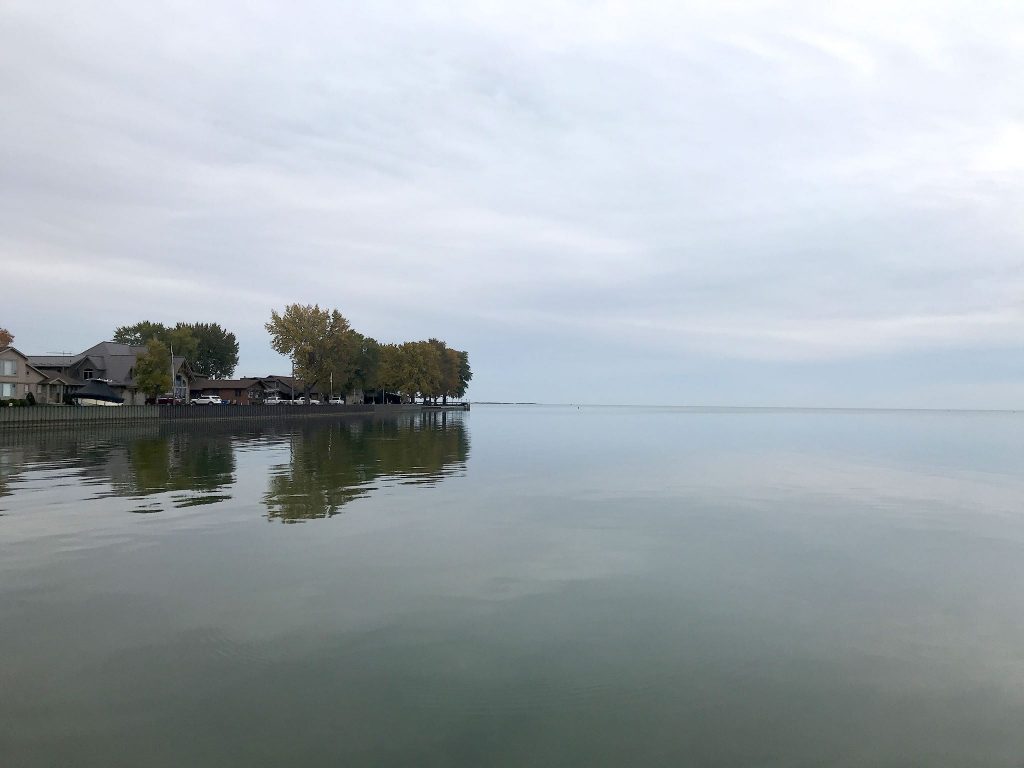 Our next stop was Pinery Provincial Park, a unique geological ecosystem on the southern shore of Lake Huron. Pinery is a rare oak savanna in Canada (most are further south in North America) in which oak trees are the dominant species within grasslands, creating a naturally diverse environment. Pinery is also part of natural littoral cell system whereby sand erodes into the lake and transports the sand to a different location on the lake, building sand dunes. Over time (a long time), the system reverses itself.
A hike along the beach and sand dunes reminded us of our recent visit to Mackinac Island at the opposite end of Lake Huron.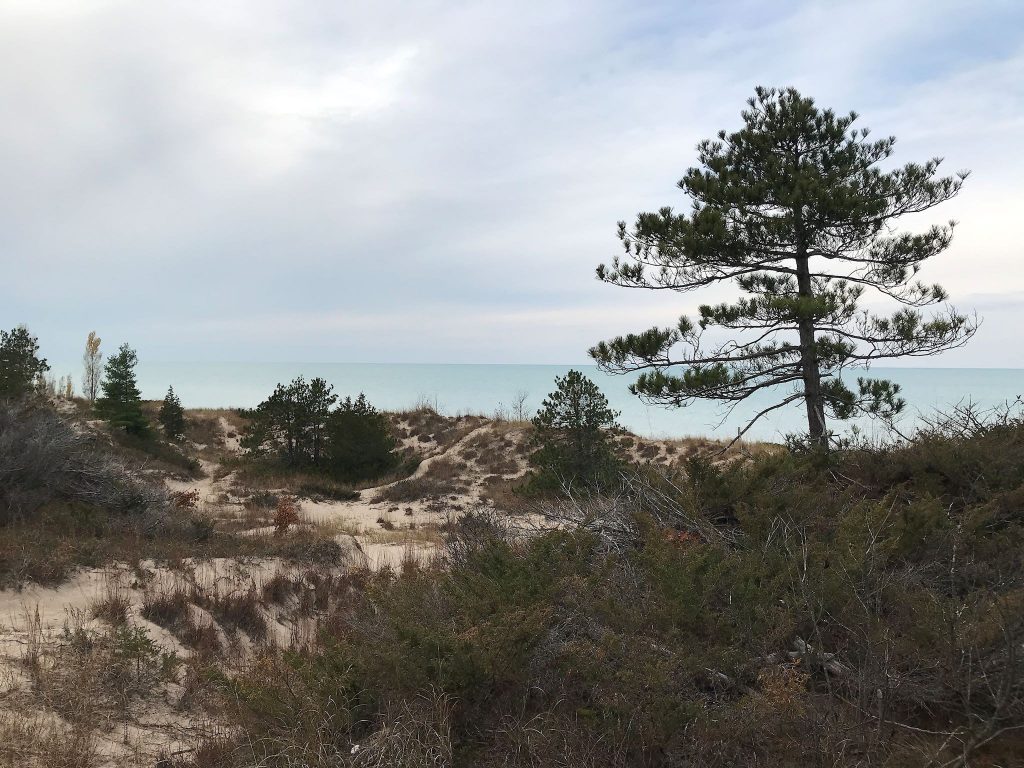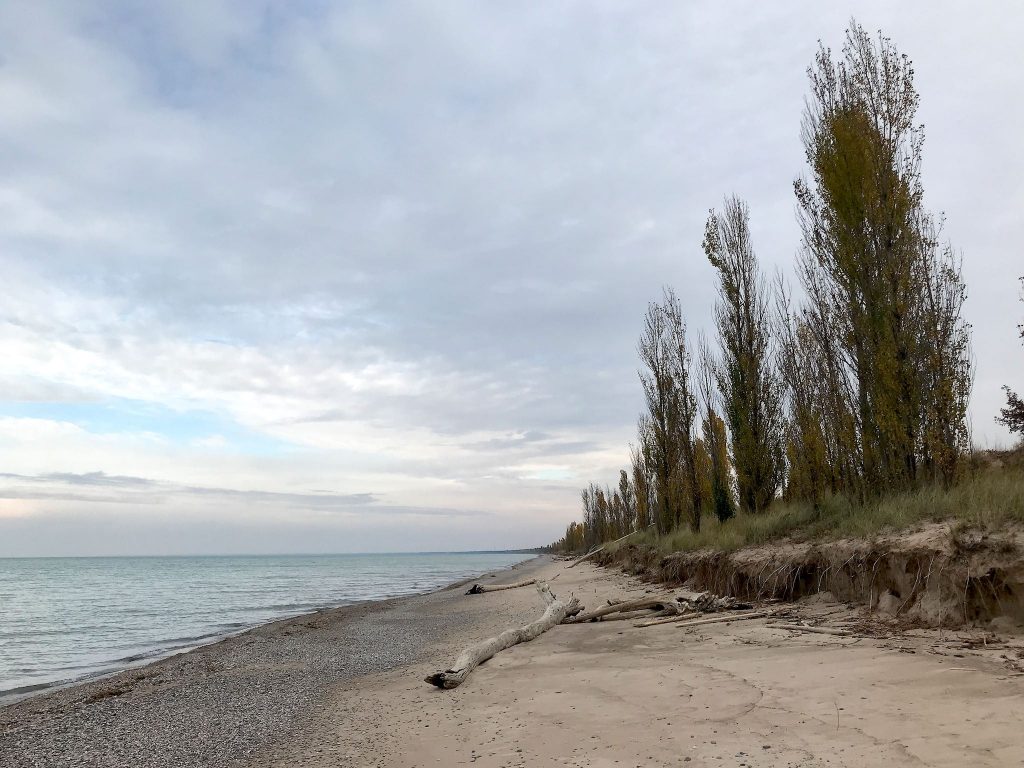 Driving through the mostly flat farms and orchards in South Ontario, we began to notice something we hadn't seen in a couple of years – fall foliage featuring bright red maples! Beautiful! We continued east and suddenly descended about 100 m (330 feet). Hmmm… We had just dropped down over the Niagara Escarpment, the longest continuous set of cliffs in North America, the same cliff that serves as the drop-off for nearby Niagara Falls.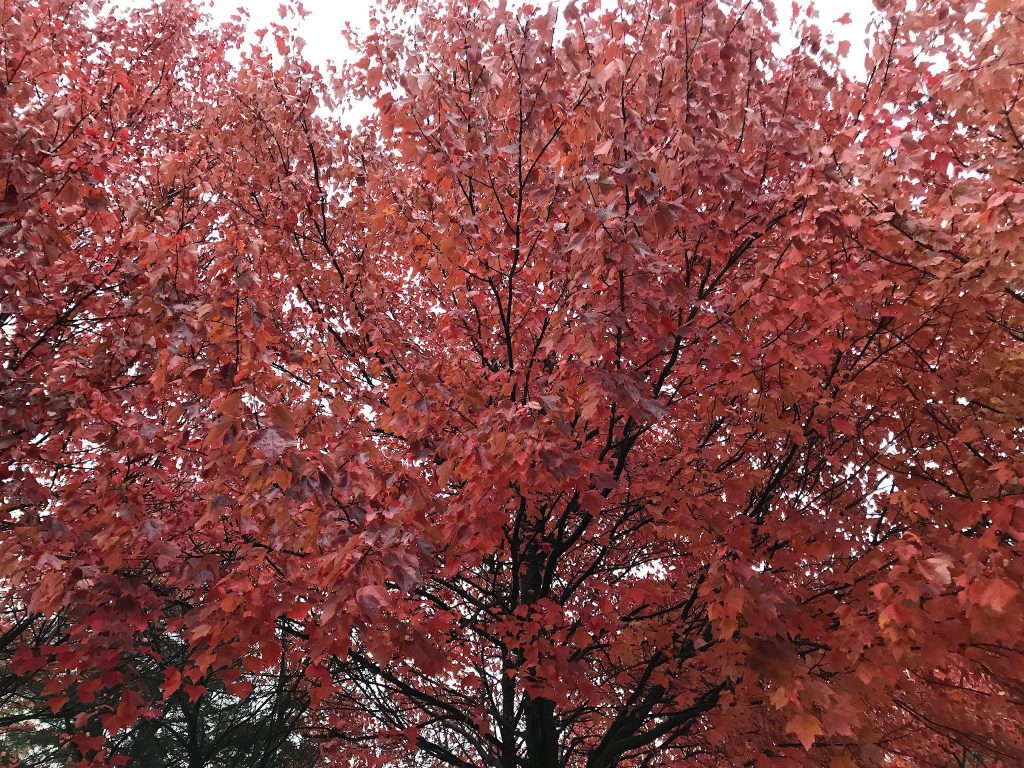 Our route took us through a narrow bit of land just north of the city of Hamilton, crossing the western end of Lake Ontario. On a stormy day. With humongous waves. And kayakers and surfers seizing that day. We ended up at Fifty Point Conservation Area, a pretty recreation area and marina on Lake Ontario just barely outside of the city of Hamilton. Known for pretty sunsets, we enjoyed a walk on the beach noting the effects of the funky light, wind and rain on the sights. And we recalled fondly our 2016 visit to Thousand Islands, at the opposite end of the lake.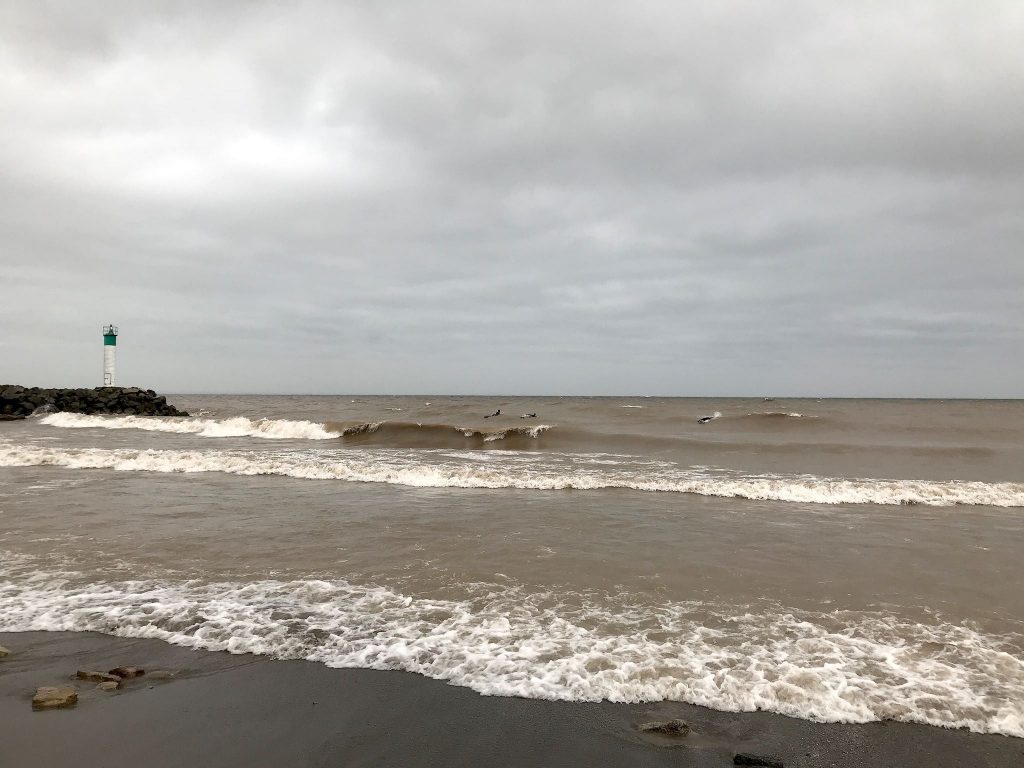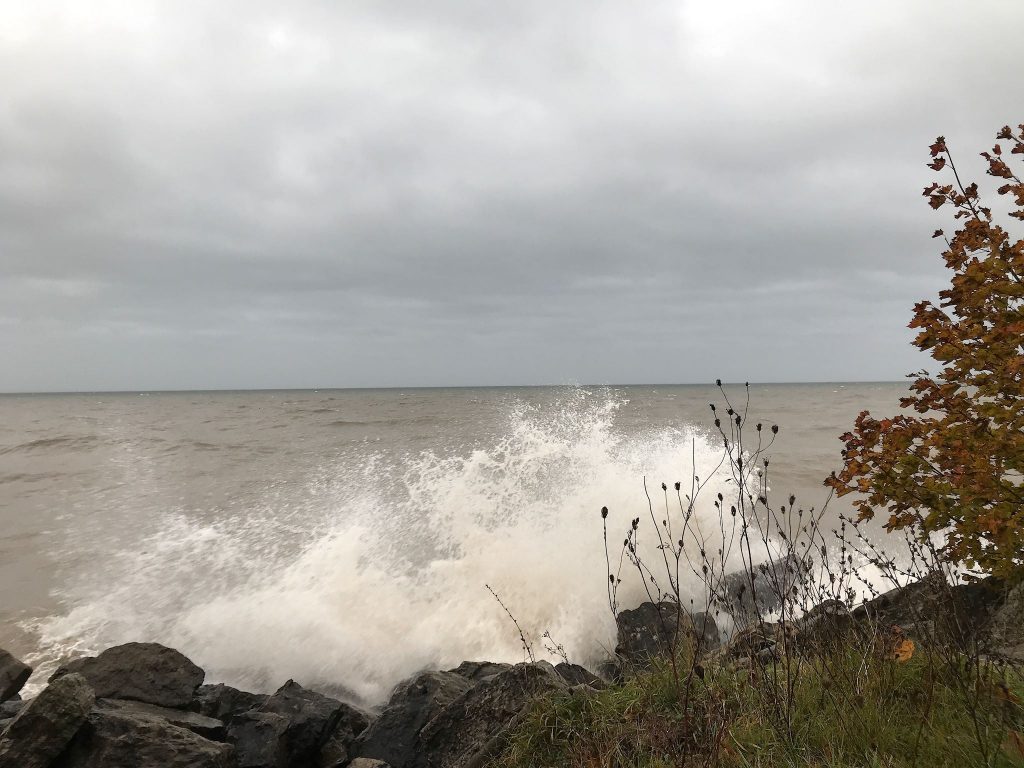 For anyone who's interested, more Point Pelee NP, Lake St Clair, Pinery PP and Fifty Point pix…