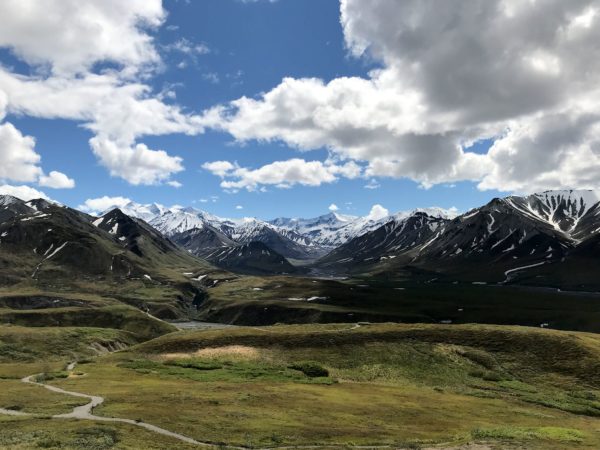 Denali is Athabascan for 'The High One.' That is an understatement. There is so much rich, fascinating history about Denali and its relationship with the history of Alaska, gold mining, environmentalism and national park development it's hard to know where to start. So, I decided to start with an abbreviated, simplified history of the Park Road.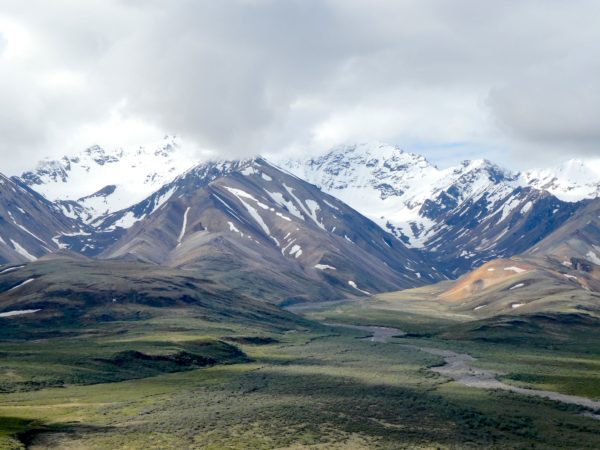 Denali National Park is enormous. At 6 million acres, it's almost three times the size of Yellowstone National Park. Thanks to the passion and foresight of Charles Sheldon, the area became a National Park in 1917. At that time it was a pristine wilderness area accessible only by foot, horse, nordic skis, or dog sled. A crude, 92-mile road through the center of the wilderness area was started in 1923 and reached Wonder Lake and the gold mines at Kantishna in 1938. Miners, the Alaska Railroad, and the National Park Service collaborated to meet multiple goals – get the gold and have something for railroad passengers to do when they got to Denali, while still preserving the wilderness.
In 1958, the rugged, unpaved Denali Highway was completed from Paxson to Cantwell, for the first time allowing visitors to drive to Denali from the mainland and quadrupling the annual number of visitors to the park to 25,000. In 1971 the George Parks Highway connecting Anchorage and Fairbanks was completed, with another significant jump in annual visits to 88,000. In order to balance the competing priorities of access and preservation, the decision was made to close the park road to personal vehicles in 1972. Since that time, park buses and other NPS vehicles are the only vehicles allowed on the Park Road. Brilliant! By the late 70's, annual visits had reached the 200,000 mark and are currently over 600,000.
People come to Denali for many reasons. Most come to see Denali (or at least to try – The High One spends most of the summer in the clouds), to see wild animals in their natural settings, and to experience one of those zen things like being one with nature at its grandest, breathing the Denali air, etc. We have to include hiking on the list. The Park Road and its buses enable all of that.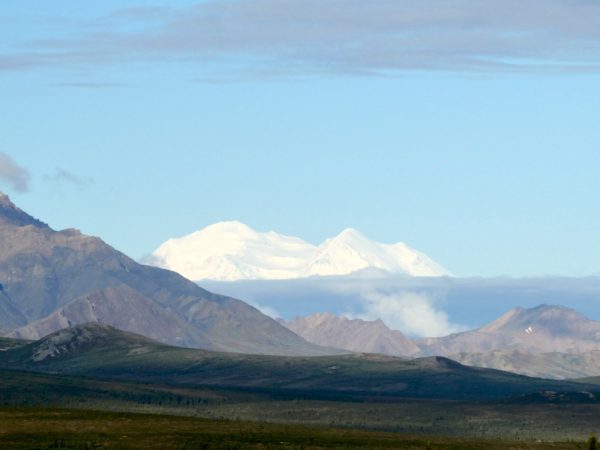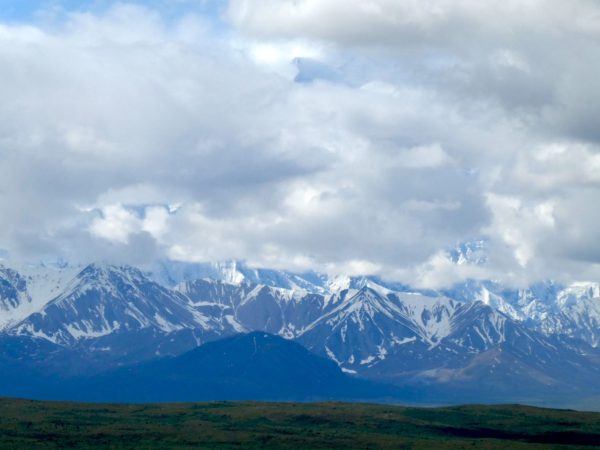 We joined the 6:15 am, 85-mile, 12-hour Wonder Lake bus trip on our first full day in the park. Nine miles from the start we turned a corner and there it was! Denali! Both peaks! At first, it didn't seem like a mountain. Then it sunk in. We saw the elusive High One! We were still 80 miles away as the crow flies, and we still had 11 hours to go on our bus ride. The base of the mountain was thick with clouds and we were aware it could be the last time we'd see it that day, but… We saw it!
We were fortunate to board the bus more or less in the middle of the small pack of early risers and snag a front seat. We enjoyed front row views of the sights as well as the engineering marvel that is the Park Road. It winds along and at times across wide, flat braided rivers left behind by glaciers. It hugs the contours of mountains and cliffs as if carved into them. Scenic stops and the Eielson Visitor Center are well spaced in terms of time and situated to maximize views. Although the Park Road starts paved, it becomes dirt after about 15 miles, then narrows to single lane with pullouts at about 31 miles.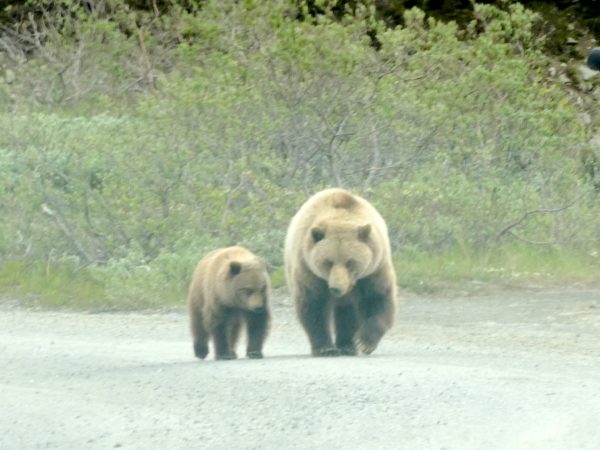 And the critters! With only a limited number of green, tan or white buses plodding along at 30 mph, the wild animals become accustomed to their presence. People are only allowed off the bus when no animals are around to keep the wildlife unaccustomed to and (mostly) afraid of humans. We saw probably a million arctic ground squirrels, nearly a million snowshoe hares, scores of caribou and dall sheep, five moose, three different colored red foxes, three grizzly bears, two marmots, one male ptarmigan flirting with the bus and one porcupine.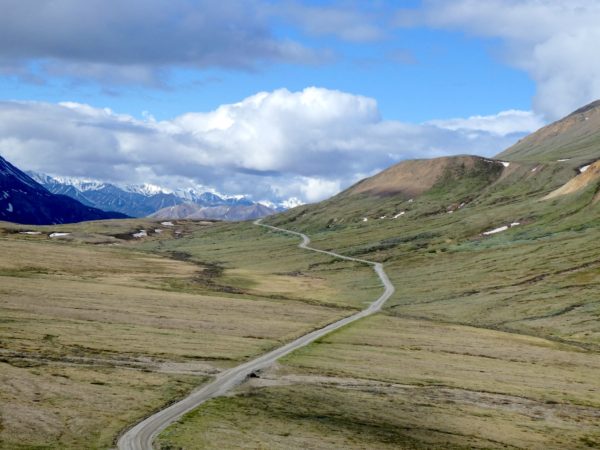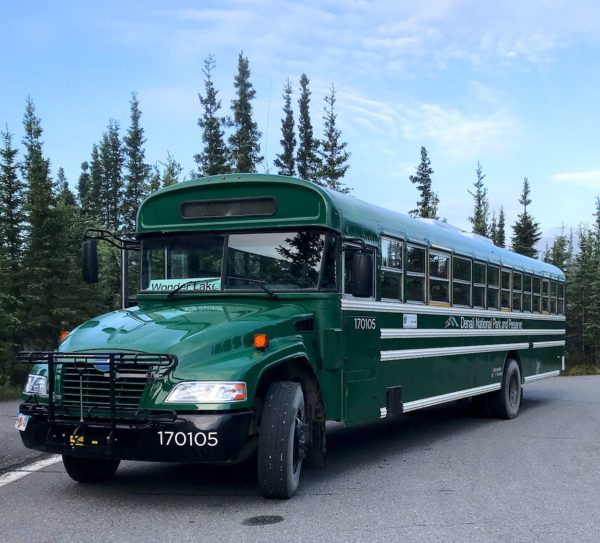 The bus trip would've been worth every penny and every minute had we simply ridden along in silence. Having Wendy as our driver was a super bonus. She's driven the road 3-4 times a week for 17 years. She can tell the difference between a moose antler and tree branch from a mile away. She can tell which light-colored round things in the distance are rocks and which are bears before they start walking around. She knows where, when, and how to stop the bus to make a a momma grizzly bear and her cub feel comfortable walking by the big noisy green thing instead of running off into the brush.
A self-professed 'talker,' Wendy narrated the tour with info about what we were seeing, history, critter behavior, and more, all with a delightful sense of humor. And all that while driving a Blue Bird (like a school bus) for 12 hours on one-lane roads hanging off 1000-foot cliffs while making room for other buses from the other direction, exchanging hand signals with the other drivers about wildlife sightings. Six miles from the end of the 170-mile drive, she still stopped to say hello to a moose and marveled at how beautiful she was. It wasn't until we got back to camp that we realized there were no guard rails anywhere on the road.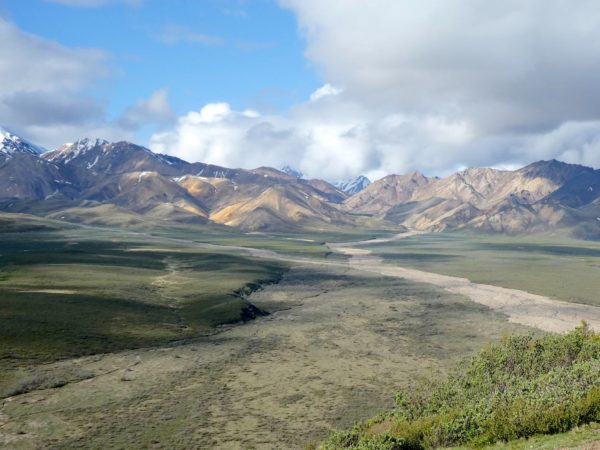 Hiking in Denali is different from any other National Park we've visited so far. Within the 3-million-acre park there are fewer than 50 miles of maintained trails. To keep the park wild, hikers are encouraged to explore. Grab a topographical map, get off the road and go! Follow a river into a canyon! Hike up a ridge and catch views! Although this was very, very attractive and tempting to us, it's more amenable to backpacking than day hiking; a 10-mile day hike would get us just about to the start of those canyons and ridges and back. Also, we don't have backpacking gear with us… So, instead, we decided for this trip to explore the various trails in and around the park.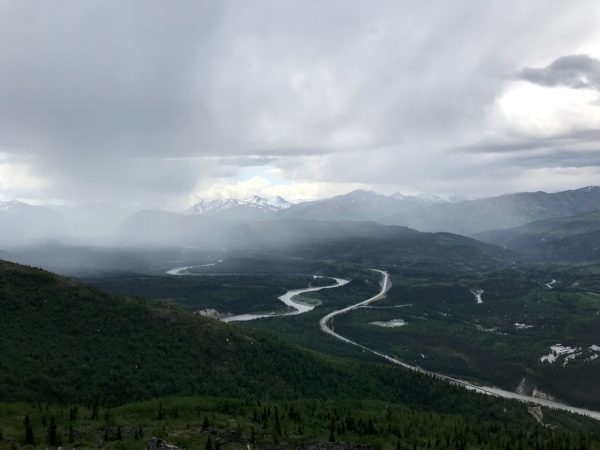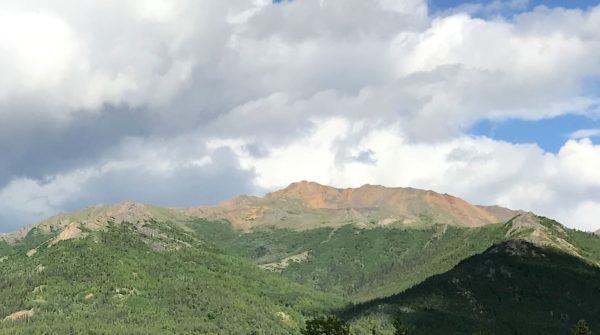 Sugar Loaf Mountain is just outside the park. Our friend Nick from Fairbanks highly recommended this hike for the views – most of the ridge and summit are above tree line. Although there's always a chance of rain in the high mountains, it was looking to be a fine day. We walked to the trailhead from camp, giggling all way up the switchbacks of Grande Drive with its interesting series of signs. The Sugar Loaf Trail started with a bang and never let up as it took the shortest route (straight up!) to tree line. Once above the trees, the view was… interesting. The Nenama Valley shone in both directions. And we could see rain closing in. Donning our rain gear, the hike was not unpleasant as we continued up the rocky ridge. With the summit in sight, a bit of hail joined the precipitation mix and we could hear thunder not too far in the distance. It was time to get off the ridge. The views were stunning, and the sun, clouds and rain created an unusual aesthetic. And by the time we got back to camp, were were dry. Thanks Nick!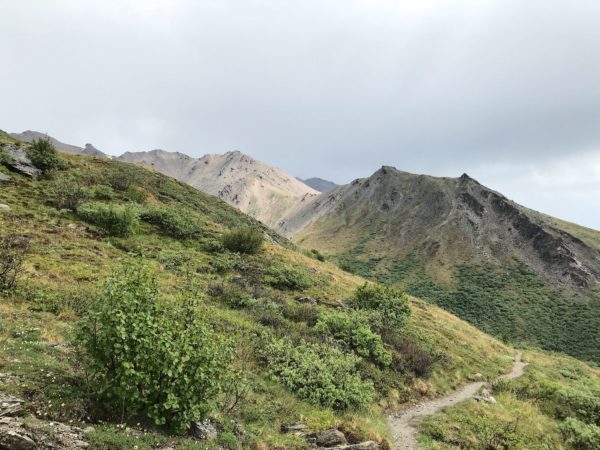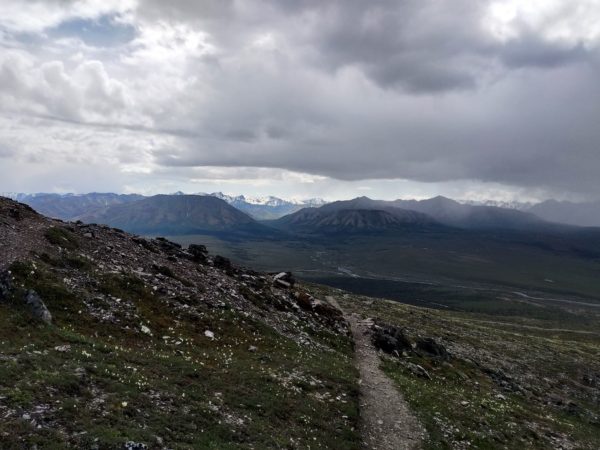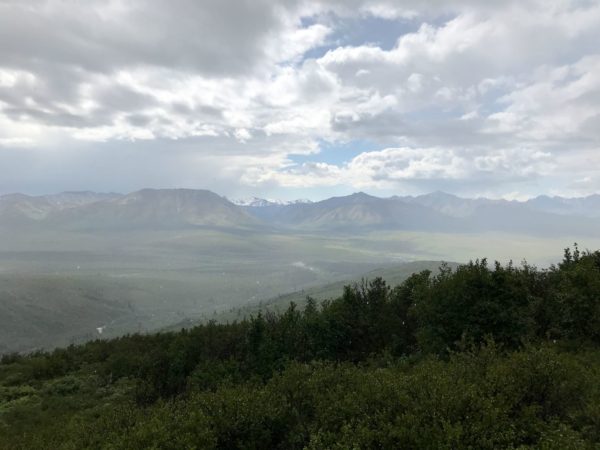 The next day, to maximize our options on a forecasted rainy day, we set off for the Savage River area. The intersection of several trails, and accessible by bus, this area would give us the ability to mix, match and combine trails based on the evolving weather. We started with the Alpine Trail heading up a pretty canyon from the Savage River. The trail hung along the ridge just above treeline, allowing for 270-degree views before descending through a fun series of rocky outcroppings. Although we could see rain moving through the mountains and valley, we spent only about 10 minutes in a relatively pleasant rain shower out of a couple of hours on the trail. We added the Savage River Trail to our route, following the braided Savage River to the point where it converged into a deep narrow canyon as it heads toward the Bering Sea.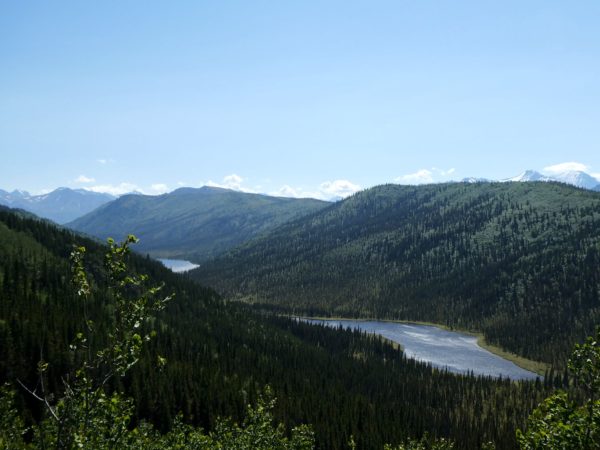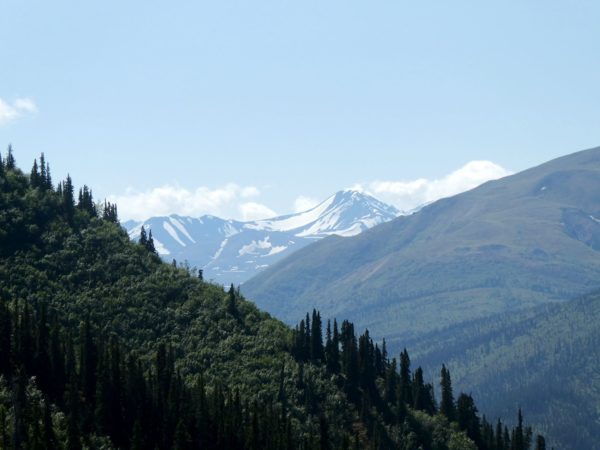 The Triple Lakes Trail was highly recommended by friends Lloyd and Suzanne (Nick's parents, who have the ultimate excuse to visit Alaska regularly from their home in Massachusetts). As expected, the trail included 3 lakes deep into a boreal forested valley accessible only by foot. What we weren't expecting was the most pleasant walk along a high ridge with views into the deep Riley Creek Valley and across to glaciated peaks. Although never more than 4 miles from a road, we felt like we were transported to a vast wilderness. In 5 hours, we met 4 other hikers and saw a million moose prints in the soft ground. Thanks Lloyd and Suzanne!
And yes, there was the zen thing. We've been here just over a week. We feel like we've been here forever. Perhaps we live here. Perhaps we're one with nature. This is Denali! It's hard to leave.
For anyone who's interested, WARNING! More pix than usual. Could be the Denali zen thing. Or something that happens when you spend 12 hours on a bus. Grab a Tall One and enjoy! More Riley Creek Camp, Denali Visitor Center Campus, Denali Park Road, Grande Drive hike, Sugar Loaf Mountain hike, Savage hikes, Triple Lakes hike pix as well as a compilation of critters in and around Denali…