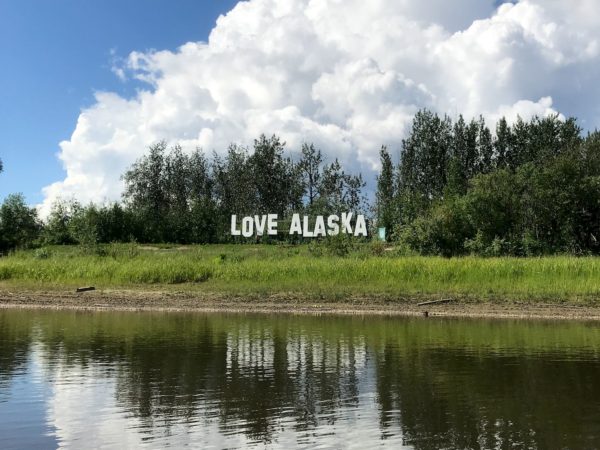 We've known Nick for a pretty long time. He was 2 months old when we first visited Stump Sprouts, the World's Greatest B&B, owned by his parents Lloyd and Suzanne in the Berkshires. Little did we know at the time, that visit would evolve into a same-time-next-year, Memorial Day get-together with a group of close friends for over 30 years. Through the years, we got to know Nick initially as a little guy hanging around, then a kid who could come on some of our shorter bike rides, then as a teen who'd kick our butts on our longer bike rides. Then, he was off to college. Although we saw less of him, Lloyd and Suzanne kept us updated. As a young adult ready to take on the world as a nordic ski coach and continue living his outdoor adventure lifestyle, Nick moved around a bit, settling in Fairbanks.
We checked in with Nick. C'mon over!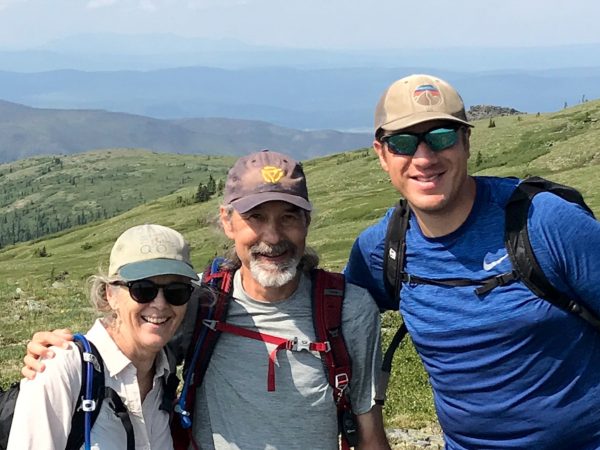 As the head coach for nordic skiing and cross-country running at the University of Alaska Fairbanks, Nick's schedule is flexible in June. Most of that time is filled with special projects, and some was available to join us on an adventure or two and help us with things to do in Fairbanks. Nick greeted us with a giant smile, big hug, space for our rig in his driveway, and a list of recommendations for enough things to do if we wanted to spend a month in Fairbanks. Each day we'd check the weather, the list, and our schedules and come up with a plan.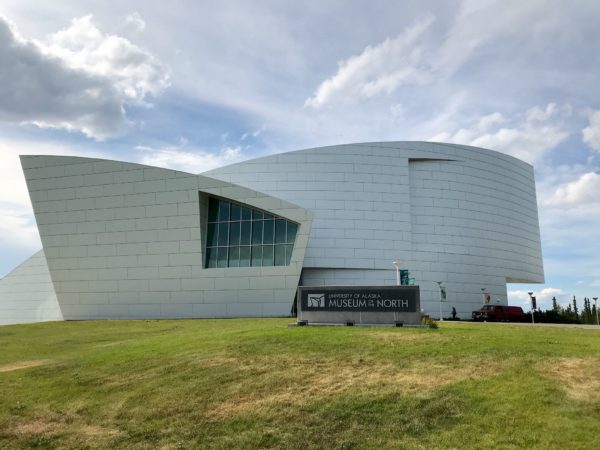 After 10 days in and around Denali, re-provisioning was in order. Fairbanks was the perfect spot to shop for food and a few missing items, refuel and optimize our tanks. We mixed these tasks with items from Nick's list. We really enjoyed the Museum of the North at UAF. It had separate exhibits for each of the 5 regions of Alaska, highlighting unique native cultures, history, terrain and critters. We were greeted by Otto, the 8 foot 9 inch brown bear. (Brown bears are grizzly bears that eat mostly higher-in-calorie-and-fat fish, so they grow larger than inland grizzlies.) Given that our explorations so far have been limited to the Interior and Southeast Alaska, it was fun to see what lies ahead.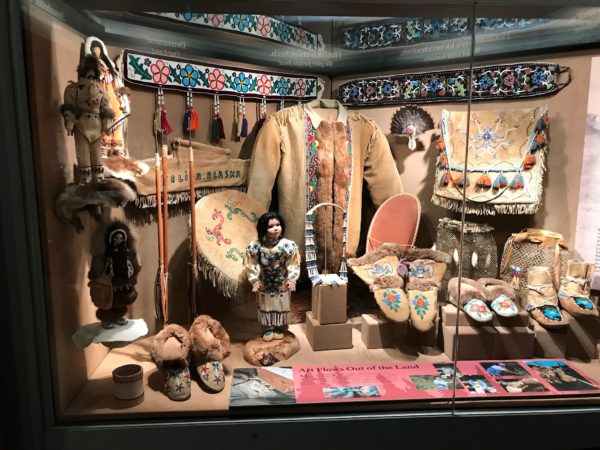 The Morris Thompson Cultural Center features the Interior Region and the native Athabascan culture. The exhibits give a view of the indigenous culture through the perspective of 4 seasons. In summer '…everything is in love, everything is in a hurry to enjoy the short summer of the north.' Indeed, the summer exhibit was the smallest, featuring hunting and gathering and preparing for the long winter and all of its activities. We're not able to visit most of the Interior since there are almost no roads, so we were happy to see these presentations and photos of some of the beautiful towns and river valleys where the Athabascans live a mix of subsistence and modern lifestyle, traveling by boat or plane.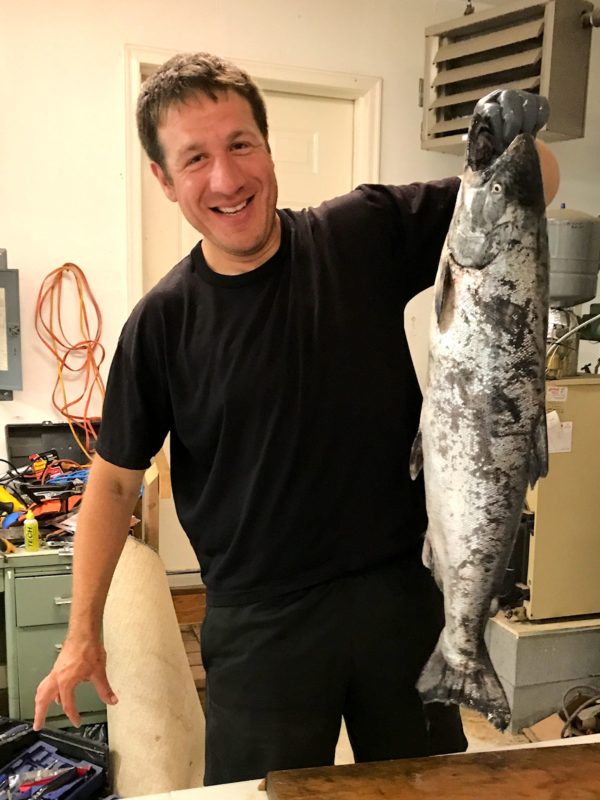 Nick's projects are varied and interesting and fun and very Alaskan and he invited us to sample bits of each. Alaskans, including transplants, are self-reliant sorts, often feeding themselves locally. Nick is proficient in projecting salmon runs on the Copper River and upon our arrival was heading out to catch enough fish to fill his freezer for the winter. When he got back a couple of days later, we watched in awe as he prepared and filleted the catch, including a 33-inch king salmon. We enjoyed fresh, wild-caught salmon grilled to perfection while meeting Nick's friends Katy and Eric.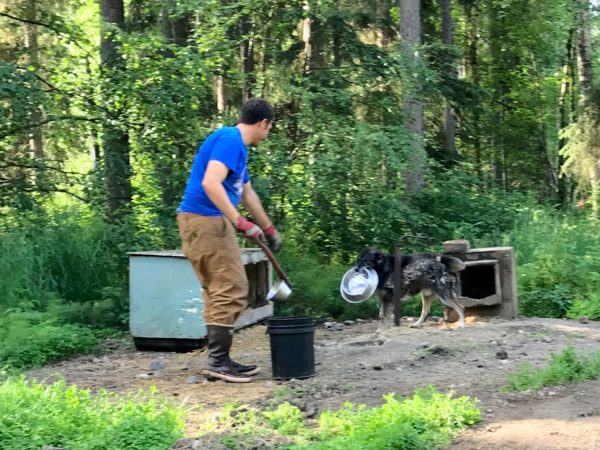 Mushing is totally Alaskan as sled dogs are a great way to travel over the snowy frozen terrain of most of the state in winter. What do sled dogs do in the summer? Most vacation. Yup, they rest up and hang around. They still need to be fed and exercised and cared for. We were Nick's apprentices as he made his rounds at the dog yard. He expertly prepared their food and scooped out servings to the 40 anxiously awaiting dogs while greeting them all by name (maybe a few were made up…). Then it was our turn. Significantly less expertise is required to 'care for' this fun group of dogs. We scratched their ears and chatted with each as we made the rounds scooping up their poop. This was a lot more fun than it probably sounds…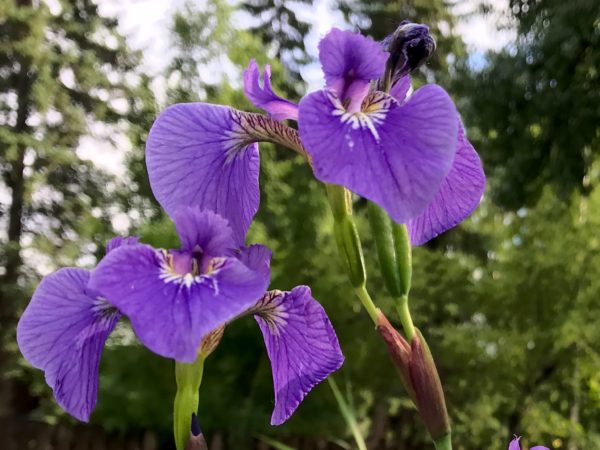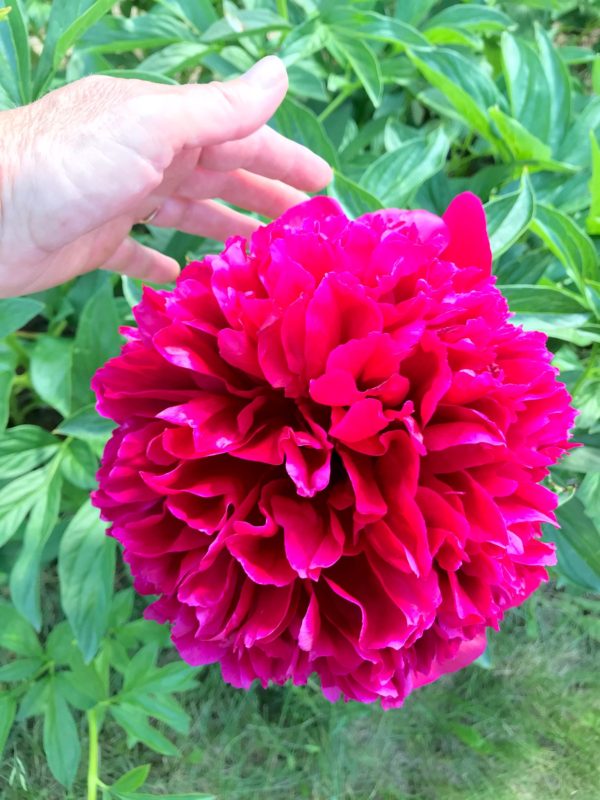 Nick's front yard is a nice mix of bed and container flowers and vegetables, and given his green thumb, it's no surprise that another of his projects is packing Alaska peonies at a friend's farm for export to the lower 48. Professional florists like working with these striking flowers and their gigantic blooms. Peonies only bloom once a year, all at once, so growers in various climates make it possible to have these blooms available throughout the year. The shorter, cooler Alaska growing season means that peonies (usually) bloom later in the summer, extending their availability for summer and early fall weddings. It's been a little warmer here than usual this summer and the peonies were exploding! They needed to be picked and processed quickly, so we became apprentices again, distracted just a bit by the incredible color display at the farm.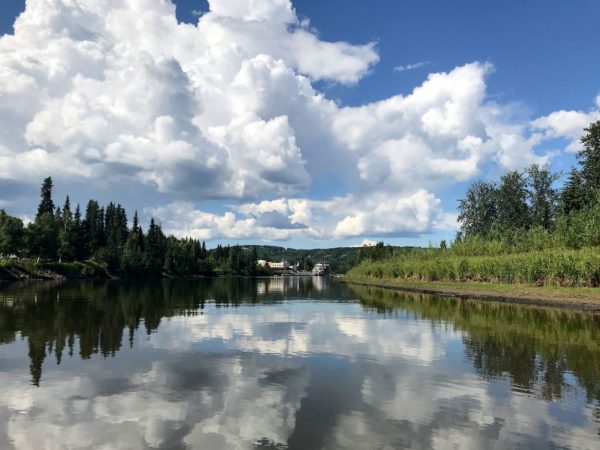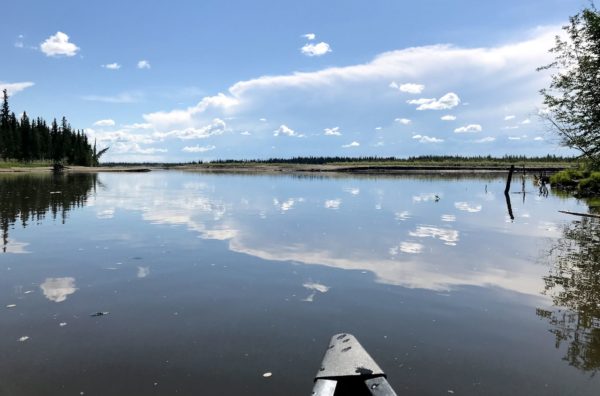 Of course, there were outdoor adventures! On a day Nick planned to spend at the peony farm, he dropped us off with Katy and Eric, who loaned us a canoe. He would pick us up 4-5 hours later at a boat landing near the peony farm. Brilliant! From their backyard on the Chena River east of downtown, we headed off to see Fairbanks from a different perspective – on the water. We saw hundreds of beavers (they're camera shy, preferring to give us a tail slap on the water then dive underwater), ducks, geese and one muskrat. The river winds through downtown Fairbanks and residential neighborhoods highlighting varied decks and platforms for sitting by and enjoying the river. We also passed the dock for the Discovery III, a stern-wheel paddle boat carrying hundreds of tourists along a short, scenic section of the Chena. We ended the paddle soon after entering the Tanana River. It was amazing to watch the effects in the water at the confluence of the muddy Chena River with the glacially-fed silty Tanana River. It was a truly gorgeous, hot day with a gentle breeze – perfect day for a paddle!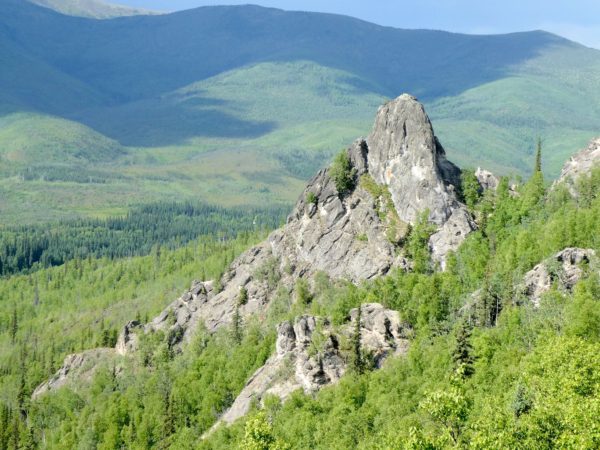 We were on our own for a day and selected the Angel Rocks hike from the list. Had we just driven to the trailhead up the scenic Chena Hot Springs Road, we'd have said 'Wow!' and gone home happy, but of course we didn't. The Angel Rocks are a series of 8 granite outcroppings arrayed on a forested hillside, connected by a loop trail starting from the North Chena River. The trail presented a mix of boardwalk, steep switchbacks, and rock scrambles and provided long views in all directions. We were like little kids scrambling up the angels in search of cool views and the most creative angles for photos.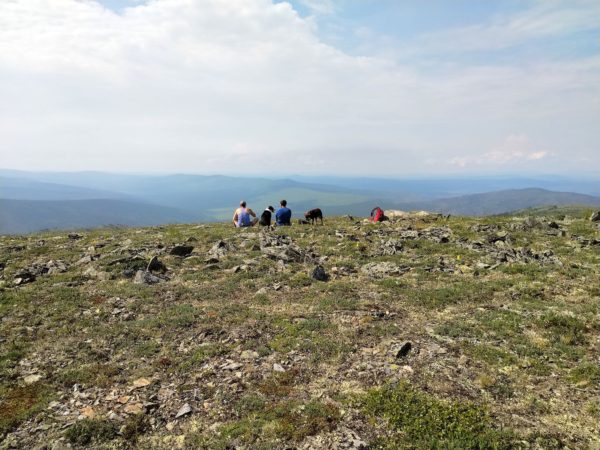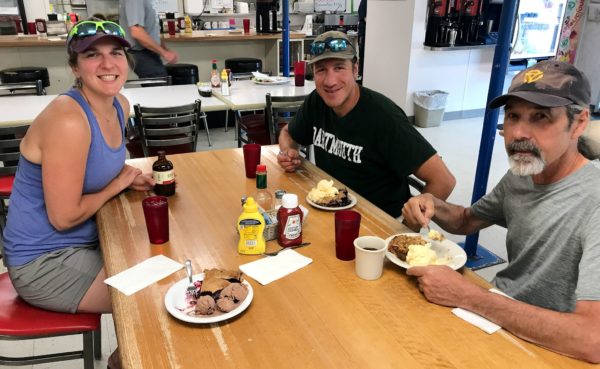 Nick and his friend Claire, along with Bodie and Lunchbox (I didn't make this up), joined us for the last adventure – the hike to Wickersham Dome, also from the list. The Wickersham Dome Trail starts about an hour's drive north of Fairbanks, on the borderline between the boreal forest and the tundra. The trail begins with an easy climb through stunted trees and soon rises above the trees into an open tundra. Reaching the the summit of Wickersham Dome, we once again found ourselves marveling at a 360-degree view, including a peek into the White Mountains wilderness area. Nick once again delivered on an Alaskan secret… Pie at the Hilltop Truckstop. The perfect apres hike delight!
Did we get through the list? Not quite. We sure did our best to pack in as much as we could while in Fairbanks. Perhaps we'll need to come back… Thanks Nick!
For anyone who's interested, more Museum of the North, Morris Thompson Cultural Center, salmon run, sled dogs, Nick's garden, peony farm, Chena River paddle, Angel Rocks hike, Wickersham Dome hike pix…