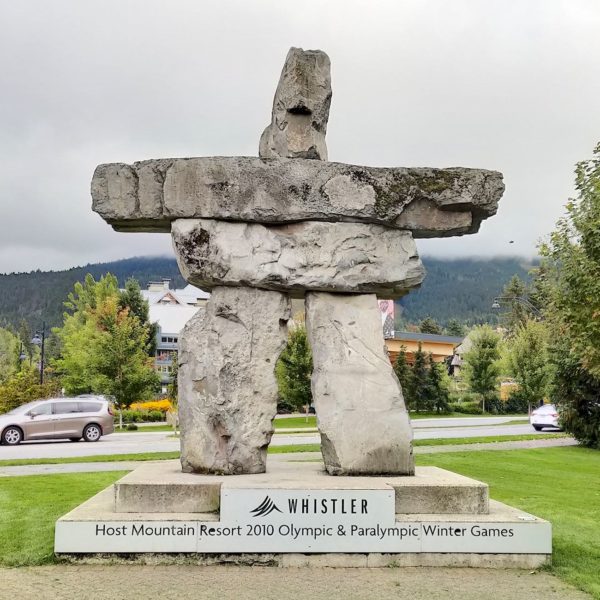 South of Williams Lake, we needed to choose among four routes heading further south through the mountains of southern BC. Though all four promised amazing views and mountains and crazy roads and funky towns, we could explore only one. We're at that time in this year's trip where we need to think about weather and getting back to Vermont before it snows (too much…)
Based purely on sentimental reasons, we decided on the Sea to Sky Highway. We'd drive it just for the name! As hard core skiers, it would be enough that this highway passes by Whistler-Blackcomb, the largest ski resort in North America, rated one of the top ski areas consistently since the 1990's. It was also the site of one of the infamous annual ski trips of our early adulthood with friends Pat, Geoff, Harry and Karen. That was in 1997…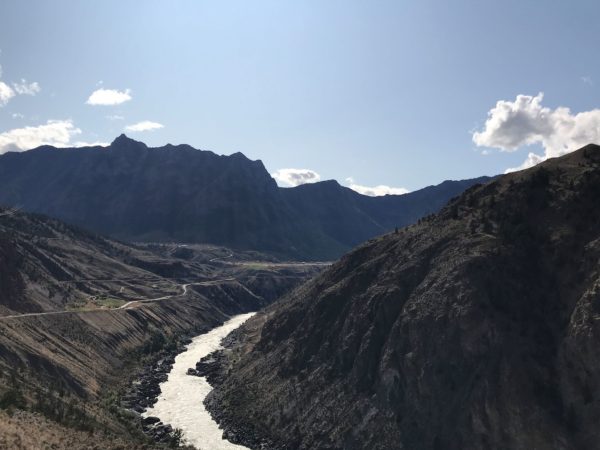 The road heads southwest from where we were, climbing alongside the Upper Fraser River Canyon for a good bit with canyon walls so deep and steep that there's only an occasional glimpse of the river below. Roads are carved into the sides of the mountains – in some places, we could see the railroad carved into a parallel slice above or below. Lillooet, BC is perched on the edge of the canyon and the road descends around the town to cross the Fraser River before starting a climb into the Cayoosh Valley near Seton Lake.
Partly due to rain, partly due to steepness of the mountains causing neck cricks, we could sense (though not see) the peaks we were weaving through on this, the 'sky' portion of the road. Descending some of the steepest switchbacks we've ever driven, we found ourselves in Pemberton, BC, just beyond Cayoush Pass, the highest point on the Sea to Sky Highway. And not very far from Whistler Village.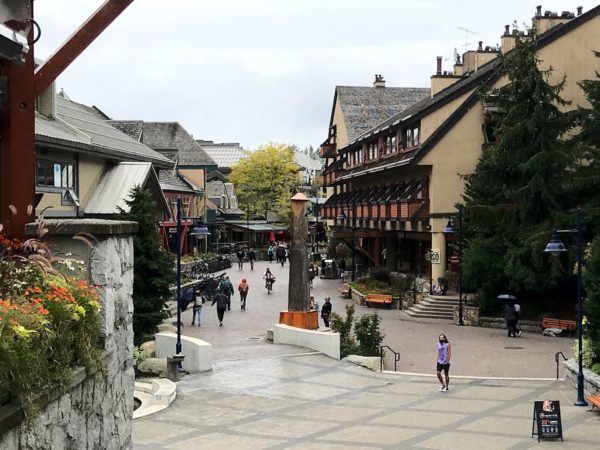 Wow! Hosting the Olympics – as Whistler did in 2010 – changes a town. What was in 1997 a relatively large ski town with lots of slopeside hotels, condos, restaurants and ski shops was now a super-busy, tourist-infused and totally unrecognizable Tyrolean-inspired village with separate neighborhoods connected by heated walkways, alleys, underground parking garages, and shops, shops, shops. The current full time population (12,000) is almost twice what it was on our last visit…
Not easily deterred, and carrying a bucket full of memories, we set off to find something we could recognize.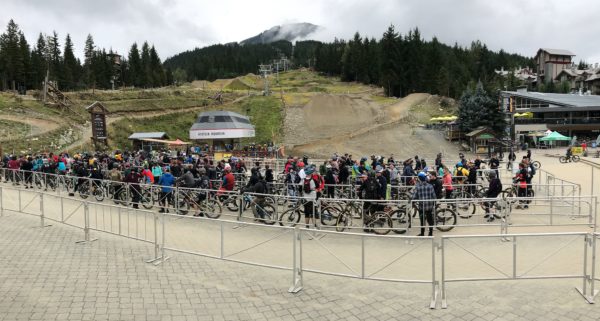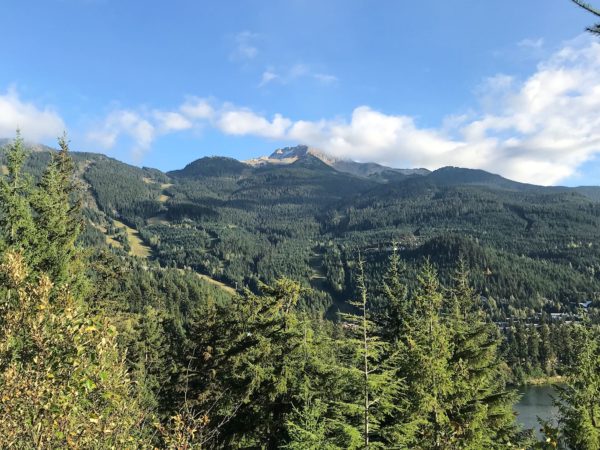 The first one was easy – there was an open plaza in the area where a chairlift from each mountain – Whistler and Blackcomb – met. They still do at the same place, but everything's changed. We thought we recognized the Blackcomb chairlift. We weren't sure about the Whistler one – and there were a thousand downhill mountain bikers waiting in line to ride the lift up. The shiny glass building encasing the Whistler gondola clearly didn't date back to the 90's, though the Blackcomb gondola might have. Or perhaps it hasn't changed a bit – maybe some maintenance. But the big find was the Nagomi Sushi restaurant, the site of one of those dinners where if one of the six of us says, 'Remember that night at that sushi restaurant…' the sentence never gets finished 'cause we're laughing too much. Around the back of an older hotel, down an alley, up a set of narrow stairs and THERE IT IS!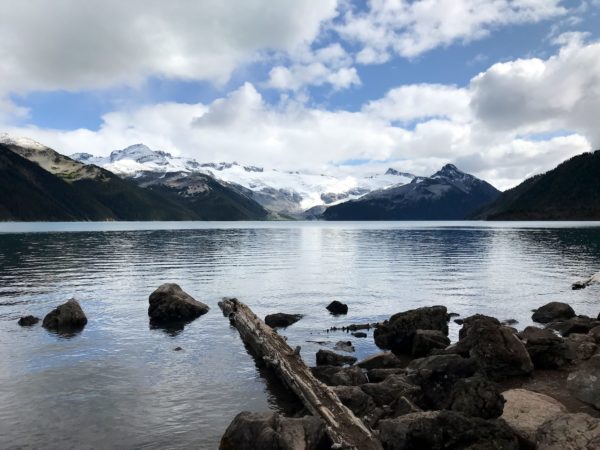 We took advantage of the two most favorably forecasted days to hike. Did I forget to mention Whistler is in a rainforest? The first hike was to Garibaldi Lake, an aqua gem surrounded by mountains and glaciers. The trail took us alongside a ridge to The Barrier – a giant chunk of volcanic rock that creates a natural dam holding back Barrier, Lower Garibaldi and (regular) Garibaldi Lakes. Up and over a ridge, we then found ourselves hiking along the lake, soaking in the views. We descended by a slightly different route that took us through the big broad Taylor Meadow, teeming with blueberries (the bears were watching us, I'm sure) and occasionally in sight of The Black Tusk, an unmistakable peak that if you'd been the first to see it, you'd want to name it The Black Tusk.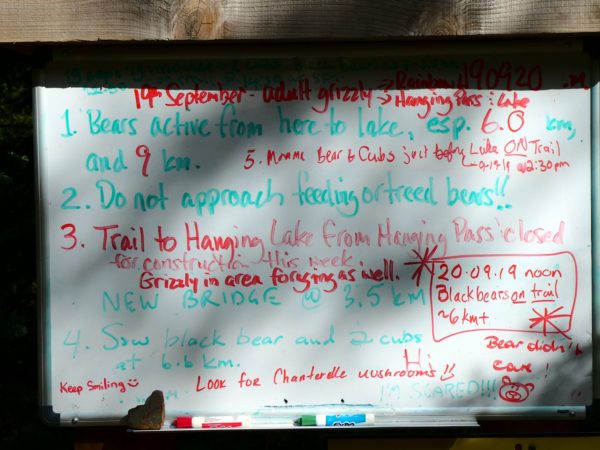 The second hike was to Rainbow Lake, although we didn't make it to the lake. So we renamed it the Bridges, Blueberries and Bears hike. When rain falls in super steep mountains in a rainforest, the water needs to go somewhere… That somewhere is usually waterfalls and fast moving creeks requiring sturdy bridges for hikers to get across. In a few spots, we crossed pretty meadows with mountains in the distance, and berries – some fully ripe and ready for eating, others done with berries with leaves turning their fall shade of red. And yes, bears eat berries, so we were extra careful crossing the meadows. We had read the notice at the trailhead that bears had recently been spotted near the lake, so we were being extra-extra careful as we approached Rainbow Lake.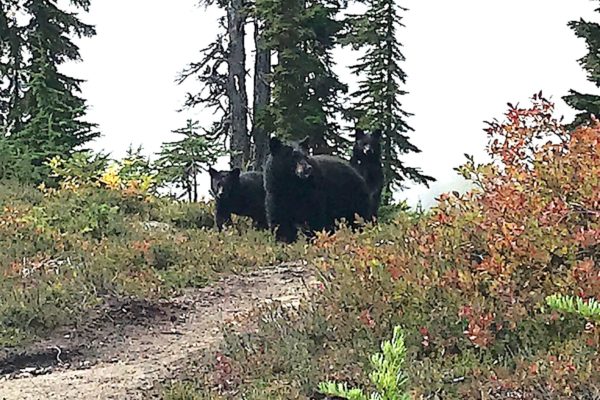 Around the last corner we went, and whoa – there she was! Momma and her two cubs! On the trail about 10 m (30 feet) ahead of us. I had been singing Hey, Mamma by Nathanial Ratcliff and the Night Sweats (you can look it up), so she wasn't startled, however she wasn't at all happy to see us. After hiking in bear country for 5 years and reading all kinds of stuff about how to be safe when encountering bears in their natural habitat, we're pleased to mention we did all the right things. Including turning around after Momma bluff-charged us twice and stood her ground. We were less than 0.5 km (0.3 miles) from Rainbow Lake. Who needs to see another lake, anyway? We had bear cub pix!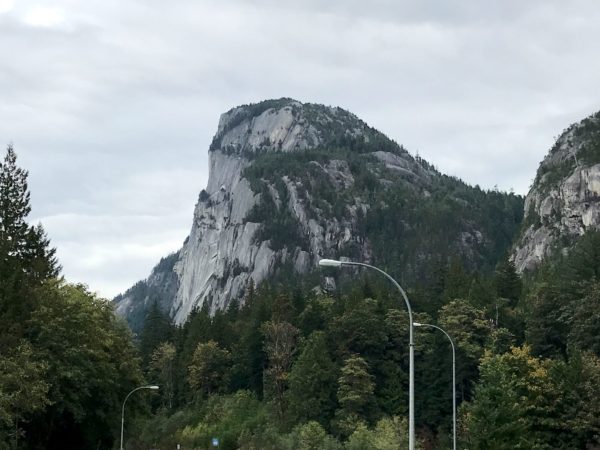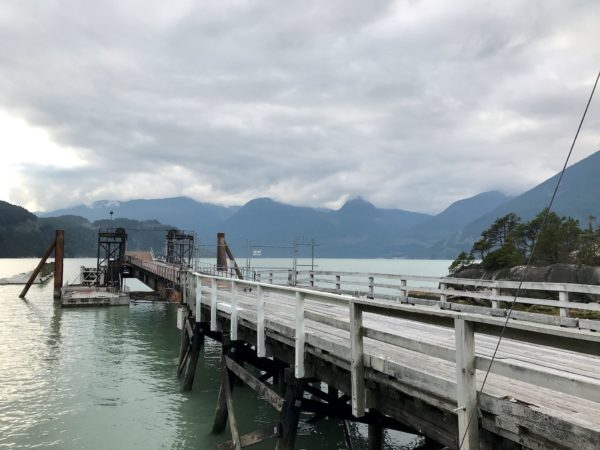 We made one more stop along the way in Squamish, BC, the 'sea' portion of the road. We found a funky campground on the shore of Howe Bay where we alternated a few short walks and errands with music, naps, reading and a chill day during the rain. If we're gonna marvel at the moss and fern covered screaming bright green rainforest vegetation, we've got to enjoy some time with the rain…
For anyone who's interested, more Williams Lake, Sea to Sky Highway, Whistler, Garibaldi Lake hike, Rainbow Lake hike, Cal Cheak camp, and Squamish, Horseshoe Bay and suburban Vancouver pix…