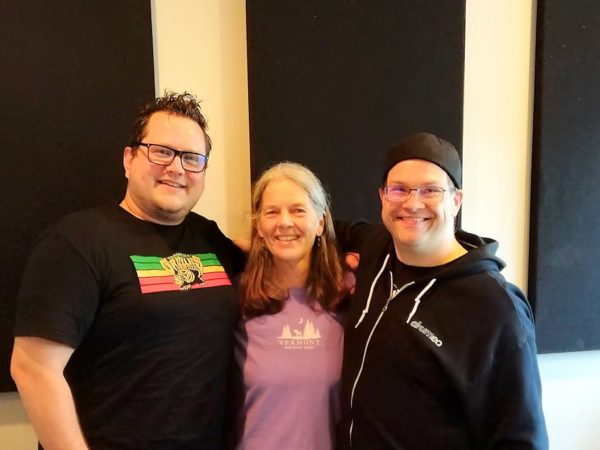 There's no chance we'd miss a certain stop in Abbotsford as we came through southwest BC. Our loyal readers know I'm a drummer. Actually, I'm proud to say I'm now a professional drummer, having earned $108 so far this year (all before leaving for this trip in May)!
For the past few years, I've been a member of Drumeo, a drum education website and fabulous on-line drumming community with world headquarters in Abbotsford, BC. The team at Drumeo produces state-of-the-art, video-based drum education material featuring awesome in-house drummers, a distributed, international cast of world-renown drum educators, and a generous dose of bona fide rock stars in the drum world. They have programs in place to support the student members at all levels, in virtually any musical genre. And certainly for this drum student, it's working.
I checked in to see if I could stop by to drop off a couple of hugs to a few of my online heroes, and perhaps get a quick tour. I got a resounding 'Sure, c'mon over!'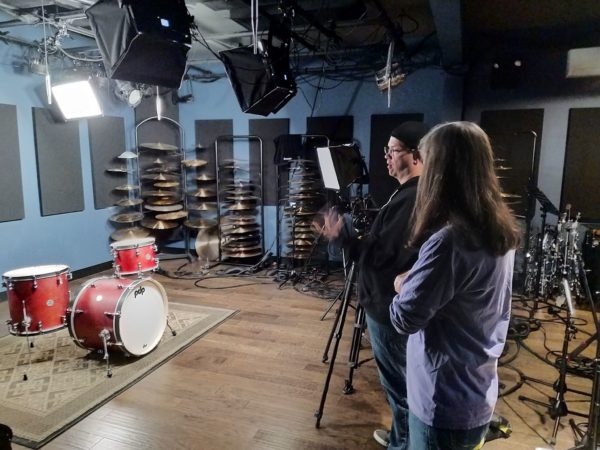 Kyle is an incredibly talented, multi-genre drummer and instructor who helped me with breakthrough jazz lessons. He met Doug and me in the lobby, immediately got one of my aforementioned hugs, and took us off on our tour of Drumeo HQ.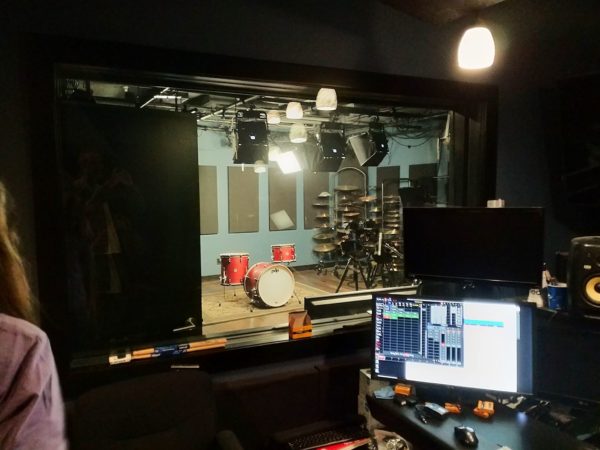 It was so fun to actually stand in the studios that have become totally familiar as the backdrop for most of the recorded lessons I've worked through. It was especially cool to meet the people and see the behind-the-scenes tools and equipment that make the magic happen, converting raw video footage into first-rate educational videos.
The walls everywhere are covered with autographed photos of the great drummers and educators who've recorded lessons with Drumeo. Walking between offices and studios was slow and deliberate – like walking through a drumming hall of fame and museum. And when we got to the area where they store the 'house kits' – aka the Candy Store – OMG! There were drums of every make, vintage, and color; rock star status everywhere! Gregg Bissonnette's sparkly purple Dixon kit, a black Gretsch kit recently played by Vinnie Colaiuta, Jared's first yellow Pearl kit. I touched them all!
I was glad we got to meet Jared and Dave. Jared is the founder of Drumeo and Dave is deeply involved in the day-to-day 0perations. In addition to their day jobs growing and operating Drumeo, both are exceptional drummers and teachers, and both have recorded lessons that have had breakthrough results for me as a (still!) relatively new drummer. More big hugs!
Thanks to Kyle for his time and to all of the Drumeo people for the warm welcome. The HQ-museum-hall-of-fame-candy-store tour was fun and inspirational. Time to practice!
For anyone who's interested, more Drumeo pix…