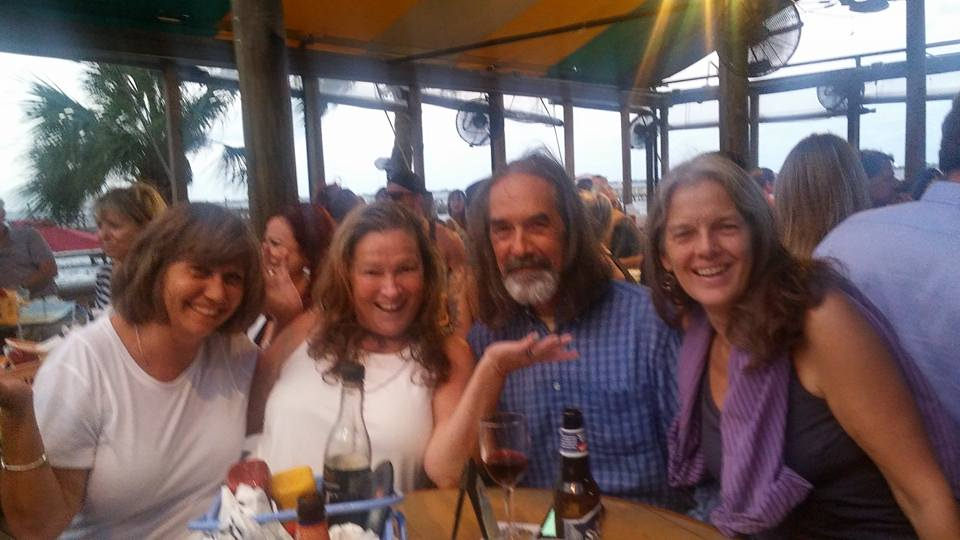 When out on the road, traveling around the country for 6 months at a time, you develop a different perspective and occasionally find yourself having interesting thoughts like 'Hey, we're so close to my parents' place, let's swing by to say hello – it's only a 2-day drive…'
So, yes, we visited my parents – Bob and Terry – in Melbourne, FL. In their mid to late 80's, we're always glad to see they're healthy and well and enjoying their life in Florida. We also get to connect with dear friends we've made through the years on our prior visits. When my parents moved to Melbourne nearly 20 years ago, Phil and Val, their first neighbors, more or less 'adopted' them, including them in parties, holidays and other family gatherings. Being our ages, Phil and Val have become our honorary siblings and have introduced us to other awesome friends, including Ed and Amber and Jeannie.
Our primary source of fun on a visit is to shake up my parents' routine, taking them out to different places that nomadic adventurers like us will find in their back yard. And that we did! They enjoy eating out. Ha! No senior-cafeteria-style-early-bird-specials for us! The Strawberry Mansion, one of our favorites, serves up 73 different beers on tap in the outdoor garden. Squid Lips (yup, that's right), beautifully situated at the landing of the Eau Gallie Causeway over the Banana River, is another of our faves. In addition to outdoor, porch and screen porch seating with a view, it features live music 7 nights a week starting at that oh-so-civilized-bordering-on-senior-time of 6pm.
My cousins Gerry and Lucille live at The Villages, the famed master planned active retirement community in central FL. My parents had not yet done the 2-hour trip to visit and we'd never been. Road trip! Having lived in a small town in northern NH their entire lives, Gerry and Lu are loving life where a variety of restaurants, golf courses, music and entertainment venues and all other services are a short (golf cart) drive away. They showed us a great time and provided a deluxe tour – all by golf cart.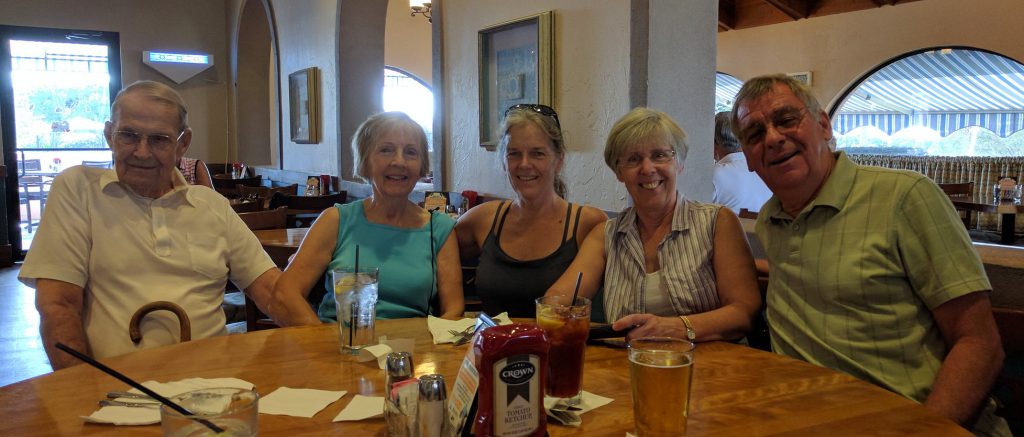 Despite a short visit, we also found a bit of time to meet a new friend. We belong to an online RV community called RVillage. One of the features of the community is to enable meet-ups on the road. As members, if we sign in where we stay for a night or more, we can see other members who are staying nearby, and they can see us. JE dropped us a note when she noticed we were 3 sites over in the same RV park. We connected over morning coffee and had a fabulous conversation. Considering she and we are continuously moving around, chances are good we'll connect again in the future, and continue the conversation.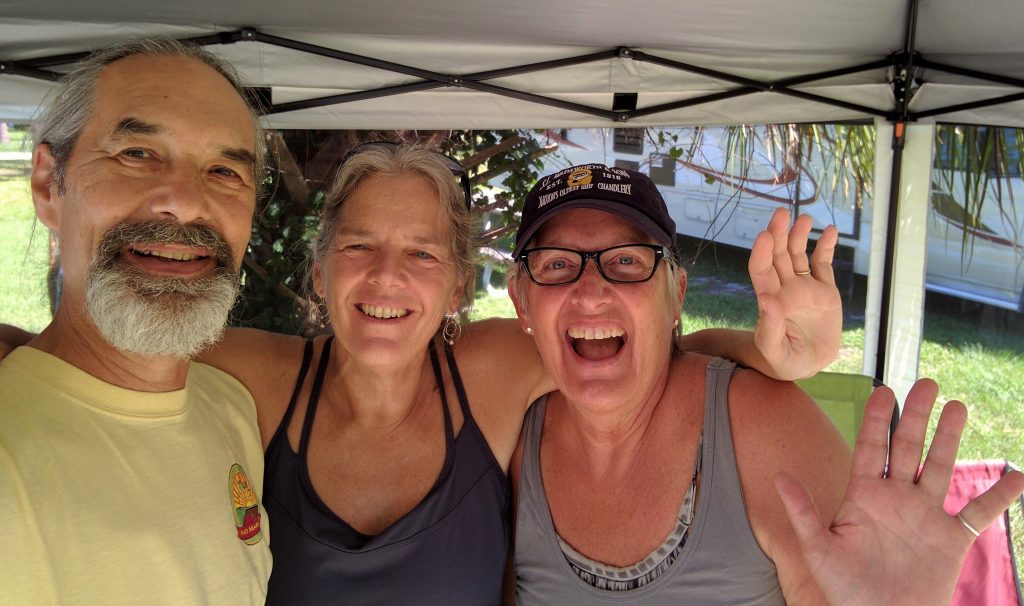 Fun visit.
More Melbourne pix…