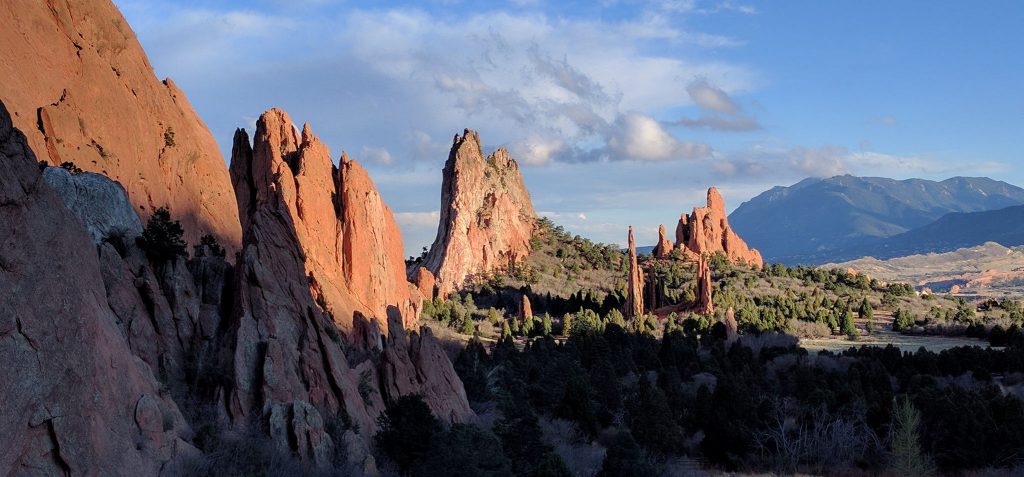 We had a great visit last October with Mike & Tania, Doug's cousin, in Franklin, TN.  At that time, they declared that we must someday meet Mike's brother Charles, since we had so much in common – biking, hiking, RV adventuring, etc. Toward than end, they provided a virtual introduction via email.
Since Ft Collins is on our unique route to Utah, we made plans to introduce ourselves live. We enjoyed a fabulous dinner with Charles and Maria, meeting their 4 kids – Timothy, Etta, John and David. Little did we know, Charles and Maria are serious RV adventurers having spent 14 months living in their 5th wheel with (the first) 2 kids. Although they no longer RV full time, they heartily explore different parts of the US every summer providing incredible experiences for their kids.
Southern Utah has been a regular family destination. After dinner, we poured over maps, books and web sites creating a 3-page list of hikes, campsites and must see canyons or drives while in the area. Wow, Utah might need more than one visit…
Yes, Moab is west, however, my cousin Mike lives just a bit south in Colorado Springs. Squirrel! Like his brother Gary, Mike and I have met (we think 3 times) and don't really know each other. Now we're up to 4! Mike gave us a great mini-tour of Colorado Springs, his home for the past 22 years. After wandering through the Garden of the Gods, we visited Manitou Springs and lingered over an excellent Mexican dinner. We got to fill in the blanks on our pasts and trade tips on great scenic drives – us in our RV, Mike on his Harley.
Life on the road is always interesting and some visits are surprises, like the visit to the front-end alignment specialist… We both noticed the RV was pulling to the right while driving. Doug took a look at the tires and noticed a totally funky wear pattern on the front passenger side indicating a totally funky alignment issue. Not only did the specialist fix the alignment, he noticed a defect in the tire putting us at risk for a blowout. So, we're the proud owners of 2 new tires. It's all part of the adventure!