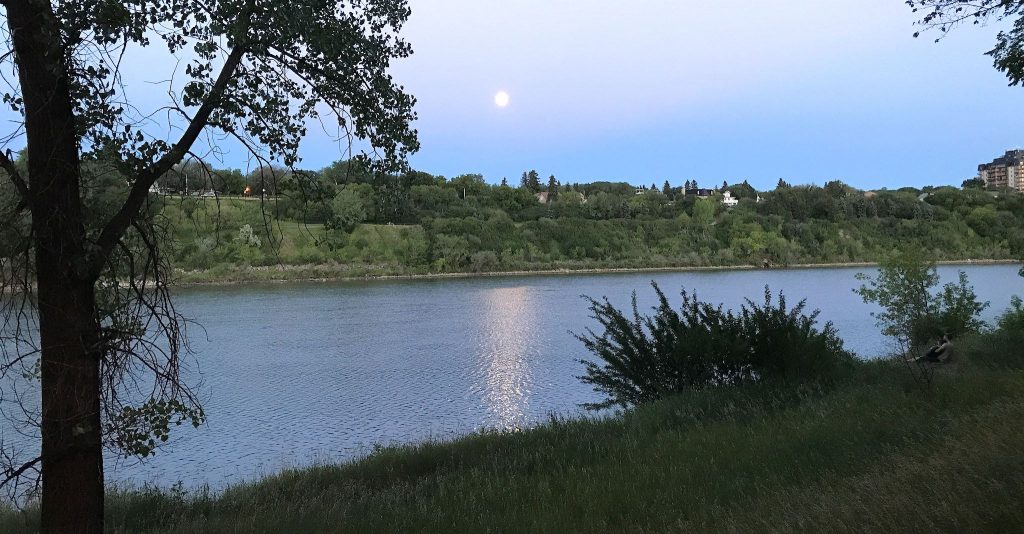 Our approach to trip preparation includes doing a bit of reading and talking to people about where we're heading. Based on what we learn, we go to our trusty electronic map and add e-pushpins indicating friends and family, potential places of interest, and music festivals. When we left home, Saskatchewan was looking a bit thin with not quite 4 pushpins across the entire province – Prince Albert National Park, Doug's guitar buddy TerryB, the Saskatchewan Jazz Festival in Saskatoon, and the name of an old drumming colleague (but no current contact info).
As we approached Saskatchewan, the sparsity of pushpins turned around in a fashion reminiscent of the classic (original series) Star Trek episode 'The Trouble with Tribbles…'
Understanding our love for music, Jan and Greg highly encouraged our plan to attend the Jazz Festival. They also added the Remai (pronounced RAY-me) Modern Museum as a 'must see.' We rolled into downtown Saskatoon and, to our surprise, found inexpensive all-day parking for oversize vehicles (IADPFOV) almost next door to the Remai. It was a sign, literally and figuratively.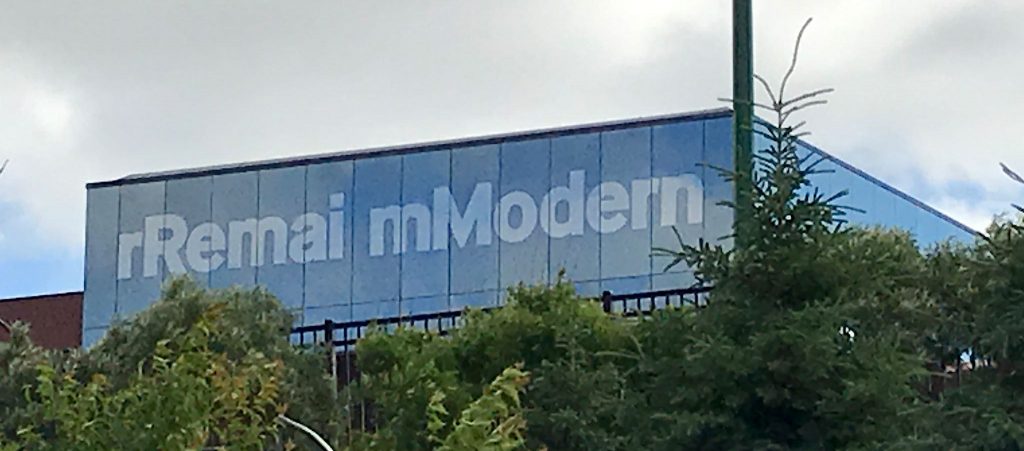 Wow! The Remai aims to present Canadian art and artists within the global art community. We spent the better part of the day visiting 3 of the museum's collections and exhibitions. The Echoes Collection featured 4 of Canada's leading First Nation artists which broke all stereotypes. No tepees or feathers here – the contemporary artists presented photographs subtly yet powerfully linking the past with current cultural issues.  A series of photos of one indigenous women in a red gown was artistic in and of itself, yet also symbolized the substantial abuse of First Nation women that continues into the present day. The Picasso collection showcased the artist's two passions – music and bullfighting. (I'm not making this up.) Of course, we ate up the music theme. Our favorite, though, was the Jimmie Durham exhibition. His primary artform was sculpture incorporating found objects with text. The collection was an eclectic mix of intriguing junk art with acerbic and (usually) humorous messages intended to stimulate introspection on the complexities of history and culture. Doug's fave included gun parts hanging from a branch with a note stating: 'I forgot what I wanted to say.' My favorite was a hand-scribbled poster announcing the officials from Indian Affairs heading to the (US) reservation to quiet the Native Americans. In their government-issued Jeep Cherokees.
The New York Times is running a year-long series called  The 52 Places Traveler where Jada Yuan is traveling to 52 places selected by the Times in 52 weeks, and writing about her adventures. It was a coincidence that she visited and wrote about Saskatoon two weeks before we arrived. A highlight of her visit was the Wanuskewin Heritage Park. The Park is conveniently located on a bike path that passes the above mentioned IADPFOV.  We can tour part of the city and an outdoor museum and enjoy a bike ride all on one warm, sunny day adventure.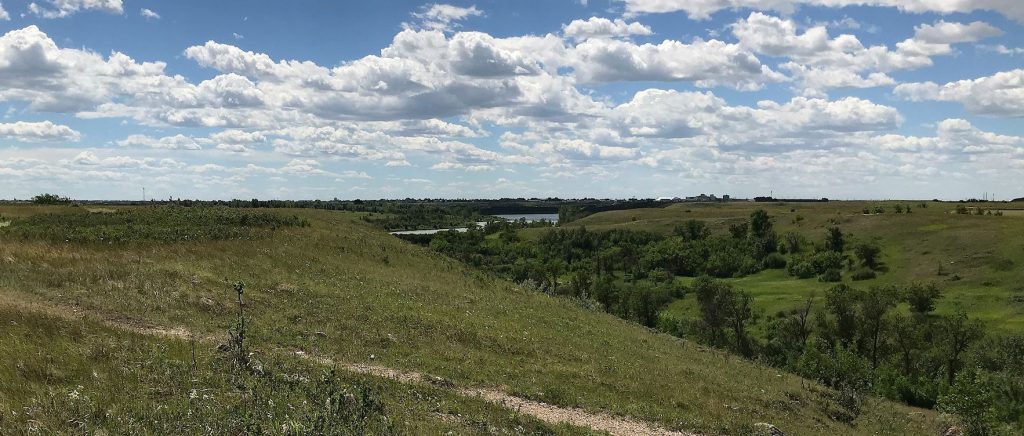 The Wanuskewin Heritage Park is built on an ancient winter gathering site long used by indigenous peoples. It was discovered by archaeologists nearly 40 years ago and digs since then show that the location has been inhabited for at least 6,000 years. To someone from the Green Mountains of Vermont, this 10 meter (30 foot) deep 'valley' does not look like much. However, in the middle of a prairie with harsh freezing cold winters and howling winds, the Opimihaw Creek Valley protected the residents from the elements. The steep drop into the valley was enough to serve as a bison jump. In addition to interpretive hiking trails with gorgeous views and tours of the active archaeological sites, the Park had exhibits and a  'local food' cafeteria featuring bison burgers. We toured galleries for contemporary First Nation artists and watched a traditional Grass Dance, both linking the past to the present.
What we didn't mention in our post about jamming with Terry was that his 'must experience' recommendation was saskatoon berry pie – yes, the city is named after the berry. We don't need more than that for an excuse to eat pie, so put it on the list! Meanwhile, unbeknownst to us, Ernie, another BGU (Doug's on-line guitar group) guitarist, lives in Saskatoon. Doug  realized this when Ernie commented on a post about our travels on the guitar forum, so we asked him if he'd like to meet up. Despite some tight scheduling constraints we were fortunate to be able to have dinner with Ernie and, a couple of days later, get together for a much too brief but incredibly fun front porch blues jam. Ernie and his wife Alice brought us for lunch to the Berry Barn, a destination agri-tourist farm, complete with a restaurant – featuring saskatoon berries! Sorry Terry, we didn't have the pie, but my waffle smothered with saskatoon berries was amazing!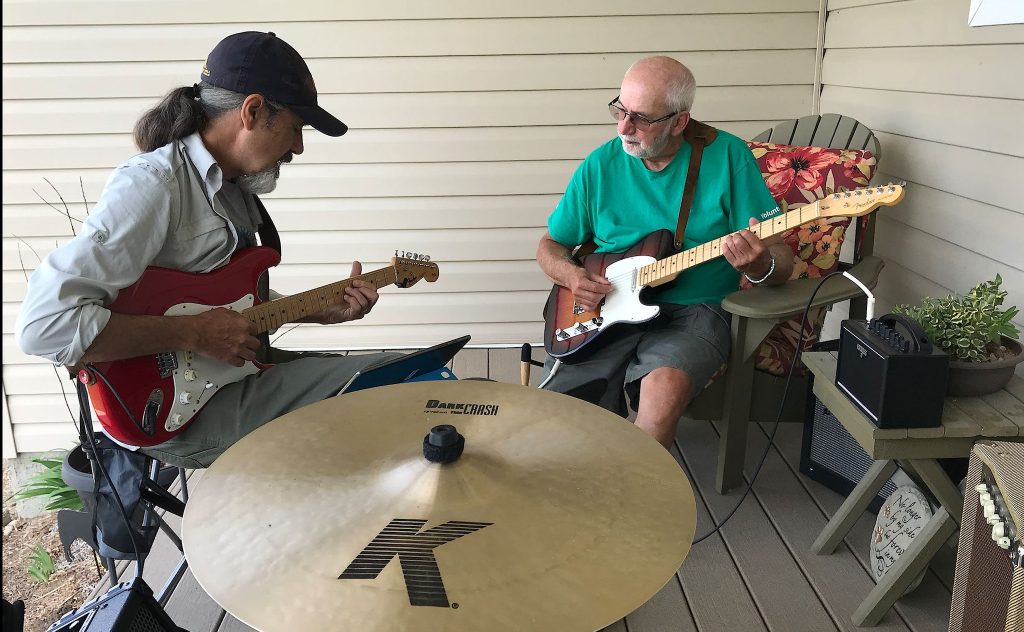 Michelle and I met at KOSA Drum camp in 2012. The camp was attended by 6 women and 42 teenage boys, so for us it was a significant bonding opportunity. Unfortunately, her 2012 email address and phone number were no longer in service. I googled her name and found an email through a former employer (also no longer in service), and finally a website  for a drum ensemble she operates which has a 'contact me' page. We scored through the latter and made plans for lunch in Saskatoon. So fun to reconnect! As a local musician, she gave us a heads up on 'must see' performances and pointed out the downtown venues that were host sites for the jazz fest. Michelle, along with her husband Greg and 2 kids, also joined us at one of the stages for 2 performances, including Prasad, one of her favorites.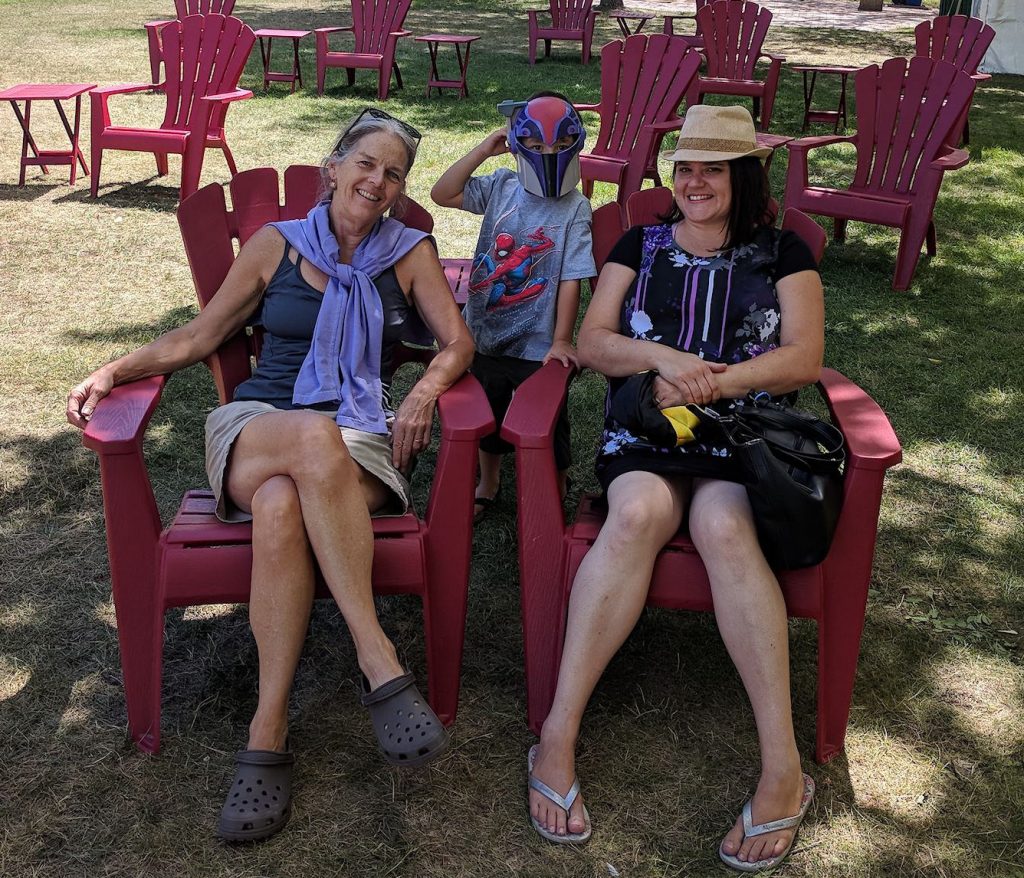 And the Saskatchewan Jazz Festival? Sweet! There were 5 major pay stages featuring regional, national and international acts and 8 free stages featuring regional and local bands, all of them within a 15 minute walk of the IADPFOV. Music started 11 am-ish and ran 'til way past midnight. We quickly realized our best bet would be to head to the Nutrien Free Stage in the Kiwanis Park where each day 3 bands would play from 4-10pm. For 4 days, we set up our camp chairs near the stage at 4pm and binged on local and regional music of all kinds. Our favorites were the Blue Mules (blues, of course) and the Oral Fuentes Reggae Band (both from Saskatoon) and The Pile of Bones Brass Band (from Regina), a fun New Orleans-style band playing traditional and original songs while also reinterpreting Judy Garland, The Beatles and Amy Winehouse  with hand-clapping, foot-stomping second-line rhythms. Held concurrently with the festival was a jazz camp for secondary and post-secondary students of jazz. These young musicians demonstrated their considerable talents by performing in bands formed during the week. Their session was impressive and provided the purest and truest jazz of the Jazz Fest.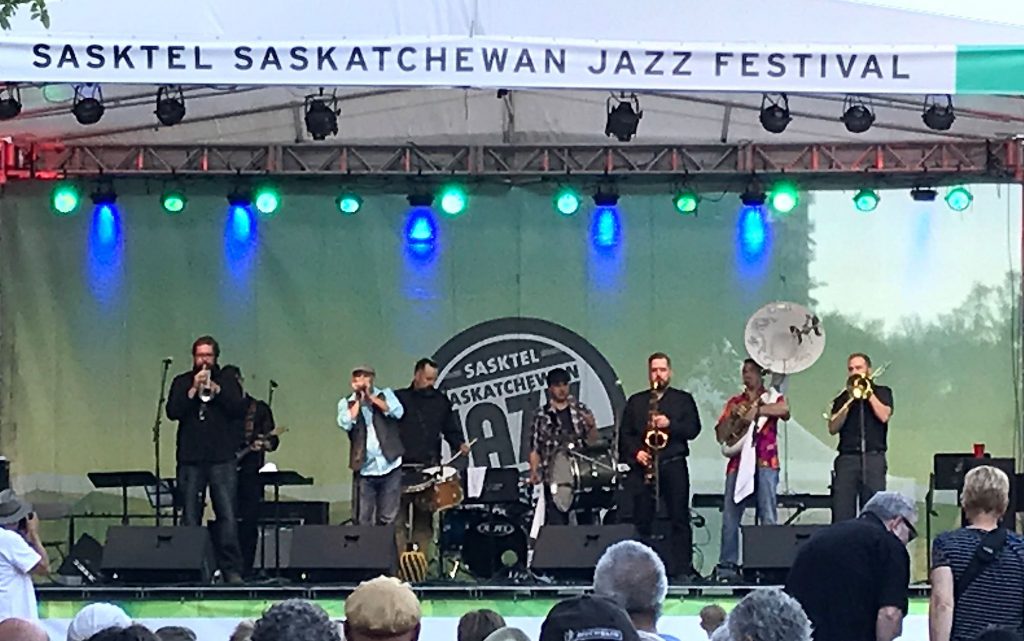 At the end of each day's show, we folded up our camp chairs and walked the bike path back to the IADPFOV, watching the moon rise above the lovely South Saskatchewan River.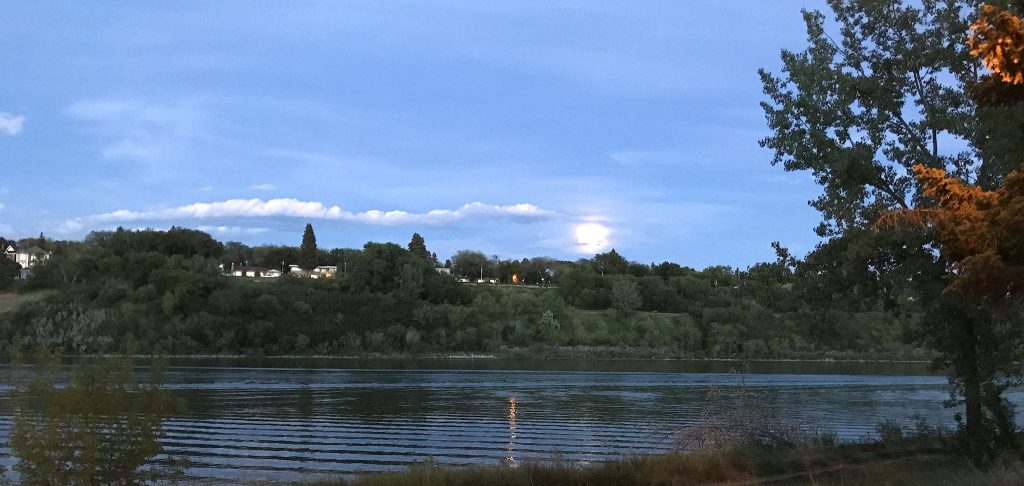 There are times when you gotta look for adventure. Other times, the adventures come to you. Saskatoon was great fun!
For anyone who's interested, more Remai Modern, Jazz Festival, Michelle, Ernie and Wanuskewin Heritage Park, western Saskatchewan prairie pix here…