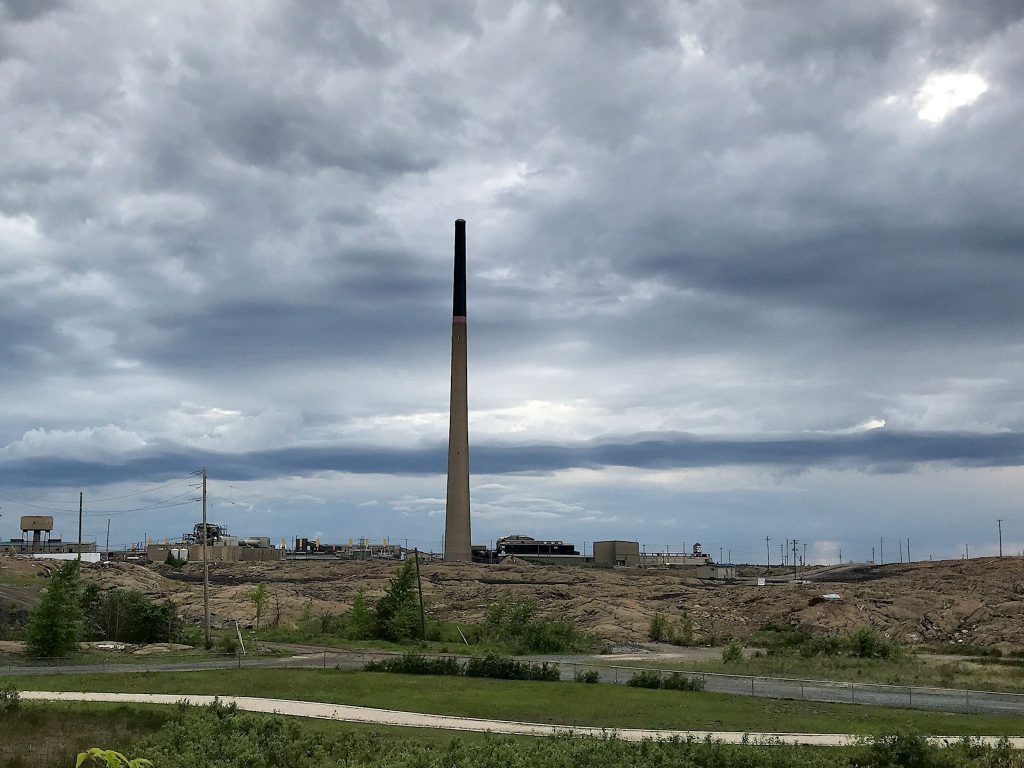 Flin Flon is totally, outrageously cool. Flin Flon, Manitoba/ Saskatchewan (pop 7,000 and yes, so cool it spans 2 provinces) is a mining town with an obsession for music. We loved it! And we fit right in.
First, some background…
Recall we met Rich and Leslie at the Prairie Wind Music Festival a couple of weeks ago. We were fortunate to then get together again at their home in Minnedosa, MB. As ambassadors for the province, they suggested we visit northern Manitoba, and specifically Flin Flon, and by the way when we get there we should call their friends Greg and Jan since they just knew we'd get along. On Monday, I called Jan and let her know we were a couple of days away. 'Great! You can camp in our yard. And you have to stay until at least Saturday because Donny Parenteau is playing at Johnny's.' OK. (Who's Johnny?)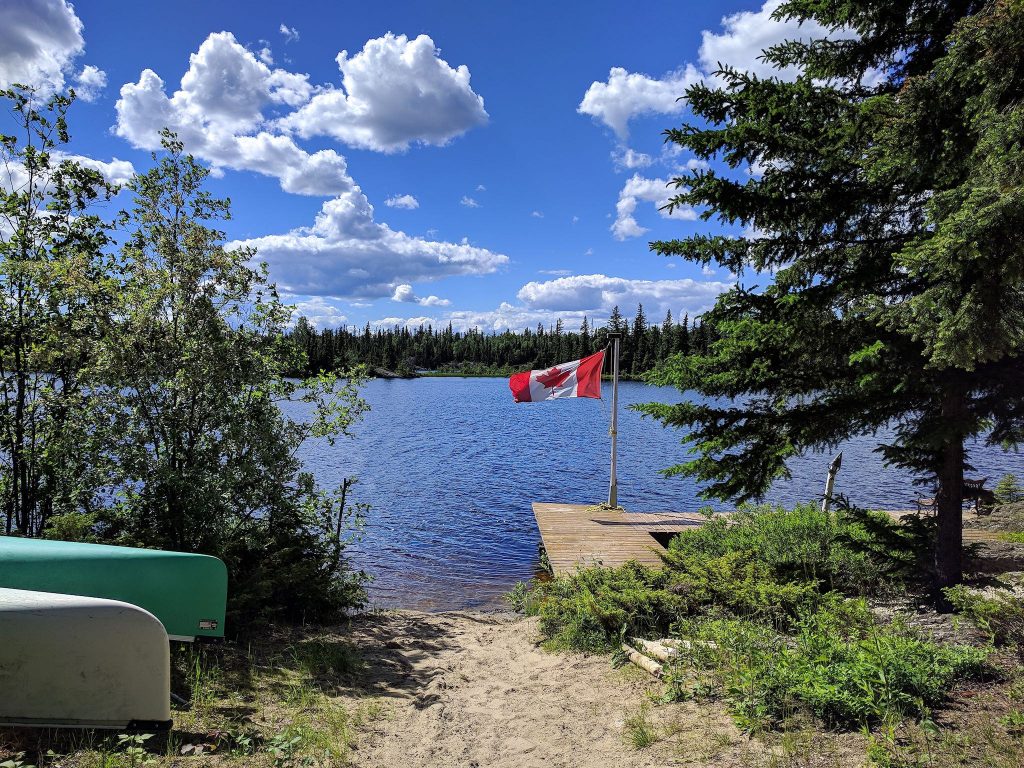 Jan and Greg have lived in a great house on the lake for over 40 years. The setting and the eclectic decor, as well as their welcoming nature, give it a bit of a B&B feel. And indeed, friends came and went the whole time we were there. And indeed, there was an awesome spot for the RV right out their door. And indeed, from minute one we knew we were in the presence of kind, generous, fun people. Jan met us in town and guided us out to the house. There we created a collaborative my-fridge-meets-your-fridge dinner that included pickerel that had been caught that day by Jan and a salad from our fridge, and then we stayed up way past bedtime chatting about politics, history, and similarities and differences between our two countries.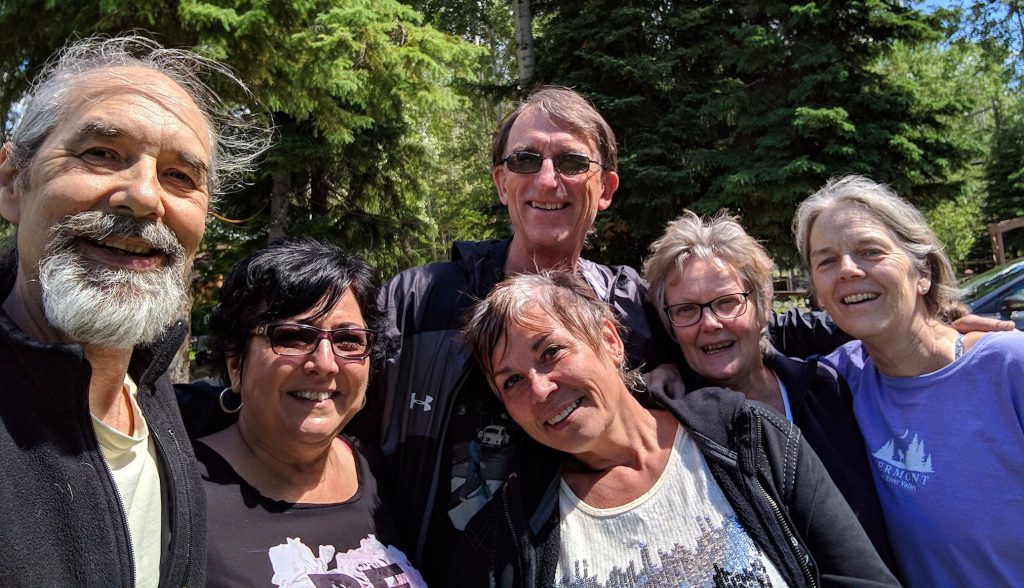 Jan treated us to a tour of the lakes nearby and introduced us to their friend Alistair who lives in a cabin on a lake. Alistair is a retired geophysicist, originally from Scotland, who worked in northern Canada in the mining industry. His current passion, however, is hand making fiddles (4- and 5-string violins and violas) crafted from mostly local woods. The tour of his shop included a walk near the cabin to see the specific blown-down trees with wood meeting the requirements for different parts of a violin, harvested wood in various stages of  preparation, and the current instrument under construction. After about 200 hours, a fantastic looking and sounding violin is introduced to the world. His goal is to get these fine instruments in the hands of exceptional musicians so he can enjoy the music these virtuosi can make with his world-class instruments. Canadian fiddlers including Sierra Noble, Maria Cheriwick  and Daniel Gervais currently play Alistair's fiddles.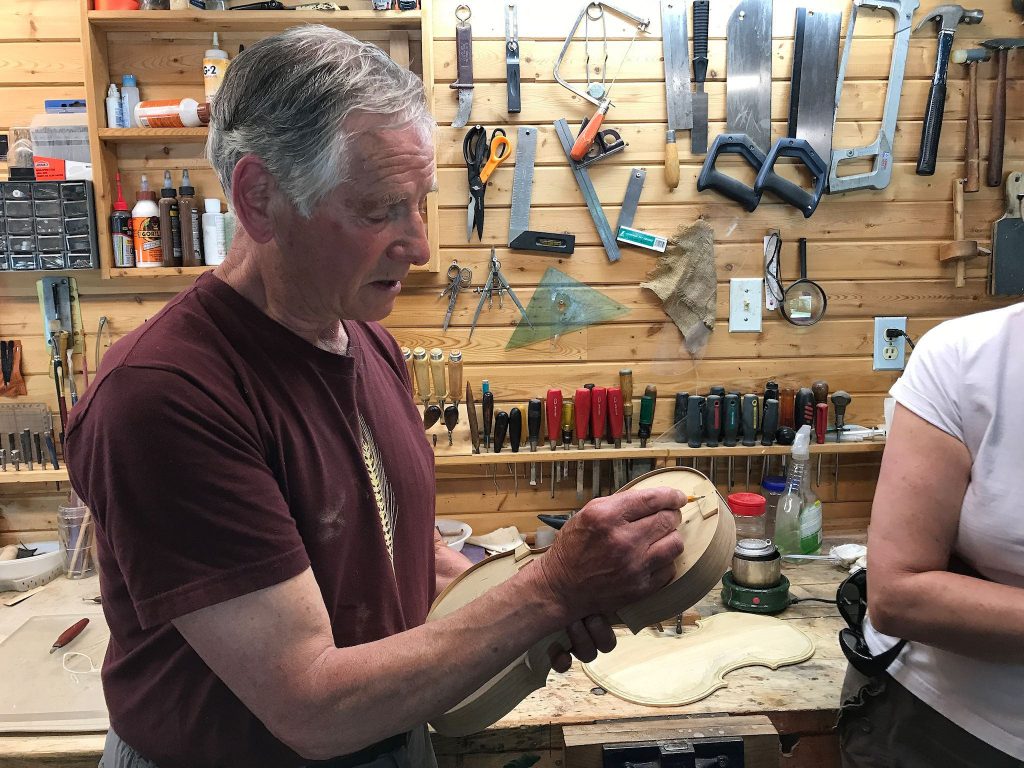 Greg and Jan are owners of Johnny's Social Club, a community gem in a former confectionary/ice cream parlor that has been converted into an intimate (85 seat) performance venue to host major acts as well as local artists by night and run as an informal, self-serve coffee shop by day.
So, after yet another collaborative dinner, we popped into town to Johnny's to hear the house band – Johnny's Antisocial Club – in rehearsal. This is an amazing group of musicians with an amazing song list filled with all our favorite dance tunes. Afterwards we hung out with a few band members, chatting about music, politics, and differences and similarities of our two countries. We met Susan, who grew up harmonizing with her sisters and harmonized beautifully with her guitar-playing husband Brent, in addition to singing lead. Mark played with the Royal Winnipeg Ballet for more than 10 years and currently plays keys in multiple local bands of all genres. With his wife Crystal (who we unfortunately did not get to meet) they run the Flin Flon Choir which has performed at Carnegie Hall. Not in the band, we also met Mark, the co-owner of Johnny's Social Club who's won 4 songwriting contests, in Nashville.
The next day, Blair stopped by the house for a brief visit. Jan's long-time friend Lorna and a new friend, JD, arrived from Fort McMurray, AB to visit for a week. We spent a delightful afternoon with grand daughter Emma, cooking up a 20-year supply of cookies.
Donny Parenteau is an internationally renowned singer-songwriter and multi-instrumentalist from Prince Albert, SK. Donny's phenomenal show at Johnny's that night featured an eclectic combination of country-folk-aboriginal-blues-guitar-fiddle tunes mixed with original songs that made you laugh or cry, all topped with a healthy dose of warm, humorous interaction with the audience. Our favorite was Don't Forget to Fish – a fun reminder to make time for simple pleasures with family. I cried. We were treated to a duet with Donny's 9-year-old daughter, singing Dolly Parton's Coat of Many Colors.
Alistair was at the show. He and Donny had talked in the past about fiddles, and Alistair had brought one of his violins for Donny to try before the show. Sometime in the second set, Donny took up Alistair's fiddle to play one piece on the handmade instrument and it was clear the fiddle just wanted to be played – the song continued to morph and stretch with beautiful sounds! Throughout, you could  almost hear the tears drop on the table as there were few dry eyes in the audience when he was through. I cried.
Jan and Greg wanted to introduce us to a few of their friends and what better way than to join them at their  friend Max's birthday party. For us, it was another fabulous evening in Flin Flon, meeting more wonderful people including a whole other set of musicians who were jamming at the party. Bean'r played bass and guitar, sang lead and tenor harmony and kept the action going with an endless song list. Rugged and Lane were both drummers in their respective bands, demonstrating their fine guitar and vocal skills while alternating as percussionists on a cajon. Dave, the party host, birthday girl's spouse and owner of the local music store, showcased his skills on the guitar and banjo. Sid sang a few songs and Bernice played some nice guitar. Doug had his guitar and got to sit in with the constantly rotating band.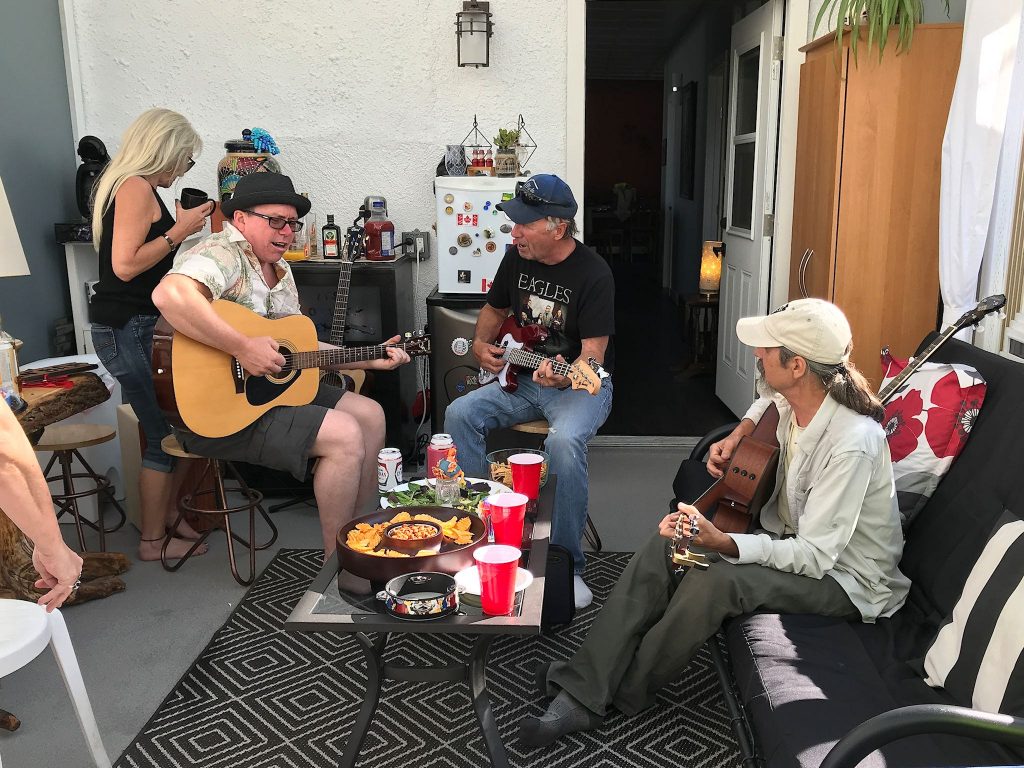 Meanwhile back at Johnny's, Donny was playing his second successful show. And this night he bought Alistair's violin. I cried.
All good things must come to an end. *SIGH*  But not just yet!
We had planned to continue our trip west in the morning. We came into the house with our coffee and were delighted to find Alistair in the kitchen, having stopped by for Sunday breakfast with Jan and Greg. Of course he just happened to have a fiddle. Also it seemed Greg was itching to play his harmonicas. JD saw an opportunity to sing. Jam with brunch! What a treat!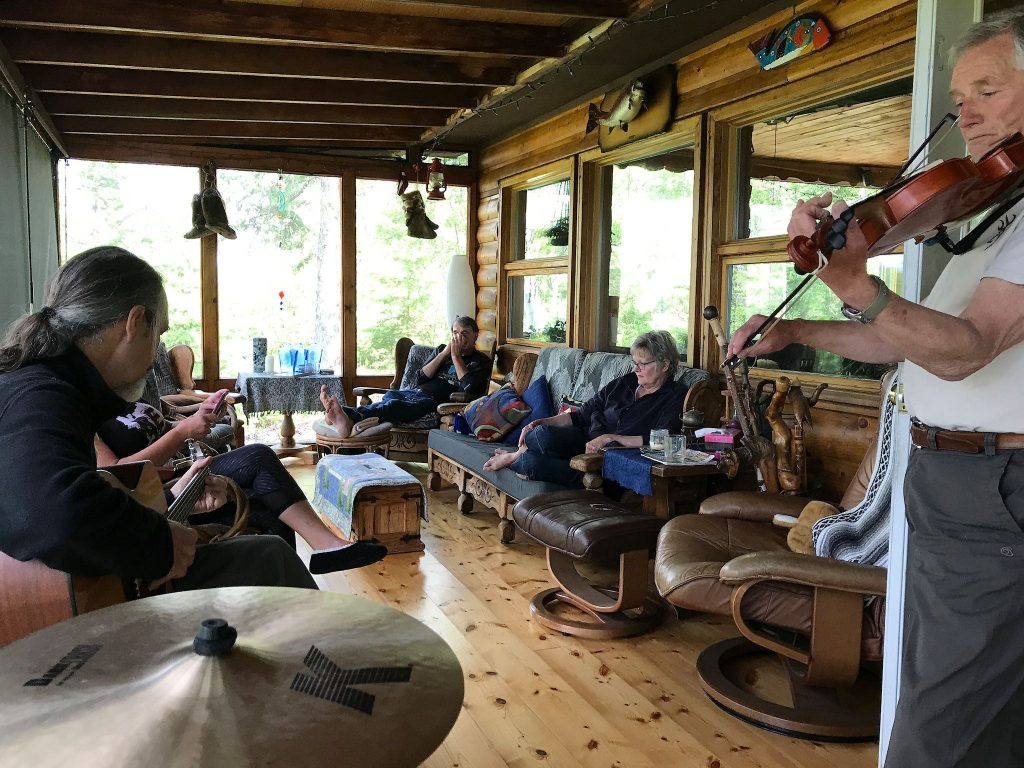 It's hard to describe what it was like to hang with Jan and Greg. So I won't even try. As we were leaving, Jan mentioned it felt like we'd been friends for years. Agreed. Hmmm, perhaps we met in a prior life? We're grateful for having had such a great time with Jan and Greg in Flin Flon. And grateful to Rich and Leslie for the intro. We'll meet again!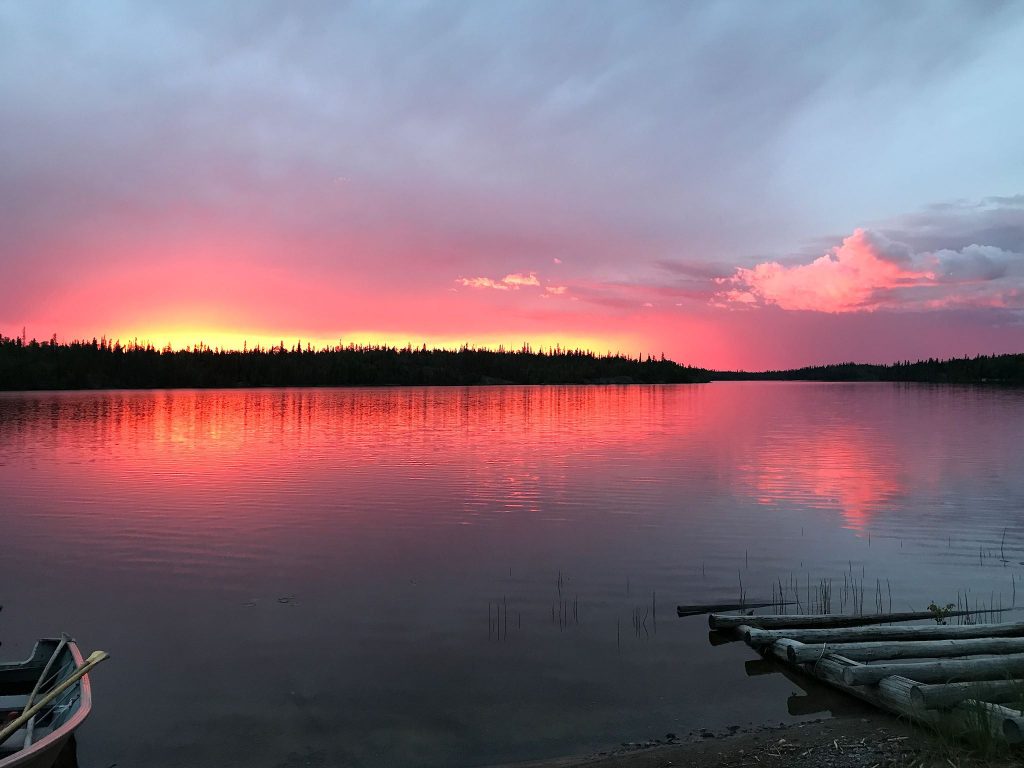 For those who are interested, more Flin Flon, Saskatchewan side, violin shop, Johnny's Social Club and Flin Flon jams pix…